Lodging while on holiday is an essential part of planning the whole trip. The lodging that is chosen is the foundation for the whole experience. It's where we sleep, sometimes eat, and most importantly, relax!
Everywhere in the world has all sorts of accommodation types. This is especially true for Hervey Bay, situated off the eastern coast of Queensland, Australia.
One of the many lodging options in this area includes Riviera Resort Hervey Bay. Resorts are popular in tourist areas but can be great choices for anyone visiting the area. They are typically comfortable and indulgent feeling!
Exotic Getaway Hervey Bay
This resort is truly an exotic getaway with its large tropical gardens. With almost 2 acres of lush tropical flora and plants, the garden is a huge attraction to the resort.
It helps guests feel emerged into a tropical oasis! It is also super close to the esplanade and Torquay Beach. The resort's prime location and contemporary and stylish apartment rooms are perfect for families, couples, or single lodgers.
But, this resort has plenty more to offer its guests!
Description
Riviera is most known for its gardens. These gardens showcase beautiful plants as well as helps guests feel like their on an adventure while relaxing!
The resort also features spacious rooms, apartments floor plans, and sits on a large area. All this space gives guests plenty of room to explore, relax, and enjoy everything the resort has to offer.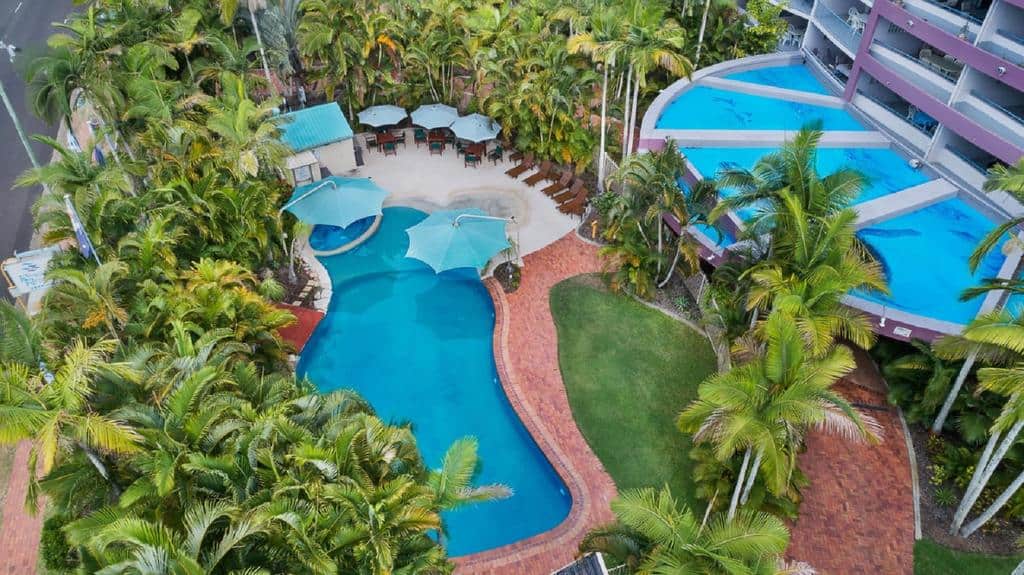 Popular Facilities
Heated swimming pool – Sure, Australia has warm temperatures but a heated swimming pool makes for the ideal temperature to enjoy swimming. This resort is known for having the best-heated swimming pool in the area!
Sauna and Spa – Relaxation is best done within a sauna and spa! Riviera has the best of both worlds.
Tennis courts – Not many resorts feature a full-sized tennis court. For those who love hitting the court for a bit of tennis fun, this is the place for them!
Covered parking – Their covered parking is available for every apartment! This is a huge bonus as some areas require off-site parking.
These facilities are the most sought after when visiting the Riviera!
Rating
What a resort, hotel, or other lodging option is rated plays a huge part in how it is received to the outside world.
Their ratings come from two sources: guests ratings and an overall star rating that is assigned to them based on the various quality amenities that make them better than traditional accommodations.
When it comes to the Riviera, it is rated overall in the star rating system as a 4-star lodging option. This ensures that guests will have access to all things luxurious and comfortable.
It also showcases the resort's ability to give access to wonderful surroundings both inside the complex and outside of the complex.
When it comes to guest ratings, the Riviera is rated on Google with almost 4.3 stars out of 5 stars with 73 reviews. Most guests talk about fitness access, spa, cleanliness, and overall location as being desirable.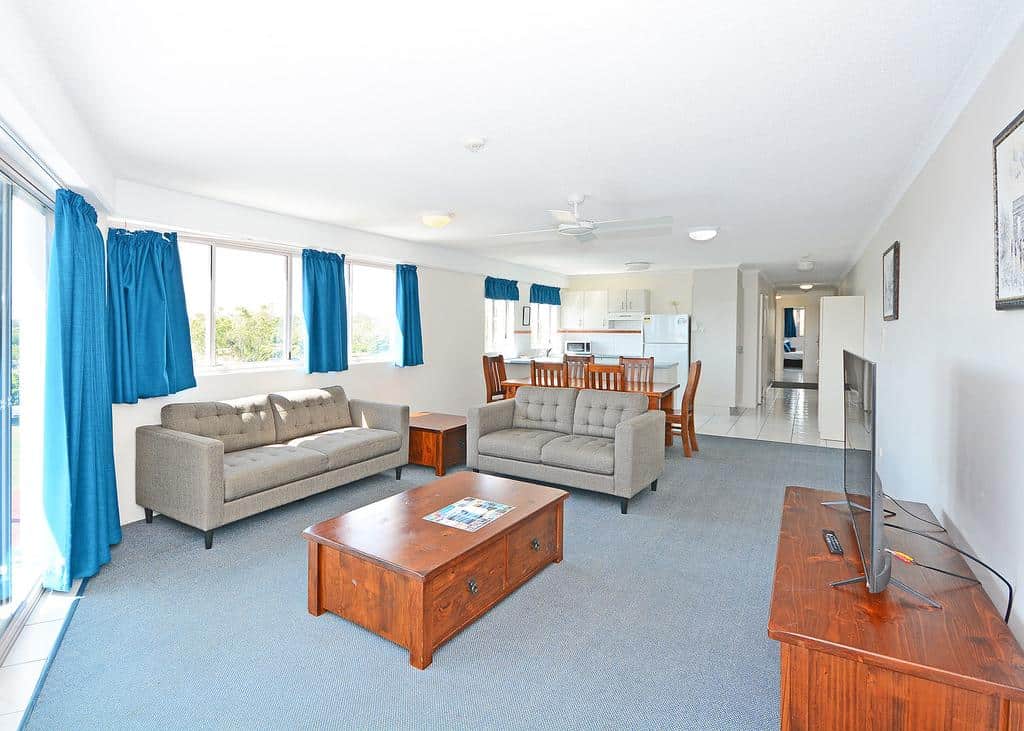 Room Types
The rooms at the Riviera range from 1, 2, or 3 bedroom apartments, including 2 and 3 bedroom ensuites. These rooms feature balconies, full-sized kitchen areas, laundry, and spacious bedrooms.
The beds are comfortable and the living room spaces feature soft beige leather furniture for a neutral look.
The rates for the rooms range between $130 to $190 and these prices can change due to peak seasons, etc. They can be booked for 2 or 3 night stays or up to 7-day bookings.
The options for bookings help to suit anyone's holiday lodging needs.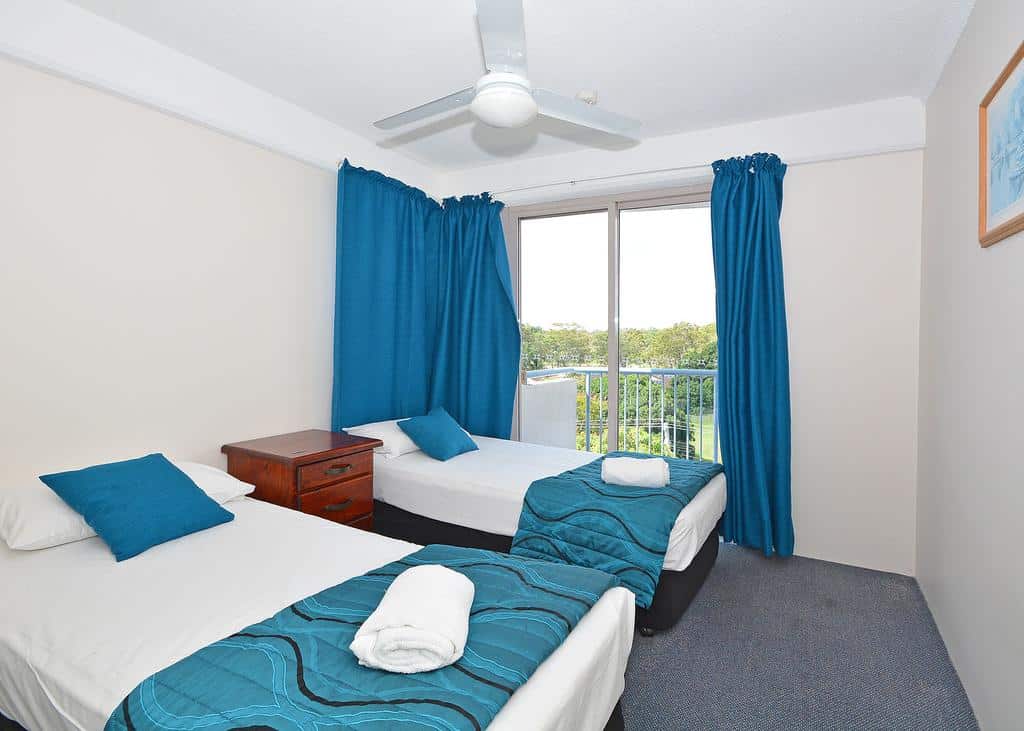 Surroundings and Location
The contact information and address for the Riviera Resort Hervey Bay is as follows:
386 The Esplanade
Hervey Bay, QLD 4655
Phone 07 4194 1984
This resort is a hub for all the best attractions in Hervey Bay. This is especially true for the whale watching tours and tours to Fraser Island.
These boat tours can be booked through the resort and come at special price points. Moreover, they provide a wonderful insight into some of the most interesting places known to Hervey Bay.
The resort is also is super close to Torquay Beach. This beach is well-known for all things beach-related including fishing, snorkelling, swimming, etc.
There's nothing like a day at the beach and a resort to relax in afterwards! Another great thing about the area is the local restaurants. Some popular choices include Nilma Indian, Seaside Cafe, and Tres Salsas.
Facilities (Other than the popular ones)
Flat-screen tv and DVD player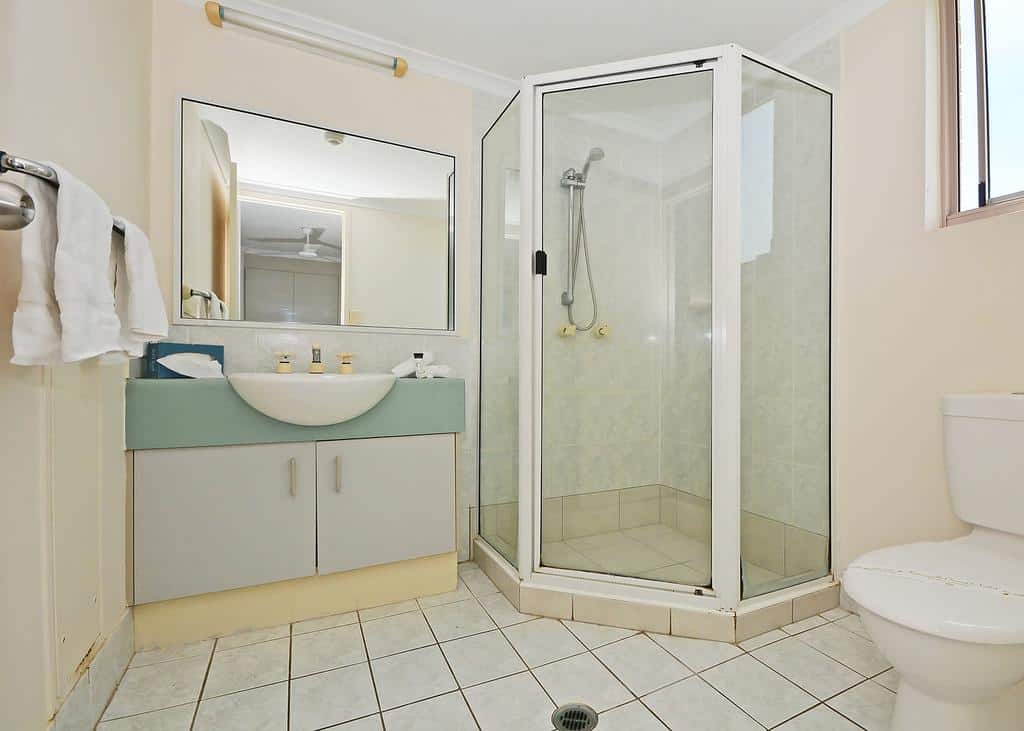 Check-In and Check-Out Times
Check-In time for the Riviera Resort is 2 pm and the check-out time is 10 am.
Hervey Bay has plenty to offer its visitors in terms of entertainment but they also have great lodging options! Riveria Resort is an excellent option for staying in the bay area!


Resource Links To Products We Use And Recommend
More Recommendations For Accommodation
link to Discovery Parks Fraser Street Hervey Bay
On the Fraser Coast, Hervey Bay is an oasis of the best natural world the area has to offer. Just across the way from Fraser Island, you will also find beautiful botanical gardens, a stunning...
link to Caravan Parks Hervey Bay
One of the most iconic ways to experience Australia is by experiencing its beautiful natural surroundings. Because the country offers an abundance of stunning landscapes from coast to coast, caravan...