Queensland Australia is a popular tourist destination. Known for its sunshine, pristine beaches, and much more, Queensland is a hotspot for those looking to soak in the beauty of Australia. Due to its popularity, Queensland also has a reputation for being a little bit expensive.
This is particularly true for Fraser Island, the world's largest sand island which sits just off the eastern coast of Queensland.
Fraser Island draws in thousands of visitors every year. Visitors from all over the world seek out the island's natural beauty (which has given it a world heritage title). Because of the foot traffic that comes to the island every year, Fraser Island is considered to be a bit expensive.
However, its high number of guests is only a small part of what makes the island a little pricey. Even though it is a massive island (over 1,600 kilometres squared!), it is still an island nonetheless. Islands are known for being a bit on the expensive side due to their limited resources that are often brought in via ferries or barges from a mainland source.
Even though the island is a bit expensive, Fraser Island can still be thoroughly enjoyed.
Through proper planning and understanding of what costs to expect, people can go to Fraser Island without overspending. Fraser Island can be expensive and a week's trip to the island can cost a single individual around $2,283(AUD) or around $4,500(AUD) for two individuals for resort accommodation.
These estimated price points include things like food, lodging, etc. While those numbers are a bit of a sticker shock, it is important to remember that islands aren't cheap to maintain. The costs do aid in the overhead that is needed to keep Fraser Island accessible for its visitors.
The estimated costs for individuals or couples can be broken down into a more visual perspective. Taking a closer look at common costs on Fraser Island can help understand the high price tag as well as set some goals for saving up some money to visit! Below are some common costs that are found on Fraser Island!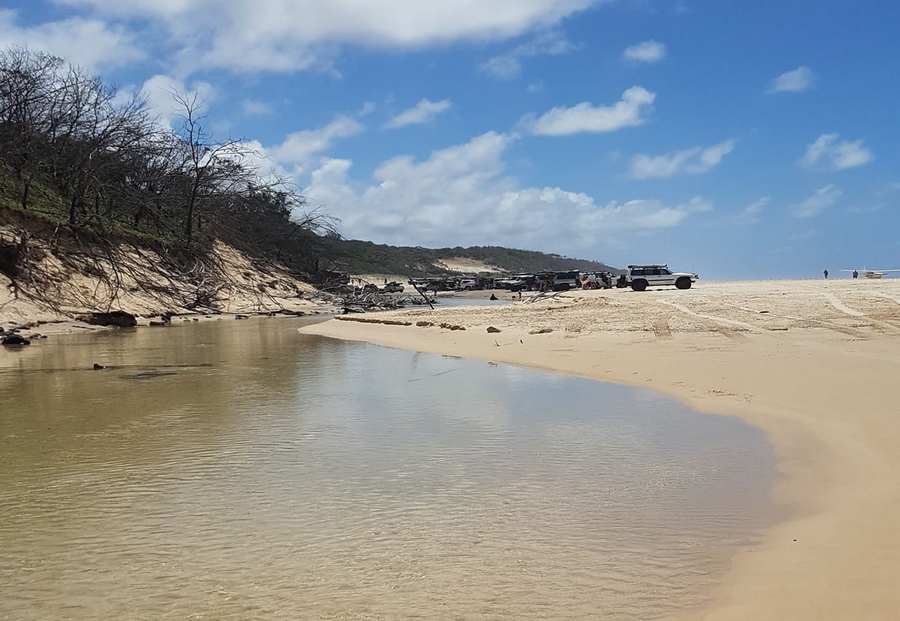 How Much Does Staying At Fraser Island Cost?
Food And Alcohol Costs on Fraser Island $30-$75 (per day)
There aren't many restaurants on Fraser Island, as most of them are on the mainland in Hervey Bay, but there are some! Depending on where someone eats, a daily budget of around $30 to $75 per day is about the average price. Usually, breakfast will cost significantly less. Lunch will as well. Dinner is usually the most expensive.
People can also bring food from the mainland to help reduce the cost of buying food. This is can be a huge perk for those on a budget who want to visit the island. There is a store at Eurong on the island which has groceries like meat, veggies, fruit, petrol, etc.
However, depending on someone's budget, the shop could have higher prices. It is always good to have some spare cash to use a place like this in the event of an emergency, however, trying to fund an entire stay at the island by buying from a shop like this isn't feasible.
When getting alcohol on the island, the price per day should be adjusted. Typically an additional $20 per person per day should be allotted for alcohol in addition to general food funding. This price can obviously vary depending on how much someone intends to drink. The best approach is to try to have a little more money handy to help for any drink purchases.
Accommodation At Fraser Island From $140 (singles, per night) And $280 (for doubles, per night)
The primary lodging at Fraser Island is at the two resorts, the Eurong Beach Resort and Kingfisher Bay Resort. These resorts offer guests traditional hotel accommodation along with lodges, villas, and even vacation house rentals. These resorts aim to make their guests not only feel pampered but indulged while they are sightseeing on the island.
The price on average is $140 per single person, per night or around $280 for a double-occupancy room. This price will change depending on the needs of the customer, the time of year of the booking, the method of booking, or the specific type of lodging someone is looking for.
There are opportunities to camp on Fraser Island which proves to be a better choice for guests on a budget. It also is a better choice for guests who want to enjoy the simple, great outdoors of Australia.
Whatever the reasoning, camping on the island proves to be quite a thrill. While camping permits are needed, they generally aren't too expensive. Moreover, camping allows visitors to bring their tents or off-road campers which is a pleasure for those who prefer being within nature.
Even though the permits are an up-front price, the overall camping experience proves to be a cost-effective way to lodge on the island.
Tours Of Fraser Island Start At Around $185
Fraser Island is jam-packed with all sorts of natural sights to see. From perched lakes with beautiful sands, ancient rainforests, and historical sites, the island isn't short of activities to partake in. With so much to see, people sometimes choose to sign up for various tours that take guests on an adventure to all the key points of interest.
These tours are pretty pricey (with some of the having price tags of around $400 per person), but they typically include some sort of brunch or drinks along with the tour. These tours also are inclusive with providing transportation to the island and around the island.
They usually take place on big buses that are capable of navigating the island's sandy terrain. Driving on the island is only able to be done by a 4WD vehicle, so sometimes these tours are the best way to sight-see.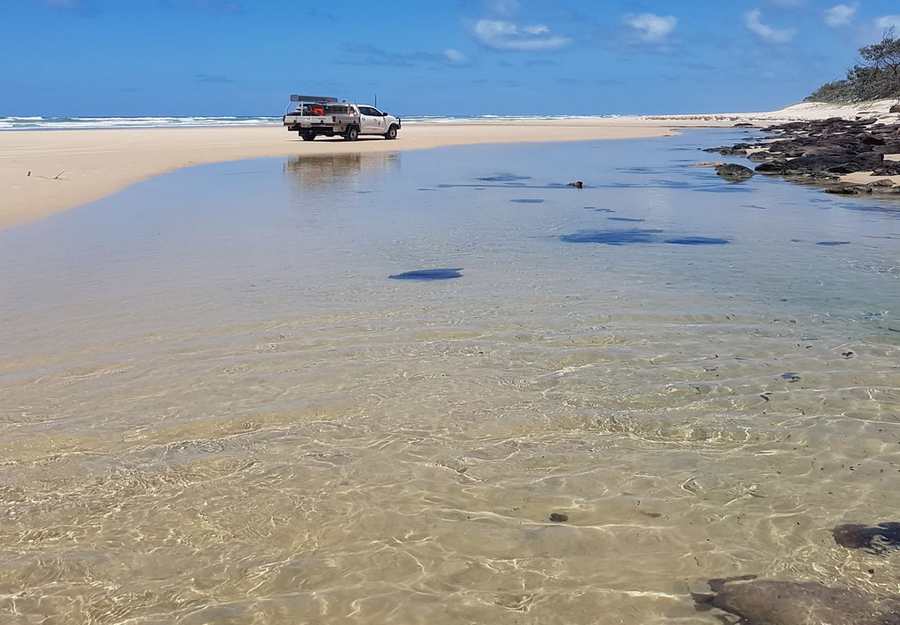 Fraser Island 4WD or 4×4, Hire Self Drive
The reasons why Fraser Island is expensive can be contributed to the restaurants, lodging, etc. However, 4WD or 4×4 hire can also contribute to the island's high expenses. Regular 2WD vehicles aren't permitted on the island due to the sand dunes. Most of the island is made of sand making it difficult for 2WD vehicles to properly drive.
The sand gives way under the tyres which can create ruts that regular cars simply cannot handle. Because of this, only 4WD vehicles are permitted on the island to safely and efficiently navigate the sand dunes.
People can choose to bring their own 4×4 or go through one of the companies that offer 4×4 for hire. The prices for these hires can vary based on how many days someone needs the vehicle. Most of the companies will offer 1, 2, or 3-day options to provide a wide range for those visiting for short or longer periods of time.
Regardless if someone is hiring a 4×4 or using their vehicle, all vehicles require a permit. This is another added cost to the expense list for visiting the island. However, some of the 4×4 hire companies will include this cost in their overall fees.
Additionally, taking a 4×4 tour can be more cost-effective as it saves on petrol fill-ups. Ultimately, the best way to approach this type of expense in relation to visiting the island is by whatever would work best for an individual's situation.
These are the most common expenses that guests can run into while visiting Fraser Island. The money starts to rack up depending on how long someone is staying on the island. Day trips are possible and can be more affordable if someone is on budget.
Otherwise, those planning an extended stay should prepare by saving up some extra cash well in advance. This simply makes things easier once it's time for the actual trip!
As the list has shown, lodging tends to be the most expensive thing on the list. Lengthy stays on the island can be costly, even with discounts for booking multiple days. However, lodging is an important expense considering it is where people begin and end their days while on holiday.
When planning a trip to the island, perhaps the bulk of the finances for the trip should go into the lodging itself. The rest of the trip can budget-friendly. Below are ways to help ease some of the expenses of visiting Fraser Island.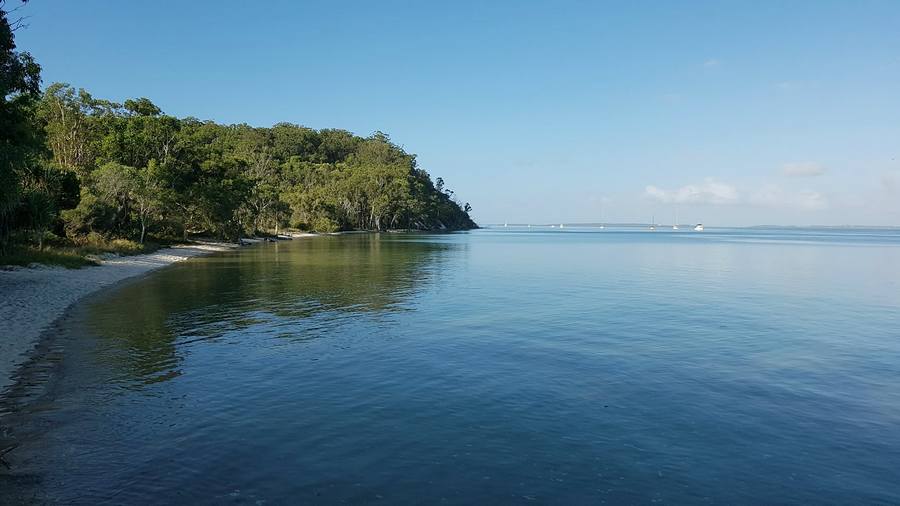 Ways To Save Money Travelling To Fraser Island
Bring your own food to save on eating out.
Consider the benefits of possibly booking a tour. This could be a 4×4 driving tour or a bus tour.
Try booking a lodging arrangement through a third-party website that offers steeper discounts.
Go during an off-season. Travelling to Fraser Island during peak times (usually December through February as it best for outdoor activities) can result in high lodging prices. Going during an off-season time can save some bucks.
Opt for photo opportunities over souvenirs. Keepsakes are nice to have and perhaps the best keepsakes someone can take away from a holiday is by having photos of their trip.
Fraser Island might be a bit expensive, however, it doesn't have to burn a hole in someone's pocket too much!
Fraser Island Permit Prices
Another expense that should be taken into consideration is the permit prices. Permits are needed

to camp or drive a 4WD vehicle on the island. All permits are required to be posted in a visible location so that park rangers can easily see them. For 4WD vehicles, this is typically on the lower left-hand side of the windscreen.
For camping, the camping permit

should be displayed on whatever means camping is taking place. For example, the front of a tent or off-road camper.
Additionally, all permits must be purchased prior to visiting the island or setting up any type of campsite. This is typically done online through the Queensland government website

. This is considered to be the fastest and most reliable way to ensure all permits are obtained prior to visiting Fraser Island.
Below are the current permit prices for camping and 4WD driving on the island!
Camping Permit Prices (Fraser Island)
$6.75 per person, per night ($3.70 per person, per night for students)
$27 per family, per night. A family is defined as being two adults, three to six children or three adults, five children. This is just an example, but ideally, family units are obviously a set of persons exceeding 5 or more people.
4WD Driving Permit Prices (Fraser Island)
More than a month and up to a year – $432.30
Camping permits are quite affordable while 4WD permits are a bit more expensive. There are day permits available for 4WD and current prices for those can be confirmed through 4×4 hire companies. Depending on the needs of a person or how often they visit Fraser Island, the 4WD permit price could end up paying for itself.
Fraser Island is the most remarkable, historical sand island on the planet. Its sheer beauty provides visitors with such incredible natural sites. Even though it is an expensive place to visit, every penny is worth it! Moreover, there are plenty of ways to save money when visiting the island.
No matter what, Fraser Island proves to be a timeless place to encounter!
Resource Links To Products We Use And Recommend
More Pages On Fraser Island
link to Can You Drive At Night On Fraser Island?
Fraser Island, located off the coast of Queensland, Australia, is a popular tourist destination and a UNESCO World Heritage Site. The island, which spans more than 120 kilometres in length and 24...
link to Are There Toilets On Fraser Island?
Fraser Island, which is a popular tourist destination in Australia. The island has a number of campsites and other facilities where visitors can use toilet facilities. There are on average around 22...