Fraser Island is Queensland, Australia's premier attraction. Located just off the mainland's eastern coastline in the Hervey Bay area, Fraser Island is a massive sand island that is brimming with various sights and activities for its visitors.
Due to its location off of the mainland, access to the island is only by ferry or barge. These ferries and barges depart the mainland from Inskip Point and River Heads to make their journey to the island.
Exploring Fraser Island is primarily done through either a tour group or via a personal 4×4 vehicle. The island is mostly made of sand with an ancient rainforest sprouting from these sands.
Because of the lack of roads, 4WD vehicles are the best choice when it comes to driving around the island's sanded surface. The ferries and barges are capable of transporting 4WD vehicles to the island.
With 4WD vehicles being the primary means of travel on the island, those wishing to go camping often wonder if campervans are permitted on the island.
Fraser Island offers a few different camping experiences on the island that really provide guests with wonderful natural surroundings. But are campervans permitted on the island?
Campervans are self-contained vehicles that offer lodging and storage for the owner. While they are a convenient way to go camping, these vehicles are not permitted on Fraser Island. The majority of Fraser Island is made up of sand which simply isn't suitable for vehicles that aren't 4WD.
Below is a list of the primary reasons why taking a campervan to Fraser Island isn't a good idea.
Reasons Why Campervans Aren't Permitted On Fraser Island
The Sand Poses A Risk For Getting Bogged
The sand is the biggest obstacle behind why campervans aren't suitable for Fraser Island. If a vehicle doesn't have 4WD, soft sand surfaces create a messy situation for the vehicle.
It can become lodged in the sand and become stuck for quite some time. This is because sand is quite flexible and the tyres on campervans aren't strong enough to propel themselves out of the sand.
Moreover, a lot of the inland tracks have deep ditches of sand due to regular travel by 4WD vehicles. These ditches aren't safe for campervans or any vehicle that isn't 4WD.
When a vehicle becomes stuck in the sand, it also creates much larger problems as well. It will often block other traffic because it cannot be easily removed from the sand.
Removal generally requires the vehicle to be towed away. Getting a tow to the island can take hours because of how the island is accessed from the mainland. To avoid this headache, it is best to leave campervans back on the mainland.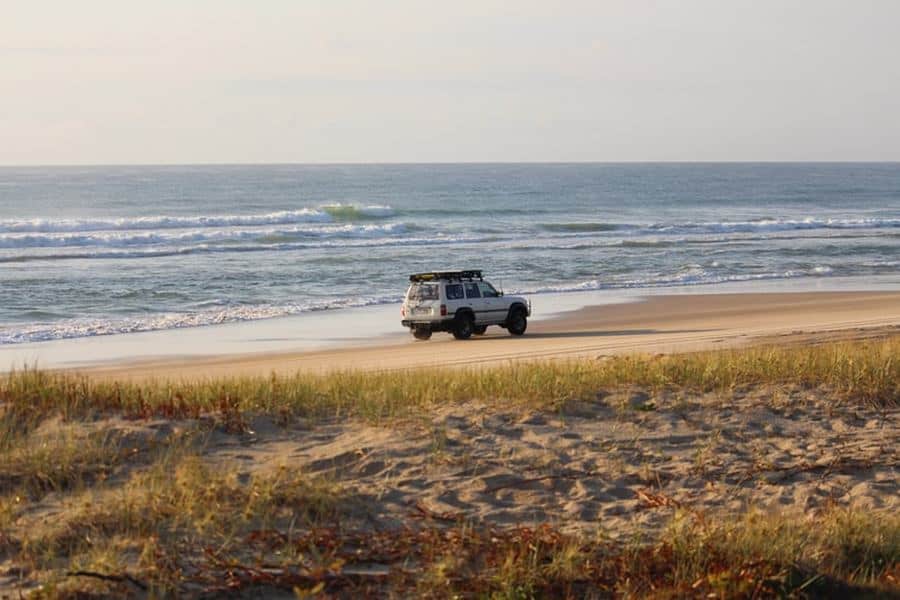 The Campervan Can Be Damaged
Depending on how badly the campervan is stuck in a sand dune, the campervan can get damaged. It can roll over once removed which can cause damage.
Once again, keeping campervans off of the island is the best way to ensure that everyone stays safe. Furthermore, it ensures that the campervan itself stays protected from unwarranted damages.
Campervans can also be damaged during recovery efforts by towing services. Recovery services that have to be called in from the mainland not only take an extensive amount of time to get to Fraser Island but also can cause further damage to a stuck vehicle.
It all depends on how the vehicle is lodged within the sand as well as how deep the rut of sand is where it is stuck. All of these factors play a part in leading to potential damage to a campervan.
The High Tides Can Pose A Danger For A Campervan
Driving along the beach on Fraser Island is a popular activity. There is something really thrilling about riding the line of hardened shoreline sand with the ocean on one side and the island's landscape on the other.
While this is an exciting type of adventure to have on the island, it is not suitable for a campervan to partake in this type of activity.
Even though the sand is firmer closer to the shoreline, campervans would still need to navigate through softer sand to get to the shoreline. Even if it managed to make it to the shoreline, high tides pose a real danger to a campervan.
Ideally, visitors shouldn't be driving anywhere near high tide time on the beach. However, the ocean is unpredictable and no vehicle, even 4WD, is safe from the high tides that roll in.
Campervans are even more at risk, so steering clear of this area altogether is the best.
Certain Sand Dunes On The Island Are Particularly Dangerous
The sand dunes near Lake Wabby can be quite dangerous for any vehicle (including 4WD) but especially for campervans or other non-4WD vehicles. This is because they are entirely too steep.
Any attempts to scale them or drive down them can lead to serious injuries or even death. Responsible driving on the island should always be practised.
This includes using 4x4s appropriately and not attempting to bring 2WD or campervans to the island.
Campervans are a great way to enjoy the great outdoors. However, the best way to get the most out of them is to use them on the mainland!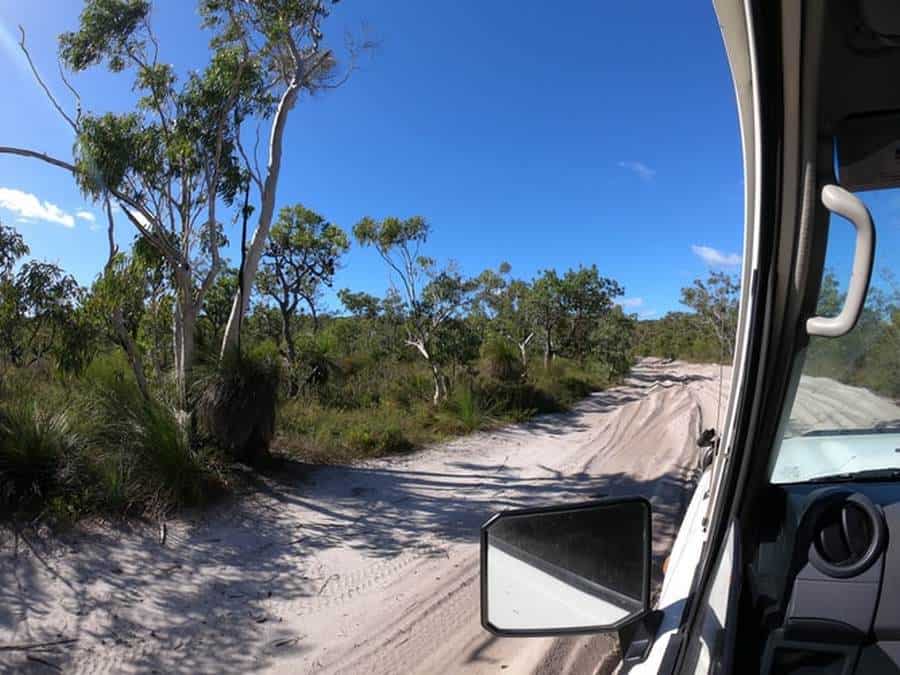 Can You Take A Motorhome To Fraser Island?
Motorhomes are generally a larger version of a campervan. They tend to provide owners with a more spacious way to have a "home-away-home" when camping.
They are just as convenient for outdoor camping as campervans, however, they aren't generally permitted on Fraser Island either.
Once again, these types of vehicles can become bogged in the soft sands and be threatened by high tides or property damage.
What Vehicles Are Allowed On Fraser Island?
Only 4WD vehicles have the clearance to drive around Fraser Island. Because the island is primarily sand, 4WD vehicles are able to navigate through the soft sands much better than a regular 2WD vehicle, campervan, or motorhome.
The only place where 2WD vehicles are permitted on the island is at Kingfisher Bay Resort. This is because Kingfisher Bay Resort is the only place on the island with roads, although not many.
Although motorhomes and campervans aren't allowed on the island, off-road trailers are allowed. Off-road trailers are trailers that can be towed or transported by a 4X4.
These trailers are attached to the back of a 4×4 which makes them portable with the vehicle. While the trailers aren't technically a type of vehicle, they are a way to enjoy similar benefits that campervans and motorhomes provide people.
Even though off-road trailers are typically used for camping gear storage, some of them can be used as sleeping quarters.
It is important to note that permits are always needed to drive 4x4s on Fraser Island. Additionally, camping permits are also needed. The easiest way to obtain these is by purchasing them online prior to visiting Fraser Island.
These permits are needed before attempting to go to the island. Below are the prices for vehicle permits and camping permits for Fraser Island!
Camping And Vehicle Permits For Fraser Island
Vehicle Permits For Fraser Island
Vehicle permits

for Fraser Island are generally priced at $54 for a month or less or $270 for more than a month and up to a year. Another popular option that guests consider is purchasing vehicle access permits for the island and the Cooloola Recreation area.
In doing so, guests get a 20% discount. The price for both areas is $87 for a month or less and $432 for a month or more and up to a year. This is a great option for people who enjoy 4×4 driving throughout the year.
Camping Permits For Fraser Island
The general camping permit prices

are about $6.75/per night per person or $27/per night per family. Families are defined as two adults and anywhere between 3 to 6 children.
Basically, a family is up to 8 people per price point for a family permit. This is a pretty affordable price to go camping, especially on Fraser Island.
4x4s are the only vehicle that makes travelling around Fraser Island possible and enjoyable. They are able to withstand the sand conditions and can be a thrilling way to adventure around the island to see all the sights.
Even though campervans and motorhomes aren't appropriate for the island's terrain, through the use of off-road trailers, people can still have the benefits of the other vehicles without the hassle.
Where Are Trailers Or Off-Road Trailers Permitted On Fraser Island?
It is important to know where camping trailers or off-road trailers are allowed on the island. This ensures that people who are bringing them along with their 4×4 vehicles are taken to the appropriate areas on the island.
It also ensures that people have the best camping experience as well. Below are the areas where off-road trailers or camping trailers are allowed on Fraser Island.
Defined Camping Areas For Camping Trailers
Undefined Camping Areas For Off-Road Trailers
| | |
| --- | --- |
| All beach camping areas | Cornwells group camping area |
| Dundubara group camping area | One Tree Rocks beach camping area |
These mostly defined areas are the perfect way to get outdoors and camp with personal camping trailers or off-road trailers that are suitable for sleeping.
Fraser Island is an incredible island that gives Queensland even more character than it already has. Its unique terrain might limit what types of vehicles are permitted on the island, but that doesn't make it any less exciting to explore!
People can either rent a 4WD, bring their own, join a touring group, or bring an off-road trailer. No matter, there's plenty to see and do on Fraser Island!
Resource Links To Products We Use And Recommend
More Pages On Fraser Island
link to Can You Drive At Night On Fraser Island?
Fraser Island, located off the coast of Queensland, Australia, is a popular tourist destination and a UNESCO World Heritage Site. The island, which spans more than 120 kilometres in length and 24...
link to Are There Toilets On Fraser Island?
Fraser Island, which is a popular tourist destination in Australia. The island has a number of campsites and other facilities where visitors can use toilet facilities. There are on average around 22...