Northern Australia, for example, has a tropical monsoonal climate with a wet and dry season. So, which Australian city offers the best weather? Keep reading to find out.
The city of Perth has the best weather/climate in Australia. The city enjoys a temperate Mediterranean climate with hot and dry summers and mild but wet winters. Perth is also the sunniest capital city in Australia and is considered one of the hottest experiencing over 250+ days of sunny blue skies.
Clean air, beautiful warm weather, and gorgeous natural beauty make Perth an exceptional city to visit or live in. However, what if warm weather wasn't really your cup of tea? Or you are just curious to learn what the weather is like in other parts of Australia?
Well, you have come to the right place, as we will now take a look at major cities in Australia blessed with pleasant weather conditions!
8 Australian Cities With The Best Weather
If you are travelling to Australia it is important to remember that the seasons here are at opposite times as compared to the rest of the world. Here, December to February is summer, while June to August is winter.
You have autumn from March to May and spring from September to November. So, make sure you plan accordingly!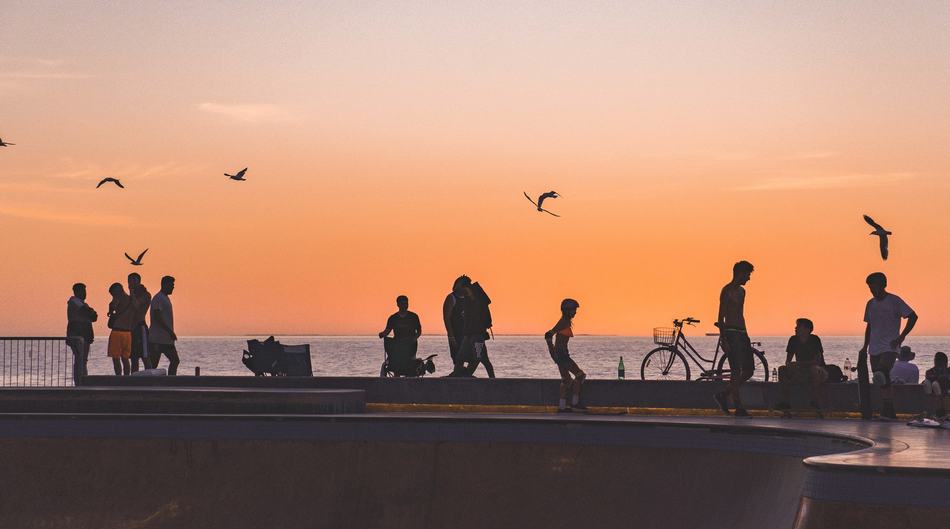 1. Perth, In Western Australia
Our #1 pick for the Australian city with the best weather is none other than Perth. Situated in the state of Western Australia (WA), Perth enjoys a dry-summer temperate Mediterranean climate and is popularly referred to as Australia's sunniest capital city.
Summers that last from December to March are hot and dry with the occasional sporadic rainfall from a passing thunderstorm or tropical cyclone. Summer temperatures can get extremely hot with temperatures soaring above 40℃ (104 °F) for several days and even weeks at a time.
However, relief from the heat comes almost every afternoon in the form of a sea breeze that is locally referred to as the "Fremantle Doctor" which helps drop temperatures down to a much more comfortable 30℃ (86 °F) or below.
Winters, on the other hand, are mild but cool and also wet. Most of the annual rainfall occurs in the months of May to September. Winter temperatures rarely ever go to zero or below although this can happen on rare occasions.

On average winter temperatures are close to double digits and although it can sometimes rain for days snowfall has never been recorded in and around Perth's metropolitan area.
Severe storms are rare but not unheard of in Perth. However, compared to the rest of Australia the weather here is pleasant and fair on most days of the year with bright sunshine and hot daytime temperatures.
Autumn and spring are shorter seasons lasting only a couple of months and are generally warm and sunny with cooler nighttime temperatures. There is also little rainfall during these seasons.
Thus, sunny days, cooling coastal winds, and mild winter temperatures make Perth a great place to visit no matter what time of year it may be!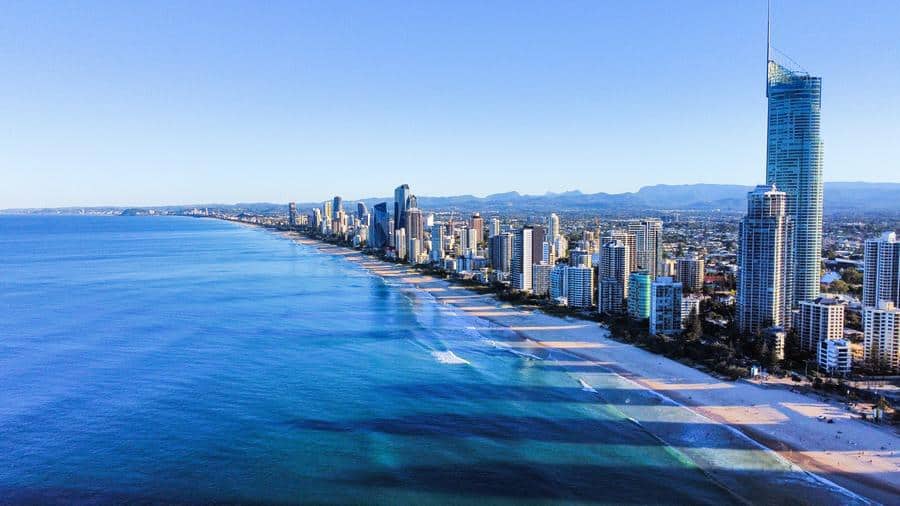 2. The Gold Coast, Queensland
If you enjoy a coastal lifestyle, then the Gold Coast in Queensland might just have the perfect weather for you. This place is a tourist magnet and renowned across the globe for its pristine surfing beaches and sunny, subtropical climate.
The Gold Coast experiences warm to mild winters from May to August and hot humid summers from December to March.
When travelling to the Gold Coast remember that it is the summer months where the city experiences the most rainfall. The month of February, for example, is generally the wettest month of the year with frequent thunderstorms and heavy showers being the norm.
In fact, if you are planning on travelling to the Gold Coast to experience Australia's surfing and coastal culture your best bet would be to travel in the winter months.
Winters are mild and even warm with little to no rainfall making these months the perfect time to visit.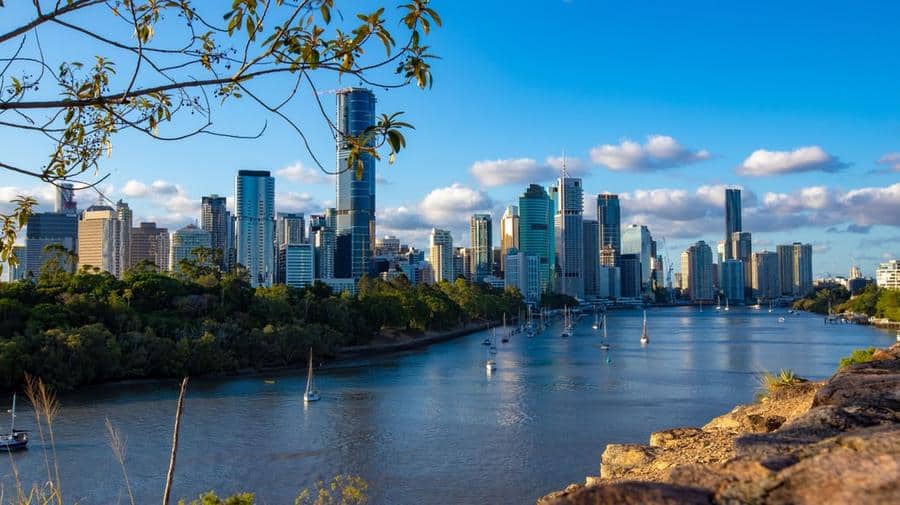 3. Brisbane, Queensland
Brisbane enjoys a subtropical climate, with sunny and warm weather for pretty much most of the year. Humidity is also a factor in Brisbane but not as much as on the Gold Coast.
That being said, during summers, Brisbane receives heavy rainfall fueled by thunderstorms that can lead to occasional flooding, especially in the outer suburbs. When it rains in Brisbane, it pours!
Average summer temperatures are slightly milder than that of Perth around 28℃ (82.4 °F).
The seasons of autumn, spring, and winter are the most pleasant in Brisbane with little rain and low humidity. Winter lasts from June to August and is mild with temperatures hardly ever dropping to single digits.
Brisbane is another city that is ideal for visiting during the non-summer months. Light rainfall, bright sunny days, and a cool sea breeze to help cool you down during those occasional hot days make Brisbane's weather one of the finest in Australia.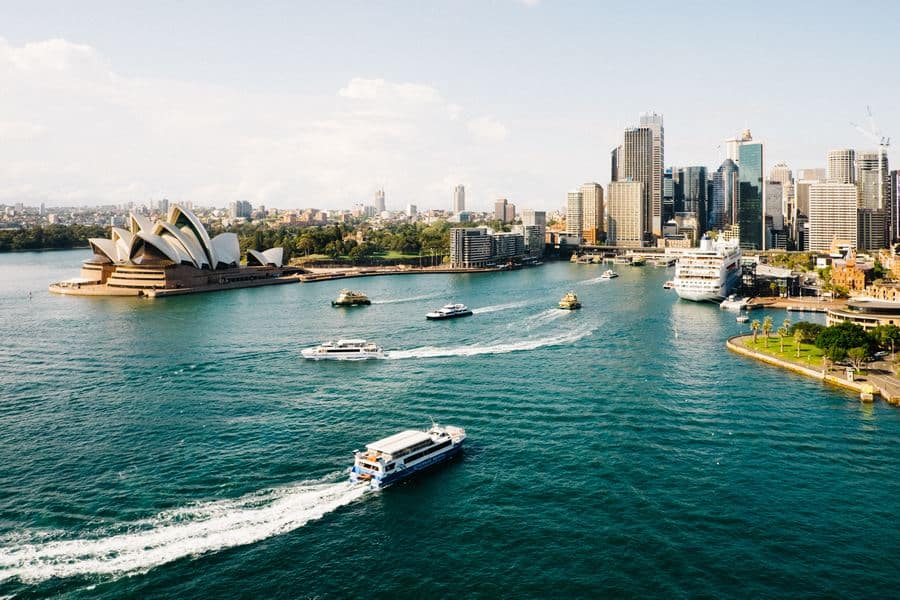 4. Sydney, New South Wales
Sydney is the most populous city in Australia and is the capital city of the state of New South Wales. Famous for its amazing architecture and landmarks, Sydney is also blessed with a humid subtropical climate that isn't too hot in the summer and not too cool in the winter.
Sydney also receives sporadic rainfall throughout the year with no season being drier or wetter than the other. For those of you looking to travel to a city that offers mild coastal weather with rainy days sprinkled in the mix, Sydney would be the place to visit.
Summers last from December to February with average temperatures in the low 20℃ range. Humidity can be high in summer and rainfall is to be expected. However, this is also the perfect time of the year to enjoy Sydney's magnificent and abundant beaches and pristine coastal waters.
Winters in Sydney can be considered the wettest season but also of course the coolest. Winter temperatures average in the early teens but single-digit temperatures are also not uncommon.
Autumn and spring are perhaps the best months to enjoy coastal walks as not only is the humidity low but the temperature is just perfect for outdoor activity.
5. Port Macquarie, New South Wales
According to CSIRO

, Port Macquarie has some of the best weather conditions in all of Australia. This tourist destination is located on the mid-north coast in the state of New South Wales.
Along with boasting 17 world-class beaches and luxurious resorts, this little gem of a location also has some of the best all-year-round weather you could wish for in Australia.
During the summer, average temperatures are around 25℃ (77 °F). Ideal weather for the beach! During winter temperatures seldom drop below 10℃ (49 °F) even at night.
The best time to visit Port Macquarie would be in the months of September and November. Not only is the weather ideal during this time with little rainfall, but the water temperature is also perfect for swimming.
As this is considered an off-season you are also likely to get great deals on accommodations and tours.
6. Darwin, Northern Territory
Looking for a place that offers only two distinct seasons? Darwin, in Australia's Northern Territory, is just such a place where you only get two seasons; wet and dry.
The wet season from November to April is humid and hot, with storms and monsoonal rains being a common occurrence. January is the wettest month of the year while February is the most pleasant with sunny days and pleasant daytime temperatures.
From October to December travellers visiting Darwin might even get the chance to witness some of the world's most mesmerizing lightning storms.
The dry season in Darwin lasts from May to October and during this season, nighttime temperatures are a lot cooler while daytime temperatures are still warm. Rainfall is light during this period with sunny skies and low humidity.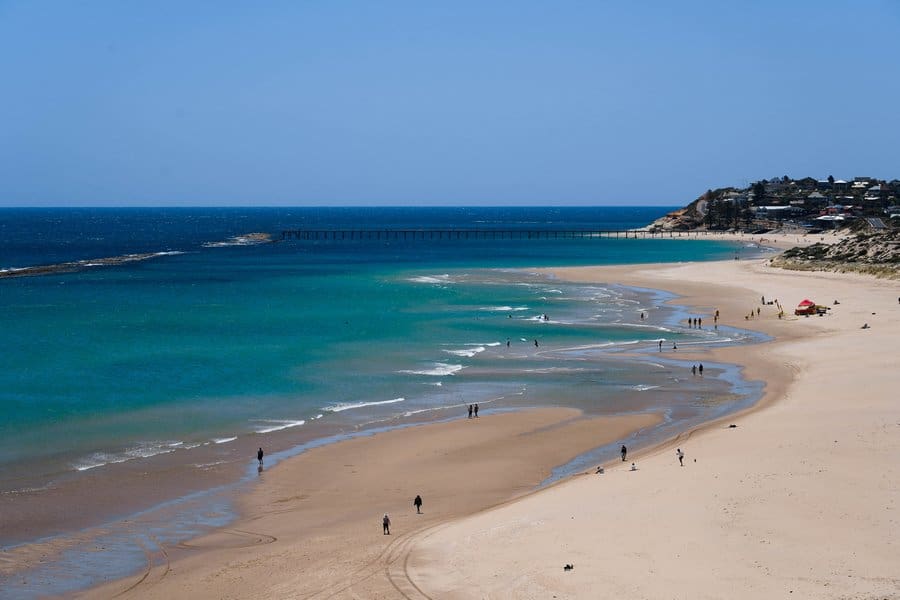 7. Adelaide, South Australia
The capital city of the state of South Australia, Adelaide enjoys a Mediterranean climate much like that of Perth. Summers are hot and dry while winters are mild and receive moderate amounts of rainfall.
Compared to the rest of Australia's capital cities, Adelaide is considered the driest. 
Average summer temperatures are around 30℃ (86 °F) but there are some summer days where temperatures can soar over 40℃ (104 °F) or more.
Even though temperatures in the winter months seldom hit single digits, the high winds experienced during this season can make the temperature seem a lot cooler. Wind chill combined with rainy weather can make winters in Adelaide a tad uncomfortable.
Autumn and spring are pleasant seasons with little rainfall and perfect outdoor temperatures. In the evenings, it can get cool though so make hay while the sun shines if you plan on visiting during these months.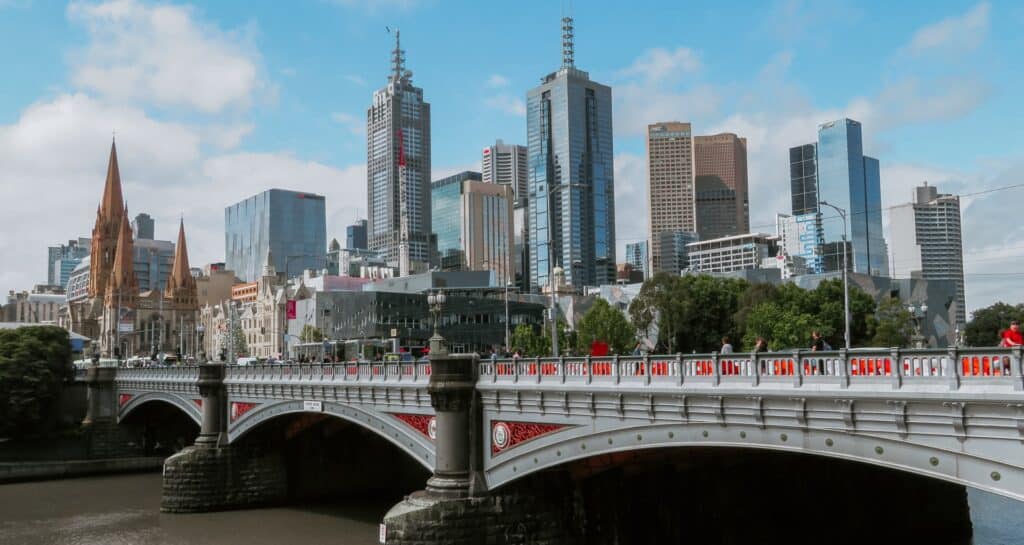 8. Melbourne, Victoria
Some cities have moody weather. London is a good example and so is Melbourne. The weather in one of the world's most liveable cities is fickle, to say the least. Residents can experience four seasons in one day which means you need to be prepared for just about anything.
Summers in Melbourne are generally warm and dry with the occasional heat wave that lasts for a few days. Seldom do temperatures soar past 30℃ (86 °F).
In autumn, the temperature begins to cool further which causes fog to blanket the city in the early mornings. However, the rest of the day, it's mostly sunny and pleasant weather.
During winter, temperatures can drop to single digits frequently, making Melbourne one of the cooler cities to visit in Australia. Snowfall is also common on the northeast side of Victoria. Winter days are usually cloudy and cold with nights being even cooler.
The spring season is where the weather is most unpredictable. Sunny and warm days can quickly change to windy and cold with bursts of rainfall occurring from seemingly nowhere.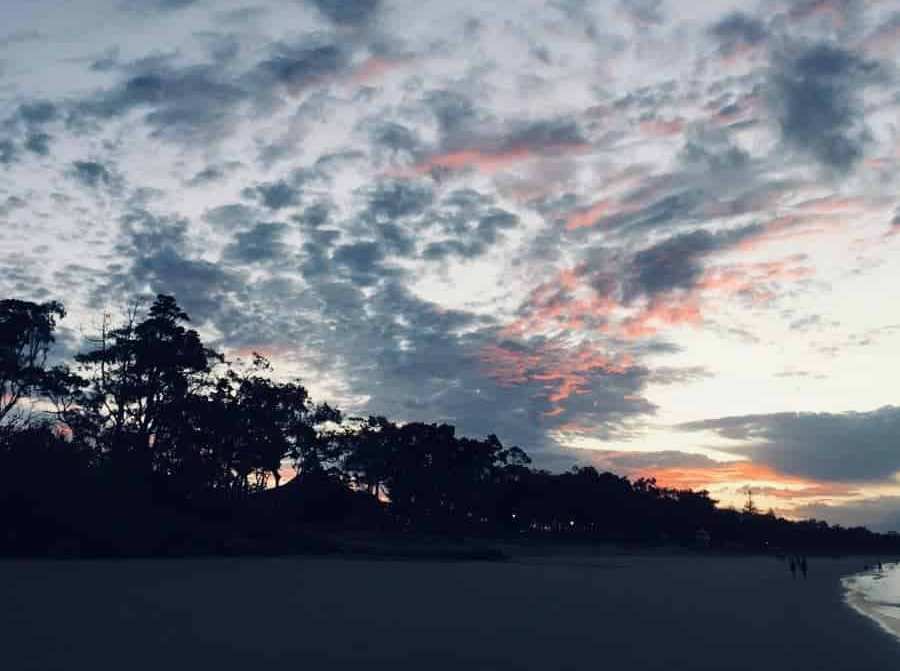 Frequently Asked Questions (FAQs)
Q) Which Australian City Has The Worst Weather?
Adelaide and Melbourne take the crown when it comes to cities with the worst weather in Australia. Both these cities are generally a lot cooler than others and also experience a lot more rainfall and fewer sunny days.
Q) In What Parts Of Australia Can You Experience Snowfall?
If you love snowfall and chilly winter days, you don't have that many options in a country like Australia. Perhaps the only major city that may get snowfall once every three years on average is Canberra, the capital city of Australia.
However, that doesn't mean you can't find snowfall outside of cities. In destinations that dwell within the Australian Alps aptly called "Snowy Mountains" snowfall is substantial in the winter months.
Victoria's 'High Country' region and Tasmania also receive annual snowfall.
Q) What Is The Sunniest City In Australia?
Perth is not only Australia's sunniest city but is also considered one of the sunniest cities in the world with 8 hours of average sunshine every day! On average, Perth only gets about 8 days of rainfall in a year meaning that the rest of the days are generally bright and sunny with warm weather and clear skies.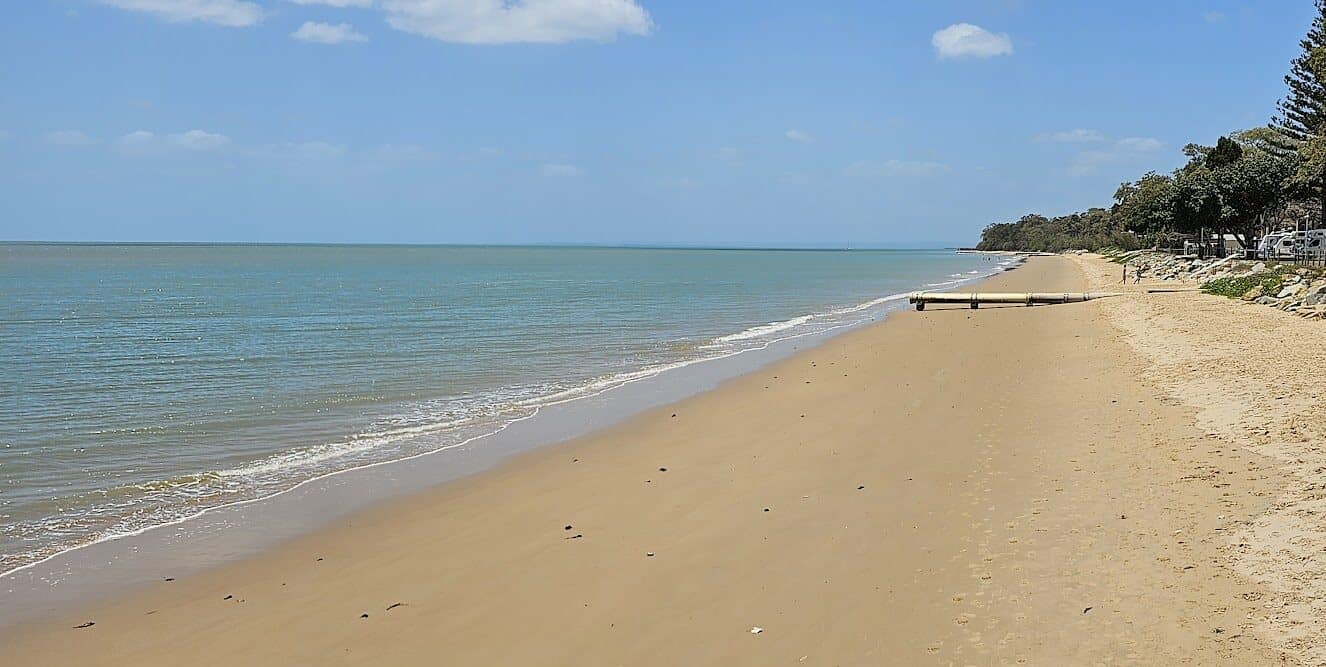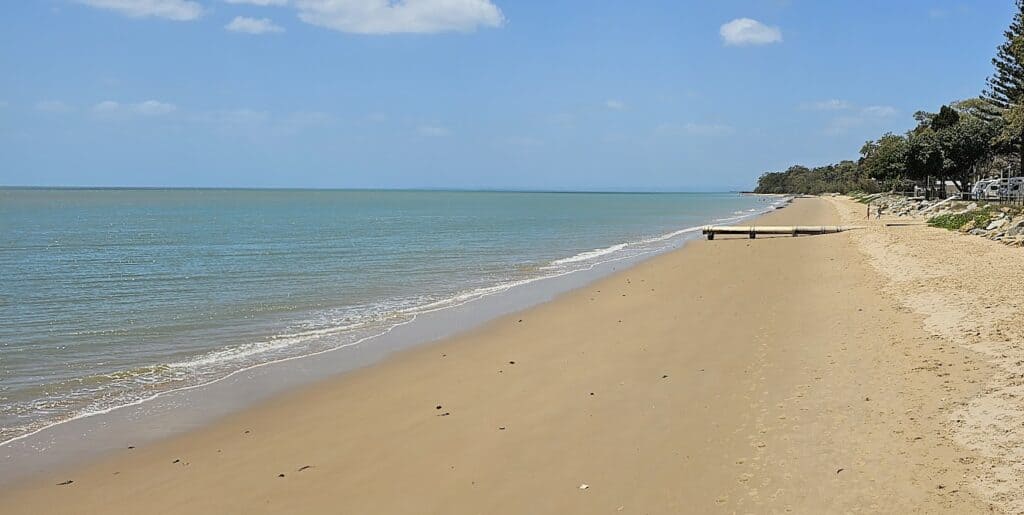 Final Thoughts
The weather in Australia can vary drastically from city to city. For those living in Melbourne, paying a visit to Brisbane or Perth can feel like travelling to another country altogether.
Remember, if you are travelling from abroad, the seasons in Australia are opposite to what they are in the northern hemisphere. While the rest of the world is experiencing the winter season, Australia is in its peak of summer with amazing weather and great coastal living making it a fantastic destination!
Resource Links To Products We Use And Recommend
More Pages On Other Areas