Gold Coast in Queensland, Australia, is famous for many things; beautiful sandy beaches, amazing weather, pristine coastal waters, and of course, theme parks! For those seeking the fastest and scariest thrill rides, water slides, and a magical carnival atmosphere, the Gold Coast has five colossal theme parks to keep you thoroughly entertained.
Yes, Gold Coast theme parks are open all year with the exception of Christmas Day (25th of December) and ANZAC Day (25th of April). On ultra-rare occasions, due to extreme weather conditions, the parks may also be closed temporarily or for the whole day.
The Gold Coast is blessed with a sunny, subtropical climate that makes the weather perfect for beach days and theme park thrills – all year round. However, there are certain seasons that are better for visiting and also a couple of theme parks that you simply have to experience if you plan on travelling to this beautiful part of Queensland. Read on to learn more!
5 Gold Coast Theme Parks Open All Year
The Gold Coast is Australia's theme park capital, home to not one but five world-renowned theme parks. All five of these parks are unique, yet suitable for almost all age groups; small children, adults, and seniors.
1. Warner Bros. Movie World
For all you movie buffs out there, Warner Bros. Movie World will likely be the highlight of your Gold Coast vacation. This is Australia's only movie or Hollywood-related theme park that has everything one could ask for; awesome rides, fantastic shows, and fun characters to entertain you throughout the day.
Popular movie characters such as Batman, Wonder Woman, Cat Woman, The Joker, and more mingle with tourists daily, putting on a show for fans. If you are done taking selfies with these silver screen icons, you can partake in a host of rides, sure to quench the thirst of any adrenaline junkie.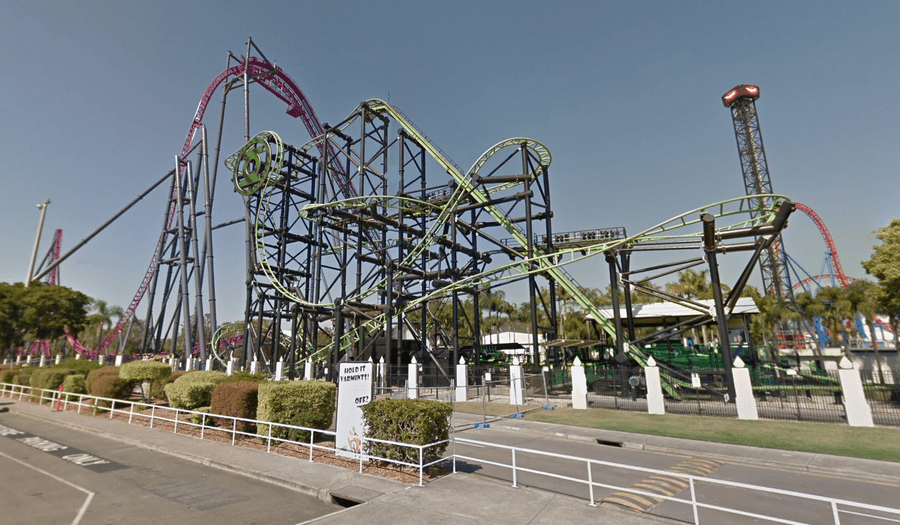 The most popular rides for adults include the Scooby-Doo Spooky Coaster, DC Rivals Hyper Coaster, Arkham Asylum, and of course, the Superman Escapes rollercoaster, all of which will likely knock your socks off the first time around.
If you are planning on visiting with children they won't be disappointed either. The park has plenty of rides and activities to keep kids of all ages thoroughly entertained. The most popular activities include the Warner Bros. Kids Fun Zone and the Junior Driving School.
Address: Pacific Mwy, Oxenford QLD 4210
Phone: 13 33 86
2. Sea World
Eager to experience marine life on the Gold Coast? Why get wet, when you can have an aquatic adventure like no other at Sea World, located at the heart of Main Beach.
This theme park is all about marine animals and you will find an exotic range of them here. From countless species of tropical fish to polar bears, penguins, dolphins, seals, and sharks, Sea World has it all!
There are plenty of viewing areas close to the enclosures that keep you close to the marine animals without disturbing them or getting you wet.
Feel a bit more daring? Why not have a one-on-one encounter with penguins, dolphins, and even sharks! Sea World offers plenty of adventures and even a number of water-based rides to get that adrenaline pumping.
The Storm Coaster and Jet Rescue are both popular choices for adults seeking a thrill. Kids, on the other hand, can be kept entertained for hours at Nickelodeon Land or at Castaway Bay, where they can have their own adventures aboard a pirate ship.
Address: Seaworld Dr, Main Beach QLD 4217
Phone: 13 33 86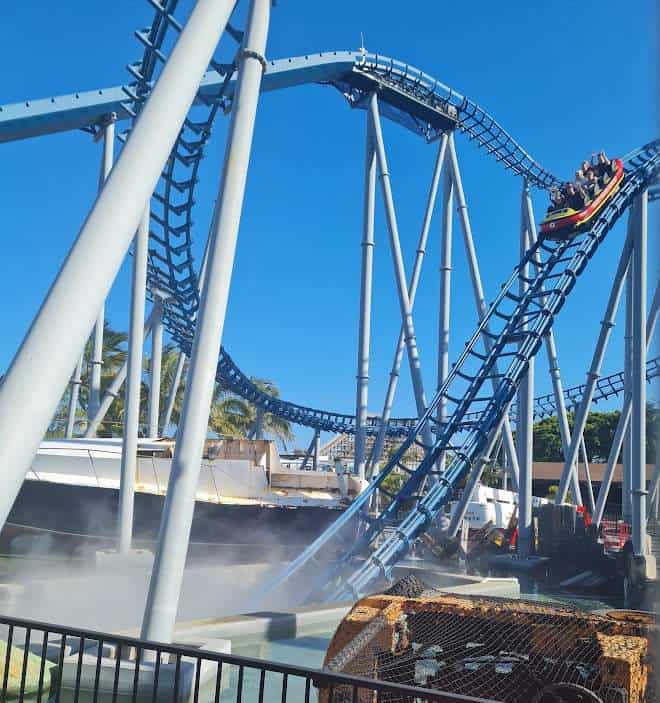 3. Dreamworld
Seeking a theme park for a family adventure that has just about it all? Dreamworld is Australia's largest theme park and appeases just about anyone. Blockbuster attractions such as The Tower of Terror 2, Dreamworks Experience, Tiger Island, Legoland Store, and the Dreamworld Corroboree bring in tourists from all parts eager to enjoy everything the park has to offer.
Wildlife warriors will simply love Tiger Island, a place where you can come as close as face-to-face with a tiger. Dreamworld Corroboree offers plenty of other Australian wildlife as well, with enclosures housing crocodiles, dingoes, koalas, snakes, native birds, and more.
Fan of Kung Fu Panda? What about Shrek? At Dreamworld, you meet these characters in real life at the Dreamworks Experience. Dreamworld also has plenty to offer for kids, with Wiggles World and ABC Kids World being amongst the most popular attractions.
Oh, wait, there is more! Once you have had your animal adventures, it is time to partake in some of the park's famous rides including the hot favourite Wipe Out! Other must-try rides include the Hot Wheels SideWinder, The Giant Drop, and Mad Jungle Jam.
Children won't feel left out either as there are plenty of rides for them as well, along with a variety of catering stalls that serve all kinds of tasty snacks and treats.
Address: Dreamworld Pkwy, Coomera QLD 4209
Phone: (07) 5588 1111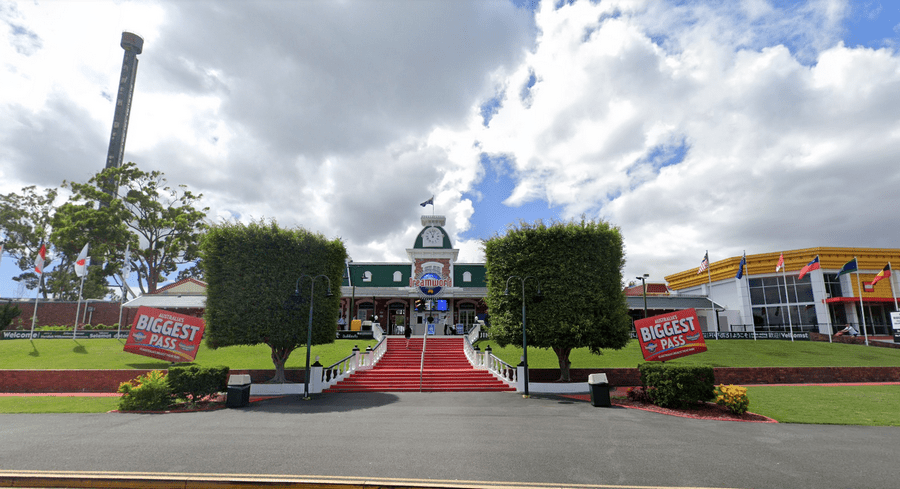 4. WhiteWater World
You feel like you are in theme park heaven when you take Coomera Exit (Exit 54) as what lies ahead of you is not one but two of the world's most amazing theme parks. Right next door to Dreamworld is WhiteWater World, a water park with some of the best water slides in the world.
Even though the park isn't open all year round in the summer, it can be the perfect place to cool down and enjoy some relaxing pool time mixed in with some adventure and thrills. Rides such as Temple of Huey, The Wedgie, Super Tubes Hydro Coast, and the Green Room are all thoroughly enjoyable and widely popular.
The park also has a range of slides for children, with a section dedicated to their entertainment. Wiggles Bay is a supervised section away from the busier areas of the park and has all types of water-based slides for young ones to enjoy safely.
The best part is the entry to WhiteWater World is often included in the ticket for Dreamworld, so you can potentially experience both these world-class theme parks in one day! There are a number of connecting gates that link both parks, which makes exploration just as fun as the rides and other main attractions.
Address: 1 Dreamworld Pkwy, Coomera QLD 4209
Phone: (07) 5588 1111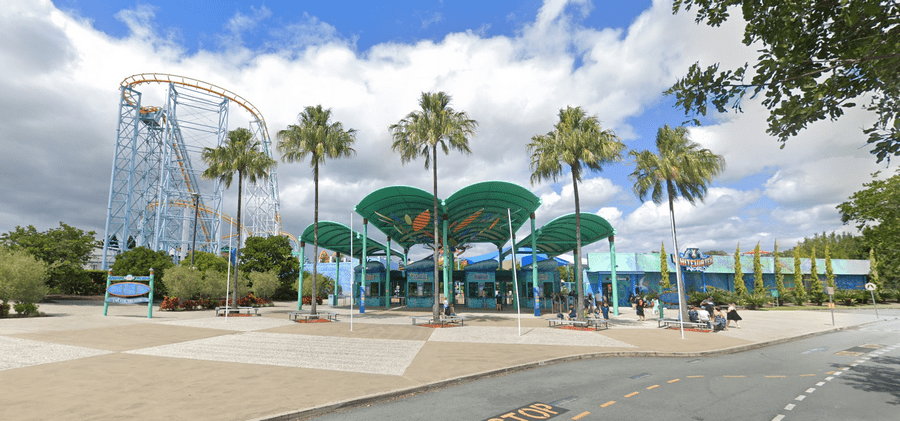 5. Wet 'n' Wild
In the mood for some fun water-based recreational activities? Wet 'n' Wild is Australia's biggest water park and offers a wide range of water slides that will keep you screaming with joy all day long!
The best time to visit Wet 'n' Wild is when the weather is nice and warm and the sun is out basking in all its glory.
Spending all day swimming in the cool waters is just what the mind and body need to refresh and unwind. With plenty of water slides for adults and children alike, you can have thrills for hours without ever wanting to leave.
Some of the best rides at the theme park include the Kamikaze, The Aqualoop, Tornado, Black Hole, and the Mach 5; all of which are a total blast! For kids wanting to have adult-sized fun, the park has a dedicated kid-friendly zone with miniature versions of the adult slides along with a giant tipping bucket.
The main attraction though has to be the Giant Wave Pool, the perfect solution for cooling off or lazing on a warm day.
The theme park also offers a number of park eateries for those feeling a bit 'snackish' after all that exercise. Families can also bring their own food and are free to use the picnic tables and barbeques dotted around the theme park.
Address: Pacific Mwy, Oxenford QLD 4210
Phone: 13 33 86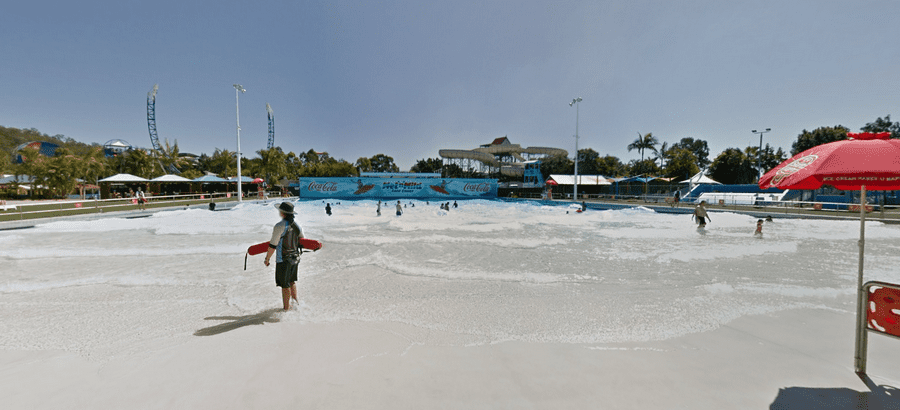 Operating Hours For Gold Coast Theme Parks
Five theme parks line the stretch of golden coastline and all five are worth the visit for thrill seekers and animal lovers alike. Dreamworld, Sea World, Movie World, Wet 'n' Wild, and White Water World all host some of the most amazing attractions and rides in the world.
Depending on what season you may be travelling in the open and close timings of these theme parks may vary.
To help make things easier, we have created tables that tell you exactly when the park gates open and close, and in which months, so you can plan accordingly.
Sea World – Operating Hours
Seasons
Gate Timing
Attraction Hours
26 April – 15 September
9:30 AM – 5:00 PM
10:00 AM – 5:00 PM
16 September – 10 October
9:00 AM – 6:00 PM
9:30 AM – 5:30 PM
11 October – 24 December
9:30 AM – 5:00 PM
10:00 AM – 5:00 PM
25 December
Closed
Closed
26 December
9:30 AM – 5:00 PM
10:00 AM – 5:00 PM
27 December – 15 January
9:00 AM – 7:00 PM
9:30 AM – 6:30 PM
Wet 'n' Wild – Operating Hours
Seasons
Gate Timing
Attraction Hours
3 May – 4 September
10:00 AM – 4:00 PM
10:00 AM – 4:00 PM
5 September – 24 December
9:00 AM – 6:00 PM
9:30 AM – 5:30 PM
25 December
Closed
Closed
26 December
10:00 AM – 5:00 PM
10:00 AM – 5:00 PM
27 December – 15 January
9:00 AM – 8:00 PM
9:30 AM – 8:00 PM
Dream World – Operating Hours
Seasons
Monday – Thursday
Friday
Saturday & Sunday
25 June – 17 July
10:00 AM – 5:00 PM
10:00 AM – 5:00 PM
10:00 AM – 5:00 PM
18 July Onwards
10:30 AM – 4:00 PM
10:00 AM – 5:00 PM
10:00 AM – 5:00 PM
25 December
Closed
Closed
Closed
25 April
Closed
Closed
Closed
White Water World, which is next door to Dreamworld, is only open during the warmer summer months. It used to be open all year round, but reduced demand in the cooler months has forced management to shut its doors, only to reopen when the weather is nice and sunny.
In the summer months, the park is open from 10:00 AM to 5:00 PM every day except Christmas Day and ANZAC Day.
Movie World is open seven days a week, with gates opening at 9:30 AM and the entertainment starting from 10:00 AM to 5:00 PM. The park is closed on Christmas Day and ANZAC Day.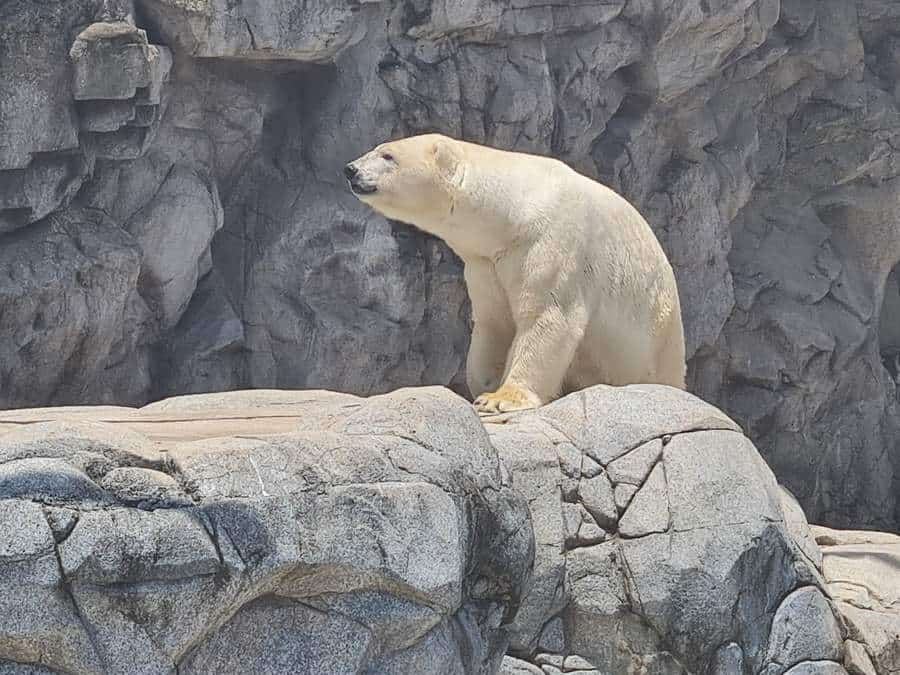 Frequently Asked Questions
Q) When Is The Best Time To Visit Gold Coast Theme Parks?
Even though four out of the five large theme parks at Gold Coast are open all year round, the best time to visit is in the months of April and May. There are two reasons for this; the first is that the weather during this time is ideal. The second reason is that it will be a lot more affordable as it is off-season.
Q) What Can One Bring Along When Visiting The Parks?
You must bring comfy shoes as you will likely be doing a lot of walking. Pack light clothes and do not forget to bring sunblock and a hat to provide respite from the hot sun.
Most theme parks such as Movie World, Dreamworld, WhiteWater World, and Sea World don't allow food or drinks inside the park. Wet 'n' Wild is the only theme park that allows for outside food and beverage.
Q) Are Pets Allowed Inside The Theme Parks?
Unfortunately, theme parks don't allow your furry friends to accompany you on your fun-filled adventure. Due to several safety risks, health hazards, and other environmental concerns, no animals are allowed inside any of the theme parks.
Final Thoughts
A visit to Dreamworld should definitely be on your list if you plan on visiting the Gold Coast alone or with family or friends. Open all year round, this spectacular theme park offers incredible rides and world-famous shows, topped off with beautiful Gold Coast weather that will ensure an action-packed day worth at least a year's worth of fun!
Resource Links To Products We Use And Recommend
More Pages On Other Areas