The beautiful stretch of coastal lands that make up the Gold Coast in Queensland, Australia, is blessed with soft sandy beaches, turquoise blue waters, and almost year-round warm and sunny weather. This makes the Gold Coast a major tourist hotspot with millions of travellers flocking to these beaches for some well-earned vacation time! 
The cheapest time to go to the Gold Coast is in Autumn, between April to June. During these months, the weather is cool yet sunny with clear skies and little rainfall. Schools are also open and as a result, few local travellers and tourists are around.
Thus, if you plan on travelling to the Gold Coast on a shoestring budget, it would make sense to make plans during the autumn season. To learn more about what the Gold Coast has to offer and, at the same time, pick up a few tips to help you save money on your travels, read on!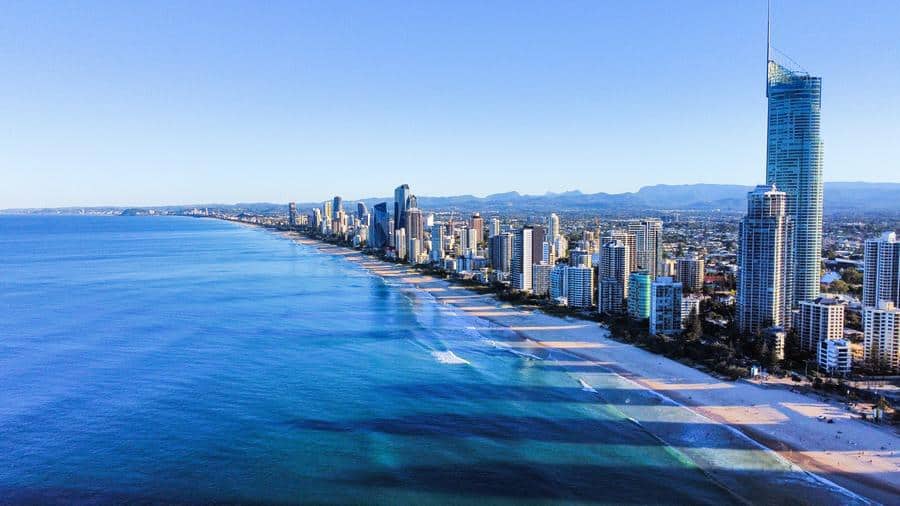 The Cheapest & Most Expensive Time To Go To Gold Coast
Choosing the right time to visit can be the difference between having an average experience at a high cost or having an awesome experience while still staying within budget. 
When planning a vacation, the last thing you want is to arrive during a season where it's crowded or when the weather is dismal. 
That is why it pays to do your research. Choosing the right time to visit a place like the Gold Coast can mean great weather along with cheap accommodation, cheap air tickets, and great deals on activities and events happening within the city.

To help determine the cheapest and most ideal time to visit the Gold Coast, we have broken down the year into four main seasons.
Each of these seasons offers its own unique advantages and drawbacks.
Autumn – April To June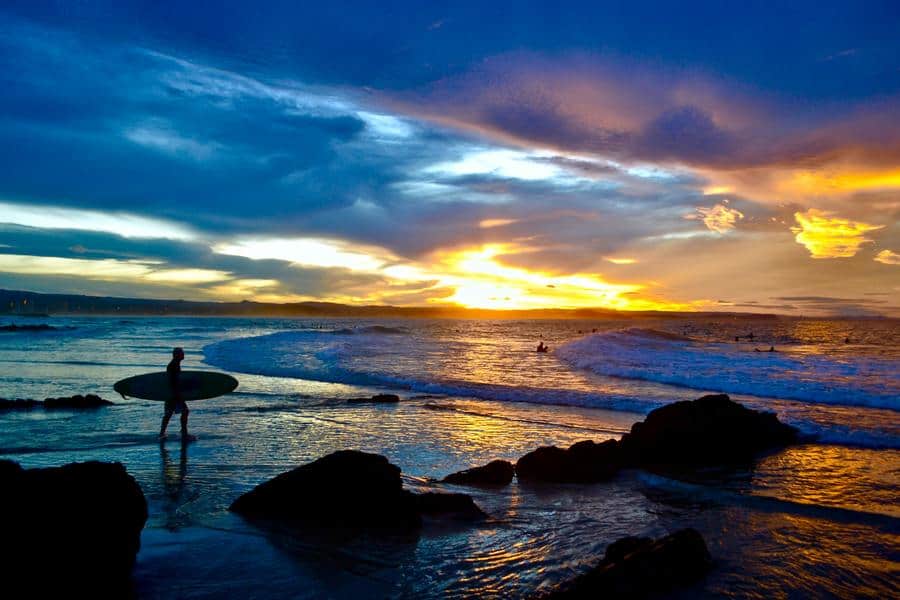 Gorgeous blue skies, golden sunshine, and perfect outdoor temperature make the end of April and early May the cheapest and best time to visit the Gold Coast. The weather is cool, yet the coastal waters still remain warm and perfect for swimming, surfing, and other water activities. 
As the months are outside the school holiday period, the demand for air tickets and accommodation is low, making it the cheapest time to visit this coastal gem. 
Flight tickets tend to be the cheapest during the months from February to June, with average international ticket prices varying from $1,100 to $1500, as compared to $2,000 and over during the peak seasons.
Hotel accommodation also tends to be cheaper during this time whether you are looking to book a hotel room, AirB&B, or opt for a vacation rental. You are likely to find some great deals if you book in advance.
For solo travellers on a budget wanting to visit the Gold Coast for a week, we would recommend setting aside a budget of at least $1500. The more frugal traveller could even get away with spending just over $1,000, for a 7-day stay, at the Gold Coast.
If you are a couple wanting to celebrate your honeymoon or anniversary on these pristine beaches, you would be looking at around $3,500-$4,000 for a week's stay. An average family vacation would cost around $4,500-$5,000.
Winter – July To September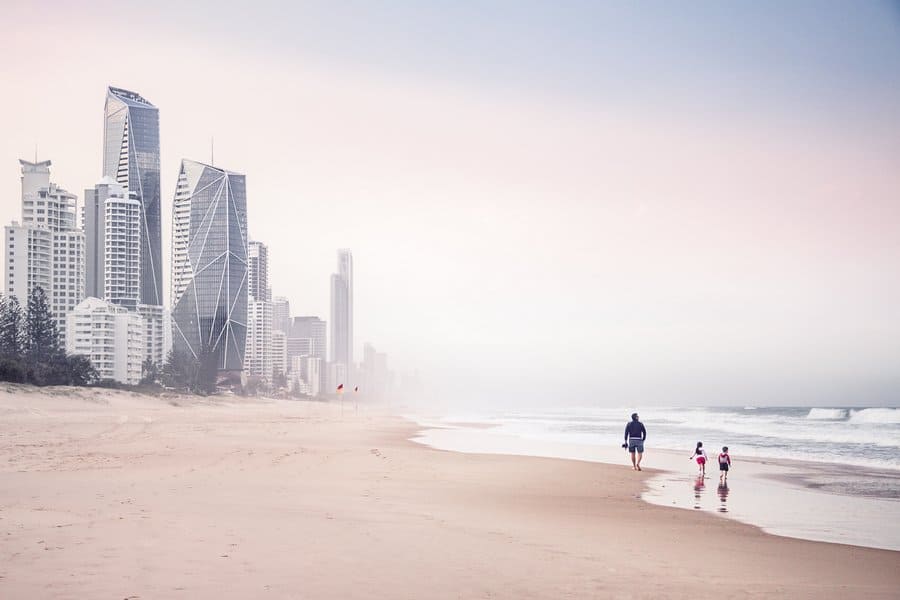 For those of you who don't mind cooler temperatures, the months from July to September could be equally as cost-effective. 
Even though prices for accommodation and air travel in particular spike during those months, you are likely to come across some of the cheapest airfares offered during the entire year.  
Temperatures average around 16℃ during the day and 9℃ at night. The weather is generally clear with little rainfall and bright sunny days. 
This season is also ideal for whale watching, with sightings almost guaranteed. You can book charters from Sea World Resort if you plan on travelling during this time. 
July might be an expensive month to go to Gold Coast, as schools are off in many parts of Australia. As a result, there is a lot more tourism, causing prices for air tickets and accommodation to spike during this time. 
However, in the months of August and September, schools are open again, making everything a lot more affordable. It would cost you just as much to travel during this time as it does when travelling during autumn.
Spring – October To December
The most expensive time to go to the Gold Coast is during the months of spring. Especially from mid-November to December, as schools are out and families are looking for some well-earned vacation time.
Prices for accommodation and air tickets are at their peak all the way until the end of the year. The annual Gold Coast 600 V8, which takes place every October, brings in thousands of tourists from all over Australia and the rest of the world. Accommodation prices are at the highest during this time and these high prices last until the end of the Christmas holidays.
However, if this is the only time during the year that you can squeeze in for travelling, then set aside a budget of at least $3,000 as a solo traveller for a week's trip. This is if you plan your trip frugally. For average travellers, you are looking more at $3,500.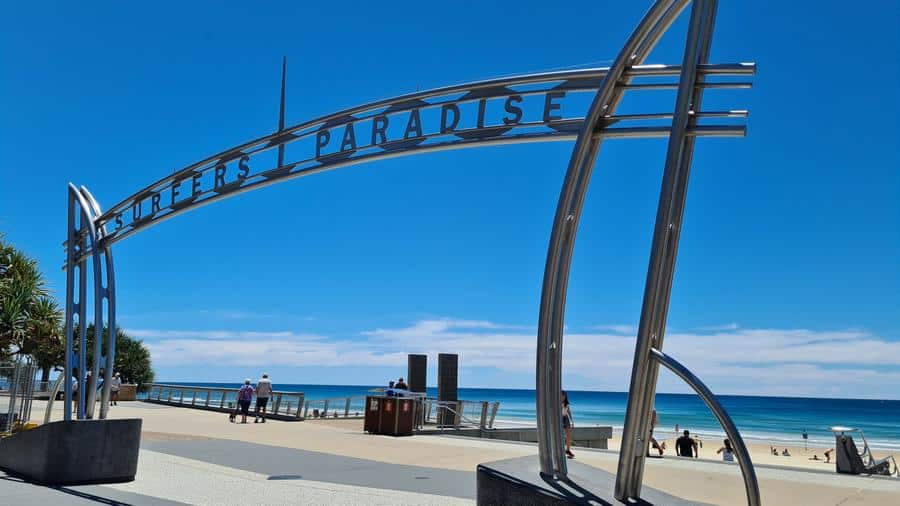 Couples should set aside a budget of around $6,000, while for families, it can cost upwards of $10,000 for a one-week trip. Vacationing at the Gold Coast isn't cheap on a good day, but when travelling during the months of November and December, be prepared to spend some serious cash!
For surfing enthusiasts, however, this is the perfect season to surf big waves. During spring, the weather is just getting warmer, with gusty winds blowing throughout the day, making conditions ideal for adventure sports such as windsurfing and kiteboarding.
During Christmas and New Year's, the city lights up with festivities and events that take place in seemingly every nook and corner of this vibrant city. Fun is in the air as thousands of tourists flock to the Gold Coast to enjoy its pleasant weather, theme parks, adventure sports, and festivities. 
To avoid paying extraordinary amounts of money for air tickets and accommodations, it is always a good idea to book well in advance and shop online to find the best deals.
Summer – January To March
The summer months are the wettest, hottest, and most humid months of the year, with daytime temperatures averaging in the late 20s. If you are not used to Queensland heat, you might find the daytime temperatures a tad uncomfortable.
Respite from the heat comes in the form of showers and thunderstorms that generally occur during the afternoon. However, despite the hot and rainy weather, the Gold Coast is still a widely popular overseas tourist destination during the summer months. 
Decent and affordable accommodation can be hard to find and even though ticket prices are considerably lower than in spring, they are still higher than the yearly average.
For many Australians, summer is the best time to enjoy the sun, sand, and surf, and as such the Gold Coast is buzzing with all types of water-based activities, to thrill even the most daring of daredevils. 
For those wanting the full Australian summer experience, there is no better place or time to travel to than the Gold Coast during the summer months.
In terms of budget, set aside around $2,500 if you are a solo traveller, $4,200 if you are a couple, and $8,000 if you are a family for a week's worth of summer vacation.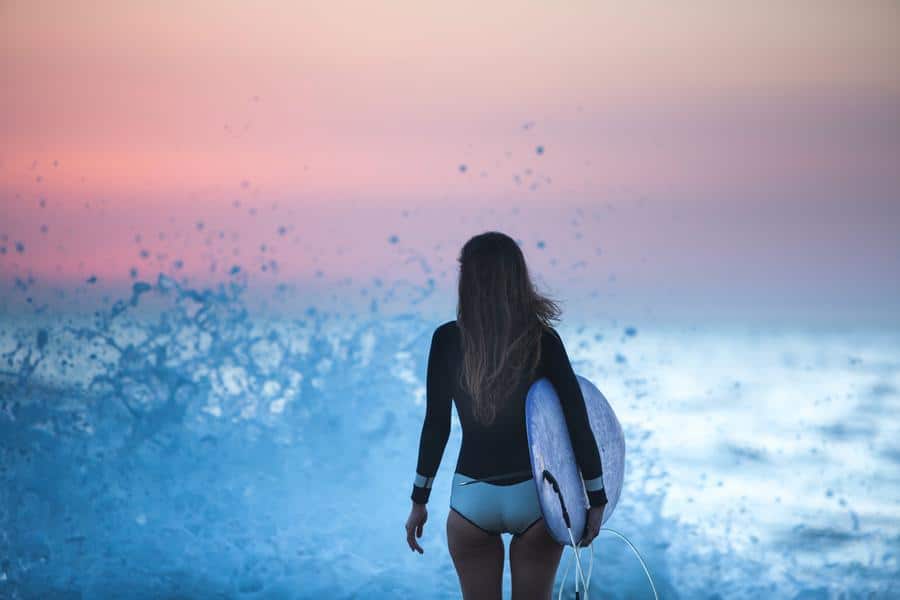 Average Budget For A Gold Coast Vacation (1 Week)
The table below shows the average budget that should be set aside when vacationing on the Gold Coast for a week, depending on how you like to travel. Included are accommodation, entertainment, personal expenses, and travel costs.
| | | | |
| --- | --- | --- | --- |
| | Solo Traveler | Couple | Family |
| Budget | $1000 – $3000 | $1800 – $6000 | $3500 – $11,500 |
| Mid-Range | $1300 – $3700 | $3400 – $7000 | $4500 – $12,500 |
| Luxury | $3000 – $12,000 | $5,500 – $18,500 | $11,000 – $34,000 |
Gold Coast Activities And The Best Time To Visit
If money isn't a concern and you are looking to enjoy the Gold Coast for a particular activity certain months or seasons might be better than others. Let's take a look.
Enjoying The Beachlife
You can enjoy Gold Coast's beautiful sandy beaches, pristine waters, and gorgeous sunny days pretty much all year round. However, the months from November to May are the best for sunbathing, surfing, and other beachside activities.
The weather is warm and sunny with the waters being cool and refreshing. The best season for surfing is also during the summer months, from November to June.
Sightseeing On The Gold Coast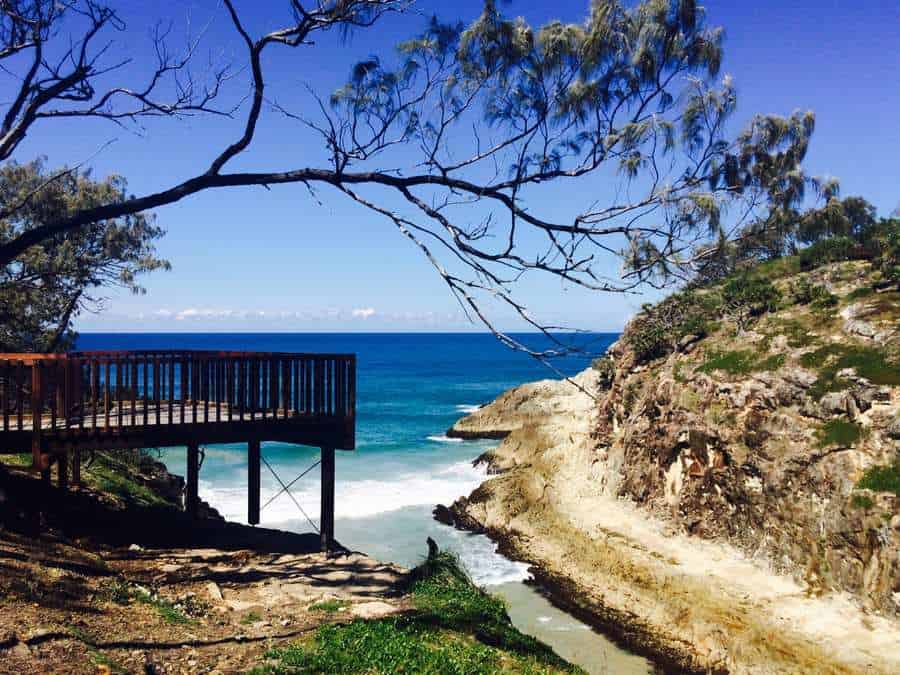 As the beach is the main attraction when visiting the Gold Coast, many forget the natural gems that are hiding just a short drive from the city centre.
The Gold Coast Hinterland, Byron Bay, and South Stradbroke Island are all fantastic sightseeing locations. 
The Hinterland is a place that takes you away from overcrowded sandy beaches and helps you reconnect with nature. This forestry region offers scenic walks, panoramic views, and even glow worm caves that you simply have to experience for yourself.
Those that enjoy camping and outdoor living can plan a day trip to South Stradbroke Island, just a short boat ride away from the northern end of the city. This off-shore location is a favoured overnight camping spot for locals wanting to get away from all the noise and commotion of city life.
The best months to enjoy these sightseeing and camping destinations would be from April to June as the weather is cooler and humidity is low. 
Whale Watching
The best season for whale watching is from June to August. Whale sightings are 100% guaranteed and apart from whales, you will get to see other marine life in the wild as well; dolphins, seals, and even sharks migrate to the Gold Coast during this time to feed and reproduce. 
Theme Park Thrills
Another one of Gold Coast's major attractions is the five world-renowned theme parks that offer year-round entertainment and thrills for tourists and locals alike. Dreamworld is Australia's largest theme park and to enjoy it to its fullest, travel to the Gold Coast in the months of April through May. 
This is because not only is the weather ideal, but also due to a lack of crowds, you won't have to spend hours queuing up in lines to get your dose of adrenaline.
Frequently Asked Questions
Q) Is The Gold Coast Expensive?
Yes, like most Australian cities, Gold Coast is an expensive place to visit or live in. On average, you should set aside a budget of at least $125 AUD per day as a solo traveller (excluding airfare). Transport, accommodation, and food prices are also going to be a lot higher during peak season, so plan your trip accordingly! 
Q) How Warm Does The Weather Get During Summers?
One of the greatest draws of vacationing on the Gold Coast is that its weather never gets too warm or too cold. Even during peak summer, the temperature hits as high as 30℃, which compared to other parts of Australia, is mild. 
The average summer temperature is an extremely pleasant 20-28°C (68-83°F). 
Q) How Cold Does It Get During Winters?
Winters are also mild on the Gold Coast, with average winter temperatures ranging from 11-21°C (52-70°F). During the night, it can get a bit chilly, with temperatures dropping to around 3°C (37.4°F).
Winters in the Gold Coast are a lot warmer than in cities like Melbourne and as a result, many local Australians prefer to come to the Gold Coast to enjoy warmer and more pleasant weather conditions.
Final Thoughts
The Gold Coast is one of Australia's most popular tourist destinations, and there are plenty of reasons why. Luckily for those of you looking to get the most out of your vacation, not only are April and May the best time to visit but also the cheapest.
By aligning your visit within our recommended time frame, you are assured of a fantastic all-around holiday and save a pretty penny in doing so.
Resource Links To Products We Use And Recommend
More Pages On Other Areas