If you love to swim or spend time in the water and you're in Queensland, the Hervey Bay Aquatic Centre needs to be on your list of things to do. Located in Hervey Bay, a small city on the coast of Queensland, it is ideally situated to take advantage of the glorious area while taking a well-deserved dip.
There are facilities and activities available for both adults and children, and you can spend the day there having fun or taking advantage of their swimming lessons and fitness programs. If this sounds like the sort of place for you, read on to find out everything you need to know about Hervey Bay Aquatic Centre.
Hervey Bay Aquatic Centre has two heated outdoor pools and two heated indoor pools. There is a range of play equipment for children, The pools are open to the public except when there are lessons and the centre hosts a variety of different fitness classes and swimming lessons.
There truly is something for everyone at Hervey Bay Aquatic Centre so you can be sure of a fun day out for all the family. Let's take a closer look at the details and everything it has to offer.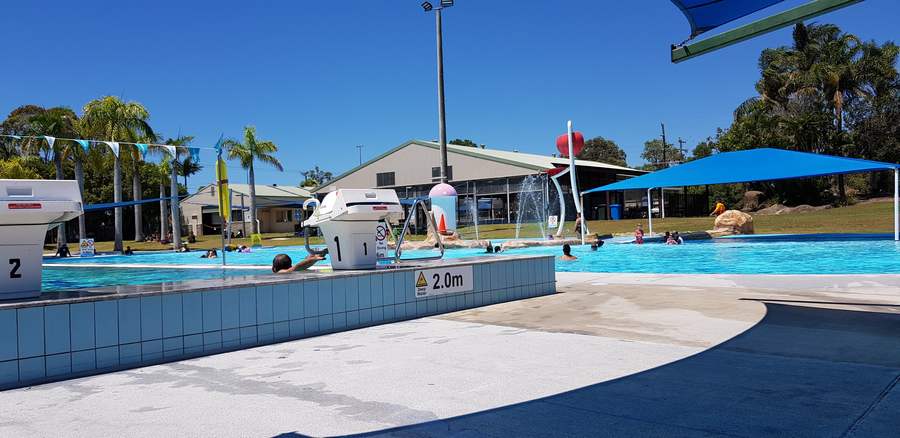 Hervey Bay Aquatic Centre Facilities
Whether you're looking to get some serious laps in or you want somewhere fun to take the children for the day, you will be able to find what you need at Hervey Bay Aquatic Centre. There are two outdoor pools (both heated). One is an eight-lane, 50-metre pool and the other is a wonderful children's pool with a wide variety of play equipment, including a tipping bucket.
There are two heated indoor pools, one of which is a learn-to-swim pool. The learn-to-swim pool does hold swimming lessons but it can also be used by the general public outside of those times. The other indoor pool is 25-metres and has lanes for lap swimming, as well as an access ramp and a rehabilitation lane.
So those are the pools, but that's not all there is at the centre. Outside, you will find a BBQ area with seating areas with shade provided by beautiful tall trees. Inside, there is a well-stocked cafe for you to recharge after a fun day in the water as well as a shop selling swimwear and accessories just in case you find yourself in need of anything once you get there.
During the warmer months, there are inflatables available in the outdoor pools on certain days and if you can manage to get to the centre during this time, these can definitely add to the fun.

Hervey Bay Aquatic Centre Things To Do
You can, of course, spend your time at the Hervey Bay Aquatic Centre doing your own thing. But if you fancy some more structured activities, there is a wide range on offer. These include:
Learn To Swim program (available for both adults and children, as well as those with special needs)
Intensive swimming classes running over the summer holidays
Squad Programs (including both junior and senior competitive programs, recreational and development, adult training for water fitness, masters swimming, open water training, triathlon, and stroke development)
Group fitness classes (including aqua aerobics)
Private hire
The learn-to-swim pool also doubles as a program pool that can be used for upright exercise only at certain times. Pool inflatables are available on Saturdays in the summer months and Tuesdays and Saturdays during the school summer holidays (weather depending).
Hervey Bay Aquatic Centre Opening Hours
If these facilities and activities have piqued your fancy, you're probably wondering when exactly you can book a visit. Let's take a look.
Monday – 05:30-19:00
Tuesday – 05:30-18:00
Wednesday – 05:30-19:00
Thursday – 05:30-19:00
Friday – 05:30-19:00
Saturday – 08:30-12:00p.m (1 May to 27 October) and 08:00-18:00 (28 October to 30 April)
Sunday – 09:00-12:00p.m (1 May to 27 October) and 09:00-18:00 (28 October to 30 April)
The opening hours can change on certain days of the year:
Public holidays – 10:00-17:00 (closed on Good Friday and Christmas Day)
ANZAC Day – 13:30-17:00
The learn-to-swim and program pools are not open to the public between 08:30 and 11:00 and between 15:00 and 17:30. If a facility is private-hired, it will be closed to the general public. There are also swimming carnivals at various times which may shut sections of the pool.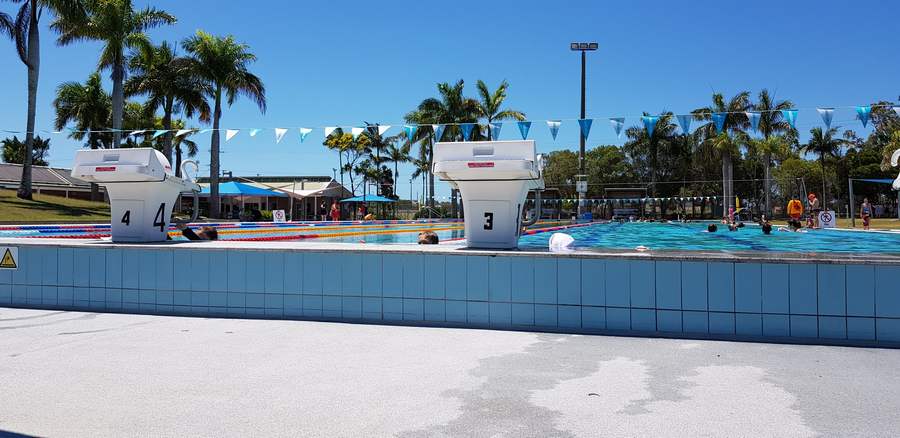 Hervey Bay Aquatic Centre Prices
Spending the day at the Hervey Bay Aquatic Centre is great value for money, even with all of these amazing things to do.
Adults – $5.00
Concession – $3.70
Child (3-15) – $3.70
Rehabilitation – $3.40
Family ticket (two adults, two children) – $14.00
Carers and spectators – free
Non-swimmers (people who want to use facilities other than swimming) – $2.00
You can get a lower price on each individual visit if you opt for a pass. These can be for 20 visits, six months, or 12 months and vary in price depending on what type of ticket you need (not available for non-swimmers).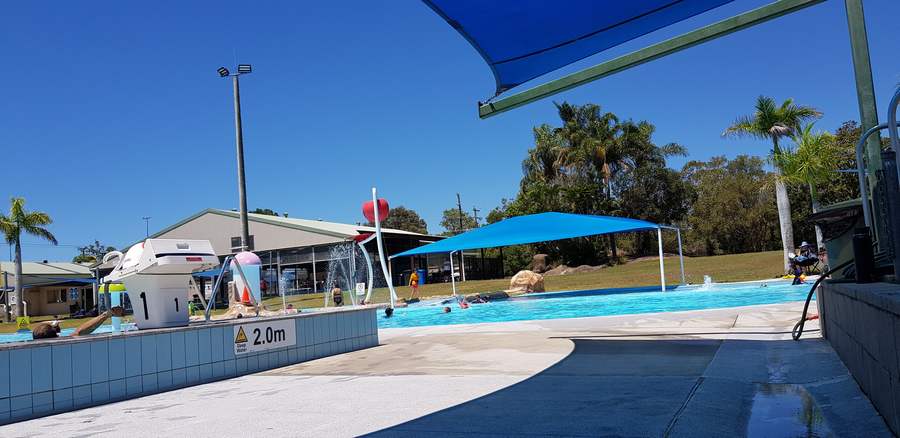 Hervey Bay Aquatic Centre Address
So you know which type of ticket you need, you know what facilities to use and what activities to do, so now all you need to know is how to get to Hervey Bay Aquatic Centre.
202-204 Boundary Road
Torquay
Queensland 4055
There is nothing better than a decent aquatic centre, and Hervey Bay Aquatic Centre definitely fits the bill. If you're looking for a fun place to take the children to burn off some energy and have a good time, they are certain to find some fun there (and especially when the inflatables are out).
The centre also offers a wide variety of fitness opportunities, including lanes for lap swimming, group fitness classes, squad programs, and more. And they have swimming lessons for both children and adults. If, after all of that, you fancy relaxing for a little while, you can do so in the shaded BBQ area or in the on-site cafe.
All in all, the Hervey Bay Aquatic Centre is a one-stop-shop for water fun, fitness, and relaxation.
Resource Links To Products We Use And Recommend
More Pages On Things To Do
link to Sunset Cruise In The Great Sandy Marine Park
The Sunset Cruise Great Sandy Marine Park has a lot to offer, from stunning scenery to a range of wildlife and marine life. Here are some of the things you can expect to experience on a sunset cruise...
link to Is Hervey Bay Full Of Old People?
Hervey Bay is a popular retirement destination and has a higher proportion of older residents than some other cities in Australia. However, it is important to note that Hervey Bay is a diverse...