Sandy Cape Lighthouse is on many K'Gari (Fraser Island) visitors' "must-see" list, and with good reason. It is an important part of the history of not only Fraser Island but also Queensland itself. And the Sandy Cape area is a beautiful part of the island, with stunning views, so visiting has something to offer for everyone.
Sandy Cape Lighthouse is the tallest lighthouse in Queensland and the second to be built. It is an active lighthouse that is currently mainly solar-powered and it is accessible via 4WD with a hike to reach the lighthouse itself. There is a museum on-site and other points of interest.
Sandy Cape Lighthouse is a heritage-listed lighthouse built in 1870 and is one of the first lighthouses in Queensland that was built from pre-fabricated sections of iron. It is the tallest lighthouse in Queensland and was the second to be built after Bustard Head Light.
It is solar-powered with a backup diesel generator. It has the potential to be wind-powered but the turbines haven't been in use since 2002.
The lighthouse stands at 26 metres high and the light emits a single white flash every 10 seconds that is visible for 21 nautical miles. It has five floors that are accessible via an internal staircase. There are two entrances to the lighthouse: one on the ground floor and one approximately 3 metres off the ground.
The higher entrance allows access to the main part of the lighthouse whereas the bottom entrance allows access to the museum.
Sandy Cape is located at the northernmost tip of K'Gari (Fraser Island) and it was deemed necessary to have a lighthouse placed there because of the notorious Breaksea Spit. These waters that surround Sandy Cape had been responsible for the loss of 20 ships, with even Captain Cook

's ship nearly falling prey to the waters.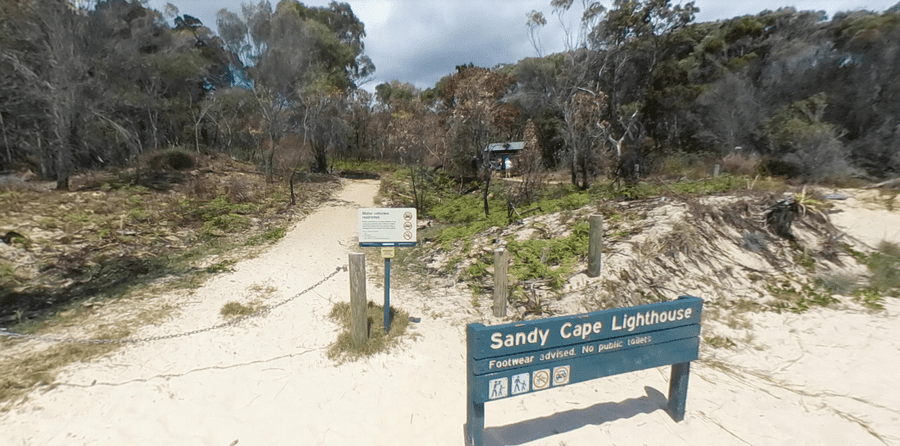 How Do You Get To Sandy Cape Lighthouse?
To get to Sandy Cape, you will need to travel by 4WD, and it is a challenging journey for inexperienced drivers. The track starts at Orchid Beach and ends at the northern point of the Eastern Beach Scenic Drive, which is only accessible for the two-hour windows on either side of low tide.
So it is important to plan your journey carefully before you set out. Some of the track includes the Nikgala rocky bypass which can be difficult to drive on.
At the end of the drive, you will be able to see the lighthouse but if you want to visit it in person, you will need to take a 1.2km hike to get to the top. It's a relatively challenging hike rated at Grade 3, but not one that's out of most people's reach. With that being said, it is important to be prepared with plenty of supplies and water with you.
Where Is Sandy Cape Queensland?
Sandy Cape is located on the northernmost tip of K'Gari (Fraser Island), which is 15km off the coast of Hervey Bay. You can get to K'Gari (Fraser Island) via a variety of routes. Barges run from Inskip Point and River Heads, and you can drive your 4WD vehicle straight onto these barges.
Pedestrians can also travel across on the barges but you will need a 4WD vehicle to travel around once you reach Fraser Island (these can be hired on Fraser Island but make sure this is arranged in advance).
You can also travel across on your own boat but you should be aware that the waters around K'Gari (Fraser Island) can be hazardous and there are no boat ramps on the island. Another option is to fly across on a commercial plane and there are many of these running from various points on the mainland.
Things To Do At Sandy Cape Lighthouse
One of the biggest draws of Sandy Cape Lighthouse is the views, so if you are planning on visiting, make sure to bring a camera so you can capture them. It is 128m above sea level, so you get to experience K'Gari (Fraser Island) from a completely different angle.
Taking a picnic and making a day out of enjoying the area is always a good idea. But remember that there aren't any facilities there, so you will be roughing it a little.
The working part of the lighthouse is inaccessible to the public because it is an active lighthouse, but it has been sectioned off to make the bottom part of the lighthouse separate and accessible via a door on the ground floor. Inside, you will find a museum with some interesting maritime artefacts.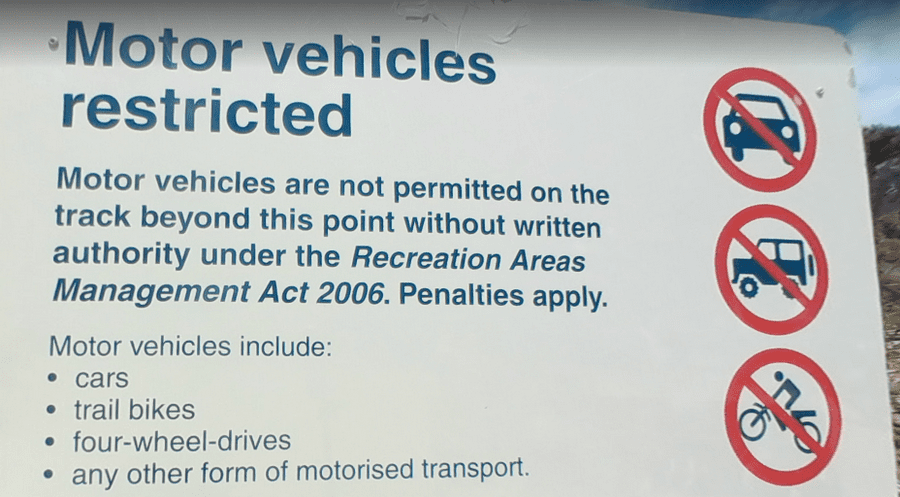 There are outbuildings to discover as well. There are workshops and two lighthouse keepers houses as well as a garage and a fuel store. You can also find a cemetery with graves of the lighthouse keepers. Nearby is a WWII bunker that was used to watch out for enemy aircraft and ships towards the end of the war.
There are some good fishing spots near the lighthouse where you can expect to find whiting, bream, and tailor. Loggerhead and leatherback turtles can also be spotted off the coast (especially between November and March) and they come inland to lay their eggs between May and October.
There is camping nearby at Eastern Beach Zone 9. This is a designated camping area and you will need to obtain a camping permit beforehand. The camps are unfenced so it isn't recommended to camp there with children due to the risk of dingoes.
There are no facilities so you are encouraged to bring your own chemical toilet. There also aren't any water taps so you will need to make sure that you will up your water containers before you travel there.
The Bottom Line
Sandy Cape Lighthouse is a popular spot on K'Gari (Fraser Island) because of its mix of historical interest and stunning natural views. It is fairly difficult to access, with a 1.2km Grade 3 walk up to the lighthouse itself after a challenging 4WD drive, but most people consider it worth the journey.
The lighthouse itself has a museum inside and there are other interesting places to visit nearby, including a WWII bunker and a cemetery. You can camp nearby at Eastern Beach Zone 9 before heading back to visit the rest of the island.
Resource Links To Products We Use And Recommend
More Pages On Fraser Island
link to Can You Drive At Night On Fraser Island?
Fraser Island, located off the coast of Queensland, Australia, is a popular tourist destination and a UNESCO World Heritage Site. The island, which spans more than 120 kilometres in length and 24...
link to Are There Toilets On Fraser Island?
Fraser Island, which is a popular tourist destination in Australia. The island has a number of campsites and other facilities where visitors can use toilet facilities. There are on average around 22...