If you are in the Rainbow Beach area of Queensland, you will have no doubt noticed how beautiful this place is and taking in this beauty is a top priority for visitors to the area In this article, we want to share with you one of the most loved places to see whilst here, the Carlo sand blow.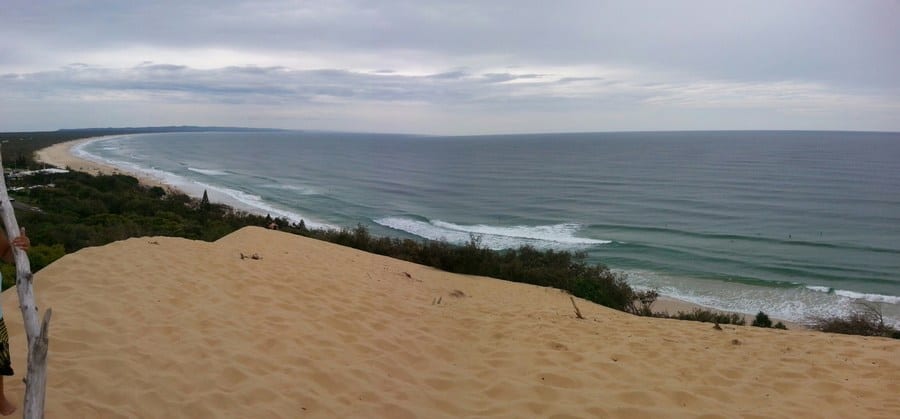 Carlo Sand Blow History
There are many beautiful sights around the nation of Australia and it is for this reason that many tourists visit the country every year. One of the most interesting and natural sights to see on the Eastern coast of Australia is the Carlo sand blow at Rainbow Beach in Queensland.
This is an area known for its stunning natural beauty and the sand blow is certainly no exception to this rule.
Known as a 'moonscape', the Carlo sand blow covers a massive fifteen hectares on the coastline here.
The sand has been blown and formed here by the wind, creating a landscape like no other, so it is no wonder that the area attracts locals and tourist alike.
The sand blow is not the sole 'blown' area here and is just a small part of what is known as the Cooloola sand mass.
In 1770, the area was given its name by the infamous Captain Cook, who chose the name after one of his ship's crew, Carlo.
Since this time, the Carlo sand blow has remained an area which offers beautiful views and tranquillity from the strains of modern life.
Things To Do At Carlo Sand Blow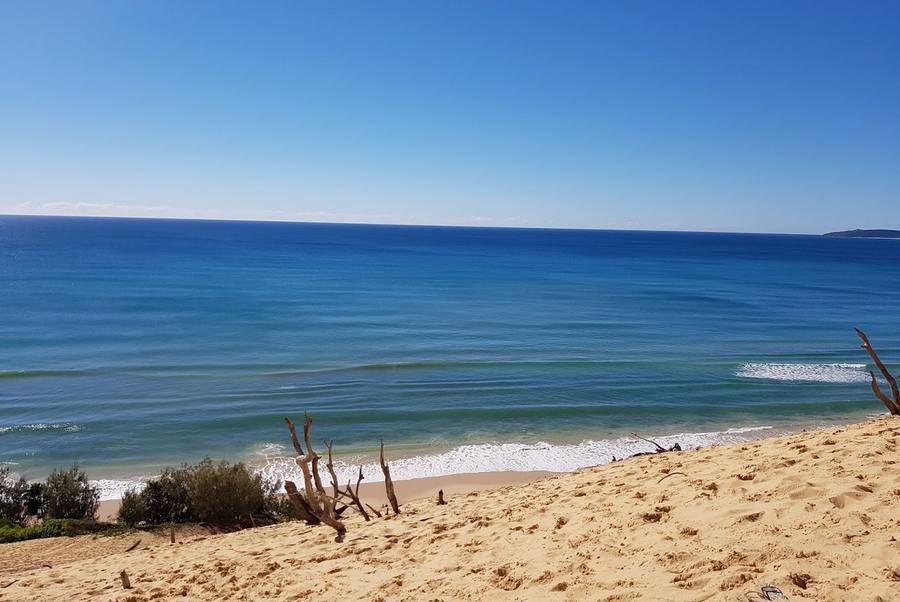 One of the main reasons that people come to the Carlo sand blow is for the exquisite views from here.
Famed all over the local area, visitors to Carlo will be rewarded with views out across to Fraser Island and the Inskip Peninsula as well as being able to take in the views of Rainbow beach and it's coloured sands.
From this vantage point, you are also able to look out across to Double Island Point, making this one of Australia's hot spots for scenery.
One of the most notable sights from the Carlo sand blow is the amazing sunsets that visitors have the opportunity to see and this is one of the main reasons that people take the walk up to this point.
However, there are other advantages to coming to the Carlo sand blow, all of which make this an experience which you will not forget in a hurry.
During whale season, which in Australia occurs between May and September, people come here to catch a glimpse of these gentle giants in their natural habitat.
Whilst the season does take place for this five-month period, it has been noted that the best time to see the whales from Carlo sand blow is between the months of June and August.
For those who love to walk, this is the perfect location and the sand blow is well known for its short yet stunning 600-metre walking trail which takes visitors through the rich bush from a starting point at the water tower on Rainbow beach.
This walk is said to take only 15 minutes either way and so is ideal for those who want to take in the scenery but do not want to spend hours and hours hiking.
Above the Carlo sand blow, you will find the viewing point, from which the views we mentioned earlier on in this article can be easily seen. This is the perfect opportunity to look out across impeccable scenery and take some memorable photos of this spectacular corner of the globe.
If you are feeling slightly more active, the sand blow is well-loved by those who like to take part in hang-gliding and parasailing as the slope of the blow makes for an ideal launchpad to glide out over the bay.
If you not only want to take in the scenery but are also interested in the local wildlife, Carlo is well known for sightings of birds of prey, which is great for those with a passion for animals, examples of birds that are regularly spotted here are the whistling kite and the brahminy.
How Do I Get To The Carlo Sand Blow?
If you're staying in Rainbow beach, or are here to visit for a day of exploring the area, You might be looking for things to do, I bet by now you're are asking how do I get to the Carlo Sand Blow? As we discussed previously, Carlo is accessible via a walking trail off of Cooloola Drive in Rainbow Beach, called the Carlo Walking Track.
However, there are two points from which you can start your walk, depending on whether you want a shorter walk or a longer one. The address is Cooloola Dr, Rainbow Beach QLD 4581.
The first point from which you can start is at the information point on Rainbow beach, this is the more lengthy of the two options. If you prefer something a little shorter, you can drive to the car park for Carlo and take a walk from here.
It is worth bearing in mind that the walk up to the sand blow from Rainbow beach is quite a steep one and no matter where you are coming from there are some stairs involved, so you should be prepared for a little light exertion and pay special attention to remain hydrated, as the temperatures here can get very warm.
Always ensure that you take an ample supply of water with you.
If you are not staying in the local area, you will need to drive to get to the sand blow.
Here is what you can expect in terms of journey times from nearby points.
From Brisbane, it is a 3-hour car drive to Rainbow Beach Queensland.
If you are coming from Hervey Bay, you can arrive by car in 90 minutes.
From the Sunshine Coast airport, a car journey here will take around an hour and forty-five minutes.
There is a bus service operating out of Brisbane, but this takes much longer at just shy of six hours, however, the fares are pretty reasonable at just $60 one way.
Breathtaking Scenery At Carlo Sand Blow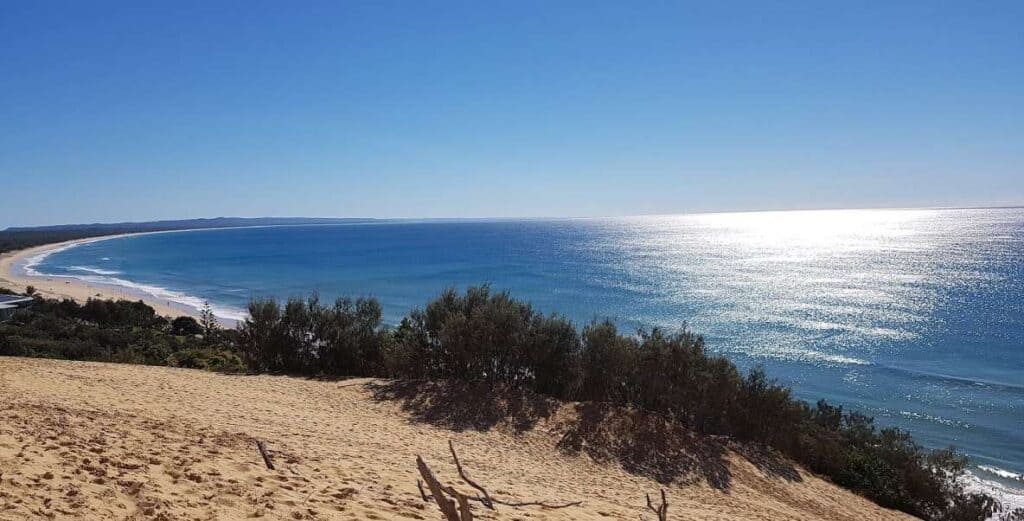 If you are looking to take in some of Australia's most breathtaking scenery, there aren't many places that compare to the Carlo sand blow. Unlike a lot of places where nature can be seen at its best, this area is easy to access and doesn't take en entire days hike.
If you are in the Rainbow beach area, spending an evening watching the sunset at Carlo is a must!
Resource Links To Products We Use And Recommend
More Pages On Other Areas