Beach camping is a dream vacation for any traveller. The idea of camping under the stars with the sound of the ocean lulling you to sleep sounds like it comes straight out of a fairytale. Rainbow Beach is one such popular destination for beach campers, but can you set up camp on the beach itself?
You can't actually camp directly on Rainbow Beach itself. However, there are many campsites near Rainbow Beach. You can choose a beachfront campsite near Rainbow Beach or campsites a little further away. However, they are all within easy reach of the beach.
In the rest of this article, I'll talk about why you can't camp on the beach and which areas in Cooloola Recreation Area allow camping. I'll also give you a list of campsites, focusing on beachfront camps. So if that interests you, then continue reading!
Why You Can't Camp On Rainbow Beach
Rainbow Beach is a beautiful beach with clear, blue waters and a variety of sand colours including golden-white, yellow, brown, and red. As a result, it's one of the most popular beach destinations in the entire country. While it's great for picnicking and water-based activities, its popularity makes it a little unsuitable for camping.
Because the beach is always so crowded, it isn't the best place to set up camp. Campers generally prefer a little peace and quiet, and a crowded, noisy beach is the exact opposite.
Since this beach is normally used for daily fun, the Queensland Parks and Forests Department hasn't designated any dedicated campsites directly on the beach. However, there are several campsites nearby.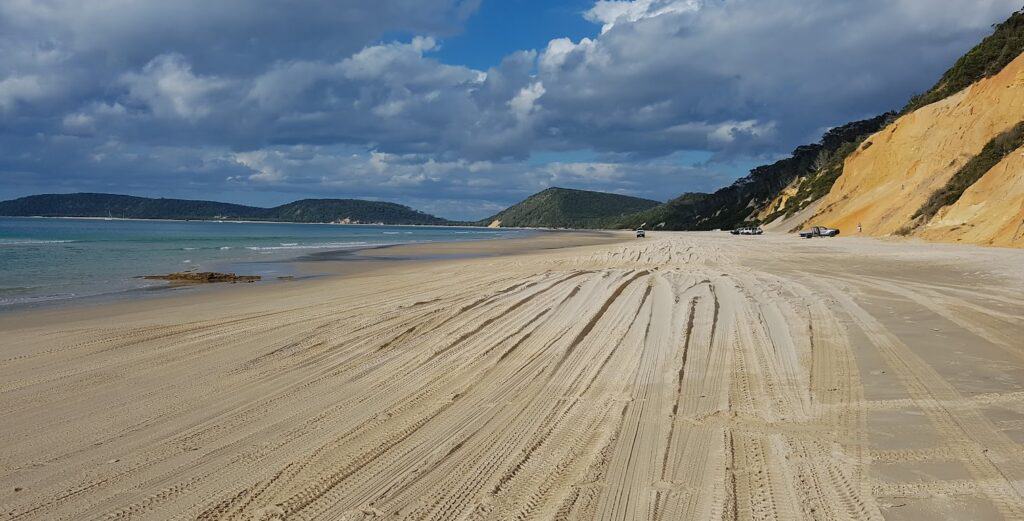 Places In Cooloola Recreation Area That Allow Camping
There are three main areas within the Cooloola Recreation Area that have multiple campsites. These are the areas that have beachfront or riverfront camping.
Each area listed has multiple campgrounds, including tent sites and trailer sites.
Campsites Near Rainbow Beach
Although camping directly on the beach isn't allowed, you can still choose one of the campgrounds nearby. These campgrounds are usually within walking distance of the beach.
Big4 Breeze Holiday Park
This all-in-one campsite includes parking spots for trailers, cabins, villas, and tent sites. The average prices are given below.
Cabins and Villas – $125-200 per night
Unpowered Campsites – $35 per night
Powered Grass Sites – $47 per night
Powered Slab Sites – $49 per night
This campsite also features multiple amenities, like a barbecue, toilets, laundry services, and a dump site.
You can find out more on their website.
Rainbow Beach Holiday Village
Rainbow Beach Holiday Village is another accommodation option right next to the beach. This place offers cabins, villas, and campsites for caravans and tents. It also includes a pool, beachfront views, a barbecue, and free Wi-Fi.
Here are the rates for campsites in Rainbow Beach Holiday Village.
Caravan Sites (Powered) – Beginning at $47
Tent Sites (Powered) – Beginning at $47
Tent Sites (Unpowered) – Beginning at $40
You can check out the full list of rates here

.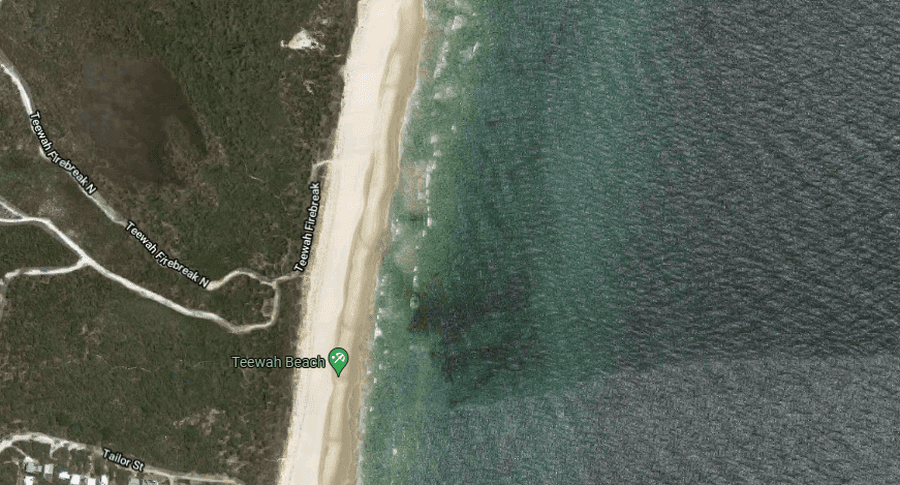 Campsites Near Teewah Beach
If you cannot find a campsite close to Rainbow Beach, you can check out Teewah Beach instead. This beach also lies within the Cooloola Recreation Area, south of Rainbow Beach.
The best part of camping at Teewah is that you can actually camp directly on the beach! Here are a couple of camping options for Teewah Beach.
Freshwater Camping Area
This campsite lies just behind Teewah Beach, approximately 500m inland. It offers shady, peaceful campsites for tents and trailers.
This campground has defined sites, with amenities like toilets, wheelchair access, and a pay phone. You can also use their showers, although you have to pay extra for hot water.
You should try to book your permit and choose your campsite early, as early as 6 weeks before your trip.
The rates for this campsite are given below.
Per person – $7 per night
Per family – $28 per night (family = 1-2 adults plus children, up to 8 people maximum)
You can find more information here

.
Teewah Beach Camping Area
Teewah Beach has several undefined campsites, so you can choose any spot to set up your camp. Camping on Teewah Beach is the ultimate getaway for beach camping enthusiasts.
Teewah Beach is open to tent and trailer camping. The beach camping area is divided into multiple zones, so you can browse through each zone to determine your ideal spot. Since the campsites here are undefined, you can simply pick a spot. If the spot you want is empty, just set up camp there.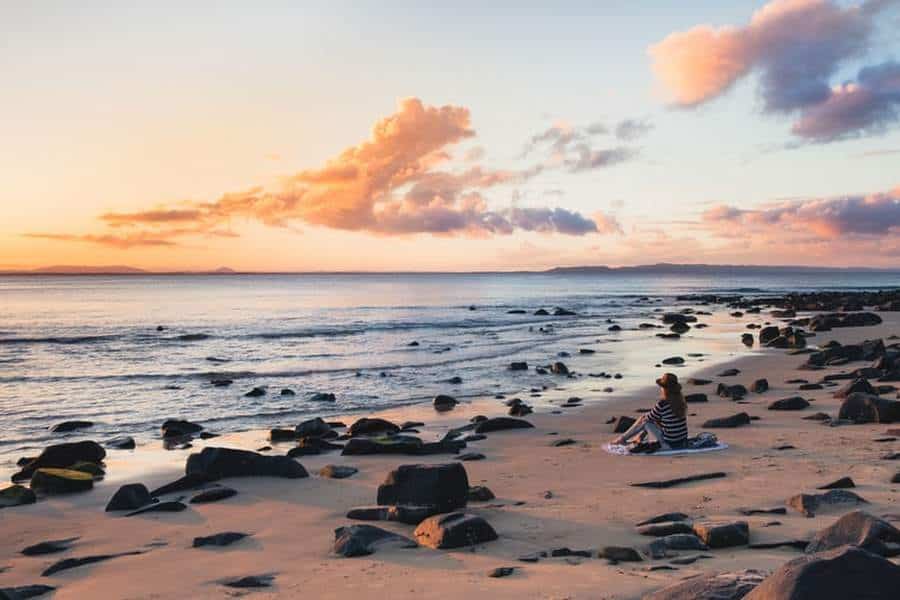 Campsites Near Noosa Heads
Towards the south of Rainbow Beach lies Noosa Heads, a river that marks one end of the Cooloola Recreation Area. This place is another popular spot for camping. Although it isn't beachfront camping, it is right beside the river.
There are three main camping areas near Noosa Heads.
You can learn about the camping rates at Cooloola Recreation Area here

.
Do You Need A Permit To Camp At Rainbow Beach?
You need a camping permit to camp at Rainbow Beach or anywhere else in the Cooloola Recreation Area. You can apply for a camping permit through the Queensland National Parks Booking Service. The permit will be issued to you via email.
If you're booking campsites in popular areas, you should book well in advance. Some of these sites are constantly in demand, so you'll need to be early if you want a good spot.
Some campsites also require vehicle permits, and many can only be accessed via 4WD vehicles.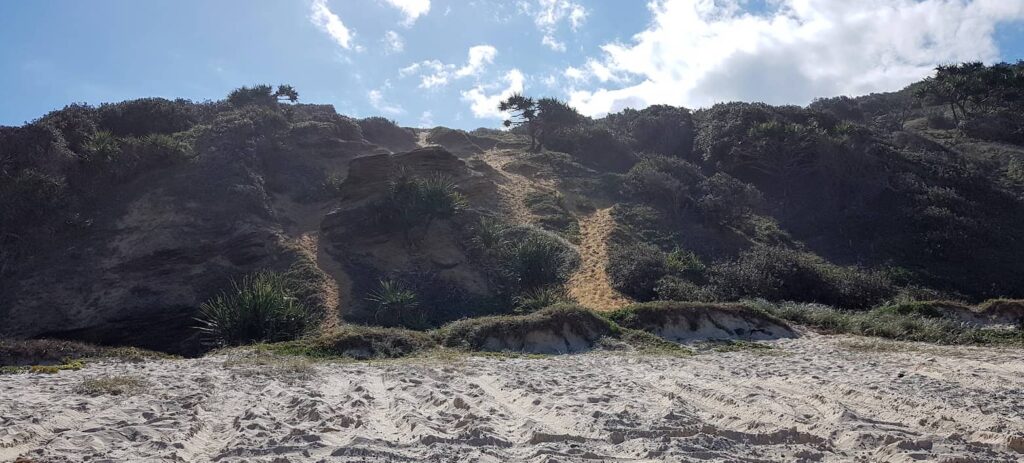 Final Thoughts
While camping directly on Rainbow Beach isn't allowed, there are some great places nearby for beach camping. You can choose a campsite right next to Rainbow Beach, or you can choose to camp on or near Teewah Beach.
For an additional option, you can forego beach camping and retreat into the woodlands for quiet river camping at Noosa Heads.
However, before you go, ensure that you book a camping permit from the Queensland Parks and Wildlife Service website. Some campsites may also need vehicle permits.
Resource Links To Products We Use And Recommend
More Pages On Other Areas