Rainbow Beach is a southeastern coastal town in Queensland, Australia. The community is rural and only has a population of around 1,249 people. While it is a coastal town, the area is mostly known for its impressive beach that encompasses the town.
Moreover, It is most known for its stunning "rainbow" coloured sand that is found on the beach. This beach draws visitors in from all over to bear witness to the gorgeous sand.
However, the sand is only a portion of what makes the beach at Rainbow Beach so remarkable.
The beach at Rainbow Beach reaches 23km in length and runs from Inskip Point in a southern direction ending at Double Island Point. The beach winds and curves along the coastline throughout this distance and features multiple beach areas making it popular for swimming and four-wheel driving.
The town of Rainbow Beach is around the centre of the entire beach. The southernmost part of the beach is where the coloured sand dunes can be found.
The dunes all vary in size with the largest reaching around 200 metres in height. The sands are a beautiful blend of red, orange, and yellow making the area a naturalistic piece of art.
The beach faces northeast and in a northerly direction as it winds south towards Double Island Point.
Specifically, the main beach area runs from Inskip Point south for about 12km then extends the rest of the length down to Double Island Point.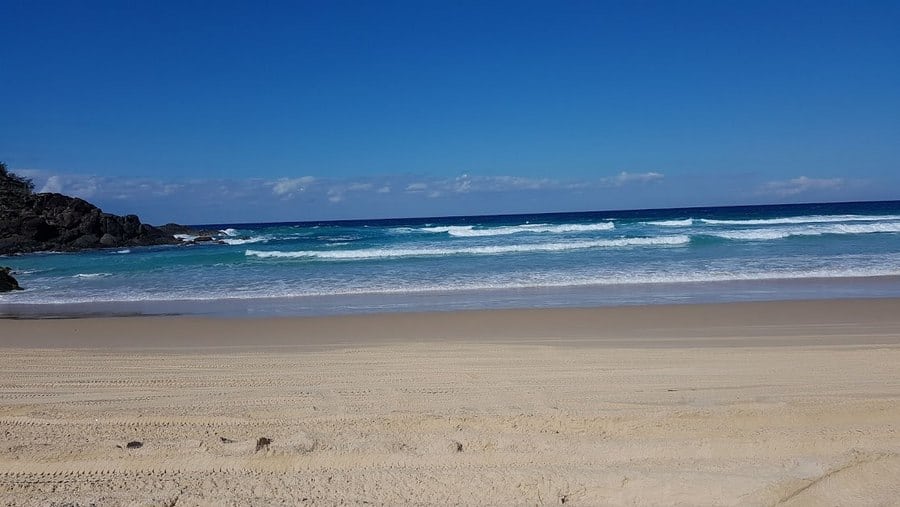 The length of this beach is perfect for giving visitors ample space to enjoy the water and the sand!
Swimming is possible at this beach but certain sections of it can experience strong riptides. The beach is usually patrolled which is a huge perk for swimmers, however, swimmers should always be cautious when entering the water.
Swimming should always occur between the designated flags for the safest experience. Generally, the southernmost part of the beach is the most suitable for taking a dip although some prefer to enter the water further north.
These are the areas where the riptides can pick up so swimmers should always stick to staying as close to the shoreline as possible.
Surfing is another great way to enjoy Rainbow Beach. Because of the extent of the beach, there are plenty of opportunities for wave breaks. Surfers will find that the best surfing spot is near Double Island point where large right-hander swells can be found.
As with any surfing spot, prime surfing is possible whenever the conditions are just right. This includes proper wind that produces sufficient water swells to ride with a surfboard.
Fishing is a cherished activity all through Australia but Queensland sometimes boasts having the best spots! Rainbow Beach is no exception! All throughout the 23km stretch are various fishing spots.
The best fishing spot is said to be near Inskip Point and the surf lifesaving club where tidal channels and gutters can be found right off the beach. Fish tend to collect in these areas which makes ideal for casting out a line.
This naturally beautiful beach has plenty of room for any type of beach activity. It is one of the larger beach stretches found in Queensland which makes it popular among tourists and citizens of Australia.
The area attracts people not only for the coloured sands but also for the beach as an entire destination!
Why not take a tour of Rainbow Beach and all it has to offer click here for pricing.

How Long Does It Take To Drive All Of Rainbow Beach?
It's no secret that Australians love to drive 4WD! All over the country, 4WD gives people stunning access to some really exclusive natural locations.
Beach driving is super popular as it is a thrilling feeling to be right on the brim between the ocean and the mainland.
Rainbow Beach is accessible by 4WD and driving is permitted along the sands so long as the proper permits

have been obtained. Permits cost from $13.00 to $20.00 and must be obtained prior to bringing any vehicles to the beach.
It is estimated that it takes around an hour to drive the entire length of Rainbow Beach. However, it is important to note that driving the length of the beach isn't as simple as making a straight shot from where it starts in Inskip Point and heading south to Double Island Point.
All 4WD operators should obtain a beach map to ensure that they staying within the designated driving areas of the beach. This prevents anyone from driving in sections of Rainbow Beach where it is patrolled and people might be swimming.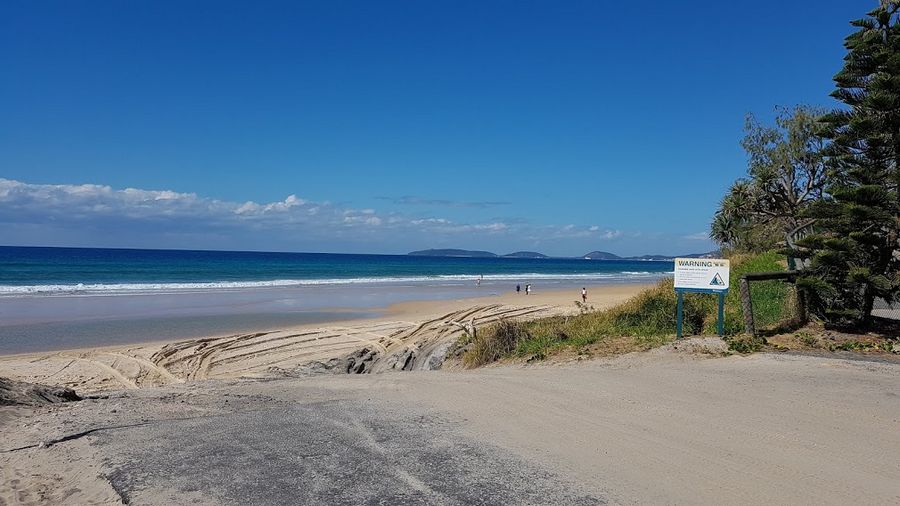 Do You Need A 4WD To Drive Along Rainbow Beach?
Driving on Rainbow Beach does require a 4WD vehicle. Due to the sand, a regular 2WD vehicle would not be suitable.
It is suggested that drivers of 4WD vehicles stay on the harder sand that is found close to the shoreline rather than romping through the softer sands further in from the water.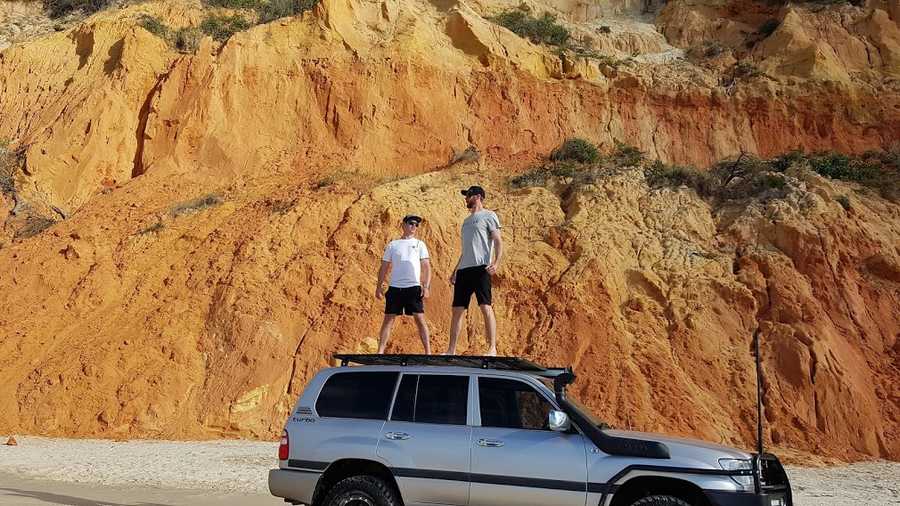 Because this is the most ideal place to drive the vehicle, it is imperative that driving only occur at low tide. High tides can cause a lot of problems for 4×4's that are too close to the shoreline.
Additionally, like anywhere else in Australia, it is recommended that the vehicles tyre pressure be reduced to help navigate through the sand.
Lower tyre pressure gives the tyres more flexibility when faced with softer sand which moves around a lot. Even though the tyre pressure is lowered a little bit to get through softer sand, it is still okay to drive along the harder sand with the slightly deflated tyres.
The main access point for 4×4's to enter the beach area is off of Beach Access Road specifically at Clarkson Dr in Rainbow Beach. Other access entrances are located around Inskip Avenue at Inskip point and within the campsites around the area.
These access points are the safest ways to navigate onto the beach safely.
In town, Rainbow Beach also features free tyre inflation at the Shell Station as well as at Rainbow Beach Holiday Village. It is important to remember to reinflate a vehicle's tyres before driving on regular paved roads.
This prevents any unwanted flat tyres. Additionally, Rainbow Beach has a car wash to help rinse off the sand and saltwater that coats the vehicle.
Washing a 4×4 after an adventurous drive is critical to help maintain the body of the vehicle from experiencing rust issues.
Rainbow Beach is not only a quaint little community, it has the big beach that lines its outer limits.
The beach is an iconic way to experience Rainbow Beach and indulge in another section of Queensland that is truly pristine and beautiful!
Why not take a tour of Rainbow Beach and all it has to offer click here for pricing.

Resource Links To Products We Use And Recommend
More Pages On Other Areas
link to Is Burrum Heads A Good Place To Live?
Queensland, Australia is known for its coastal towns and villages that line its eastern coast. Most of these towns are idyllic paradises to visit and some people even dream of living in such tranquil...
link to Does The Mary River Flood In Maryborough?
Flooding is a natural phenomenon that occurs when extreme weather causes places like rivers or streams to overflow. In places like Australia where there are many different water systems, flooding can...