Fishing Hervey Bay has long been known as one of the best destinations for fishermen and fisherwomen to come and enjoy clean, crystal waters to fish in. Hervey Bay is surrounded by many Islands, including the closest Island – Round Island, a short distance away – Woody Island and the great Fraser Island.
Fraser Island fishing is a huge advantage for those lovers of the island as it is close by and makes for a great time away. Fishing can be done by putting your boat in at the Harbor and setting out for the deep waters.
Casting a line in from the sandy foreshores or taking a walk along the 868 metre Pier where people enjoy fishing the deep waters on high tide with the advantage of not having to put their boats in for a great catch.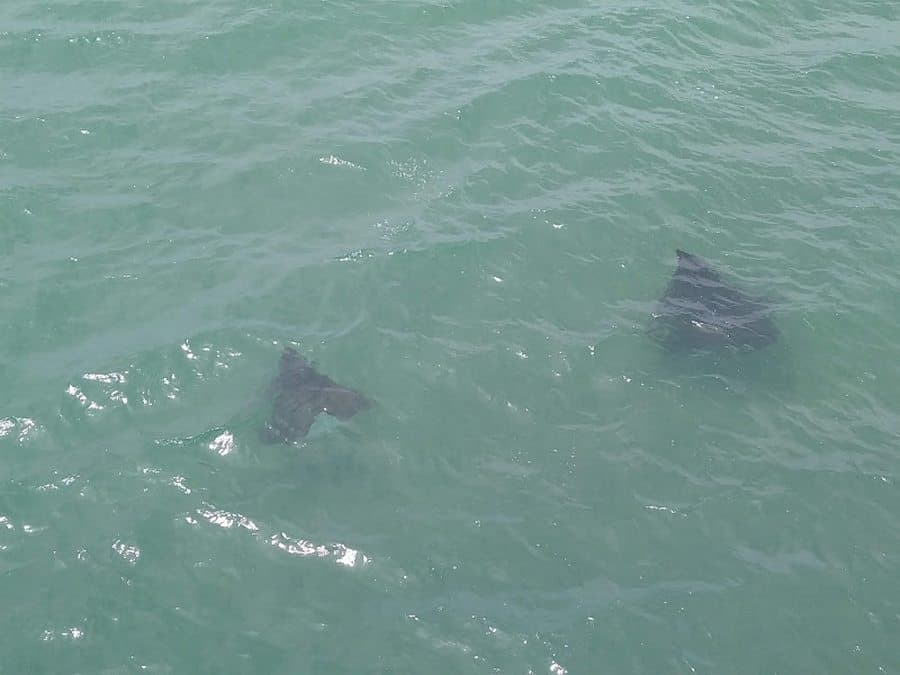 If you are new to Hervey Bay and have not yet experienced the great waters and the excellent fishing conditions, there are plenty of great catches to be made. 
Coral Trout, Emperor and Snapper are some of the catches that can be made in the deep oceans as you set out via your boat. Don't forget your fishing gear! To save some money we have been buying our fishing gear online.
Sweetlip, Parrotfish and Pearl Perch are other species that are regularly caught out on the Bay's oceans, which all make for great eating!
If you are not accessible to a boat or fishing gear to set out on your day away, Hervey Bay offers some of the best fishing charter vessels for those visiting the area, or those wishing to be taken directly to some of the best fishing spots around the place.
The professional crew are experts in their field have been lovers of the waters of the Bay for many years, and have experienced some of the great catches that have been made over time. You won't be disappointed when booking a day away with these Fishing Charters Hervey Bay.

Several Fishing Opportunities At Hervey Bay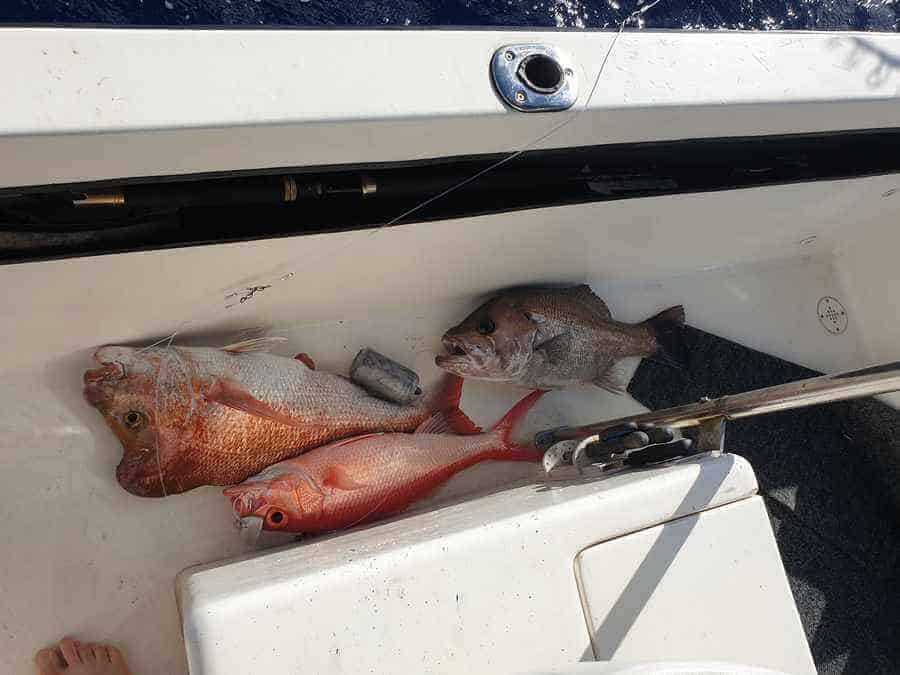 There's a real problem for anglers who visit Hervey Bay, and that's deciding which fishing opportunities to enjoy first. There are so many. You can tear into species of fish such as flathead, whiting or bream.
If you're interested in putting some action on the end of your fish line, you might like fishing for mackerel or tuna. Travel offshore and you can tackle huge sailfish or marlin. Another option entails fishing the bottom for reds that are so heavy, that they're difficult to hold up with one hand.
The deep blue waters of the Coral Sea off the Hervey Bay coast are big. In order to get into the real action while fishing Hervey Bay, you really need to hire a professional guide involved with one of the several fishing charter companies.
A partial list of specific fish species that can be caught in the Hervey Bay waters include: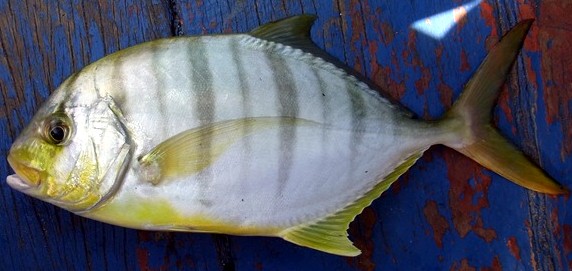 Golden Trevally
These fish come from the jack or horse mackerel family and can be seen invading the flats of Fraser Island between August and April and are a blast to catch on fly gear and light spinning tackle. These fish run six to eight kilograms in weight.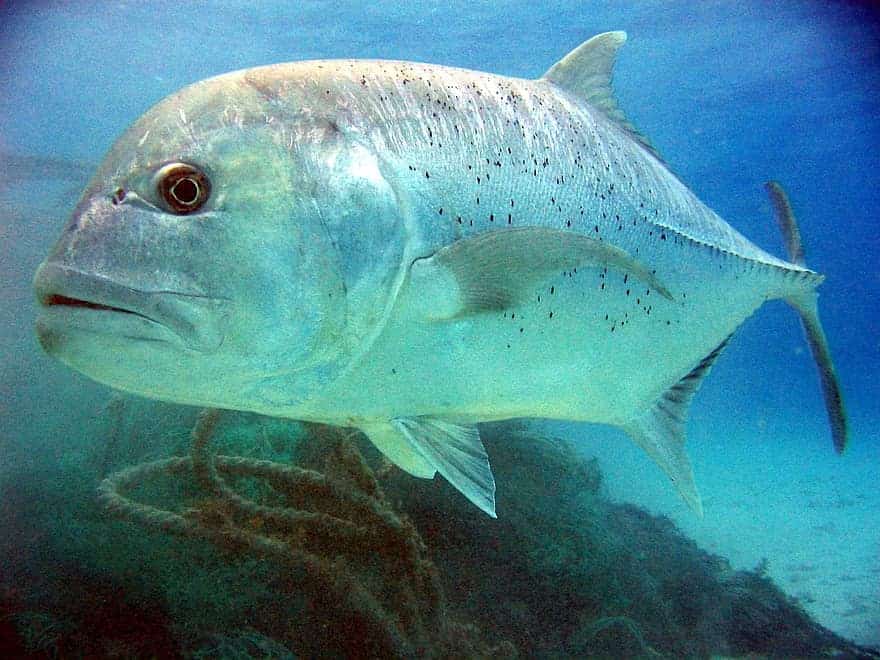 Giant Trevally
Growing to a maximum of 70 centimetres in length and up to 80 kilograms in weight, the Giant Trevally along Fraser Island get to a 15-kilogram size.
They're predatory fish that hunt in schools. This fish contains amazing speed and strength, which makes them fun to catch, especially if you use a fly reel and rod.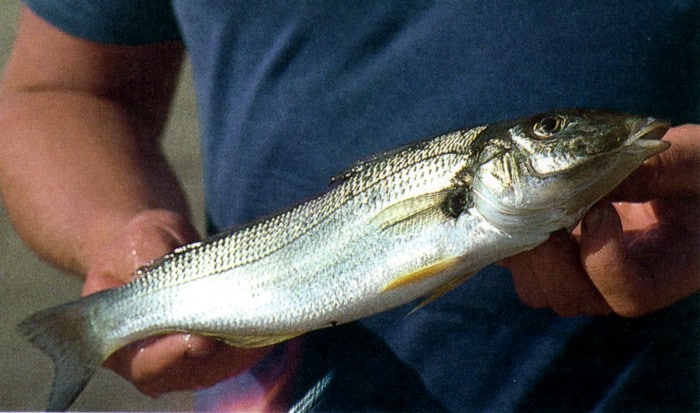 Whiting
Known for putting up a great fight, whiting can be caught throughout the year in the Hervey Bay waters. The most abundant fish of Hervey Bay is whiting. These fish rip plenty of line off your fishing reel since they're exceedingly fast.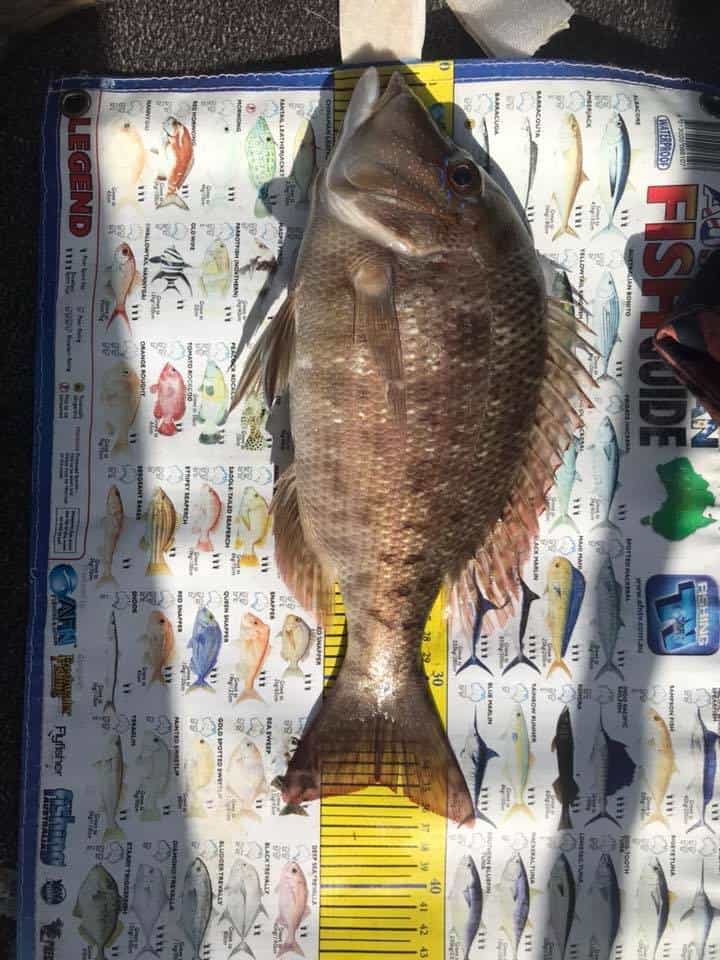 Bream
The smaller bream are found in bays, estuaries and surf. They love rocky outcrops. This is an easy fish to find inside Hervey Bay waters. There are several fishing experts who love going after this species of fish and enjoy how well they taste.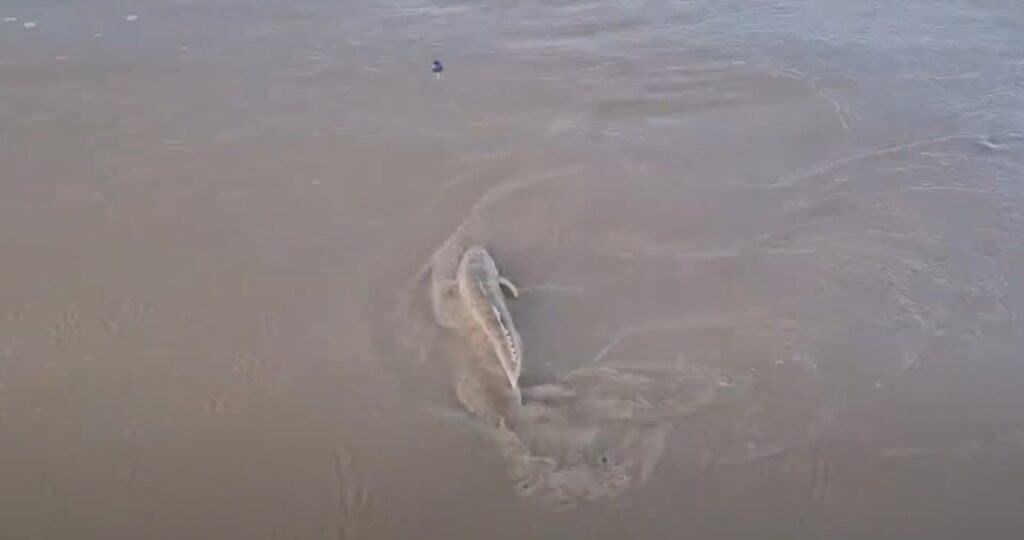 Flathead
These fish, which have a wide, flattened head with both eyes facing upward, bite on almost anything and are found from August to November in creeks and inlets of Hervey Bay.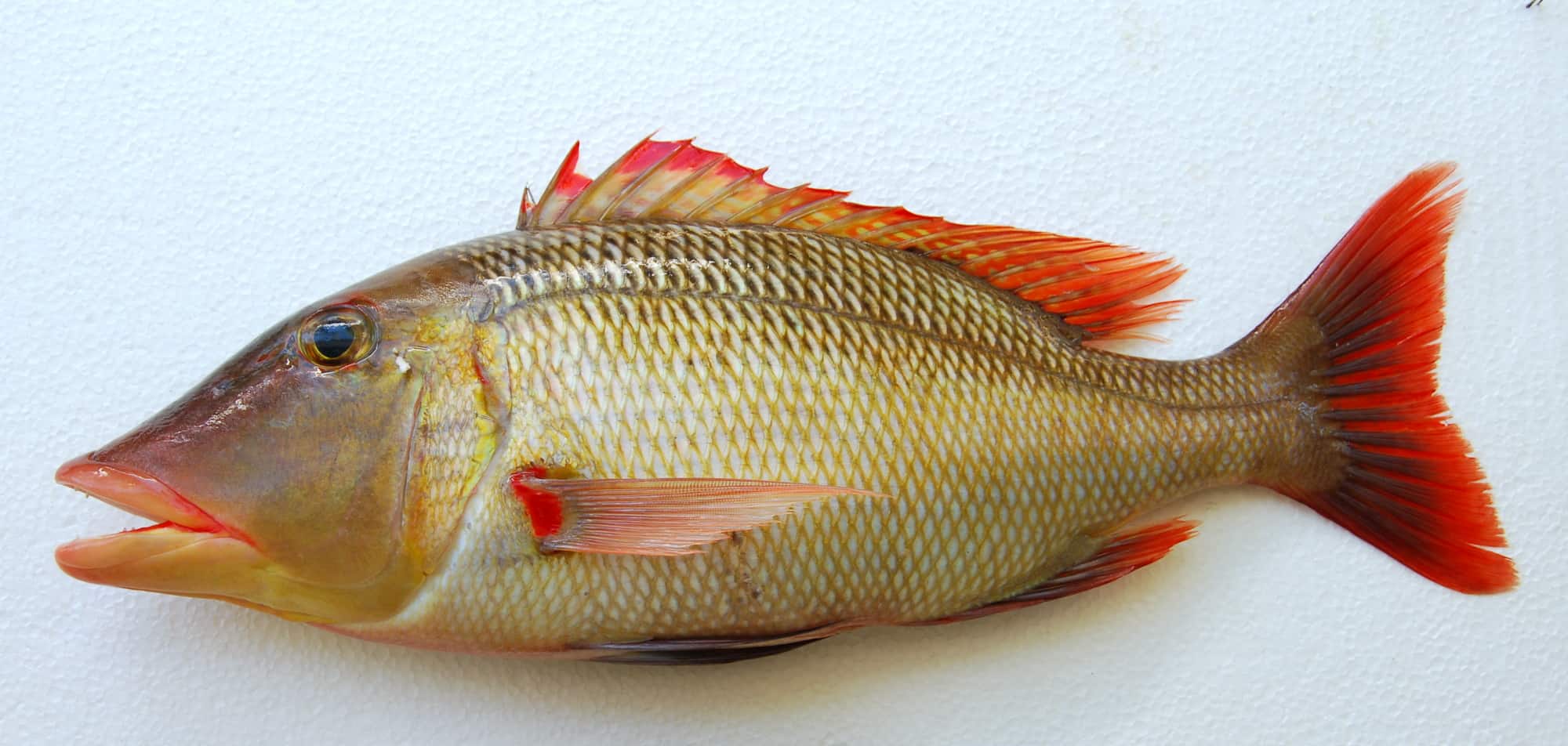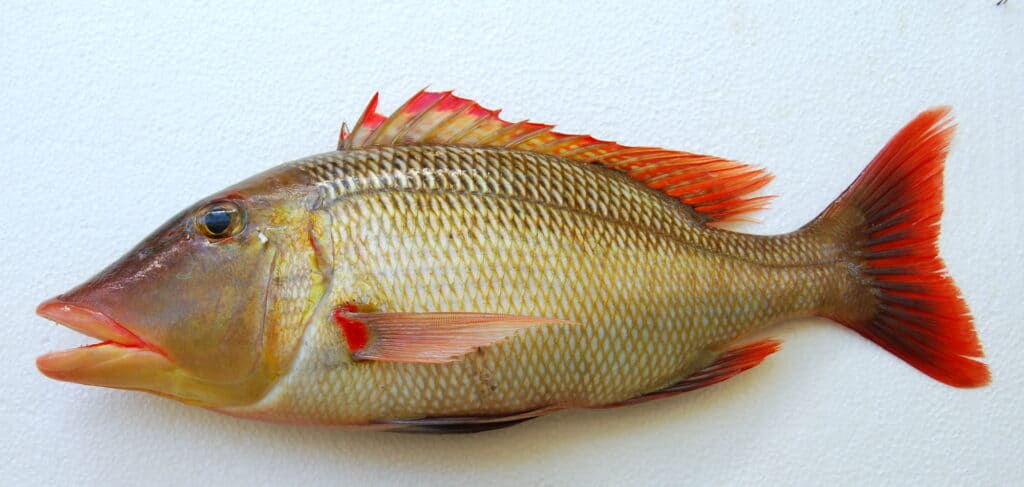 Red Emperor
Drifting along while jigging the bottom gets you into the schools of the monster Red Emperor fish. There's no mistake about knowing when a red is on your line because they hit very hard.
Another benefit of this species of fish is that they are big, with several weighing eight to 10 kilograms and huge monster reds weighing in at 24 kilograms. The white meat on the thick-bodied fish is excellent to eat.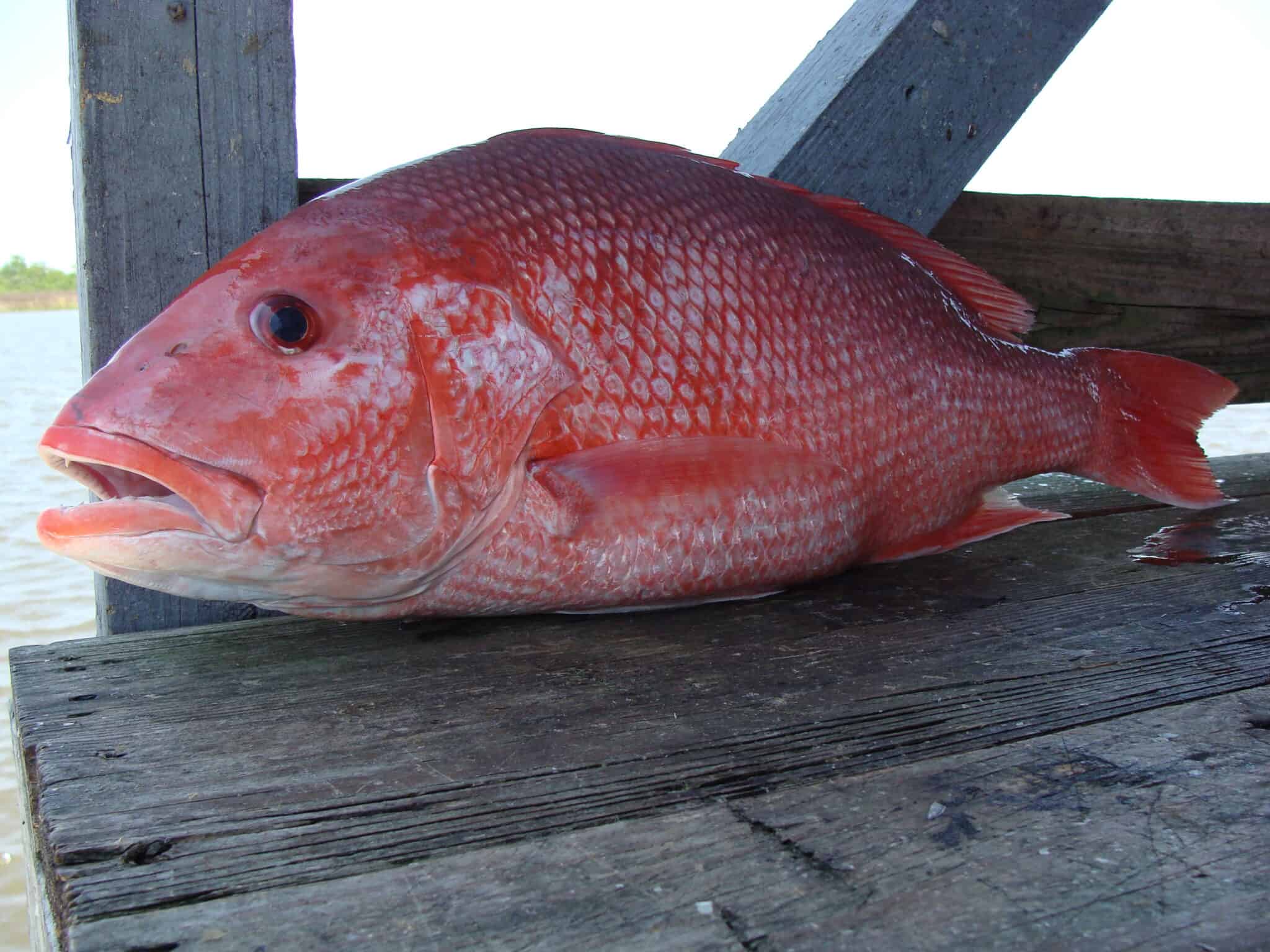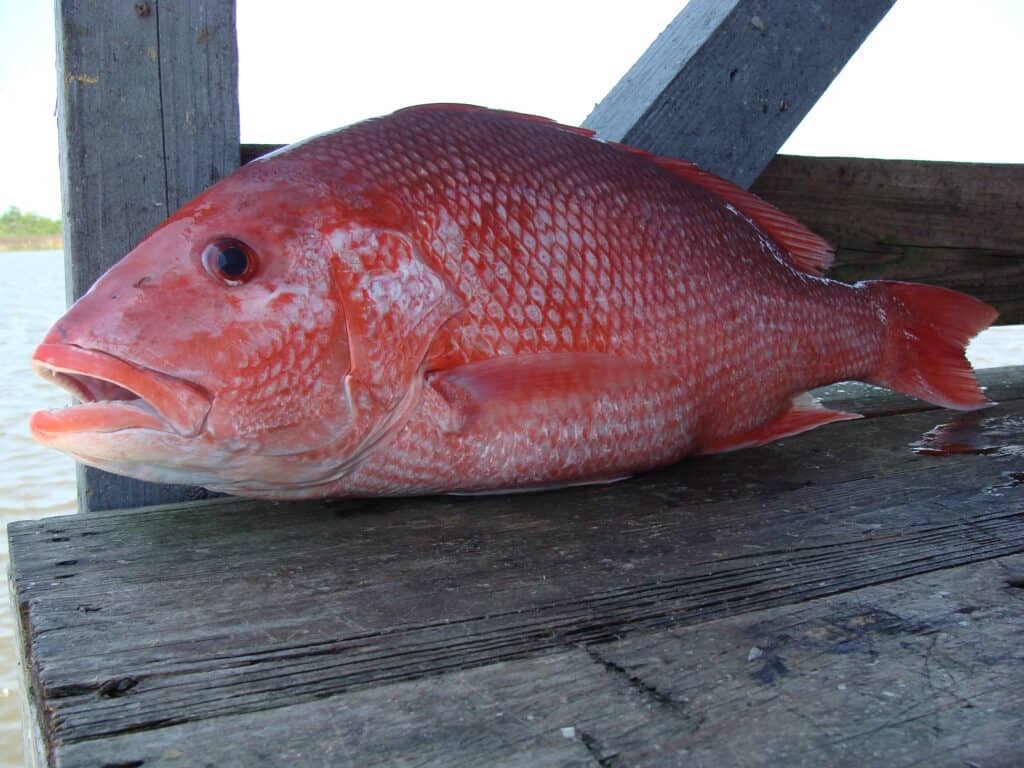 Snapper
Possessing a very bony mouth, snapper can only be caught on an extremely sharp hook. Snapper can range into the 20-kilogram class.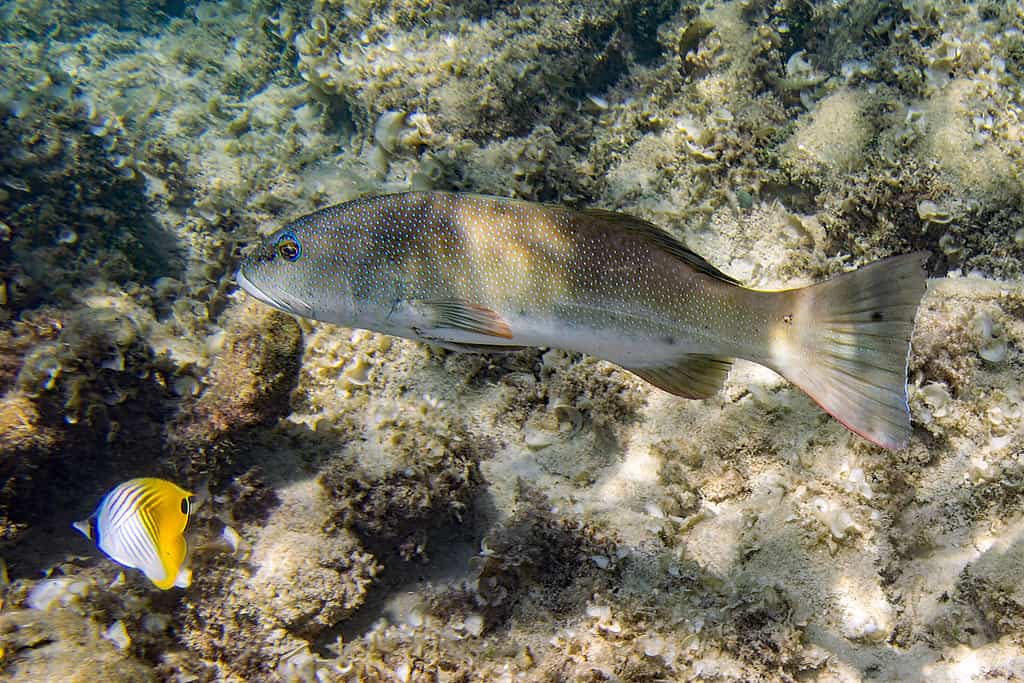 Coral Trout
With a beautiful red colour and known to dart for cover, coral trout are fun to catch. A common size is 10 kilograms, but some grow to over 30 kilograms.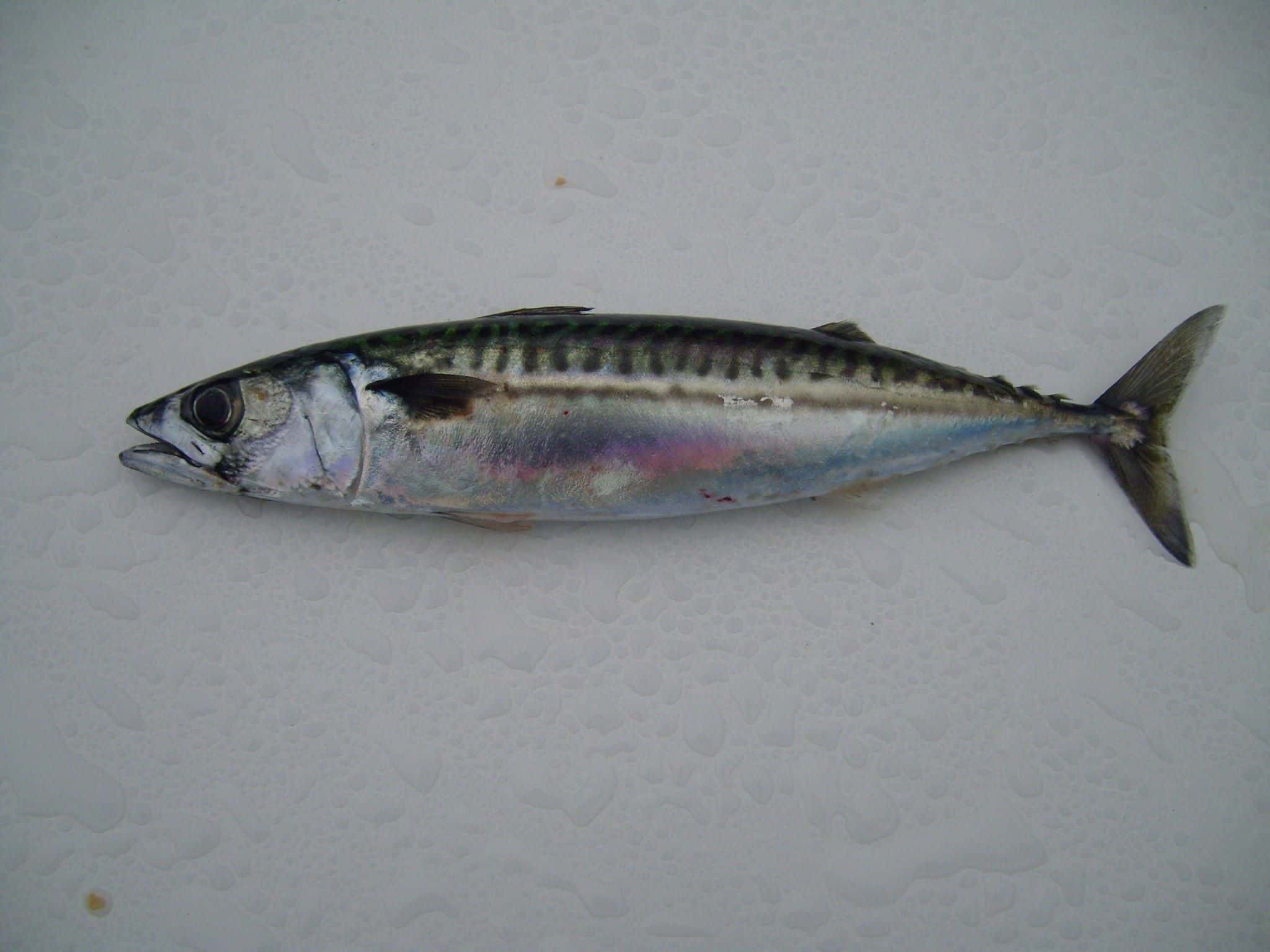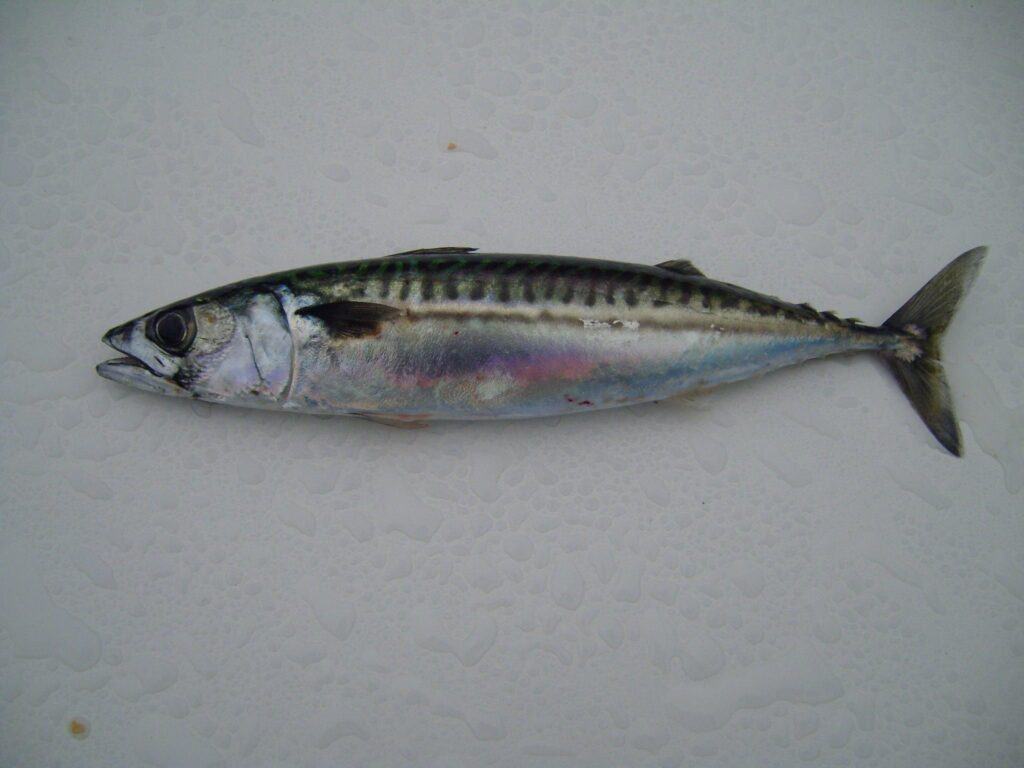 Mackerel
Spotted Mackerel are found in these waters. With a noticeable forked tail, mackerel runs about 100 centimetres in length and weighs up to 10.2 kilograms.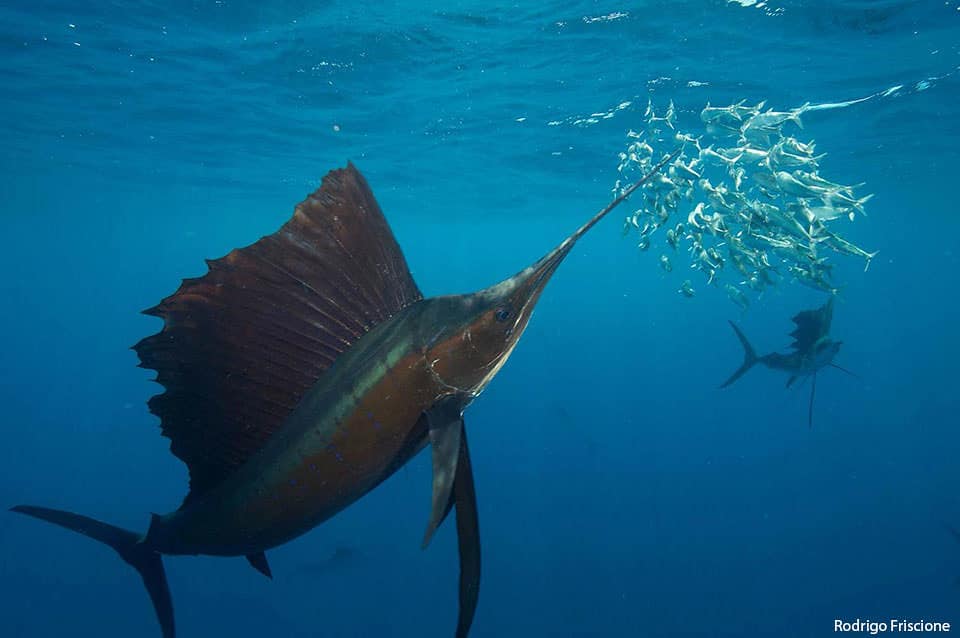 Sailfish
Offshore Hervey Bay charter fishing operators get you into trolling for other fish species, such as marlin, tuna or mackerel. The maximum size of sailfish is 3.5 meters and they usually weigh as much as 120 kilograms.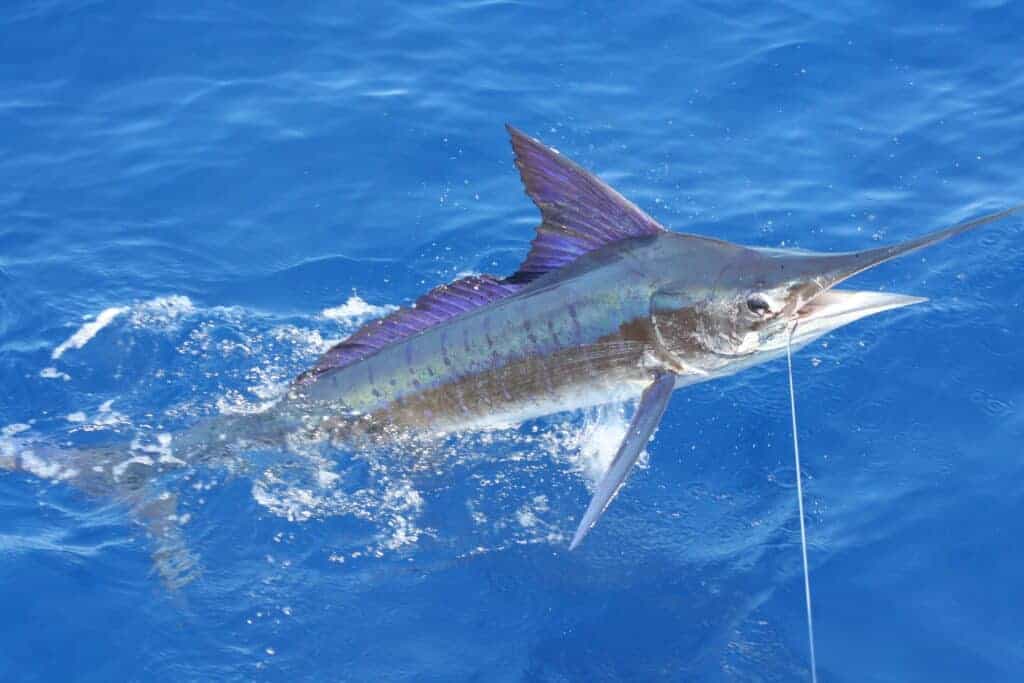 Marlin
Another species found in Hervey Bay is marlin. Some of the finest marlin fishing in the world can be experienced here. Species include striped, blue and black marlin.
The Hervey Bay Boat Club Tournament from the 8th to the 11th of November 2012 scored a record of 169 marlins taken by 11 boats in three days. Marlin tagged and released here can exceed 400 kilograms.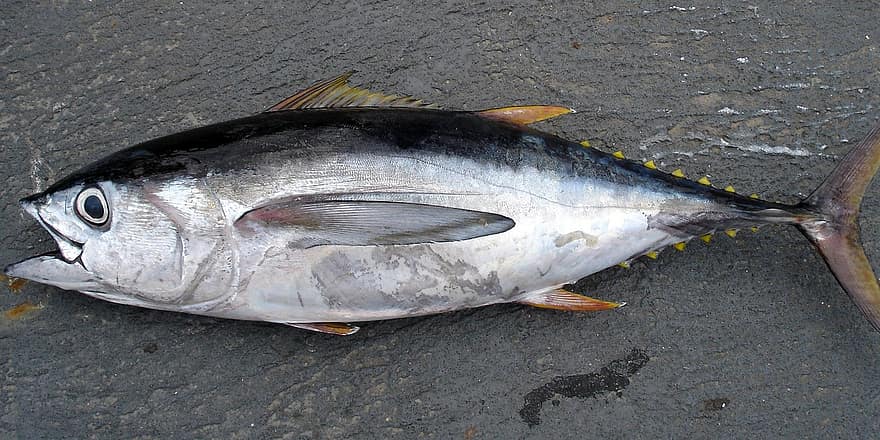 Tuna
For sizzling action, try fishing for tuna on spinning or fly fishing gear. March through June is the height of tuna activity, but tuna can be found year-round in Hervey Bay waters.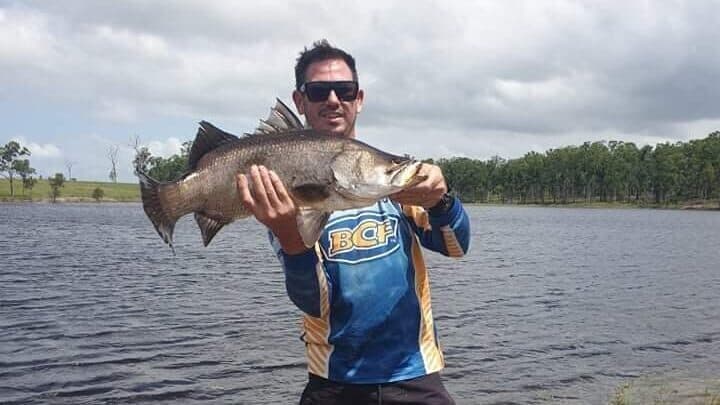 Barramundi
The name of this fish is derived from the Australian Aborigines and it means a large-scaled river fish. Barramundi live in rivers and swim into estuaries and tidal flats to spawn. These fish put up an amazing fight and are highly sought after by Australian sports fishing experts.
Some freshwater fishing possibilities result in big barramundi catches.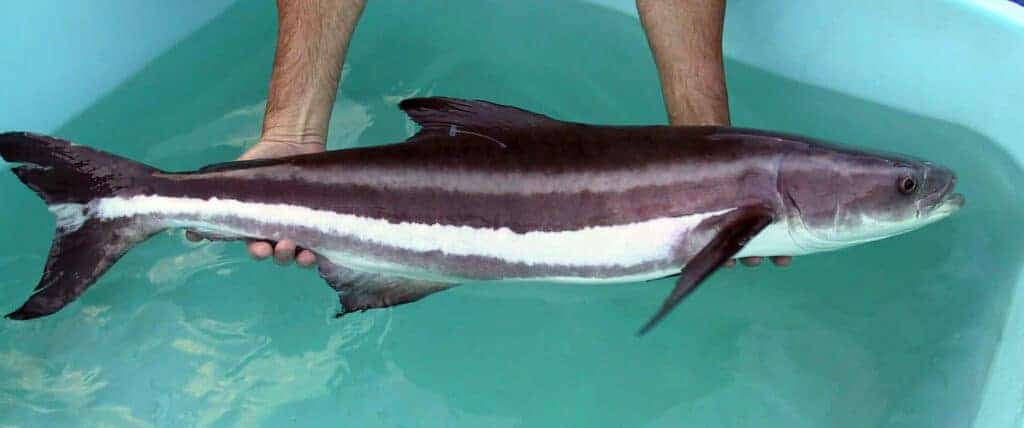 Cobia
These long-bodied fish are found throughout the Hervey Bay waters. They primarily eat crab and can get to two meters in length and as heavy as 60 kilograms.
If wetting your line just off the foreshores is more your thing, there are some superb catches to be made straight from the beaches as well. Locals have long raved about catching the delicious Bream fish many times over just off the beach or off the many piers that are all available to fish from in Hervey Bay.
Tuna, Kingfish and Giant Trevally along with the famous Flathead have all been caught off the 868 metre Urangan Pier where many fishermen enjoy fishing in the day or night time, with lights available all the way along for your convenience.
Wintertime in Hervey Bay provides some of the best fishing around. Boating enthusiasts and general fishermen enjoy casting a line and catching a lot more fish than in the other seasons.
It has been well known for some time that people from all over Australia, travel to Hervey Bay to enjoy the warmer winter months that we have, also believe that this climate at this time of the year makes for the best fishing around.
Hervey Bay is also a delicately balanced eco-system so take only what you need, eat everything you take and make sure you adhere to size and bag limits and seasonal closures.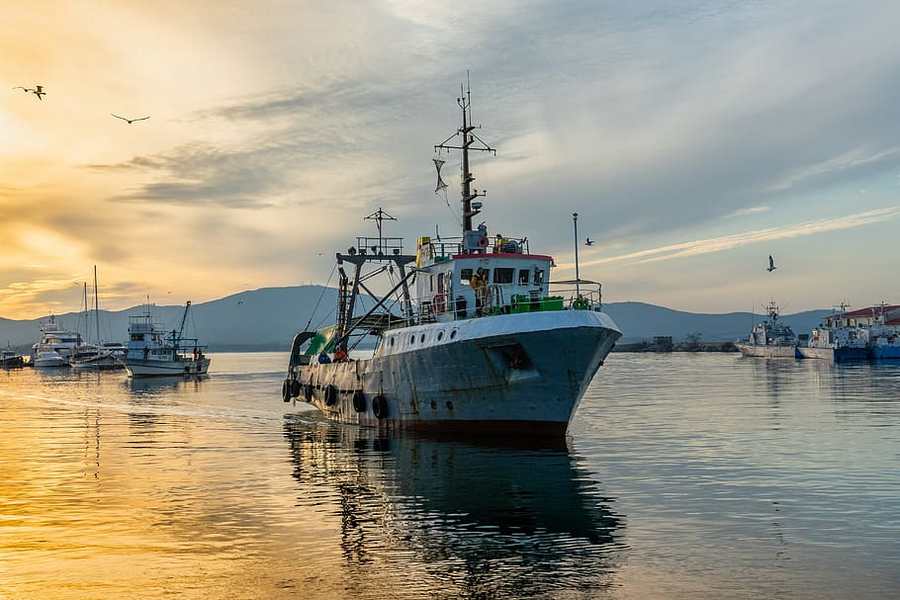 Fishing Charter Listings
Hervey Bay Sport Fishing offers you guided sportfishing on this angler's playground Hervey Bay. Andrew uses his expert knowledge of the area and local conditions to help you catch that trophy fish.
Hervey Bay Fishing Charters A wide range of fishing charters are offered, including half-day and full-day fishing outings involving a minimum of six and a maximum of eight people.
There are many rules with fishing that have changed over the years to ensure that our marine life can keep reproducing the great fish that it does so people have years of enjoyment with fishing.
If you ask your fishing expert about booking your chartered day away, they will be more than happy to instruct you on what the new fishing rules are and what size catches are available to bring home to the dry land after your day out.
Where Can I Find Squid In Hervey Bay?
If you're wanting to catch something other than fish, sharks or rays in Hervey Bay then you do have the opportunity to catch squid. Catching squid is a very different technique than regular fishing as well as different lures and line that needs to be used.
Using a sideways technique and a snatch and reel technique is going to be the best way to catch squid, and make sure you have plenty of room to reel in quickly as squid take off sideways rather than straight down.
It is recommended to cast your line off the back of the boat for best results.
There are two types of squid that you will commonly find in Hervey Bay, the tiger squid and the northern calamari. When looking for areas to go squid fishing you can find them off the Uranagan Pier or shallow rock areas you can also find them in areas with a good amount of seaweed around.
Squid tend to stick in groups to give you the best chance at acting them.
Squid are fast to the lure and jump quickly usually when the line is dropping so if you think you may be caught on weed chances are you're not and you've caught a squid. So keep in mind not to bob the line and snatch it quickly and reel it in.
It's recommended to have a net ready when bringing up the line and to not bring it into the boat straight away so as to avoid being inked and making a mess.
Resource Links To Products We Use And Recommend
More Pages On Fishing
link to Are There Stonefish In Hervey Bay?
Stonefish are known to inhabit various coastal regions around the world, and Hervey Bay in Australia has had a few encounters over the years with the dreaded stonefish. Hervey Bay offers a diverse...
link to 9 Best Baits For Australian Salmon
Loved for their delicious, oily flesh, Australian salmon are a prized catch for many anglers. And while they can be caught using various techniques, baits are often the most effective. But which...