Australia has many beautiful coastal cities and over 10,000 beaches. While this paradise is known for its gorgeous beaches and landscapes, it is also known for its potential dangers lurking both in the waters and on land.
Swimming in Hervey Bay is one of the best things to do. The waters of Hervey Bay are calm and rip free, making them safe for kids. The beaches are protected by Fraser Island; this means clean, clear waters perfect for a swim. Try to go swimming in the mornings before 10 am or afternoon after 2 pm.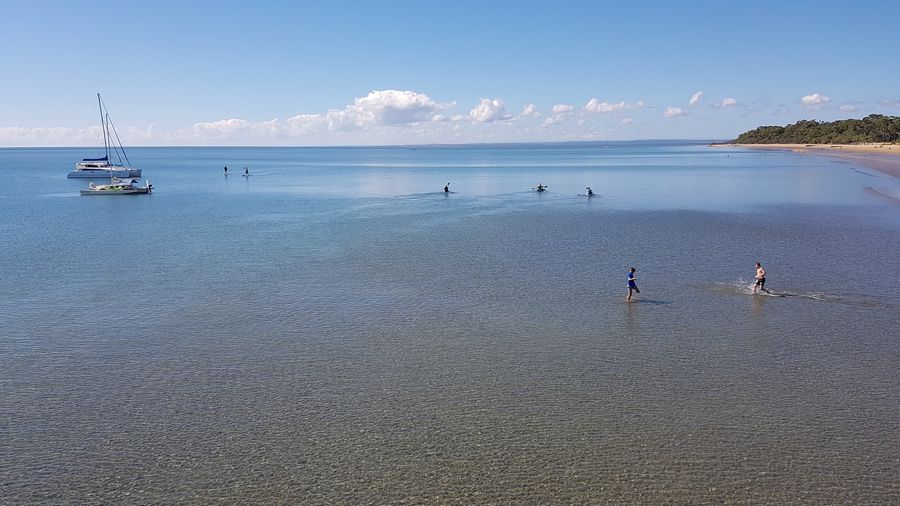 However, even with dangers nearby, some fun can still be had. One of the most iconic places to visit along Australia's eastern coast is Hervey Bay. Hervey Bay is a gorgeous coastal city and bay area in Queensland, Australia.
More specifically, this area is known as the Fraser Coast region due to its proximity to the famous Fraser Island. However, Hervey Bay is well known for its own fun activities.
This is especially true for whale watching, as the bay area and Hervey Bay are known as being the capital of the world for whale watching.
How Long Are The Swimming Beaches?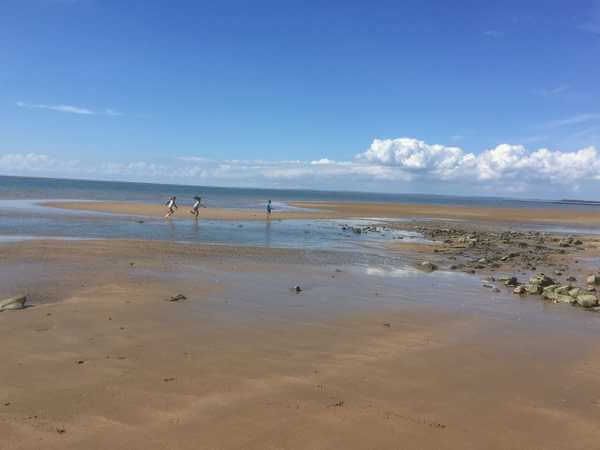 Hervey Bay's coastal oasis has quite a few charming towns and villages to explore. These coastal areas have beaches to spend some quality time on as well. The Hervey Bay area stretches about 97km squared along the eastern coast of Australia.
Moreover, it is well known for its waterfront esplanade that lines its beachfront areas. The esplanade runs somewhere between 14km and 17km from Gatakers Bay to Urangan Boat Harbour.
This gorgeous walkway gives sight to the waterfront beaches for swimming.
There is approximately 12km of swimming beaches, out of the almost 17km area of beachfront that is considered a swimmable beach area. This esplanade is a great way to gauge just how far the beach areas stretch in the Hervey Bay area.
This esplanade really makes for ease of access to the beaches as well as some great restaurants and shops along the way!
Does Hervey Bay Have Stingers?
The calm and quaint waters off Hervey Bay are truly tranquil paradises for swimming. Swimming is considered to be quite enjoyable in the Hervey Bay area due to these calming waters.
However, another reason they are considered safe to swim in is that they are basically stinger-free. Stingers, or jellyfish, are dangerous sea creatures that can cause some deadly stings to unsuspecting swimmers.
Hervey Bay is known for its whales during whale migrant season more than having any stingers.
Even with stinger-free waters, the ocean still can pose some dangers. It is always important to stay alert for any potential areas of concern. Marine creatures like sharks can enter these waters but sharks are found all over the world.
This shouldn't discourage anyone from enjoying a great beach day in the waters of Hervey Bay. Simply being aware of the surroundings and taking any and all precautionary suggestions help with keeping anywhere safe but especially in beach areas.
Some of these precautionary suggestions may seem like common sense, such as keeping a watchful eye out for sharks or other wildlife, but they are completely necessary!
Water Temperature For Swimming At Hervey Bay Beaches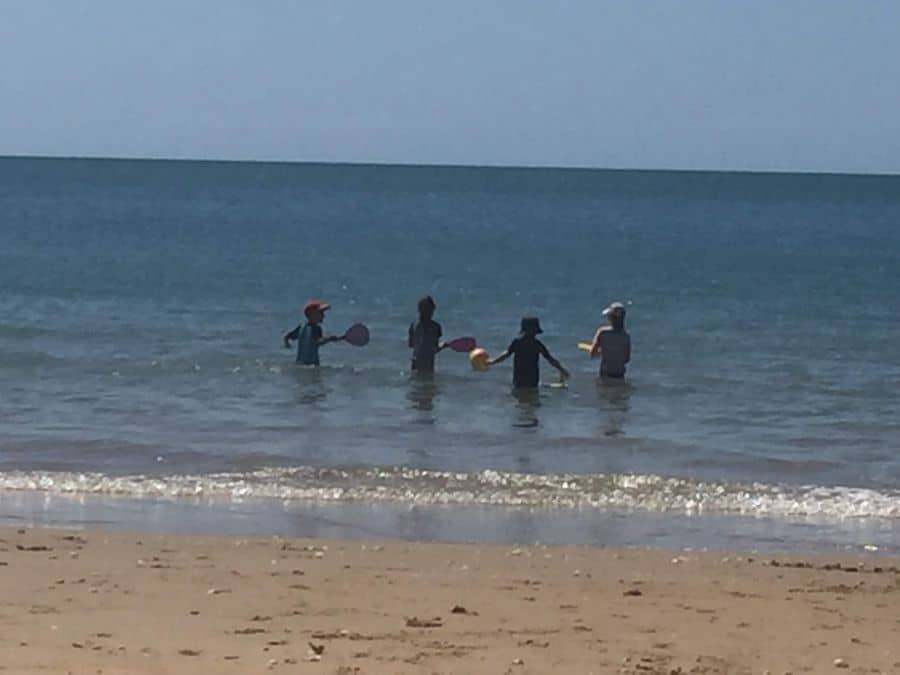 Water temperatures really do set the mood when it comes to swimming. Hervey Bay waters are said to get upwards of almost 30 degrees Celcius! They are also known for getting as low as 21 degrees Celcius.
These temperatures make for comfortable swimming, especially in the calming waters of the bay.
While 30 degrees Celcius is sort of warm, it is not as warm as the waters in the tropic areas further north in Australia. This area is particularly known for having tropical weather.
These are the waters that attract stingers which is why they are rarely found (most likely not found) within the waters of Hervey Bay. The pristine waters off the coast of the bay area are truly exceptional.
Are Hervey Bay Beaches Patrolled By Lifeguards?
Lifeguards

are truly an essential sight on any beachfront. They are trained professionals who look out for the safety of the community while they enjoy the beautiful beaches.
When it comes to Hervey Bay, the beaches along the almost 17km stretch of coastline are patrolled in one location at Torquay. Patrolled beaches are always the best and safest choice when visiting Australian beaches.
This ensures there is someone there to address any problems that may arise. This is especially true for areas where stingers do frequent the waters. Instant medical attention can literally mean the difference between life and death.
However, in concern to the immaculate beachfront areas of Hervey Bay, stingers are not a problem. This doesn't make the need for a lifeguard null. In fact, the popularity of the beach areas throughout the bay makes the need for a lifeguard even more important.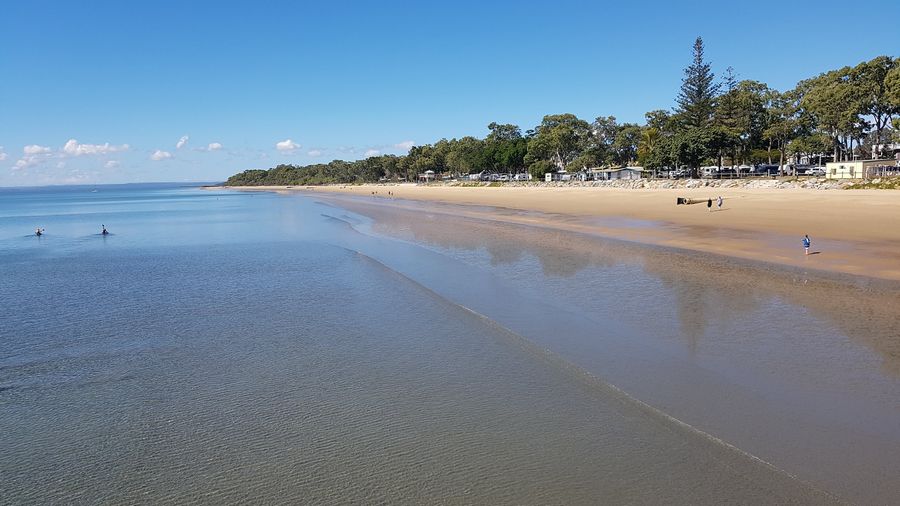 The Hervey Bay area is very lucky to have some patrolled beach areas. While it would be nice to have all of Australia's beaches guarded, it simply is not practical.
There are over 10,000 beaches that are spread out over the coastlines, islands, etc. It would be near impossible to keep them all patrolled. This particularly rings true for areas where the tides are simply too strong for anyone to really swim.
These areas in Australia are not safe for swimmers and should not be used for swimming.
But once again, when considering Hervey Bay as a place to swim, the waters are watched over in most areas. Even with no stingers, sharks can enter the waters and accidents do happen. It is nice to know this beautiful bay area is patrolled!
Hervey Bay: A Naturally Beautiful Bay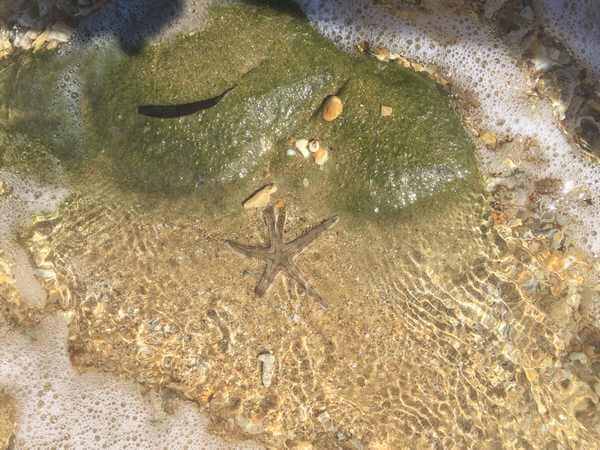 Hervey Bay is simply astonishing to witness. From the beaches to all the surrounding small towns, there is something to find for everyone but there is no surfing here. This even includes heading across the bay to the famous Fraser Island area.
Regardless, the beaches and towns all offer landscapes and seascapes to behold. This natural beauty makes Hervey Bay a truly uncharted place to spend time enjoying the beach.
Enjoying what the beaches have to offer can include fishing, boating, surfing, water skiing, and of course swimming! When it comes to Australia's vast coastline areas, Hervey Bay offers up some of the best swimming spots in the country!
Resource Links To Products We Use And Recommend
More Pages On Hervey Bay
link to Sunset Cruise In The Great Sandy Marine Park
The Sunset Cruise Great Sandy Marine Park has a lot to offer, from stunning scenery to a range of wildlife and marine life. Here are some of the things you can expect to experience on a sunset cruise...
link to Is Hervey Bay Full Of Old People?
Hervey Bay is a popular retirement destination and has a higher proportion of older residents than some other cities in Australia. However, it is important to note that Hervey Bay is a diverse...