Double Island Point is an idyllic paradise of sand and turquoise water that is tucked off of a headland in Queensland, Australia. More specifically, this headland is located just south of Rainbow Beach, another stunning region of Queensland.
While Double Island Point is most known for its lighthouse, and rightfully so, the area has so much more to offer its visitors.
Because of the brilliantly blue waters at Double Island Point, there is a lot to enjoy in the water. Snorkelling is especially enjoyed in the area. Snorkelling is the window in which we get to see stunning marine life and reef formations that can be found underwater in the vertical rock bluffs.
There are seemingly countless spots to snorkel around Queensland but the snorkelling at Double Island Point is truly out of this world!
Double Island Point Snorkeling Spots
While snorkelling near the shoreline at Double Island Point is possible, it isn't recommended for those seeking a truly unique snorkelling experience. The best snorkelling spot at Double Island Point is located at Wolf Rock

. Wolf Rock is just 2km north of the headland right in the heart of the ocean.
This specific location is sought-after by those looking to see the beauty that awaits under the water near Double Island Point.
Wolf Rock diving and snorkelling tours are operated by a company based out of Rainbow Beach. Wolf Rock has become one of Queensland's most premier spots to snorkel or dive due to its grey nurse shark population. These sharks are spectacular to see when snorkelling off Wolf Rock.
The grey nurse sharks were once considered critically endangered, however, their presence at Wolf Rock has grown their population over the years.
Grey nurse sharks certainly bring snorkellers to Wolf Rock, however, they aren't the only marine life living around the area. Other types of marine life to be seen in the area include leopard sharks, manta rays, eagle rays, sea turtles, blotched fantail rays, olive sea snakes, and giant grouper.
There are also numerous tropical fish that frequent the waters since the Great Barrier Reef isn't too far away from Wolf Rock. Snorkelling among these magnificent creatures is absolutely mesmerizing.
The ability to see such amazing sea creatures lies within the dive spot's location. Wolf Rock is the primary gateway to a larger network of volcanic gutters and gulleys that lay beneath the water's surface. In fact, this area of rocky underwater terrain is the last diving spot before reaching K'gari Island, the world's largest sand island which is located further north of Double Island Point.
Wolf Rock's rocky terrain is said to go as deep as 38 metres!
Another reason that Wolf Rock is the most thrilling dive and snorkel spot near Double Island Point is due to its visibility. While the visibility isn't always guaranteed, the average depth for visibility is up to 15 metres which is still pretty substantial. Aside from the marine life, there are various underwater plant systems to see as well as rock formations.
While snorkelling here doesn't require expert experience, it is suggested that people have moderate experience in snorkelling or diving. Wolf Rock Dive (the company that offers tours of the area that is based out of Rainbow Beach) does offer diving courses.
These courses range from basic diving refresher points to advancing diving techniques. There are even classes that teach life-saving tips in the event of an emergency. Wolf Rock Dive strives to cover anything related to diving at Wolf Rock! The prices for these services will also vary depending on what specific class is needed.
It is important to note that the water conditions have to be ideal for the tours offered through Wolf Rock Dive. If the waves are exceeding 1.8m in height and the wind speed goes over 20 knots, the trip might be cancelled. This is done to ensure the safety of everyone involved. Those water conditions simply aren't suitable for snorkelling or diving.
Wolf Rock Dive also offers its patrons a dive charter. Guests should be classified with at least an Open Water Diver certification and/or be a BSAC Sports Diver. The reason behind the restriction on guest classification is because the dive charters go past depths of 18 metres.
More experience is needed to go deeper than 18 metres. The boat road takes about 30 minutes to reach Wolf Rock and visitors will be delighted to see sights of K'gari Island as well as Inskip on the way there.
Whether it is to do a basic snorkel or dive or take on the adventure of a dive charter, Wolf Rock proves to be the most iconic snorkel and dive sight near Double Island Point.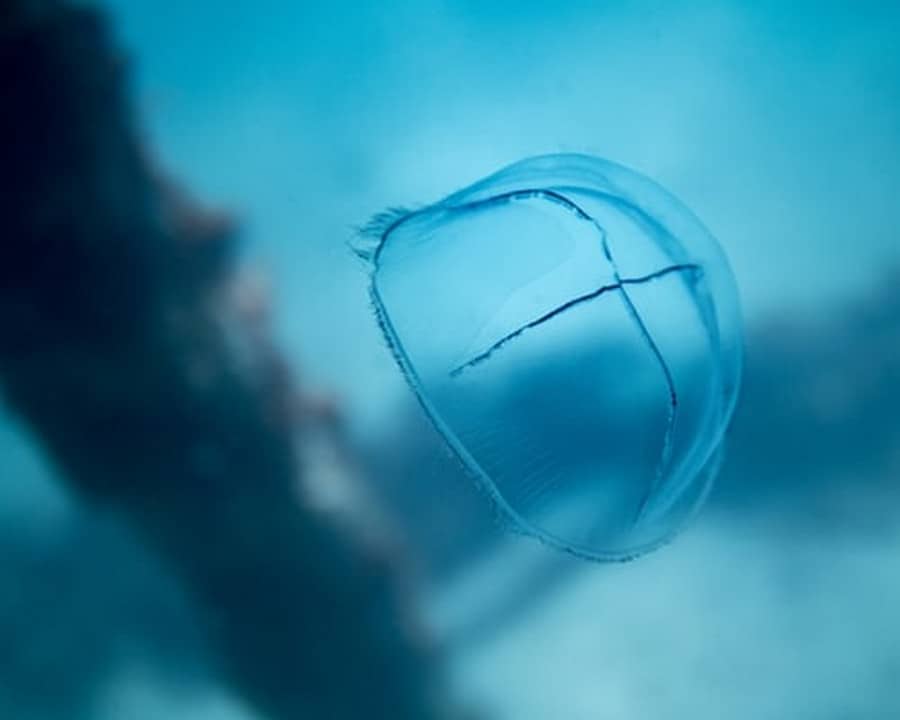 Is It Safe To Snorkel At Double Island Point?
Taking an underwater adventure should always be done with safety protocols in mind. While it is relatively safe to snorkel at Double Island Point, visitors should always be alert and never swim alone. Those are the two biggest mistakes that someone can make when entering ocean waters.
This is not only true for places around Australia, but anywhere.
Even though Wolf Rock isn't that far from the shore of Double Island Point, visitors should never venture to the dive spot at night nor should they go alone. Using a guided snorkel tour is truly the safest way people can experience the sheer beauty of the adventure.
It doesn't matter what skill level someone might consider themselves to be, playing it safe is simply smart.
The marine life that can be seen, such as the grey nurse sharks, aren't really considered dangerous to humans. Any creature can be dangerous if provoked though so it is important to always respect the space of marine life.
Double Island Point is a stunning place to visit for a lot of reasons. Snorkelling among the blue waters, especially at Wolf Rock, is another great way to really feel like you are a part of the natural environment. The sights are truly breathtaking and the snorkelling experience is one-of-a-kind!
Resource Links To Products We Use And Recommend
More Pages On Other Areas