When you go camping on Fraser Island, also known by its Indigenous name of K'gari, it's important to stock up on essentials. Stocking up on fuel is critical to ensure you don't get stuck somewhere on the island.
You can get diesel and unleaded gas on Fraser Island or the mainland. There are convenience stores in campgrounds across the island that sell supplies, including fuel. However, they don't carry a lot of stock, so it's best to buy most of your supplies on the mainland.
In the rest of this article, I'll tell you where you can buy fuel on Fraser Island and explain how to reach the campgrounds mentioned in this article.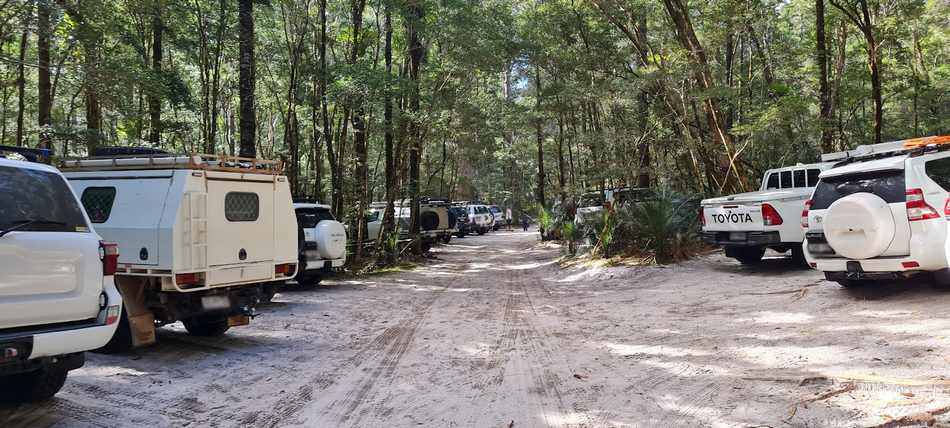 Where You Can Get Diesel Gas On Fraser Island
Due to its nature as an island, Fraser Island depends on regular shipments of essential commodities like food, fuel, equipment, etc. Thus, the prices of items are higher on the island than on the mainland to accommodate transport costs.
For this reason, you should consider purchasing most of your fuel on the mainland before going to Fraser Island. If you would like to know what to bring we have a list here. This will help save money you can use for more fun activities. 
However, if you plan to drive or camp on Fraser Island, you should ensure you have enough fuel to last you until the next campground. If you suspect that your fuel supply might be getting low, you should buy extra fuel from the nearest general store on Fraser Island.
Diesel and other fuel types are available in five locations on Fraser Island. These locations include apartments, campgrounds, and general stores. 
Here are the five places with a general store where you can buy fuel on Fraser Island:
Cathedral Beach
Orchid Beach
Kingfisher Bay Resort
Happy Valley
Eurong Beach
Let's discuss these places in detail.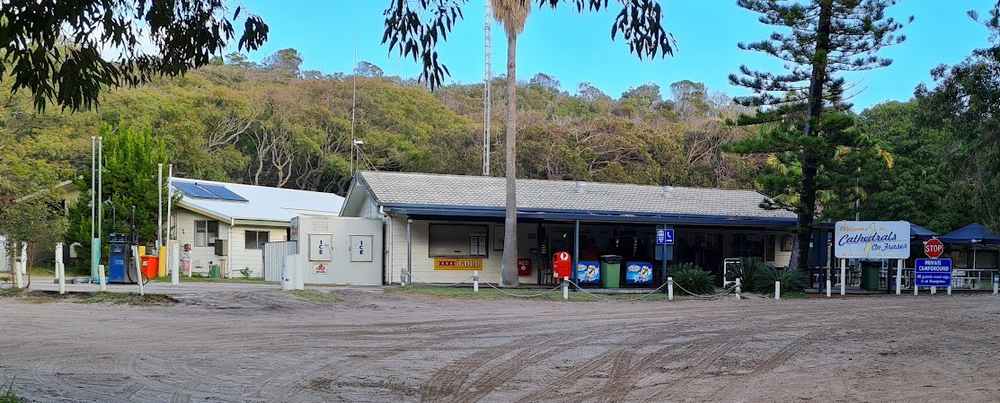 Cathedral Beach (Cathedrals On Fraser)
Cathedrals on Fraser is a fenced, scenic campground that offers multiple types of accommodation, facilities, and supplies. It includes a large campground and even provides fire rings for visitors to get a proper campfire experience (which isn't allowed otherwise on Fraser Island).
The Cathedrals on Fraser campground includes a general store that carries most supplies needed for campers. This store has groceries, a cafe, camping equipment, ice, and more. Most importantly, it also has fuel and gas bottle refills available!
You can access the Cathedrals on Fraser campground via the Manta Ray Barge from Rainbow Beach or the Kingfisher Bay Barges from River Heads, near Hervey Bay.
Orchid Beach
This scenic beach features the best fishing spots on the island. It also has apartments for rent and campsites for campers. If needed, a general store sells camping supplies and gear, groceries, and fuel – both diesel and unleaded.
You can access this spot via Inskip Point at Rainbow Beach or River Heads near Hervey Bay. Both areas have barges/ferries available to Orchid Beach.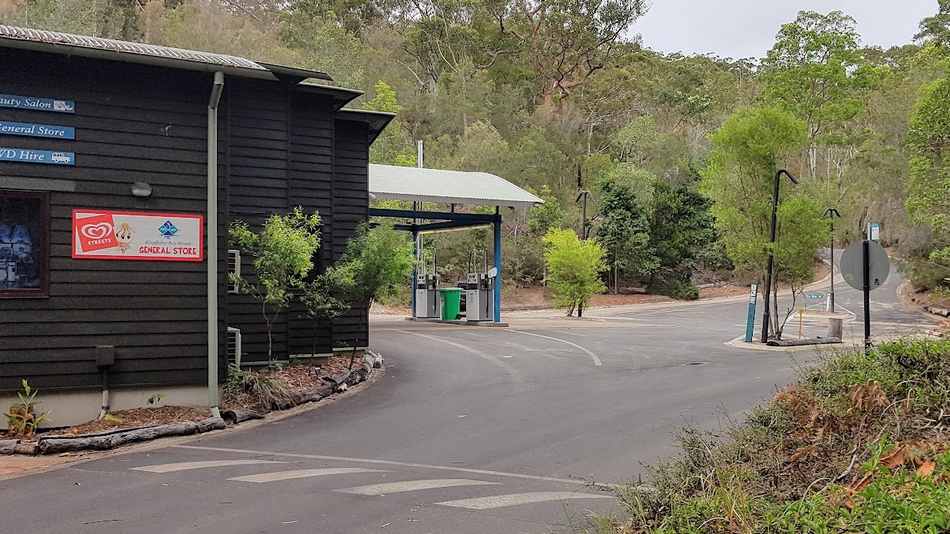 The Kingfisher Bay Resort
Kingfisher Bay Resort is a "haven of relaxation". This extensive resort includes luxurious accommodation, four lagoon-style pools, a range of restaurants and bars, and more.
The resort also includes a well-stocked general store for grocery shopping, drinks, swimming equipment, etc, where you can stock up on fuel and ice when you're camping.
The Kingfisher Bay Resort is easily accessible through ferries/barges from River Heads near Hervey Bay. The resort has four ferry services to and from the resort every day at specific times. You can view the full timetable for the ferries here. The resort also has pickup and drop services to and from Hervey Bay Airport to the Kingfisher Bay Mainland Reception point.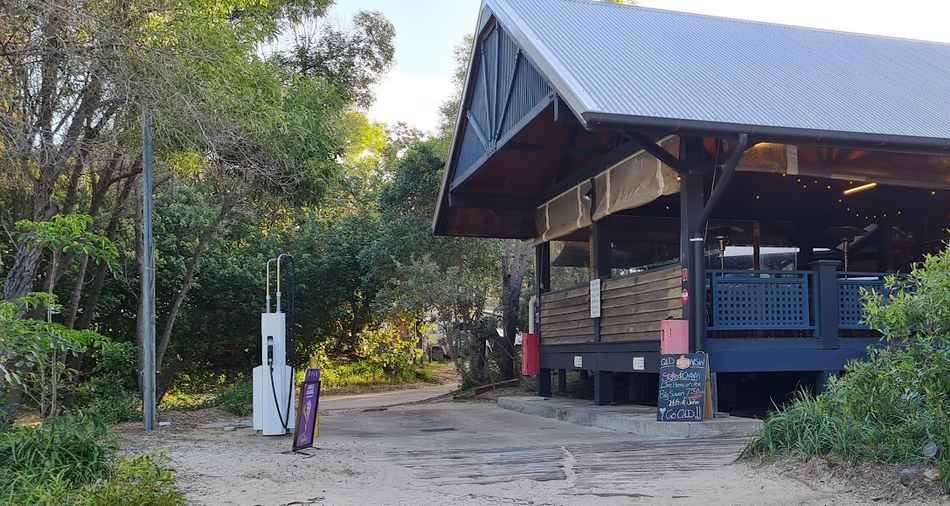 Happy Valley
Located on the island's East Coast, facing the Pacific Ocean, Happy Valley is the Fraser Island Retreat! One of the most popular tourist accommodations, this resort includes independent cabins and hotel rooms for guests to stay, restaurant and bar services, and a licensed general store.
At this general store, fuel is available in the form of diesel and unleaded fuel/petrol. The store also carries groceries, wine, ice, camping and swimming gear, and more.
To get to Happy Valley, you'll need to take a barge to the island from Inskip Point or River Heads. The advised route to Happy Valley includes a barge from Inskip Point to Hook Point, then a drive along the beach towards the east until you hit the 75 Mile Beach.
From there, it's approximately an hour's drive along the 75 Mile Beach to Happy Valley. If the tides are high when you arrive, there's also the Hook Point inland road towards the island's eastern side.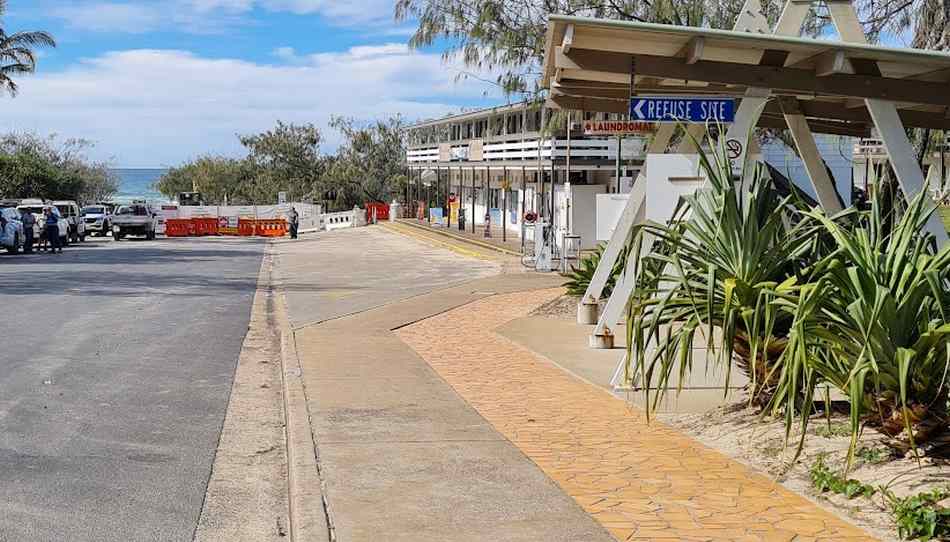 Eurong Beach/K'gari Beach Resort
Formerly known as Eurong Beach Resort, K'gari Beach Resort features cosy accommodation, world-class facilities, and a well-stocked general store. This secure, dingo-fenced resort lies in a prime location for day trips, backpacking, fishing expeditions, and off-road drives.
The location features the Eurong Shop, a general store that carries all necessities needed for your vacation. This general store has everything you could need on your trip, from everyday necessities like groceries, fruits, meats, etc., to camping gear like fuel, ice, maps, rigging, and more! According to their website

, the Eurong Shop is open every day from 8 am to 5 pm.
Located on the beautiful 75 Mile Beach, K'gari Beach Resort is easily accessible via a 4WD Vehicle. You can travel to the resort from Hook Point to the south, Wanggoolba Creek to the west, or Kingfisher Bay to the west. If you're hiring a 4WD for your trip, you should look at the rules for hired vehicles

.
Conclusion
Diesel is available in general stores on Fraser Island. These stores are located in five areas.
Cathedrals on Fraser
Kingfisher Bay Resort
Eurong Beach Resort/ K'gari Beach Resort
Happy Valley
Orchid Beach
The general stores in these locations carry both diesel and unleaded fuel. They also carry various other items. However, due to the extra transportation costs to the island, the price of fuel is higher on Fraser Island than on the mainland, so try to stock up on fuel before leaving for Fraser Island.
Resource Links To Products We Use And Recommend
More Pages On Fraser Island
link to Can You Drive At Night On Fraser Island?
Fraser Island, located off the coast of Queensland, Australia, is a popular tourist destination and a UNESCO World Heritage Site. The island, which spans more than 120 kilometres in length and 24...
link to Are There Toilets On Fraser Island?
Fraser Island, which is a popular tourist destination in Australia. The island has a number of campsites and other facilities where visitors can use toilet facilities. There are on average around 22...