Fraser Island is the world's largest sand island, located just off the eastern coast of Queensland in Hervey Bay, the island provides ample recreational opportunities for tourists or residents.
Located on the Eastern side of Fraser Island lies 75 Mile Beach, a sand highway for 4 wheel drivers everywhere. thousands flock to this island every single year to enjoy all the splendours it has to offer.
75 Mile Beach though is amongst the most popular as it's where you can see most of the sights on offer. From Indian Heads to the Maheno Shipwreck, to the Champagne Pools and Eli Creek.
Another reason people come to the eastern side is for the yearly tailor run that occurs from July to November, which happens to coincide with the Whale Season. Whatever your desire may be for coming to Fraser Island Beach, taking a 4wd down 75 Mile Beach is surely not something you want to miss out on.
Where Is 75 Mile Beach?
As expressed, it is located right off the eastern coast of Fraser Island. This extraordinary beach stretches for just as long as its name implies: 75 miles. This large stretch of beach helps add to the beauty of the historic island.
The island and this gorgeous beach face out into the Coral Sea. With such a vast space of beach area, some of the best seascapes can be witnessed here from the edge of the beach.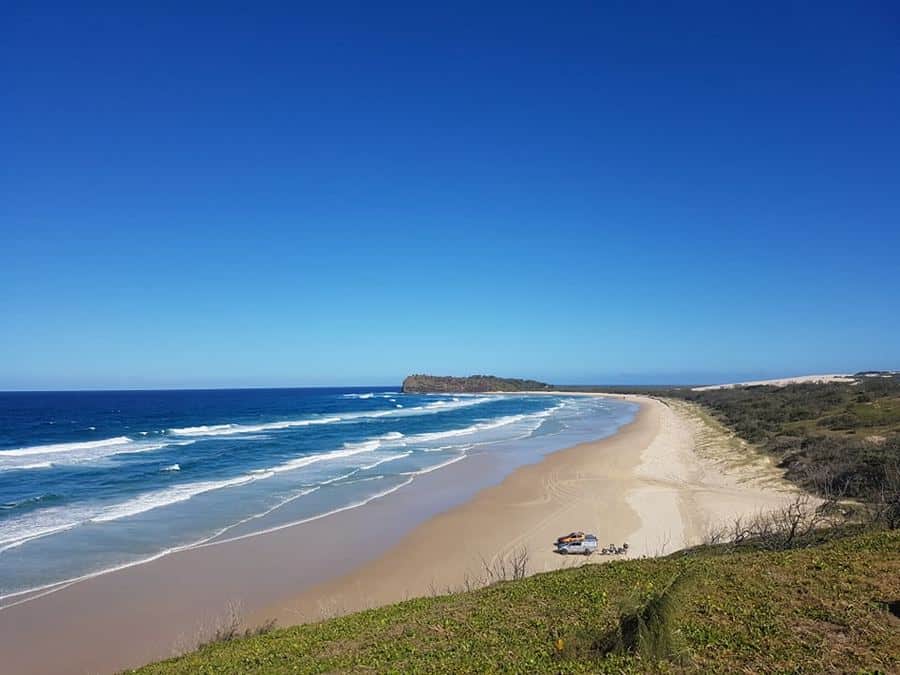 What Is So Special About 75 Mile Beach?
Its size is undoubtedly one of the most unique things about this beach. However, there is plenty to see along this long stretch of beach. One particular spot is the Maheno Shipwreck.
This historic shipwreck washed up on the shore of 75 Mile Beach around 1935 by a cyclone.
The full name of the shipwreck is S.S. Maheno and was an ocean liner associated with New Zealand. Since its hit the shoreline, it has become a really popular tourist site.
It is quite magnificent to see. It has maintained a lot of its structure for being so old, but in recent years it has been a bit more fragile. Simply due to the rising of the tides and saltwater that corrodes the haul of the ship. It still makes for great photographs though!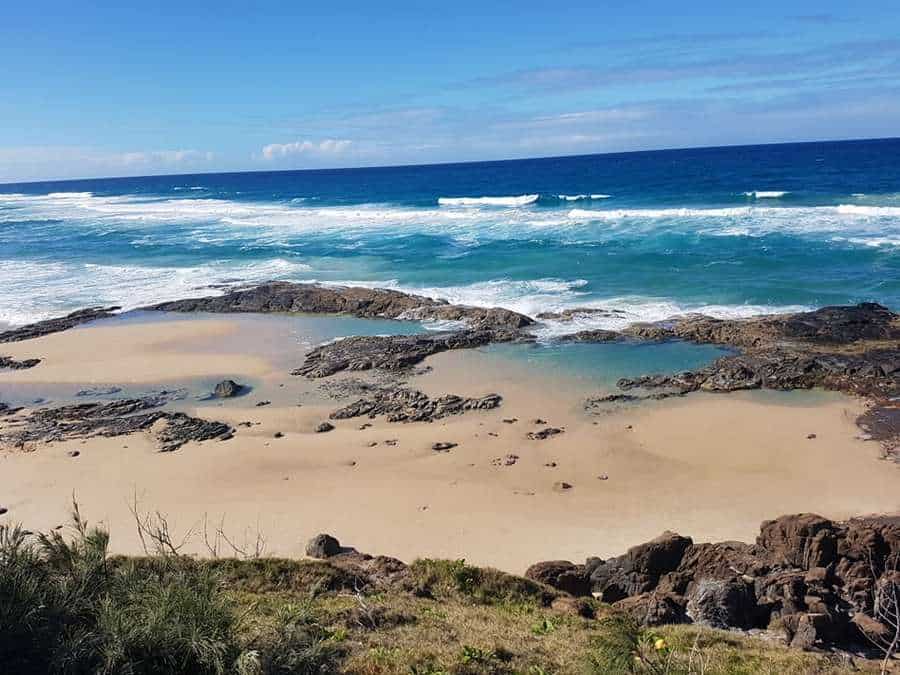 This beautiful beach is also known for its Champagne Pools. This popular swimming spot is specifically located between Waddy Point and Indian Head. They pristine pools of water tucked into volcanic rock formations.
They get their namesake from the crashing of seawater against the volcanic rocks into the pooled areas. The illusion is created of bubbling water much like a glass of champagne.
The sheer landscape and seascape views from this area while enjoying a swim is spectacular.
While the pools and shipwreck bring in lots of eyes to behold their iconic sights, the biggest attraction of the beach is 4WD adventures. With such a large stretch of the area to drive, those seeking a bit of fun enjoy taking their 4×4 vehicles on this sanded paradise.
It is always recommended to be as safe as possible when driving up the beach as the open waters can crash up some high tides. With this in mind, those driving up the beach should always be aware of these potential high tides.
There are some small camping areas along the beach close to the land side of the beach. These areas are perfect for pitching small tents as they aren't meant to be used with large caravans or anything of that sort.
Camping is a pretty popular thing to do in Australia and while these areas are only meant for little camp areas, the outdoors can still be enjoyable. Those who truly love camping can make a camp out of any materials!
For those looking for a more exclusive camping adventure, Fraser Island does have other camping locations, however, a camping permit

to freely camp is required.
Another reason that this beach is truly amazing is due to its proximity on the island. It is the main access point to get see the historic sites as well as the coloured sands that attract visitors as well, known as the Pinnacles.
With over 70 unique colours within these hills of sand, it is certainly a sight to see. Moreover, the beach is a primary way to reach Waddy Point along with Eli Creek, etc.
75 Mile Beach Sharks
Australia is well known for its unique and potentially dangerous wildlife which includes marine life. When it comes to marine life lurking in the waters along this particular beach area, sharks are the main culprit.
The shark population in the waters off the eastern coast of Fraser Island along 75 Mile Beach can't quite be gauged to an exact number but they are high.
One of the main reasons that sharks frequent these waters is due to the high tide currents that occur off of the coasts of Fraser Island.
Due to the powerful riptide currents and the sharks these currents bring close to shore, the beach is not a swimmable beach. These water conditions are not safe even for strong swimmers.
Even more so, the sharks are extremely dangerous. It is estimated that the waters surrounding Australia, including Fraser Island areas, are home to over 20 species of sharks that are known to attack.
This is not said to make people fear all the waters in Australia. It is always expressed that when at any beach, patrolled or unpatrolled, alertness should always be used to ensure the highest level of safety.
However, when it specifically comes to this beach on Fraser Island, entering the water simply should be avoided. Often times tourists will enter these waters unaware of the dangers and require help, the waters here can also have marine stingers.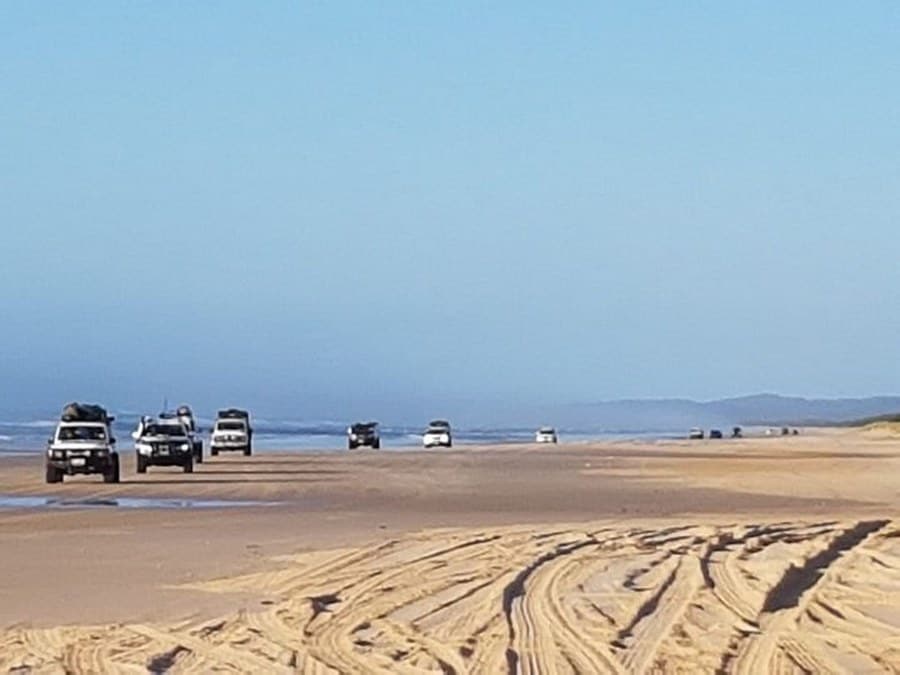 Please at all times, enter the water slowly this gives time for the stingers to move away from you!.
Other dangers to keep watchful eyes out for are also dingoes which are known to roam Fraser Island. Another less thought about danger includes all the 4×4 vehicles roaring up the coastline along the 75 Mile Beach road.
Once again, this piece of paradise beach can be enjoyed to its fullest extent but like any other location being visited, people should be aware of their surroundings.
As with any location in Australia, the beauty of the location can truly be appreciated while still staying safe. One of the admirable things about this beach and other areas in Australia is their absolute naturalistic beauty.
The natural landscapes and seascapes are truly breathtaking. More specifically in concerns to this beach on Fraser Island, the rainforest backdrops are stunning! No matter what, a day at 75 Mile Beach can be memorable for years to come!
Resource Links To Products We Use And Recommend
More Pages On Fraser Island
link to Can You Drive At Night On Fraser Island?
Fraser Island, located off the coast of Queensland, Australia, is a popular tourist destination and a UNESCO World Heritage Site. The island, which spans more than 120 kilometres in length and 24...
link to Are There Toilets On Fraser Island?
Fraser Island, which is a popular tourist destination in Australia. The island has a number of campsites and other facilities where visitors can use toilet facilities. There are on average around 22...