Where is the best place to see whales in Australia?
Whale Watching Hervey Bay offers you the very best whale watching experience in the southern hemisphere and welcomes more than 60,000 whale watching visitors to the region each and every year, during the months of July to November.
Hervey Bay is a popular seaside city, approximately 3 hours north of Queensland's capital city, Brisbane. With a growing population of around 52,000 people calling the bay home and located in southern Queensland, Australia is where you will find this whale watching hub.
You can visit the area via vehicle, bus, train, boat or plane. Upon arrival to this beautiful seaside destination, you can enjoy the scenic route of the Esplanade taking in the view of a 17-kilometre paved pathway that intertwines between the crystal clear foreshore and the trees and vegetation that has shaded this majestic walkway that thousands of locals and visitors enjoy on a daily basis.
Hervey Bay also plays host to some of the best-shopping outlets in the south Queensland region with various shopping complexes and locally run businesses.
The major shopping complex hosts an array of food outlets, fashion stores and hair salons along with many major supermarket chains. Visiting the Esplanade you will enjoy a walk by foot to browse the fashion outlets, fresh seafood caught straight from our local waters, cafes galore and beach hire equipment.
When visiting the area you can walk along the famous pier that was built in 1917 and is still standing today.
This marvellous walk is now 868 meters in length as it was shortened from the original 1107 meters due to pubic outcry to retain this iconic landmark Hervey Bay had come to love for scenic walks, fishing during the year, riding bikes upon and being able to view Fraser Island and the surrounding smaller Islands of Woody Island and Round Island in 360 degrees wonder.
One of Hervey Bay's most adored reasons for visiting the city is none other than the world heritage listed Fraser Island.
120 kilometres of pristine, golden sands that visitors all year round take by 4×4 drive along the idyllic shores at low tide. Fraser Island is home to 2 major, well-renowned resorts – Eurong Beach Resort on the eastern beaches offering you accommodation overlooking the coastal ocean, along with a restaurant and 2 swimming pools.
Travel approximately 24 kilometres across the island and you will locate the stunning, award-winning Kingfisher Bay Resort.
This resort is accessible via boat, the mainland barge from the sea or by 4×4 once you are upon the eastern side of the island.
Here you will enjoy accommodation, 2 a la carte restaurants, a beachside casual dining setting, several saltwater pools, a jetty hut offering food, drinks and the hire of fishing and beach equipment, a grocery and souvenir store, a bakery, hair and beauty salon along with 4×4 hire and petrol and gas facilities.
Hervey Bay welcomes you to the region with friendly, helpful locals that take pride in their city and hosting the home to the 5th largest mammal in the world, the must-see – humpback whale.
When can you see the whales in Hervey Bay?
July to November annually are the favourable months to view the incredible humpback whales. These enormous sea creatures migrate to the waters of the Great Sandy Straits in between Hervey Bay and the world heritage listed, Fraser Island.
Save $$$ With These Travel Deals
Experience Oz
Loads of attractions, day tours and things to do.
Amazon
Find ways to boost you're immune system
AAT Kings
Explore Australia the best way with these deals
Jetradar
Find the lowest prices on Airfare worldwide!
These chosen months are dictated by the beautiful mammals themselves due to the temperature of our water being the perfect conditions that they desire.
However, the great humpback whale has been known to arrive as early as one month prior to the official start of the annual whale watching season and to stay for a little longer than the end of the season in November.
It is advised to plan your whale watching experience around the stipulated months of July to November to absolutely ensure you attain an enjoyable chartered adventure and sight the many whale pods and their calves that the Hervey Bay waters welcome each year.
Due to the increase each year in people from all over the world wanting to sight these gigantic sea creatures it is always advised to play it safe and aim to book as soon as possible to secure yourself a guaranteed booking. You can easily attain this by making your bookings online from anywhere in the world.
Why do whales go to Hervey Bay?
Humpback whales migrate to the waters of Hervey Bay due to the secure surroundings on offer that shelter them. The playground they evolve in for five months of every year is protected by Hervey Bay on one side and Fraser Island on the other.
Fraser Island offers 120 kilometres of beach that nestles around the Great Sandy Straits and this allows for our waters to be warmer of which the iconic humpback whales absolutely love.
This stop-over is vital to their journey to the Antarctic and gives the humpback whales a break in their travels to enjoy social interaction and also for the mother whales who are separating from their young calves.
This time is also special because it allows for the female humpback whales to interact and spend valuable time courting male humpback whales and investing in producing more rare humpback whales for us to enjoy and be amazed by for years to come.
How much is whale watching in Hervey Bay?
Whale watching season offers you the ultimate experience to sight the humpbacks at some remarkable prices for the standard half-day, ¾ day and full-day tour packages.
Book with one of the many whale watching charters available and see the whales in air-conditioned comfort, enjoy an array of freshly made food options, be entertained by knowledgeable skippers with years of guided tours experience and purchase the ultimate experience dream of swimming with the whales in the Great Sandy Straits waters.
Couple this tour with a trip to world heritage listed Fraser Island and visit the landmarks the world talks about such as Lake McKenzie, the coloured sands, 75-mile beach, Eurong Beach Resort and the highly iconic Maheno shipwreck.
How long are Hervey Bay whale watching tours?
Hervey Bay offers you some of the most flexible whale watching tour packages out there! You can choose from a morning tour which will include an early morning departure, a light breakfast buffet and morning tea, including complimentary tea, coffee and water and can expect your arrival back to the Great Sandy Straits Marina around the time slot.
Looking to head out for a slightly longer day, but not quite interested in a full day on the sea and many charters are offering ¾ day tours that like the half-day tours, also depart early mornings and still offer you either a breakfast buffet or lunchtime buffet – inclusive of a morning or afternoon tea as well.
These ¾ tours on offer usually have a departure and arrival round trip of approximately 7.5 hours. For those whale watching enthusiasts who long for as much time on the waters with the iconic humpback whale, you can book a full-day whale watching tour.
These full-day tours depart from the marina early morning and return you to the marina late afternoon.
With these packages, you can expect to enjoy a morning and afternoon tea, with complimentary coffee, tea and water and also a huge buffet lunch to keep you satisfied and energetic for the entire day ahead.
All tours are skippered by highly experienced skippers who have been in the whale watching industry for many years and also have a background in marine biology to offer you more than just a visual experience.
As you enjoy viewing the humpback whales from the platforms and underwater viewing windows available, your skippers delight in sharing fascinating information about these mammals they have specialised in for many years.
You can expect to depart your tour with a wealth of amazing knowledge about one of the 5th largest mammals in our great ocean.
HALF DAY TOURS
ADULT -$80.00 – $115.00
CHILD (4-14 YEARS) $45.00 – $60.00
UNDER 4 YEARS – FREE!
Includes- Light breakfast/ morning tea of fruit and /or cheese platters. Tea, coffee, water.

Free Wi-Fi, listen to experienced whale watching guides who are trained in marine biology to offer you not just a visual experience, but a highly knowledgeable one also.
All whale watching tours offer you the opportunity to purchase humpback whale souvenirs and some tours will offer you the ultimate experience of swimming with the iconic whales for approximately $100.00 – over 13 years of age.
¾ DAY TOURS
ADULT – $80.00 – $140.00
CHILD- $70.00 – $85.00
UNDER 4 YEARS – FREE – $1 PER YEAR OF AGE
Includes – Buffet lunch, coffee, tea and water. Free Wi-Fi, listen to experienced whale watching guides who are trained in marine biology to offer you not just a visual experience, but a highly knowledgeable one also.
All whale watching tours offer you the opportunity to purchase humpback whale souvenirs and some tours will offer you the ultimate experience of swimming with the iconic whales for approximately $100.00 – over 13 years of age.
FULL DAY TOURS
ADULT – $100.00 – $290.00
CHILD (4-14 YEARS) $60.00 – $100.00
UNDER 4 YEARS- FREE – $1 PER YEAR OF AGE
Includes – Morning tea, buffet lunch and afternoon tea. Coffee, tea, water. Free Wi-Fi, listen to experienced whale watching guides who are trained in marine biology to offer you not just a visual experience, but a highly knowledgeable one also.
All whale watching tours offer you the opportunity to purchase humpback whale souvenirs and some tours will offer you the ultimate experience of swimming with the iconic whales for approximately $100.00 – over 13 years of age.
OTHER TOURS/PACKAGES​/OFFERINGS
There is an array of other packages available upon enquiring with your choice of whale watching charter boat or choice of accommodation outlet. Some whale watching charters offer pension discounts, larger family discount packages, combined Fraser Island tour and whale watching tour packages and cater for the disabled with specific ramps and viewing decks.
Many accommodation outlets have combined with various whale watching charters to offer you a combined accommodation and whale watching package in one.
Fraser Island and Kingfisher Bay Resort also offer you accommodation, whale watching tour and Fraser Island guided ranger tour package for that 'ultimate' adventure experience the whole family can enjoy.
* Please enquire with your chosen whale watching charter business if you have any food intolerance as most are happy to accommodate with alternative options. Pets and smoking onboard the vessels are not permitted. First – aid kit onboard each vessel.
*Tour operators are listed in alphabetical order*
All include a courtesy bus pick up from your accommodation.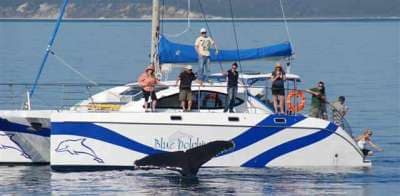 VesselBlue Dolphin Marine Tours:


Phone: 07 4124 9600 More Info

Full-Day Whale Watch Tours

Passengers
24
Departs
7.30 am
Returns
3.30 pm
Adult
$150
Child
$120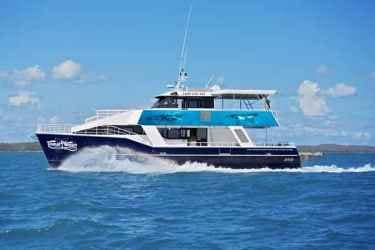 Vessel
Tasman Venture:

Phone: 1800 620 322 More Info

1/2 Day Whale Watch Tours

Passengers
80
Am Departs
8.30 am
Returns
12.30 pm
Pm Departs
1.30 pm
Returns
5.30 pm
Adult
$115
Child
$60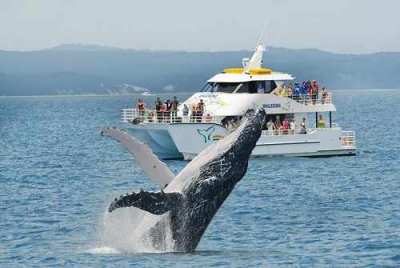 Vessel

Phone: 1800 689 610 More Info

1/2 Day Whale Watch Tours

Passengers
60
Am Departs
8.00 am
Returns
12.00 pm
Pm Departs
1.00pm
Returns
5.00 pm
Adult
$100
Child
$50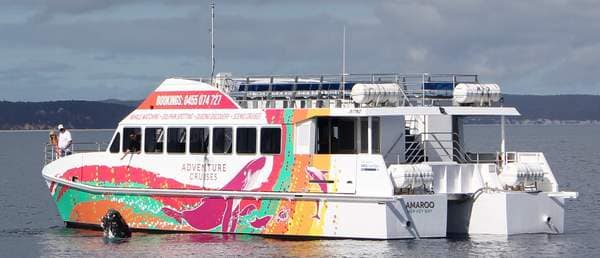 Vessel
Boat Club Whale Adventure :

Phone: (07) 4128 9643 More Info

1/2 Day Whale Watch Tours

Passengers
95
Am Departs
8.30 am
Returns
12.30 pm
Pm Departs
1.30 pm
Returns
5.30 pm
Adult
$95.00
Child
FREE
Other Whale Watching Tours
Vessel
Freedom Whale Watch :

3/4 Day Whale Watch Tours

Passengers
49
Departs
8.30 am
Returns
3.30 pm
Adult
$125
Child
$80
Vessel
Spirit Of Hervey Bay :

1/2 Day Whale Watch Tours

Passengers
150
Am Departs
8.30 am
Returns
12.30 pm
Pm Departs
1.30 pm
Returns
5.30 pm
Adult
$110
Child
$60
Vessel
Quick Cat II :

1/2 Day Whale Watch Tours

Passengers
??
Am Departs
7.00 am
Returns
12.30 pm
Pm Departs
1.00 pm
Returns
5.00 pm
Adult
$115
Child
$60
What to bring whale watching at Hervey Bay?
When heading out whale watching it is imperative you arrive prepared for your day on the waters and also be prepared to travel from the mainland harbour approximately 2 hours out to sea to reach the destination of the great humpback whale.
Items you will need to bring:
Backpack – to carry all your belongings you require for your whale watching day out.
Wide-brimmed hat – to prevent sunburn as Australia is renowned for its blistering sun.
Polarised sunglasses – to protect your eyes from the bright glare reflecting off the ocean.
Sun cream/ Zinc – to apply as Australia is one of the hottest countries on earth.
Jacket – to protect you from the sun and sea spray when you are on the outer viewing decks.
Long Sleeve shirt / Sun shirt – to protect your skin from sunburn when out on the decks.
Flat shoes/ Enclosed sneakers – to prevent falls, trips and slips when on the vessel.
Drink bottle of water – although provided on the vessel, bringing one will save trips back inside the vessel and missing out on your viewing time of the whales if you need hydrating.
Seasickness band/ Seasickness medication – some vessels do have seasickness medication on board for purchase, but it is best to be safe than sorry and carry your own seasickness prevention medication / or take before boarding if you are aware you get seasick regularly as you will be entering some possible rougher seas before getting to the whales designated sighting area.
Camera /Video recorder – a must! For all the memories that you wish to take back home to share with your friends and family, a camera or a video recorder is highly recommended as your hosts are on board to transport you to the whales and give their marine biology expert knowledge and do not take photos for their onboard guests.
Money for souvenirs /Charge for swimming with the humpback whales – You will definitely need to bring some money with you on your day onboard your chosen whale watching charter. If you wish for any beverages above the already offered selection from your package offering, you will need to purchase these yourself.
If you book upon the vessel that offers you the once in a lifetime opportunity to swim with the whales, you will also need to pay for that as an extra on top of your tour fees.
What is the season for whale watching in Hervey Bay?
The season for whale watching is typically between June and November each year. This can commence shortly prior to the month of June and the season has been known to extend beyond November.
These months have proven favourable for whale sightings in the Hervey Bay area as the waters of the Great Sandy Straits warm up and provide a very inviting surrounding for these enormous wonders of the waters.
The fascinating humpback whale migrates slowly to the sheltered and safe waters of Hervey Bay to play, show off their abilities to the many admirers that visit the region over the popular five months each year.
During the whale watching season, you can be privileged to sight this 30,000 kilogram weighted mammals that can live up until 85 years of age playing, mating, foraging and exploring their environment.
Many find the visual of these giant creatures foraging a true fascination as they open their wide mouths big enough to engulf enough water that can fill their entire bodies as they use their teeth to sift for fish and krill to feed on.
One of the most thrilling sights is to witness the great humpback whale jumping an astonishing 45 feet from the ocean and landing with a huge splash! Their cutest ability is to famously wave as they slap one of their two large fins on the surface of the waters as spectators upon the vessels wave back.
What is the best time of the day to go whale watching in Hervey Bay?
With these gorgeous mammals frolicking in the Hervey Bay waters, any time is really the best time to sight them during the months of June and November and that is why whale watching tours are offered literally all day long from sunrise through to sunset.
However, if you are interested in attaining some picture-perfect photos of these majestic creatures you are probably best opting to plan your whale watching booking for mornings and afternoons as when the sun has not long risen and not yet set it makes for some very tranquil water effects.
For those who wish to capture the whales in full daylight colour for photographic purposes, you can expect to gain this between the 11 am and 3 pm time slot when the sun is directly overhead.
If you are factoring in taking small children out to experience the glorious humpbacks, you should give consideration to the almost 2 hours designated within your tour that is to travel from the marina out into the Great Sandy Straits waters to reach where the humpbacks are at play.
Each vessel offers indoor seating that is enclosed fully from the sea waters and breeze if your young child is in need of taking a rest before getting to the humpback whales.
You are welcome to bring along booster seating, toys, books, colouring in items to keep the little ones entertained and free Wi-Fi is offered onboard all vessels if your child wishes to bring their Ipads or other technologies along for the trip.
With tours all day long, you can opt for a morning /half-day tour to not tire out the younger audience as many parents prefer.
This way, everyone gets to take in the thrill and experience without having tired young ones to deal with. Hervey Bay's whale watching vessels want you and your family to have the best experience, young or old and are happy to accommodate your requirements and needs upon request when booking.
How many humpback whales are left in the world?
Fascinatingly, there are now around 80,000 humpback whales in the world which is actually on the rise from the declined figures of 10,000 a few short years ago, which is tremendous considering given the right to live our a full life-span, these large creatures can live up to 85 years!
The much-loved humpback whales were so scarce and faced extinction so severe that their decline had landed them on the endangered species list back in 1970 as they were constantly sought out for commercial slaughter through whaling, which is now illegal and highly prohibited.
Since that alarming fright and big change in-laws, we have seen our beloved humpback whale on the rise again in pods and numbers overall.
Factoring in that not all female humpback whales will take up immediate courtship with male humpback whales and that to achieve this mammoth moment the waters they are in during breeding season need to be at the perfect inviting temperatures.
Along with the knowledge that a female humpback whale is pregnant for 11 months out of a 12 month calendar year and you can easily see how incredible the rise from 10.000 humpback whales left in the world statistically in the 1970s to more than 80,000 of these majestic animals in the 21st century truly is.
Recent Content
link to Where Should I Honeymoon in Queensland?
Queensland is one of the world's most mystic and beautiful states in Australia. It is a magical place with lots to offer including various wildlife to experience, gorgeous terrain to sight-see, and...
link to Best Time to Holiday in Queensland
Because Australia sits in the Southern Hemisphere, it is tilted towards the sun during different months of the year. Due to this fact, the best time to holiday in Queensland is from June...