Whale Watching Hervey Bay
Hervey Bay is the whale watch capital of the world where from late July to November each year, humpback whales frolic in the sheltered waters. It is the place the whales come to rest and play for up to a week before continuing their annual 16,000km migration to Antarctica. There are many whale watching trips with a variety of vessels to choose from.
During the season, the boats run seven days a week with options comprising a dawn whale watch, half day, three quarter day and full day tours. Some operators have children's activities and wheelchair access. The crew on board will explain the behaviour of the humpback whales and give you information about their migration. Cruises venture into the sheltered gentle waters of Platypus Bay, part of Hervey Bay, protected by Fraser Island. Groups of any size can be catered for and it is possible to design a trip to suit your requirements.
Annual Trip
They've been leisurely heading our way since March. Weighing as much as 45 tonnes and up to 16m long, the humpback whales have started their 6000km annual trip to Queensland's warmer waters. Recent sightings have been contirmed off the coast of Fraser Island and pods have been spotted breaching in the lee of Point Lookout, on North Stradbroke Island. But the great whales are in no particular hurry and there will be a steady procession of humpbacks off the coast, from Byron Bay north, in the lead-up to the official whale watching Hervey Bay, which begins on late July.
Whale Conservation
Australian Whale Conservation Society president Paul Hodder estimates that Queensland's annual whale spectacular once featured 10,000 humpbacks. Then the world's whaling industry, in the days of sailing schooners and harpooners in wooden longboats, headed to Antarctic waters to harvest the giants as they gorged daily on tonnes of krill and plankton in readiness for the run north. Not until 1954 did Eastern Australia, with major whaling stations established at Byron Bay and Tangalooma, on Moreton Island, begin wholesale slaughter of the travelling pods.
With the aid of harpoon cannons, power cutters to slice through the blubber and diesel winches to haul the bloody carcasses clear of the frenzied sharks, the whalers left their mark. In the gory decade until 1964, the annual migration was reduced to about 500 whales, Hodder estimates. But whale oil has been replaced by synthetics.
Whale's Journey
The humpbacks journey from Antarctica to their calving grounds near the Whitsundays is a five-month round by trip. Great white sharks shadow the The Moby Dick-style whales, ready to prey on injured calves. The youngsters and their mothers are first to arrive in Queensland waters. By early next month, migration reaches some sort of peak.Whales may be seen in the Moreton Bay but their visits are transitory. Their destination where they play and flirt, mate and frolic is in Hervey Bay.
Then, in September, something perhaps hunger reminds the humpbacks to swim south once more. The Great Barrier Reef's visiting humpback population may now have grown to as many as 2500, although they are far from being out of trouble, Hodder says. Three weeks ago, the first of the Year 2000 roll-up were seen off Cape Byron.
In coming weeks, from just about every headland from Byron Bay to Double Island Point, you should be able to see them passing. While the humpbacks are creatures of routine, headland watchers may also spot other species. Free-ranging ocean roamers such as the immense blue whales, White Humpback, killer whales, Bryde's whales, southern right whales, minkes and melon-headed whales all grace Queensland's inshore waters from time to time.
More Info on Hervey Bay Whales
For even more information about the Humpback Whales of Hervey Bay.The Whale Watch Industry Association of Hervey Bay offers an extensive range of whale watching tours from Dawn, Half Day,Three Quarter Day and Full Day Tours as well as an extended tour with The Oceania Project.
Hervey Bay is the place to go to see the magnificent humpback whales come out to play. There is a large range of whale watching tours that the bay has to offer.
It's great for a fun action filled day out on the clear waters of the bay, most tours include buffet lunches on offer for you so you wont go hungry while you sit back and enjoy watching these giants of the sea.
*Tour operators are listed in alphabetical order*
All include courtesy bus pick up from your accommodation.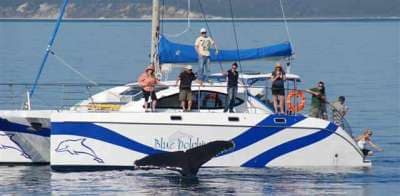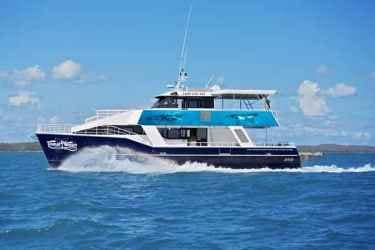 Vessel
Tasman Venture:

Phone: 1800 620 322 More Info

1/2 Day Whale Watch Tours

Passengers
80
Am Departs
8.30am
Returns
12.30pm
Pm Departs
1.30pm
Returns
5.30pm
Adult
$115
Child
$60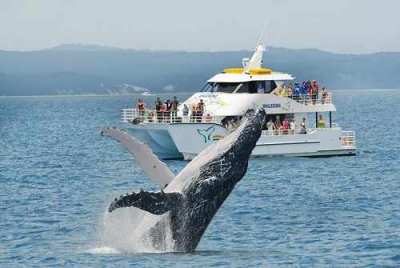 Vessel
Whale Song :

Phone: 1800 689 610 More Info

1/2 Day Whale Watch Tours

Passengers
60
Am Departs
8.00am
Returns
12.00pm
Pm Departs
1.00pm
Returns
5.00pm
Adult
$100
Child
$50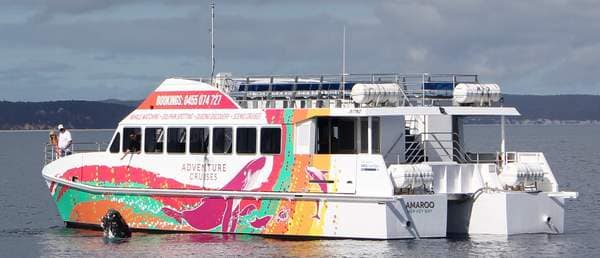 Vessel
Boat Club Whale Adventure :

Phone: (07) 4128 9643 More Info

1/2 Day Whale Watch Tours

Passengers
95
Am Departs
8.30am
Returns
12.30pm
Pm Departs
1.30pm
Returns
5.30pm
Adult
$95.00
Child
FREE
Other Whale Watching Tours
Vessel
Freedom Whale Watch :

3/4 Day Whale Watch Tours

Passengers
49
Departs
8.30am
Returns
3.30pm
Adult
$125
Child
$80
Vessel
Spirit Of Hervey Bay :

1/2 Day Whale Watch Tours

Passengers
150
Am Departs
8.30am
Returns
12.30pm
Pm Departs
1.30pm
Returns
5.30pm
Adult
$110
Child
$60
Vessel
Quick Cat II :

1/2 Day Whale Watch Tours

Passengers
??
Am Departs
7.00am
Returns
12.30pm
Pm Departs
1.00pm
Returns
5.00pm
Adult
$115
Child
$60
All prices shown are in Australian dollars and are subject to change without notice. Whale watching can be included in holiday packages from your holiday agent.
Breeding
Humpback whales mature in less than 10 years. Mating, breeding and birthing is believed to take place near the southern area of The Great Barrier Reef. This results in many calves entering the Bay in late September and October – there are reports of calves only a day or so old being sighted in the Hervey Bay Marine Park.
Gestation takes almost a year and the calf, when born, will be nursed by its mother for up to 11 months by which time it will have increased its weight to around 6 tonnes and grown to approximately 8 metres in length.
The female generally has a calf every 1-3 years.
A Growing Population
There is believed to be approximately 2,000 humpback whales now on the migration path past Hervey Bay and it is encouraging to see this number edge up every year.
The whales commence entering the Hervey Bay Marine Park in late July or early August and continue until early November. The humpbacks entering the Marine Park seem to be taking time out from their migration back to Antarctica and they appear to be relaxed and playful in the calm sheltered waters of Hervey Bay. This makes Hervey Bay one of the best places in the world to see the humpback whales.
There are a lot vessels permitted to operate commercial whale watching Hervey Bay. They operate under strict guidelines from the Department of Environment to ensure the least amount of impact on the whales and the sustainability of the industry.