Australia is brimming with plenty of places to explore, especially its famous sand island, Fraser Island. This historical and magnificent island is accessible by ferry from River Heads or Inskip Point.
These ferries and barges can carry over 4WD vehicles etc, making exploring the island even more exciting.
When considering a trip to this beautiful island, it can be helpful to know about the various tours that are offered as well as certain cities that offer travel to the island.
One popular city on the southern coastline of Queensland includes Noosa.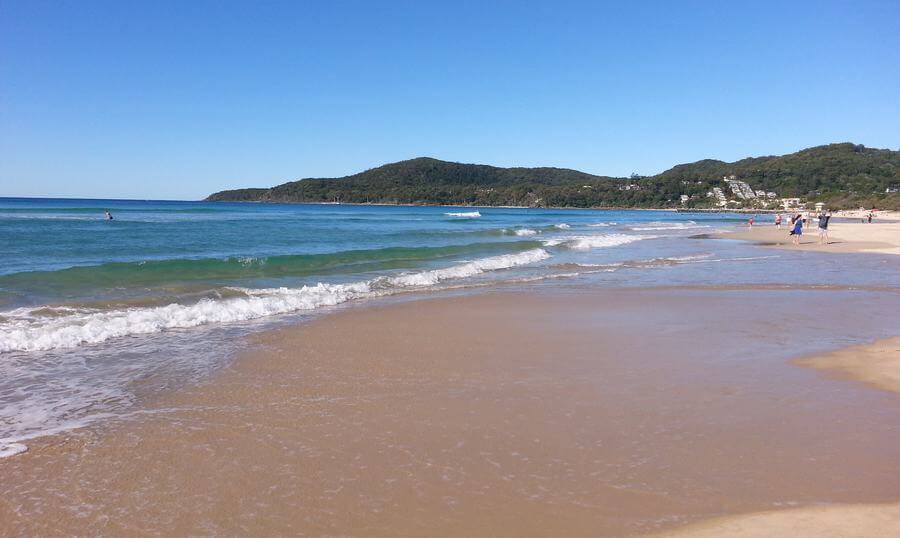 Noosa To Fraser Island
Noosa is a popular place for travellers as it has its own 4,000-hectare national park. With walking tracks, various wildlife, etc. guests will find Noosa an adventure all its own.
However, those in Noosa might want to travel to the well-known sand island. Fraser Island is home to dense rainforests, perched lakes, beachfront areas, camping, resorts, etc.
It also is home to over 300 species of birds as well as other wildlife. With so much to explore, those in the Noosa area will easily find themselves seeking this adventurous island.
There are some companies that offer guided tours of the island that run out of the Noosa area. Most of these tours are conducted off of special tour buses that are able to travel on the ferry or barge over to Fraser Island.
Moreover, the pick-up points are generally from hotels, making the experience quite convenient. Local hotels often offer help booking these tours which adds to the convenience of getting on the tour buses and heading over to the island!
It's simply less stress of figuring out all the logistics of the trip and makes for more time to relax and sight-see!
Some of the tours also offer luncheon deals where there are small meals served during the trip. This is a huge perk as guests don't have to worry about packing up a lunch with their belongings.
While the guided tour buses do provide a lot of the things needs for a trip over to the island. Guests should still consider packing a light bag with hats, swimwear, cameras, a towel, and a change of clothes.
If properly packed up, these few items won't be too heavy. Another thing to bring is sunglasses, but they obviously don't need to be packed up and can be worn instead!
So what are the tours that are offered out of Noosa? Below is a list of tours that operate out of Noosa and some of their benefits or perks!
Tours Out Of Noosa Queensland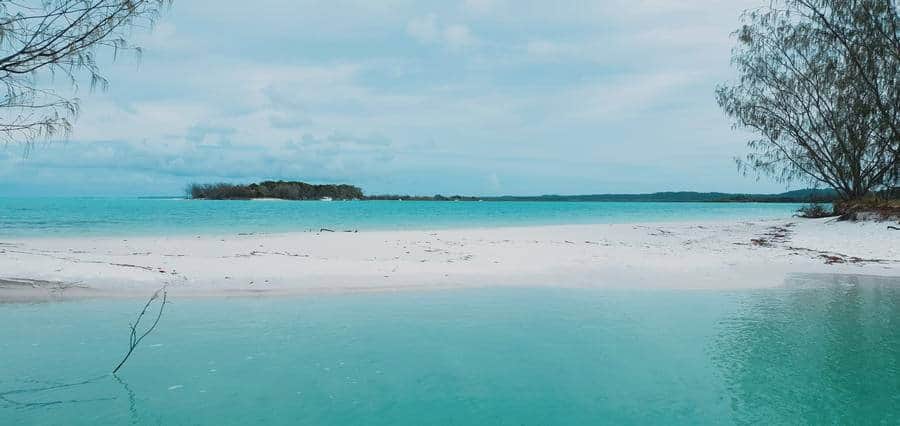 Discovery Fraser Island Tours
Discovery Fraser Island Tours

is one of the most popular touring groups to Fraser Island. Operating out of various locations, they seek to reach out to as many travellers as possible!
When it comes specifically to the Noosa area, they offer their "Full-Day Warrior Tour". This tour takes place from a massive Fraser Island Discovery truck that, like most vehicles, can handle the sands of the island.
The tour is a one-day experience (as the name implies) and starts super early at 5:45 am.
An early start time ensures that the most can be made out of the day! The return time is scheduled for around 5 pm.
This tour package also offers lunch and drinks, morning tea, and air-conditioning on the bus (or truck, however it may look to some people).
The tour stops off at major attractions on the island including Lake McKenzie. Lake McKenzie is the world's most famous perched lake with its crystal clear blue waters and stunningly white sands.
Other notable stops include Central Station and Pile Valley. These are in the heart of the rainforests on the island and quite remarkable areas.
Central Station is a notorious camping spot on the island and Pile Valley is the area surrounding this spot. The valley is so incredible because of the trees in the area that have grown there over the many, many years.
These trees in this particular area are known to grow out of the sand at almost 200 metres up. This not only makes for some interesting photo opportunities but also as a way to really soak in the surroundings of the naturalistic settings.
The cost of this tour is somewhere around $195AU for one guest. Always check for the most up-to-date prices!
Sightseeing Tours Of Noosa Australia
This tour group is known to operate out of Noosa and Brisbane and offers a great view of Fraser Island. For their Noosa departures, the tours leave Noosa around 9 am and return somewhere near 5 pm.
The tour itself is said to make stops at the beaches, lakes, and rainforest areas, much like other touring groups. Once again, travel is by tour bus suited to be carried by ferry or barge to the island.
This tour offers one-day and two-day tour packages, some of which include camping overnight!
The camping overnight is particularly special as it gives guests a chance to experience the great outdoors. All camping areas on the island are enclosed fencing to help keep the wild dingoes out.
This tour also provides all the camping gear needed. If traditional camping isn't preferred, they also provide a 2-day tour that has cabin accommodation instead.
Either choice will be an ample way to enjoy the naturalistic surroundings of the rainforest.
The cost of this tour is around $360 for adults and $350 for children (the 2-day tour), $185 (off-peak season) to $199 (peak season) for adults and $130 (off-peak season) and $140 (peak season) for children for the 1-day tour and for the camping, 2-day tour it's about $299 for adults and $289 for children.
All children's prices are for children ages 5 to 15 years of age. No children under 5 are permitted.
Fraser Explorer Tours From Noosa
This company states it does courtesy picks up from accommodations, however, from Noosa directly it is best to call to ensure that it will venture there.
While they do depart from Inskip Point to Fraser Island, it is still best to ensure that pick up from Noosa is available.
This touring option to Fraser Island has 1 and 2-day tours available. All tours depart around 8 am and return between 5 and 5:30 pm to the Inskip Point area.
The tour makes stops at Wanggoolba Creek and Eli Creek, Maheno Shipwreck, Lake McKenzie, Central Station, Pinnacle Coloured Sands, and 75 Mile Beach.
All these stops are incredible locations to experience a little of everything that makes Fraser Island so spectacular. Once again, travel is by a vehicle suited for the sandy conditions on the island.
The tour also stops at the Eurong Beach Resort for a special lunch for hungry guests! This is all for the 1-day tour.
The 2-day tour takes guests to all the same iconic spots but also includes stops at the Champagne Pools and Indian Head as well as Lake Wabby.
Accommodation is provided through the Eurong Beach Resort for the overnight stay. Both options give guests the opportunity to see the most beautiful parts of this sand island.
The price point for this tour runs about $199 for adults and $119 for children for the 1-day tour. The 2-day tour price point is based on the accommodation needed at the Eurong Beach Resort.
The resort offers rooms ranging from solo, twin, triple, or quad. The solo is $529 for adults, the twin is $459 for adults and $309 for children, the triple is $425 for adults and $275 for children, and the quad is $399 for adults and $265 for children.
Children's prices are based on children that are ages 4 to 14 years of age. This tour does allow infants on the tour and they are free of charge to come along.
Can You Get To Fraser Island From Noosa?
Fraser Island Tours from Noosa are absolutely possible! As expressed previously, most of the tours in the area will do courtesy pick-ups at most accommodation locations in Noosa.
From there, the buses generally travel through Toolara Forest

and the Great Sandy National Park areas while en route to Inskip Point where the ferries and barges depart for the island.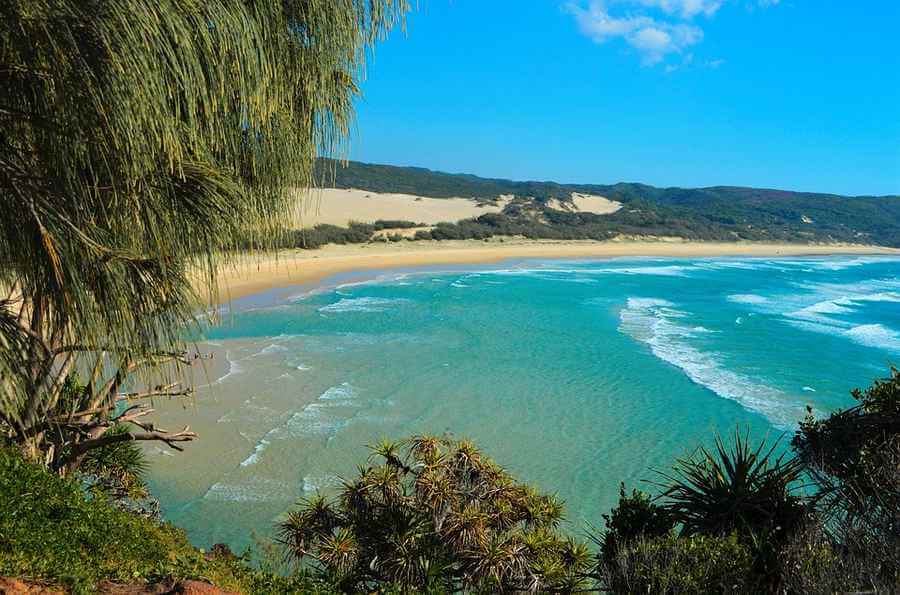 How Far Is It From Noosa To Fraser Island?
In terms of time, travelling to the Inskip Point from Noosa for a ferry or barge departure will take almost an hour and a half.
Moreover, the route there generally takes guests to Rainbow Beach area to Inskip Point, a 13km distance.
When considering the actual distance from Noosa to Fraser Island, it is about 224km via major roads (like Maryborough Cooloola Rd). This is not to say you can drive to Fraser Island from Noosa.
This is the distance travelling towards the Hervey Bay area north from Noosa for that distance closest to Fraser Island. The best route to get to Fraser Island from Noosa is the path to Inskip Point which is about 115km travel time.
Noosa is a gem of a city itself, however, travelling to Fraser Island while in the area is the perfect way to experience one of the most idyllic areas in the world.
From the great tour group options as well as the island itself, Fraser Island has so much to offer anyone from the Noosa area!
Resource Links To Products We Use And Recommend
More Pages On Fraser Island
link to Is Driving On Fraser Island Difficult?
Fraser Island is Queensland, Australia's most exclusive island. It is a popular word heritage site that boasts lush flora, ancient rainforests, and a wide variety of wildlife. Even though the island...
link to How Long Can I Stay On Fraser Island?
Fraser Island is not only the largest sand island in the world, but it is also home to the last purebred dingo population, amazing rainforests, gorgeous beaches, and is a breeding ground for humpback...