Double Island Point is a well-known coastal headland in the Cooloola region of the Great Sandy National Park. More specifically, the headland is just north of Noosa, one of Queensland, Australia's most beautiful sections of the state.
While Double Island Point is recognisable due to the lighthouse that sits atop a portion of the headland, the area is also known for its naturalistic surroundings and sheer stunning beauty.
One of the greatest ways to enjoy such natural beauty in Australia is by caravaning or camping. All throughout the country adventure-seekers find the best places to spend a few days among the incredible landscapes and seascapes. So what about Double Island Point? Is it possible to camp or take a caravan to this particular area of Queensland?
The beach portion of Double Island Point is a little tricky but it is driveable. There is no direct camping zone from Double Island Point to Rainbow Beach, so taking a caravan to Double Island Point isn't generally what most do. Little Fresh Water Creek & Noosa Shire boundary is the next camping area.
The trek to the beach area of Double Island Point has uneven terrain and is not suitable for such large vehicles as full-sized caravans but this does not mean you can't take them if you do just use caution this is particularly true for full-sized caravans.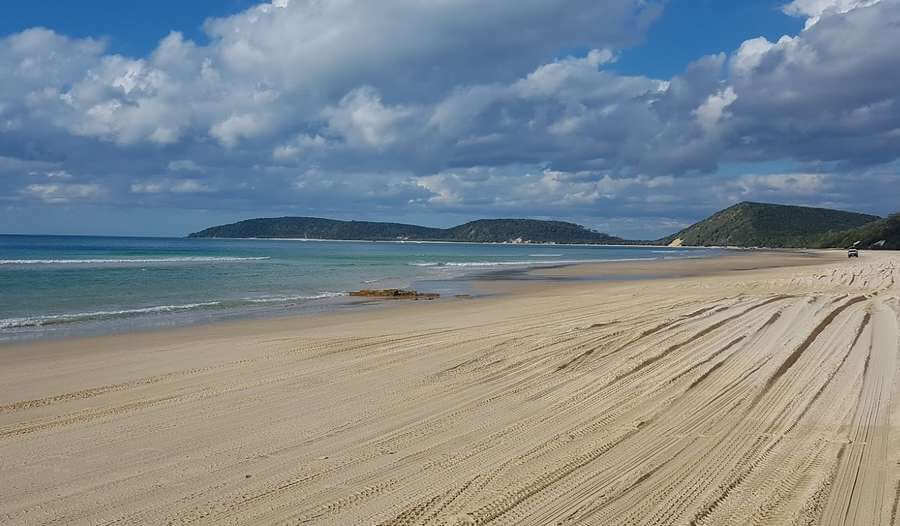 Double Island Camping Zones
Because of Double Island Point's location, there are no direct camping spots. However, the Cooloola Recreation Area provides ample space for those wanting to explore the area and enjoy a day (or night) of camping.
The recreation area is only about 10km south of Double Island Point, which is only about a 20-minute drive. This makes these camping spots truly accessible for those wanting to stay around the Double Island Point area.
Within the Cooloola Recreation Area, there are 4 specific camping zones closest to Double Island. All four spots are on Teewah Beach, which has a 14km camping area designated for visitors. 4WD vehicles are necessary to access these camping zones (and you must also obtain the proper permits for camping

and vehicle access

prior to your arrival!).
Teewah Beach's 4 camping zones can accommodate caravan, tent, or camper trailer camping. There are no formal facilities so guests must bring a portable toilet and their own means of cooking. Open fires are not permitted but generators can be run with certain restrictions.
Generators must fall under 2.oKva and only be operated during the hours of 7 a.m. and 9 p.m.
Another essential item to bring is fresh drinking water and rubbish bags for cleaning up any debris. As with camping anywhere in Australia, visitors should respect the natural surroundings and do the responsible thing of cleaning up after themselves. Teewah Beach camping zones are no exception to this rule.
For guests who want to enjoy the Double Island Point area, the 4 camping zones at the recreation area are the best approach. It is important to note that not all of the 4 zones accommodate the same thing. Some are better for just tent camping while others are great for caravans or tents.
Always check to see that the zone you are booking is the right type of accommodation needed for your camping experience.

How Much Does It Cost To Camp On Double Island Point?
Before arriving at any of the camping zones near Double Island Point, it is absolutely essential to obtain the proper permits first. The local park rangers do enforce the permit rules, so always have your permits visible and ready to be inspected if a park ranger requests them.
Camping and Vehicle permits are required. Moreover, the camping zone spots must be reserved in advance. Reservations can be made through the Queensland National Park website

. Below are the prices for camping permits and vehicle access permits in the Cooloola region.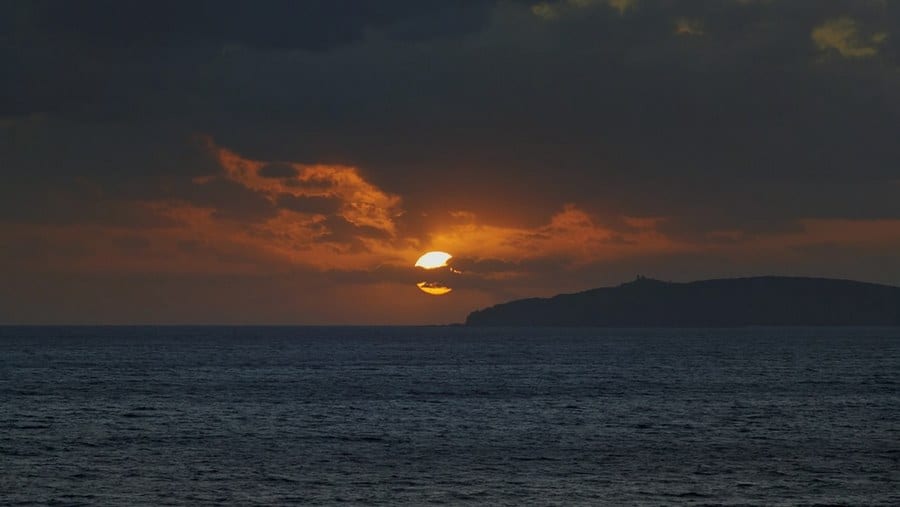 Camping Permit Prices
$6.85 per person, per night
$27.40 per family, per night
$3.75 per student (given that an accompanying adult is present and the trip is an educational trip)
These prices are pretty affordable. The family rate is defined as being up to 8 people with 1 or 2 adults present within the family unit. Early bookings are always recommended as the spots are taken up quite quickly.

Vehicle Access Permit Prices (Cooloola Recreation Area Only)
1-day permits – $13.60 if purchased online or $20.55 if not purchased online
1 week or less permits – $34.65
1 month or less permits – $54.55
More than a month or up to a year – $274.50
Because 4WD vehicles are needed to access the camping zones in the Cooloola Recreation Area, it is critical to know the pricing of these permits as well. The day permits are perfect for those who are going for a day trip to the area but ultimately the best deal is the one week or less option, especially if you are staying multiple days.

Can You Tow A Caravan On The Beach?
Towing a caravan on the beach at Double Island Point is the ideal way to bring a caravan to the area. Caravans that can be towed are better than the full-size versions when visiting this particular area.
This is because the caravans are smaller and sit lower meaning that they follow the tracks of 4×4 vehicles being driven. Due to this, the caravans can be transported much easier than traditional caravan vehicles.
There are two primary ways to access Double Island Point. One is by the Noosa North Shore Ferry which transports visitors (and their 4×4 vehicles) across the Noosa River. The second access point is via Rainbow Beach which can be a bit more difficult to trek.
Either way, it is necessary to use a 4×4 vehicle to navigate the pathways and sands around the Double Island Point area. If you are wishing to bring a caravan to Double Island Point, the best approach is by bringing a towable, smaller caravan that will fit behind the 4×4 vehicle you will probably already be bringing!
Double Island Point is an idyllic way to enjoy the Cooloola and Noosa region of Queensland. There are many sights to see, including marine life as well as the landscapes and ocean views.
Even though full-size caravans aren't recommended in the direct area of Double Island Point, there are still plenty of options for bringing some sort of caravan and even camping nearby! Either way, it will be a trip to remember!
Resource Links To Products We Use And Recommend
More Pages On Other Areas