If you're hoping for a truly exhilarating and breathtaking walk in Queensland, look no further than the Cooloola Great Walk. It is a relatively recent official walk, being opened in 2010, but of course, the natural beauty has been there for far, far longer.
The Cooloola Great Walk provides a unique opportunity to see one of the most diverse biospheres in Queensland, with everything from the rainforest, to giant sand dunes, everglades, and heath plains, every day of your walk will bring nothing but wonder.
The Cooloola Great Walk is a Grade 4, 102km walk that runs from Noosa and Rainbow Beach. The full walk takes five days and four nights and there are four hiker-only campsites available to stay on. Notable sights include Poona Lake, Noosa Everglades, Carlo Sandblow, and Cooloola Sandpatch.
There are plenty of reasons why you should be adding the Cooloola Great Walk to your bucket list, so let's take a look at what it entails in just a bit more detail.
The Cooloola Great Walk was officially opened in 2010 and it is beautifully laid out as a way to experience the area's natural biodiversity. Along the walk, you will encounter rainforest, everglades, sand dunes, eucalypt forest, heath plains, and coastal woodland. And all of the wildlife that goes along with each of these environments.
It is accessible year-round but is best enjoyed during the cooler months of April to October. During which time, you will be able to see some beautiful spring wildflowers.
The Cooloola Great Walk is remote and often quite quiet, so it is important to make sure that you bring along the necessary safety equipment. This should include a communication device that doesn't rely on phone reception as there is none in the area.
If you are camping, you will need to bring some sort of water purifying system because the rainwater available at the campsites hasn't been purified. You will not be allowed to light a fire so you should bring your own cooking stove.
For a list of the camping spots along the walk and information as to what you can bring along the walk or while camping in the reserve, it's best to check the Queensland parks and forest site

.
Things To See On The Cooloola Great Walk
While the Cooloola Great Walk is pretty remote, that doesn't mean that there won't be anything to see. There really are some spectacular sights along the way which serve to highlight Queensland's beauty.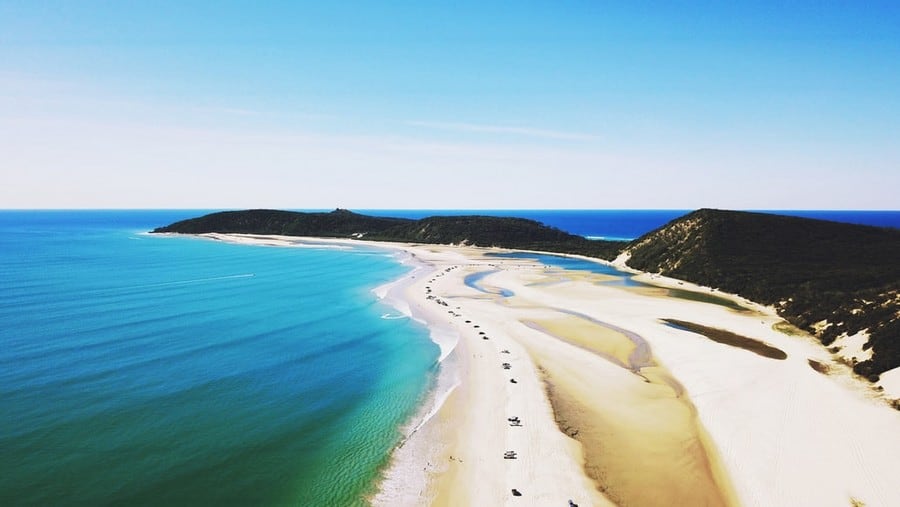 Poona Lake
The Cooloola Recreation Area is a hidden gem that is one of the most beautiful spots that you could imagine. It has rainforests and the hidden Poona Lake that are perched on a high dune. If wild swimming is something you're interested in, then Poona Lake is a good option for taking a dip.
Cooloola Sandpatch
This adventurous hike follows Cooloola Great Walk itself and starts at Campsite 3. You will need to walk up sand but it isn't too strenuous and once you get to the top and reach the Cooloola Sandpatch the panoramic views and the stunning sand patch really do make it worthwhile.
Noosa Everglades
The Noosa Everglades are one of only two everglades systems in the entire world, so if you are looking for a unique once-in-a-lifetime experience, this really is it. It is also the only everglades system where you can safely swim. It is relatively untouched and contains amazing biodiversity. A true paradise.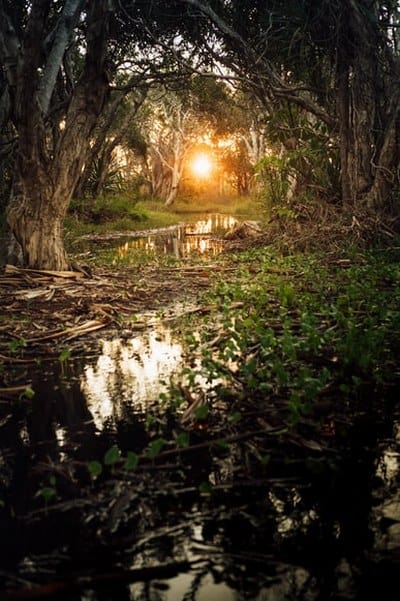 Carlo Sandblow
The Carlo Sandblow is one of the entrances to the Cooloola Great Walk, and what an entrance it is. It is a unique moonscape created by sand blow that is over 500,000 years old. The views are stunning. You can look out over the coast for miles and even see Fraser Island.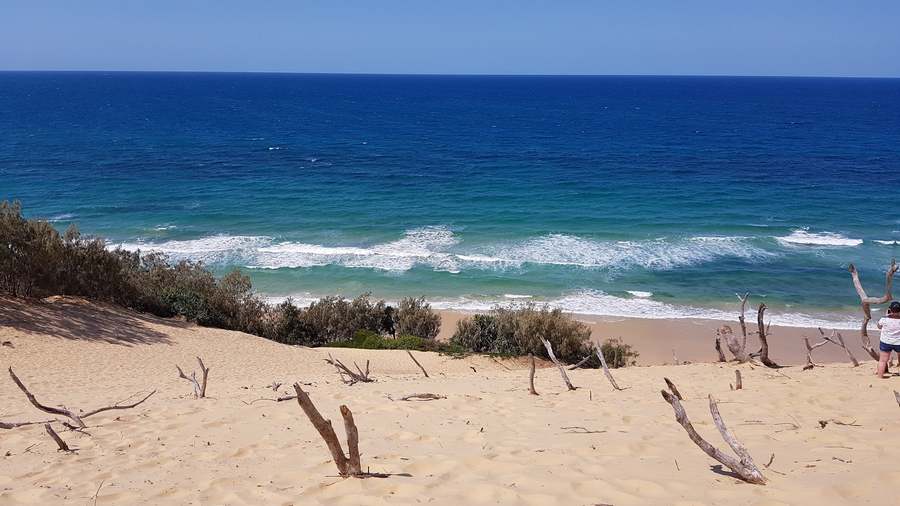 How Long Is the Cooloola Great Walk?
The Cooloola Great Walk runs for a total of 102 kilometres through bush and sand. On average it takes five days and four nights to walk the distance of the track. There are options for taking short parts of the walk and there is also an option to extend the walk if you want to.
Below is a suggested route to take if considering doing the trek. Do keep in mind this track is only advisable for experienced hikers and is not for the faint of heart. The walk is listed as a Grade 4 walking track and is suggested to allow 5 days for the walk. It is similar to that of the Great Walk on K'Gari Fraser Island.
More info can be found here

for a layout of the day to day walking trek through the Queensland Parks and Forests site.
Day One On The Cooloola Great Walk
The first stage of the Cooloola Great Walk starts at Noosa North Shore Track Entrance (if you are doing the walk starting at the southern end) and ends at the Brahminy Walker's Camp. The distance is 17.3km and it will take you approximately 6 hours.
Day Two On The Cooloola Great Walk
The second stage continues from Brahminy Walker's Camp and takes you to Dutgee Walker's Camp. It is 20.3km and will take you around 7 hours.
Day Three On The Cooloola Great Walk
The third stage takes you from Dutgee Walker's Camp to Litoria Walker's Camp. It is 14.8km long and will take you between 5 and 6 hours.
Day Four On The Cooloola Great Walk
The fourth stage takes you from Litoria Walker's Camp to Kauri Walker's Camp. It is 20.5km long and should take you around 7 hours.
Day Five On The Cooloola Great Walk
The fifth and final stage starts at Kauri Walker's Camp and takes you to Carlo Carpark. It is 15.2km long and will take you around 5 hours.
Of course, if you are completing the Cooloola Great Walk from north to south instead of south to north, then all you need to do is reverse the order. You also have the option of extending the walk by 15km by going out to Double Island Point via Kauri Walker's Camp.
Where Do You Leave Your Car At The Great Walk Cooloola?
The Cooloola Great Walk is linear and not circular, so it won't loop back to where you started. You can leave your car at the QPWS Great Sandy Information Centre in Tewantin or alternatively you can leave your car at the Carlo Sandblow car park in Rainbow Beach.
Getting back to where you left your car is pretty easy by catching a Greyhound bus on either end. Below is some information on catching the bus to and from. if you don't want to leave your car there is also an option of catching a taxi and then grabbing the bus back.
From our research, we were able to find that the greyhound bus will pick you up in Rainbow Beach at 8:00 AM and drop you back in Noosa around 10:45 AM depending on when you purchase your ticket depends on the price. So it can cost anywhere between $29-$45 dollars for a regular ticket.
Alternatively if going from Rainbow Beach to Noosa the greyhound bus can pick you up from Noosa and bring you back to Rainbow Beach but the times are different. The bus will pick you up at 4:10 PM and arrive back at Rainbow Beach around 6:55 PM. Either way, you choose the cost is still the same.
The Bottom Line
The Cooloola Great Walk is a hidden gem that really serves to highlight the natural biodiversity of Queensland. It is a unique way of getting acquainted and immersing yourself in nature and the walk itself is invigorating and endlessly fascinating.
If you're looking for a way to make reconnecting with nature that little bit more special, then the Cooloola Great Walk is for you.
Resource Links To Products We Use And Recommend
More Pages On Other Areas