Taking your dog to the beach is the perfect way to enjoy the day. This is particularly true for Australia where there are plenty of shorelines to explore.
Some of the most incredible beaches are in Queensland where the waters are generally calmer and absolutely stunning.
Having a day at the beach with your dog at one of the beaches at Woodgate would be a real treat for you and your pup!
However, not all beach areas are suitable for dogs. Some beaches can experience strong currents and others aren't dog friendly.
There are two popular dog-friendly beaches here, Theodolite Creek at Woodgate Beach is a safe Off-leash dog beach and swimming reserve found just 1.8km from Woodgate, And the 2nd is at Walkers Point 11.5km from Woodgate Beach both offer calm waters and beautiful beaches for dogs to run and explore.
While there are dog beaches speckled along Queensland's eastern coastline, some are just regular beach areas. Is it okay to bring your dog to a regular beach area?
An idyllic stretch of beach in the Bundaberg region is Woodgate Beach and people often wonder if this beach is dog friendly.
Woodgate Beach is associated with the locality of Woodgate which is in the Bundaberg region. This beautiful area has camping spots, oceanfront properties, and really impressive beaches.
The beach stretches around 16km in length giving guests ample space to enjoy the water and sand.
It is an ideal beach for swimming and fishing. Swimming shouldn't occur when the tide is too high but fishing is ideal at high tide.
Even though the waters around the beach can get choppy at high tide, this beach can still be fun for your dog. Moreover, there is plenty of space along the stretch of the beach for a dog to run.
Woodgate Beach is dog friendly in terms of the size and conditions making it the perfect place for a day trip with a man's best friend.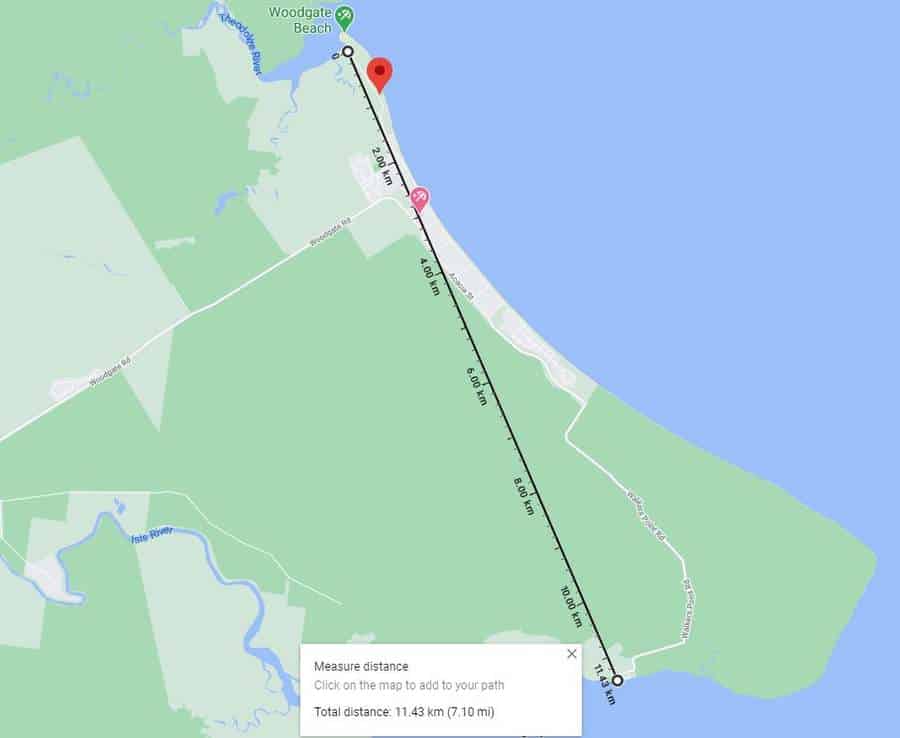 Can You Take Dogs To Woodgate Beach?
A general rule of thumb when thinking about bringing a dog to a beach is to make sure there aren't any explicit signs stating that you can't bring them.
Some beaches will have signs up with the restrictions or dangers of the beach posted. Alternatively, beaches that are dedicated to dogs will have their hours of operation and rules posted.
It is okay to bring your dog to Woodgate Beach, however, always prepare yourself to follow some basic, common sense related tips. Below are the tips for bringing your dog to a beach!
Tips For Bringing Your Dog To A Beach
Always Have A Retractable Leash On Your Dog
If you aren't sure about a beach area being dog friendly but don't see any signs restricting them, always approach on the side of caution. This includes having them on a retractable leash.
Retractable leashes give you complete control of where your dog is at all times while still allowing him to run around in the sand.
Clean Up After Your Dog At The Beach
This should go without saying, however, it is good to remember. Always be prepared to clean up after your dog.
It is simply respectful of other people at the beach and helps keep the naturalistic beauty of the beach itself.
Keep An Eye Out For Your Dog's Safety
Always keep an eye out for strong tides rolling in and wildlife. While we can't predict what nature will do, we can stay alert to keep our dogs (and ourselves) as safe as possible.
Keeping these three tips in mind when you are bringing your dog to a beach will ensure that you have the best time possible!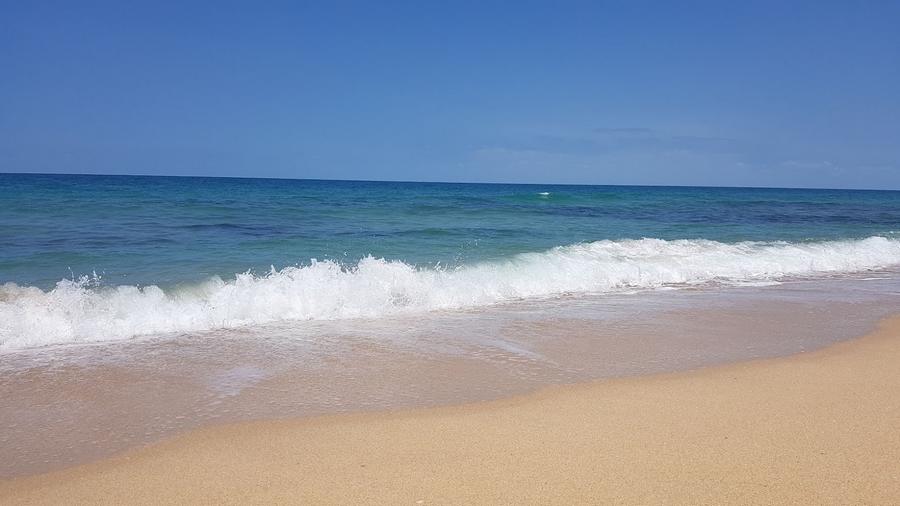 Things To Do With Dogs At Woodgate Beach
Because this stretch of beach is a decent size, there are plenty of activities for you and your dog to do while at Woodgate.
When taking your dog to the beach, you certainly want to make the very best of it! Below are some fun activities for you to do with your dog at Woodgate Beach!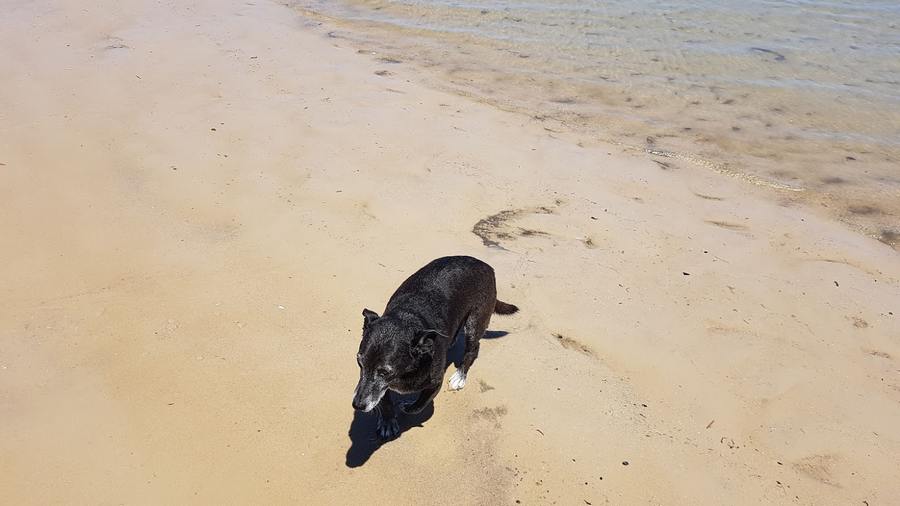 Play Fetch With Your Dog At Woodgate Beach
Playing fetch is one of the easiest games to play with your dog and it is super fun at the beach.
Bring your dog's favourite toy or find a piece of driftwood to play fetch with.
The long stretch of sand is great for throwing the toy or stick a great distance, giving your dog ample exercise.
Additionally, playing fetch in the water is a possibility as well. Just don't throw it too far or at high tide.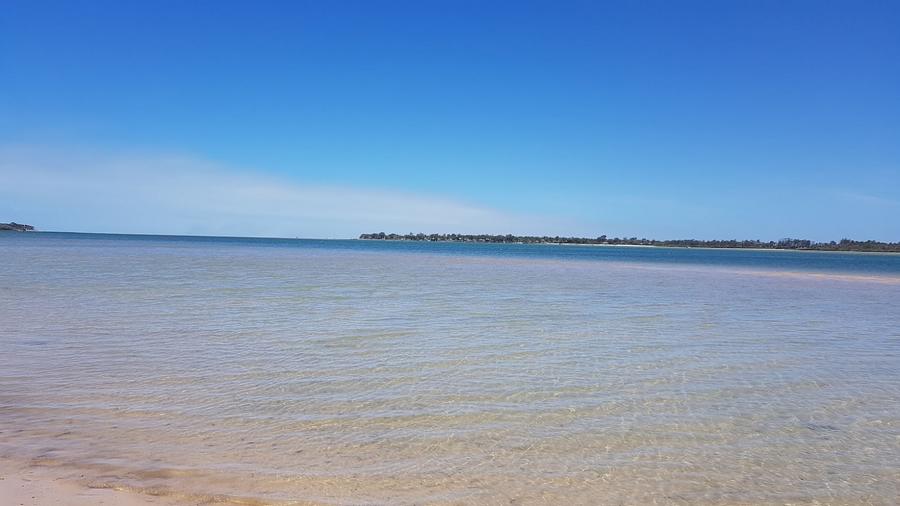 Go For A Jog Dog's Love To Run
The length of this beach is perfect for humans and dogs that want to get a little exercise. Taking your dog for a jog along the shoreline is an incredible way to enjoy the ocean views as well as the views of the foreshore area.
Just remember to bring some water so that you and your dog can stay hydrated while jogging!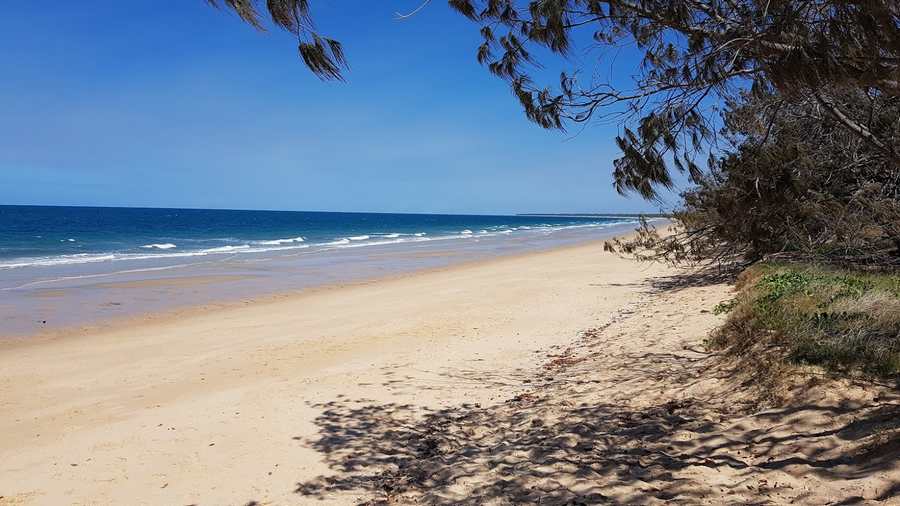 Go Exploring Dog's Love To Explore
The Theodolite Creek mouth

is near the beach waterways and exploring the beach can be a fun way to spend the day with your dog at Woodgate.
The creek can have deep pockets and currents, so it isn't suggested to go too far into the creek waters. However, exploring the beach in general and the mouth of the creek can be exciting for you and your dog!
Go Swimming Some Dogs Love The Water
Swimming with your dog is a great opportunity to bond with them. Bring your swimsuit and splash around in the water with them.
Being in the water with them not only makes you a part of the beach fun that they're having but allows you to watch out for any water dangers like stingers.
Stingers are generally found in the northern parts of Queensland where the waters are a bit warmer. However, they can still find their way to other beach areas around Queensland.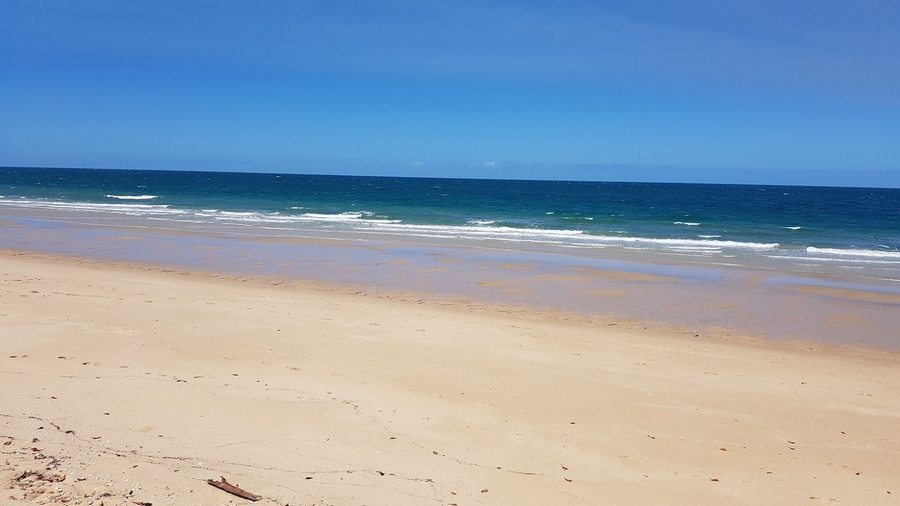 Pack Lunch For Your Dog Too
It might seem weird to pack lunch for your dog, however, they get hungry! Packing a little snack to enjoy on the beach together is the perfect way to unwind after running around and playing in the water.
Bring an umbrella, a blanket, and some of your dog's favourite snacks or food (and something for yourself!). Enjoy your nibbles and watch the waters splash into the shoreline!
Regardless of what you do at the beach, you and your dog can have loads of fun together! Going in the mid-morning or early-evening hours is usually best because it won't be too hot.
It is important to still bring water but going during cooler parts of the day can really keep your pup from getting too warm.
Woodgate Beach is a large beach and dog friendly. From swimming to fetch and everything in between, this beach offers dogs a wonderful time in the great outdoors!
Resource Links To Products We Use And Recommend
More Pages On Other Areas