Eli Creek is one of the main attractions on Fraser Island with many visitors flocking to this idyllic location every year. One of the main swimming spots on Fraser Island as well as being a point of immense natural beauty, Eli creek is a must-see.
If you are thinking of paying a visit here, we are going to provide you with all the information that you will need about this amazing place.
Google Map Of Eli Creek
Fast-flowing Fresh Water
Eli Creek lies on the east coast of Fraser Island and is set on the 75-mile beach, which is a well-known location on the island. One of the most notable things about the creek is that the water is particularly fast-flowing and beautifully clear.
With over 400 thousand people coming to Eli creek each year, this freshwater attraction is certainly one worth seeing.
Eli Creek is a part of the world heritage area on Fraser Island and so is protected and is known for its coastal dune landforms, natural beauty and how the area has evolved over time.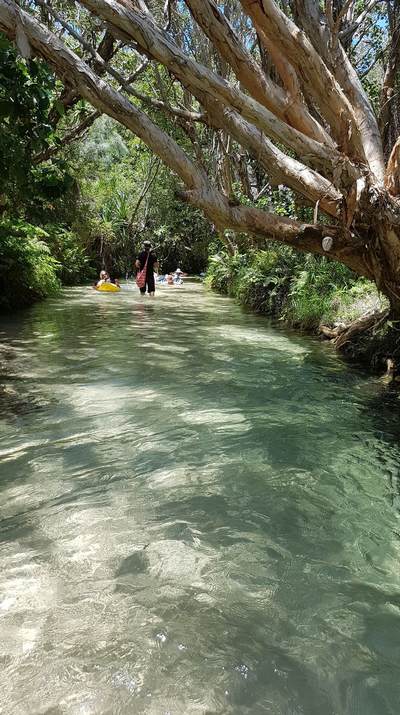 Where Does The Water From Eli Creek Come From?
It might be surprising to learn that Eli creek deposits over four million litres of water EVERY HOUR into the ocean, which is pretty impressive and shows just how fast-flowing this freshwater channel really is.
Many people have asked this question Where does Eli Creek water come from? The creek starts off up in some sand dunes in the central part of Fraser Island. More water is added from the giant sand mass that is Fraser Island and continues its journey.
During this journey, the water is filtered, removing any brown tinges from plants and by the time it comes out and flows down into the sea, is perfectly clear.
The water at Eli creek has been said to be some of the purest in the world and from its beginnings in the sand dunes, can take around 100 years to filter all the way through to the beautiful creek we see on the surface.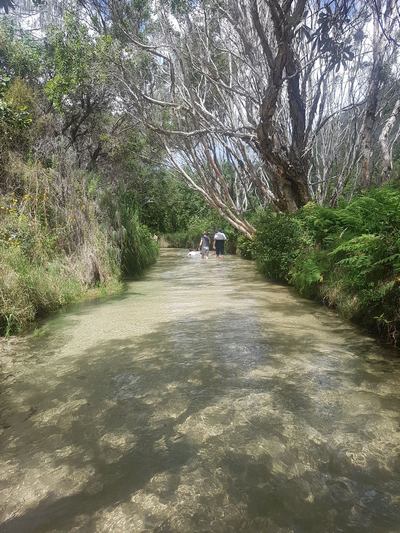 Eli Creek Crossing
You may wish to cross the creek on the beach by way of your 4WD but it is known to be risky at times and it is important to be aware of the dangers and advice that is given.
A combination of saltwater and freshwater means that it is very easy to be washed away, this can happen in a matter of seconds and so it is vital that you do not attempt this unless you have vast experience and the conditions are safe.
The fast flowing nature of the water means that deep channels can be carved out on the beach and driving through these can be potentially dangerous, so take care of what you are doing.
If the tide is high it is highly advised not to drive through the crossing at all. At this time, the sand is usually covered by water and drivers will not be able to see where they are going as well as risk being washed away.
With all of this in mind, many people decide to take their 4WD and pitch up on the beach for the day and according to a review on Trip Advisor, it is advised to arrive early in order to get the best spot.
What Is There To Do At Eli Creek?
The most obvious thing that draws tourists to this stunning location is the natural scenery which is simply astounding. There are not many places on earth like Fraser Island and certainly not too many like Eli Creek and this is a huge draw for visitors to the island.
But there is more than initially meets the eye here. Eli creek is somewhere where you can easily spend the day and not become bored.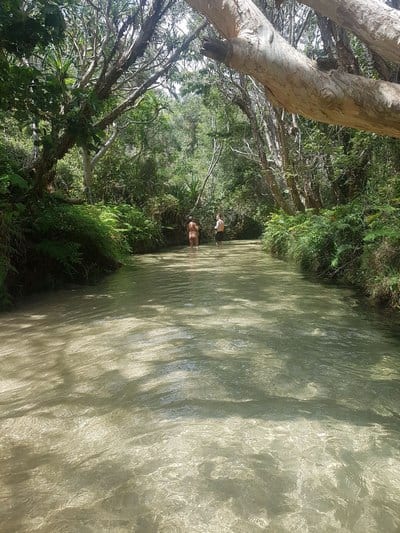 Surrounded By Nature
For many people, coming to Eli creek is a matter of wanting some peace and quiet whilst being surrounded by nature. Layout a towel or a chair and simply let the day slide away, enjoy hours soaking up the sun and taking in the views.
You may decide to take a picnic and enjoy lunch whilst looking out across the crystal clear waters of the creek.
Swimming At Eli Creek
Eli creek is known to be one of the best places to swim on Fraser Island and this is the reason that a lot of people come here. The fast flowing water has the ability to literally carry you along and this is a huge attraction.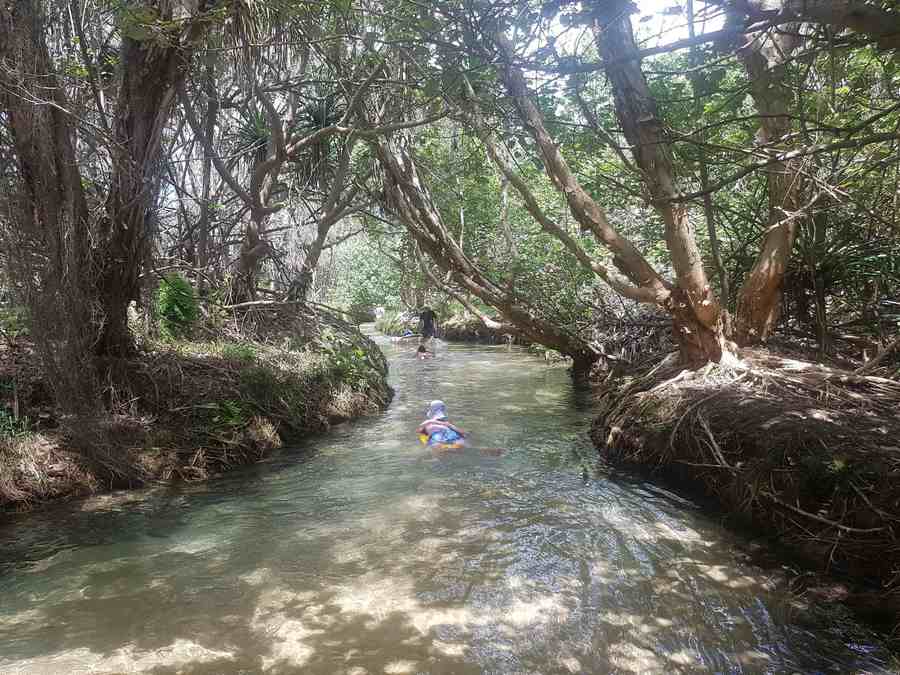 You can choose to take a leisurely swim or perhaps you might like to simply float along and let the current do all the work. Whatever you decide, one thing is for sure, this will be one of the best places you have ever been swimming.
The Boardwalk At Eli Creek
One of the best ways to appreciate the beauty of the water and nature here is to take a walk along the boardwalk. The walk is lined with a variety of trees and plants which is ideal for those with an interest in the flora of the area.
The boardwalk is also littered with information signs giving you details on how the creek formed and the wildlife and plants which live here, meaning that not only is this a beautiful place to be but also an educational one.
At the end of the boardwalk, many visitors choose to enter the water and let it carry them all the way back to the beach!
Eli Creek Wildlife
Fraser Island is home to a huge array of interesting animals and Eli Creek is no exception to this. For those who have a passion for animals and critters, Eli Creek will not disappoint and is home to a variety of fish, eels, birds and even turtles.
There are also some interesting species of frogs here.
As well as animals there is a great selection of tree and plant varieties here such as banksia and pandanus.
A Must-See Destination
There is no doubt that Eli Creek is a truly mind-blowing location and with the possibility of spending a day here, relaxing, swimming and taking in the gorgeous scenery, it is no wonder that it remains such a popular spot.
Resource Links To Products We Use And Recommend
More Pages On Fraser Island
link to Can You Drive At Night On Fraser Island?
Fraser Island, located off the coast of Queensland, Australia, is a popular tourist destination and a UNESCO World Heritage Site. The island, which spans more than 120 kilometres in length and 24...
link to Are There Toilets On Fraser Island?
Fraser Island, which is a popular tourist destination in Australia. The island has a number of campsites and other facilities where visitors can use toilet facilities. There are on average around 22...