Queensland is an exciting place to explore in Australia. This eastern coast state in Australia is full of fabulous cities to stay in. One of those areas includes Hervey Bay, a popular destination for those looking to see various tropical islands, wildlife, beautiful beaches and so much more.
When planning a trip to the area, it is important to find decent accommodation. The first step in this planning is to know a bit more about the various lodging options that are available!
The Beach Motel Location
Hervey Bay is full of accommodation choices ranging from resorts to hotels to caravan parks. One of the choices includes The Beach Motel.
This motel is near Shelly Beach giving guests wonderful access to the sandy shoreline! Moreover, the location features a variety of room choices from simple motel rooms to larger rooms to suit the needs of any group size.
There are landscaped gardens on the property that are quite idyllic. Combined with the sights out to sea and the tropical gardens, this motel is a sight to behold!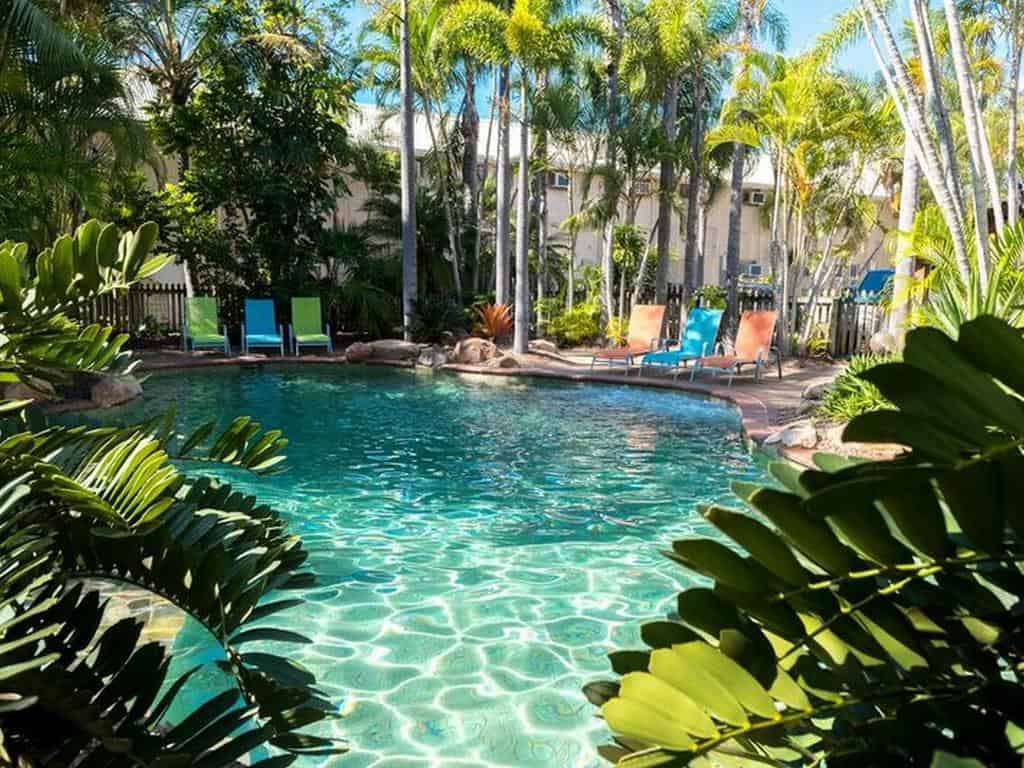 Popular Facilities
Landscaped pool area with spa – Almost everyone enjoys a nice dip into a swimming pool! With tropical paradise surroundings, this pool and spa area will feel like a real oasis for guests!
BBQ facilities – A lot of places around Australia have outdoor bbq facilities. The reason behind this is because it is simply a part of natural life to fire up a bbq and enjoy a wonderful homecooked meal!
Bar Fridges – Mini bar fridges are a common facility in some hotels. The Beach Motel is certainly one of these and guests can enjoy these in their rooms!
In-room spas – Some of the rooming options, like the self-contained apartments, feature in-room spas. This is a nice treat for those looking to unwind and relax with a warm spa!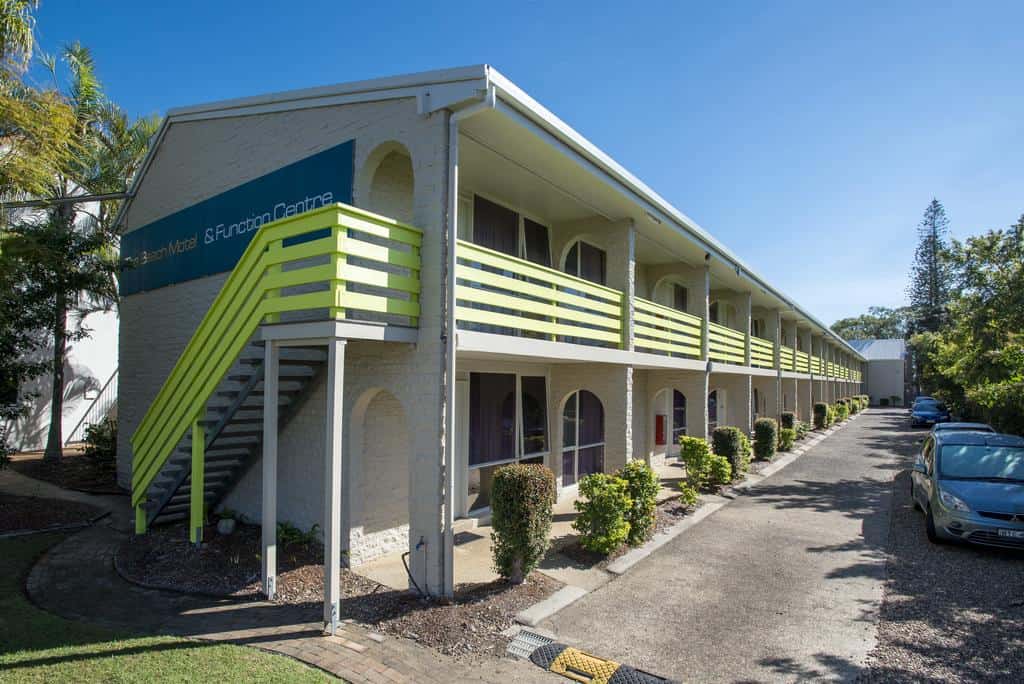 Ratings
Hotels and other lodging locations receive star ratings that help show guests their ability to provide quality facilities. The scale ranges from 1 to 5 stars with most locations ranging somewhere between 3 and 4.5 stars.
The higher on the star scale means that a location has a premium, quality facilities for its guests. When it comes to The Beach Motel it is considered a 3-star hotel on Google. 3-star hotels aren't bad, it simply means that they provide just the right amount of facilities for guests to be quite comfortable.
Room Types
The Beach Motel has quite a bit of room type choices for its guests. There are four choices for family rooms that sleep anywhere between 4 to 6 people, standard rooms, 3 and 4-bedroom apartments, spa suites, 1-bedroom suites, and a 3-bedroom townhouse.
This large selection ensures that just about anyone can find lodging at The Beach Motel.
The family rooms feature dining areas, kitchenettes, living room spaces, and room for 4 to 6 people to sleep depending on the type of family room that is chosen.
Some of the rooms, like the 2-bedroom family room, even has a verandah making it even more exclusive! The cost for the family rooms varies up to $150 per night.
The standard rooms feature ensuite showers, dining areas, single bed, and queen bed. These are suitable for up to 3 people. There might not be a kitchen available in this room but there is still a kettle for making tea or coffee as well as a microwave! These rooms cost about $99 per night.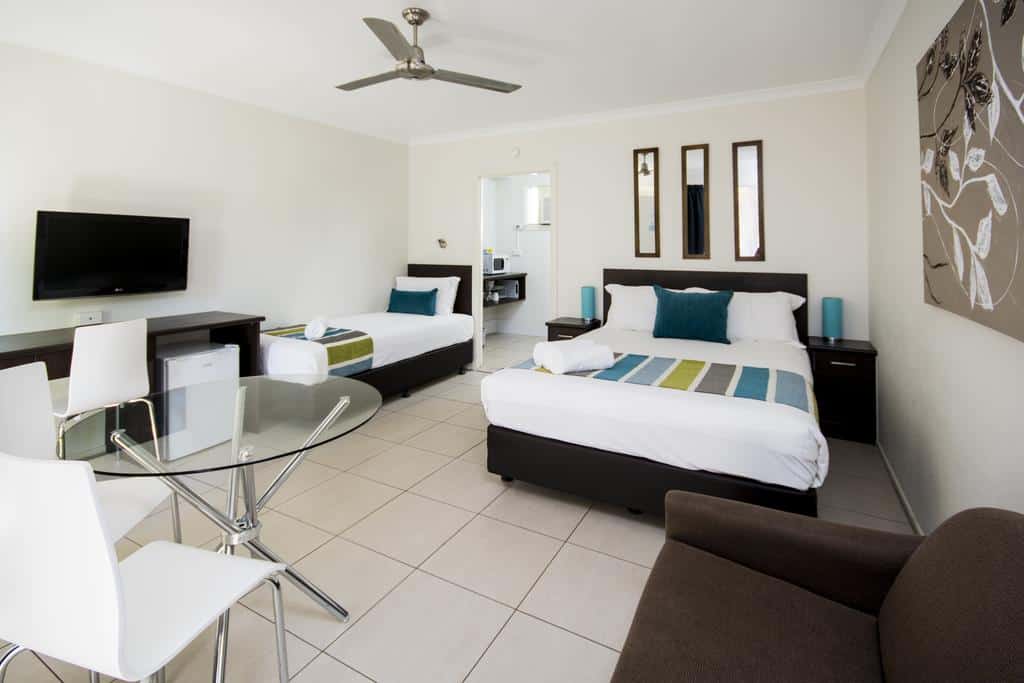 The 3 and 4-bedroom apartments have 2 queen beds and 4 single beds, making it a perfect fit for larger groups or families. The apartments have a full ensuite bathroom, a second bathroom, dining area, balcony, laundry facilities, onsite bbq, and more!
The price for a night's stay in these apartments can be obtained by contacting the location directly for more details.
The spa suites are about $119 per night and feature a corner spa bath. The room also has a sofa bed and a queen bed. The spa suites also feature kitchenettes, outdoor seating, and a balcony. For only $119 this is well worth the price!
The 3-bedroom townhouse features two queen beds and two single beds. The townhouse has a real "at-home" feel to it with an upstairs area, living room, spa bath, kitchen, onsite laundry facilities, and a second bathroom.
The pricing for the townhouse can be obtained by contacting the location directly for the most up-to-date prices.
All of the rooms are super chic and brightly lit making them very inviting. The prices are subject to change due to availability and the time of booking.
Surroundings And Location
The exact address and contact information for The Beach Motel Hervey Bay is as follows:
475 Esplanade
Torquay, QLD 4655
Ph 07 4125 1544
The motel is right off the esplanade, a 17km stretch between Urangan and Point Vernon that runs parallel to the beach foreshore areas.
The Esplanade is a scenic divider between the local towns and the beach areas. It is populated by those who want to exercise, go for a stroll, catch some beautiful sights, or explore other small towns along the coastline.
Other attractions near the motel include Torquay Beach and Reefworld. Torquay Beach is a hub for fishing, swimming, watersports, and other various beach activities.
Reefworld is an aquarium educational centre that is perfect for families. It features turtles, reef sharks, and other marine life. It is one of the most unique aquariums in the world because it has an all-natural environment for its marine life.
This means that the water is sand filtered and comes from the sea directly making it suitable for marine life.
Facilities (Other Than The Popular Ones!)
Daily room service for cleaning and fresh linens
Check-In And Check-Out Times
The check-in time for The Beach Motel Hervey Bay is 2 p.m. and check-out is 10 a.m.
Hervey Bay is a great place to visit and a great place to stay while on holiday! The Beach Motel is just one of the many wonderful choices for accommodation in the bay area!
Resource Links To Products We Use And Recommend
More Recommendations For Accommodation
link to Discovery Parks Fraser Street Hervey Bay
On the Fraser Coast, Hervey Bay is an oasis of the best natural world the area has to offer. Just across the way from Fraser Island, you will also find beautiful botanical gardens, a stunning...
link to Caravan Parks Hervey Bay
One of the most iconic ways to experience Australia is by experiencing its beautiful natural surroundings. Because the country offers an abundance of stunning landscapes from coast to coast, caravan...