Thinking of taking a holiday to Urangan? Learn more about what this coastal suburb has to offer. This includes accommodation, places to eat, things to do and the distance that this town is located from other major cities and nearby localities.
Urangan is a coastal suburb located in Hervey Bay. Urangan is located east of the Great Sandy Strait and Fraser Island.
If you are flying to Urangan, you will more than likely fly into Hervey Bay airport. Hervey Bay airport is located within walking distance of Urangan. You can also reach the suburb by car, bus or train.
Urangan

Queensland Holidays

Aforementioned, Hervey Bay airport is located within walking distance to Booral Road in Urangan. The distance is less than 3 km and takes less than 5 minutes by car and less than 30 minutes walking to get to Urangan.

If you are coming from Brisbane or the Sunshine Coast, you can expect a 3-5 hr drive along Bruce Highway. Urangan is located around 300 km from Brisbane and around 200 km from the Sunshine Coast.

To take the train to Urangan, you will need to connect from Brisbane to Rockhampton tilt train. This will take you to Maryborough, where you will need to take a bus to the Hervey Bay terminal in Pialba.

A bus will take you directly from Brisbane to Hervey Bay terminal. Once you arrive at the Hervey Bay terminal, you will need to either walk to the bus stop, hire a car or taxi, or walk to Urangan. The walk is over an hour so it is recommended to hire a car, bus or taxi.

There is a bus that runs from the Hervey Bay terminal to Boat Harbour Drive in Urangan. It is a 3-minute walk from Hervey Bay Transit Centre terminal and it runs every 40 minutes.
Google Map Of Urangan
Getting Around Urangan
To get around town, you can hire a car, take a taxi, hire a bike, or walk. There are plenty of facilities that provide this service to you. If you plan on travelling outside of Hervey Bay to nearby towns, it is a long walk, so you may want to hire a bike to do that.
Distances from other towns and cities
Sydney – The distance from Sydney is 1212.9 km with a travelling time of 13-14 hrs via Pacific Highway.
Melbourne –The distance from Melbourne to Urangan is 1863.8 km with a travelling time of 21 hours via Newell Highway.
Maryborough – The distance from Maryborough is roughly 38.7 km with a travelling time of 30 minutes via State Route 57 and Booral Road
Pialba – The distance from Pialba to Urangan is 7.6 km with a travel time of 12 minutes via Boat Harbour Drive and State Route 57.
Bundaberg Central – The distance from Bundaberg central is 125 km with a travel time of 1 hour and 30 minutes.
Tin Can Bay – The distance from Tin Can Bay is 110.8 km with a travelling time of 1 hour and 20 minutes via Maryborough Cooloola Road.
Fraser Island – The distance from Fraser Island is 66.3 km with a travelling time of 2 hours and 47 minutes via Northern Road.
Accommodation Deals

In Urangan

Depending on your budget and needs, you will find many hostels, resorts, and hotels on the Esplanade in Urangan to spend your holiday.

The Grange Resort has 2 to 3 bedroom villas along Elizabeth Street. You will also find budget-wise hotels such as Kondari Hotel, Urangan Motor inn, and Sanctuary Lakes Fauna Retreat. Most of the accommodation in Urangan can be found on the Esplanade and also along Elizabeth Street, Pier Street.
Things To Do

In Urangan

It is not hard to find something to do around this suburb. In fact, most of the activities are within walking distance in town. You can go to the beach and take a swim or enjoy fishing off the marina.

You can enjoy luxury dining, barbecues at the Pier Park, or watching the sunset at the marina. You will find plenty of boutiques to shop in, restaurants to eat at, or bars to go to on the Esplanade.

At Pier Park on Wednesday and Saturday mornings, you will find the community market. The community market is where you will find various stalls run by locals. You will find fresh produce, meats, arts and crafts, fashion, jewellery, live entertainment and more.

Reefworld Aquarium is where you can go to see fish, sharks, and turtles. There are specific feeding times for the sharks and turtles, 11 am and 2 pm, respectively. The Great Sandy Region Botanic Garden is located close by and features a variety of orchids in the orchid house and viewings of birds and other wildlife.

If you are into cycling, there is an 18 km bay foreshore cycleway. It starts from Urangan to Point Vernon.
Shopping

In Urangan

The Urangan Central Shopping Center is located on the corner of Boat Harbour Drive and Elizabeth Street in Urangan. At the shopping centre, you will find a variety of retail stores, cafes and a Woolworths supermarket. The post office is also located in the shopping centre.

On the Esplanade, you will find clothing boutiques, such as Luxe, Viva de Ville, Cathie Marees, as well as various gift shops to shop for souvenirs.
Where To

Dine In Urangan

The Salt Cafe provides you with a view of the ocean while you eat. This restaurant is located on the Esplanade. If you are in the mood for Asian cuisine, there is Two Duck's Cafe and Asian Grocery Store, which serves lunch and dinner and you will find this on the Esplanade.

If you are looking for a late-night eatery, or a pub, there are several located on the Esplanade. You will find places like The Vineyard which has outdoor seating, and the Bay's Water Hotel Restaurant & Bar.
Tips For Visiting

Urangan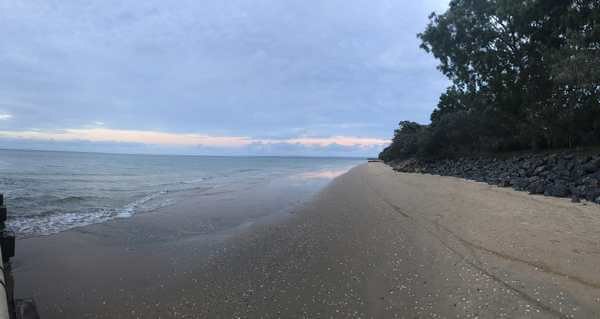 Before you go on your holiday, confirm your accommodation and make sure you have access to the necessary amenities that you may need or desire.
Most places that you will visit or need are right on the Esplanade. So you may not need to hire a vehicle the entire time you are on your holiday. You can hire a bike or walk for the most part.
Don't try to fit everything into one day. Spread things out over your holiday.
As you can see there is so much that you can do on your holiday in the area. This is just a gist of what there is to do around the suburb. As always, make the most of your holiday and have fun.
Resource Links To Products We Use And Recommend
More Pages On Hervey Bay
link to Sunset Cruise In The Great Sandy Marine Park
The Sunset Cruise Great Sandy Marine Park has a lot to offer, from stunning scenery to a range of wildlife and marine life. Here are some of the things you can expect to experience on a sunset cruise...
link to Is Hervey Bay Full Of Old People?
Hervey Bay is a popular retirement destination and has a higher proportion of older residents than some other cities in Australia. However, it is important to note that Hervey Bay is a diverse...