Hervey Bay in Queensland Australia has a lot to offer its visitors. From scenic views, tropical islands, humpback whales, historical sites, and so much more there is plenty to explore.
While there is plenty to see and do in the bay area, the area also offers its guests a wide variety of lodging options. All throughout the bay area, there are hotels, motels, resorts, and even caravan parks for guests to choose from.
With so many different lodging options, it can be overwhelming to pick one, therefore, knowing a bit more about the different locations is really important!
Hervey Bay Sunrise Units Accommodation
Accommodation truly does come in different forms. At this location in Hervey Bay, guests are treated to holiday apartment lodging with scenic views of Fraser Island, the world's largest sand island just off the eastern coastline of mainland Australia.
Moreover, this location looks pretty simple from the outside, however, the rooms are quite comfortable looking! Furthermore, the rooms also are full-furnished and self-contained units, meaning that guests have everything need at their fingertips!
Popular Facilities
Onsite covered parking – Parking is always something to consider when booking accommodation. Onsite parking is great, but covered parking is even better! It helps keep cars out of the direct sunlight!
Fully-functional kitchens – Each unit contains a fully functional kitchen which is helpful for guests who want to cook their own meals. It really gives a home-away-from-home vibe which makes it even more comfortable! The kitchens include fridges and cooktop stoves.
Garden area – Like most hotels, motels, etc. the Sunrise Units have a small garden area on the property. This garden area features some pretty plants and flora to really spark up the outside exterior.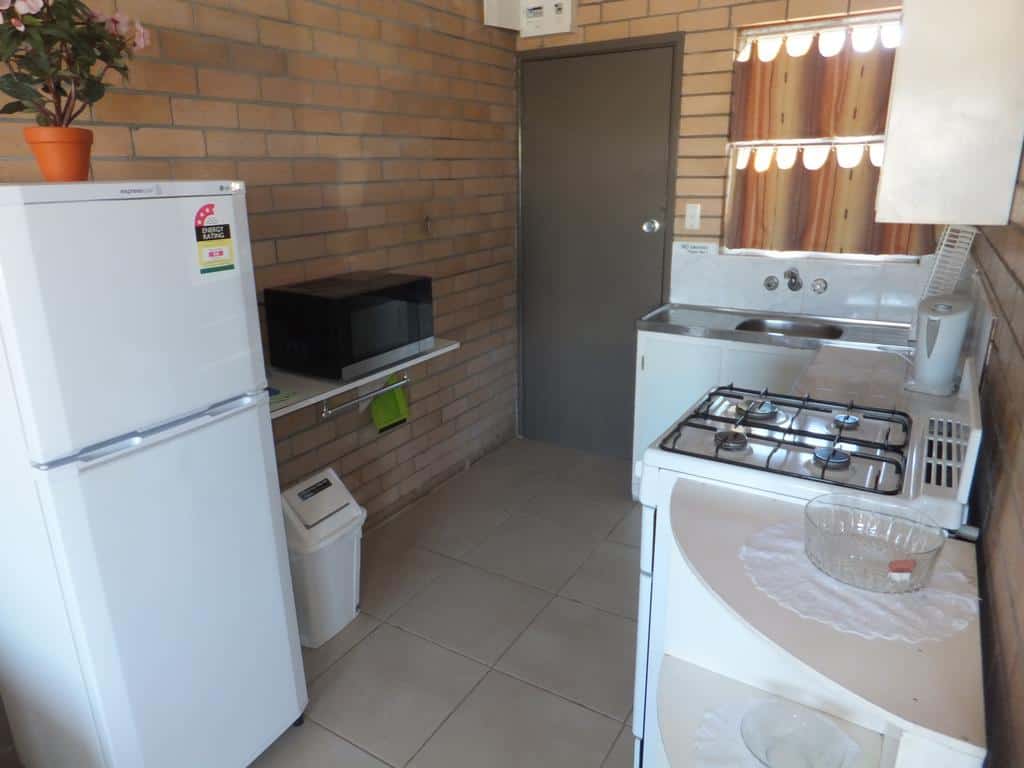 Ratings
Lodging locations often receive a star rating that showcases their ability to provide quality services to their guests. This rating is on a scale of 5 stars, 5 stars being the highest, and with most locations falling somewhere between 3 to 4.5 stars.
The Sunrise Units in Hervey Bay doesn't have a clearly documented star rating. When this happens, it is important to check out guest reviews.
Guest reviews are going to vary and they really should be taken with common sense in mind. On Google, this location only has 2 reviews, which isn't much but they set the hotel at 4 stars out of 5.
They compliment the location's friendly service and excellent prices. While there isn't much out there about this location's rating, all their pictures seem nice and their amenities are basic, yet still basic apartment facilities.
Room Types
The Sunrise Units have 1, 2, or 3 bedroom apartments.
The 1-bedroom unit sleeps up to 2 people with a queen bed, the 2-bedroom unit sleeps up to 4 people with a queen bed in the main room and two single beds in the second bedroom and the 3-bedroom unit sleeps up to 6 people with a queen bed in the main bedroom, two singles in the second bedroom, and 2 singles in the third bedroom.
This really provides ample space for groups of any size!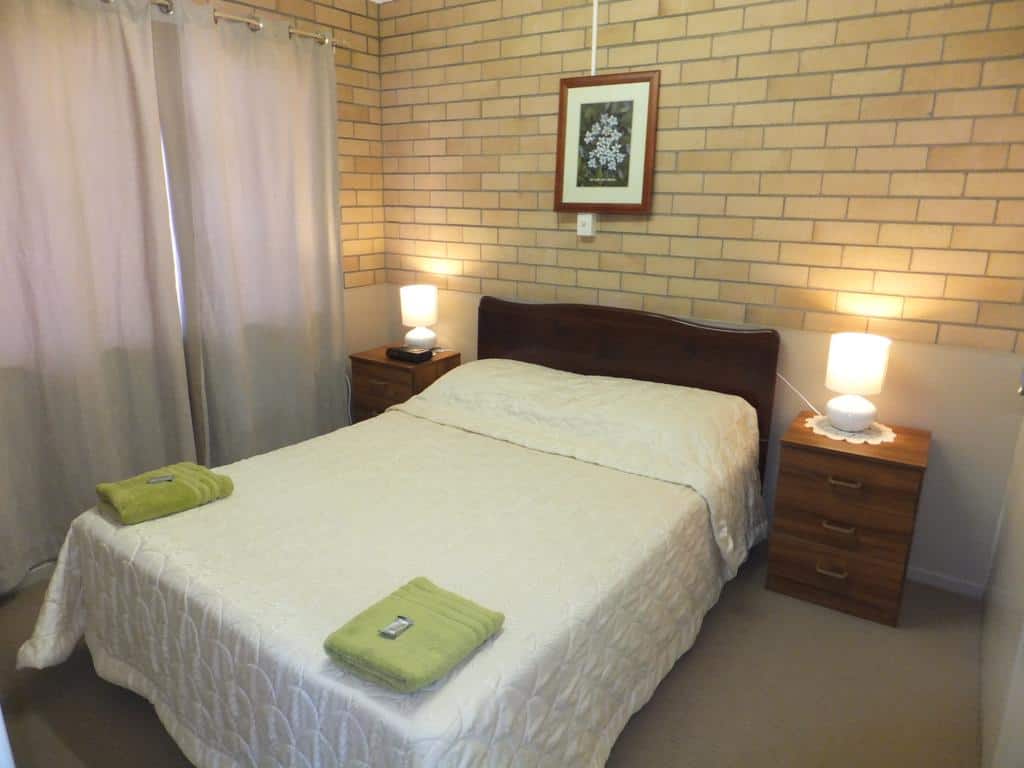 The rooms have pale yellow brick decor with modern furniture in neutral colours like white and black. There is a small living room area in addition to the fully-functional kitchen which makes the rooms even more inviting!
With chic decor and comfortable facilities, the Sunrise Units are a good choice! They are also a good choice for guests on a budget.
Their rooms come either standard or deluxe, although no real difference is noticeable since all apartments have a full-functional kitchen and living area in addition to the bedrooms.
While there is no major difference, their price points are broken up based on "standard" or "deluxe". Standard units run about $90 to $120 per night while deluxe rooms run about $140 to $160 per night. They also offer weekly rates of up to $550 a week.
Surroundings And Location
The Sunrise Units Hervey Bay's contact and address information are as follows:
549 Esplanade
Urangan, QLD 4655
Ph 07 4128 9245 or 0438 206 452
The units are located right along the esplanade in Hervey Bay in Urangan which stretches from Urangan to Point Vernon.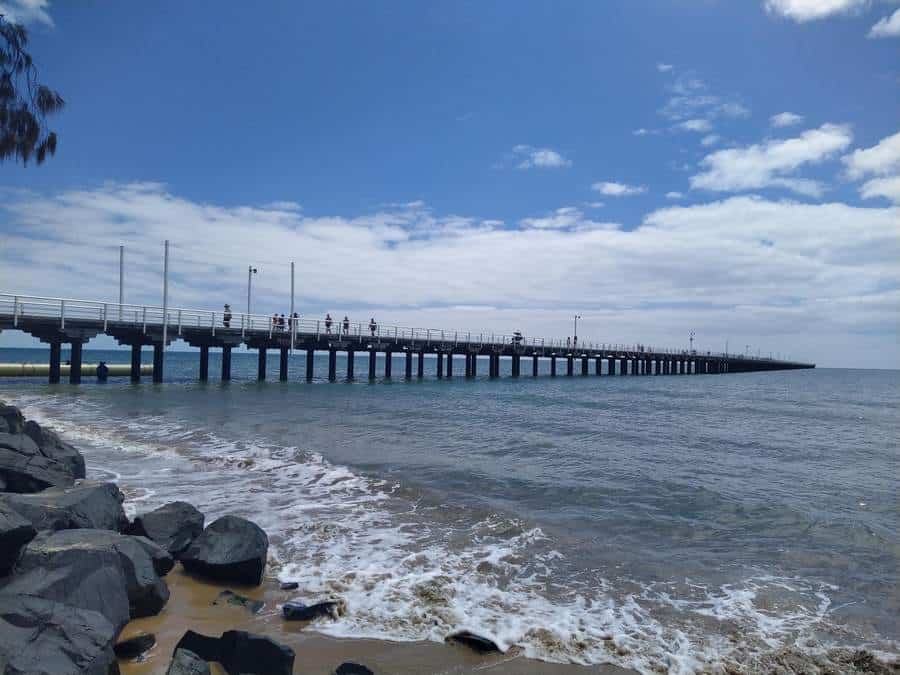 This 17km stretch of track runs parallel to the beachfront areas and spans through many little coastal towns. Because of this, the esplanade is a popular spot for those looking to exercise, go for a walk, cycle, or explore the various other town areas.
One of the closest attractions to the apartments is the Urangan Pier. This historical pier was built in the 1900s and was initially used for exporting timber, sugar, and coal.
Throughout the years, the pier has undergone a major transformation. The original pier was about 1107 metres and now it only has a length of about 868 metres.
The demolition of some of the pier caused an outcry from residents to help preserve this special pier. Today, the pier is a popular fishing spot as well as a great place to see marine life and open views of the Coral Sea.
Other popular surroundings include Fraser Island, the world's largest sand island. Exploring this island is quite a treat as guests can see some ancient rainforests, unique wildlife, and gorgeous perched lakes.
There is also Lady Elliot Island which offers guests the best view of the Great Barrier Reef due to its extreme protection in that area. Lady Elliot is only accessible by plane, making it an extremely exclusive spot!
The island offers snorkelling and diving to experience the beautiful marine life and sights of the preserved Great Barrier Reef.
Facilities (Other Than The Popular Ones!)
Check-In and Check-Out Times
The check-in and check-out times for the Sunrise Units Hervey Bay can be obtained by directly contacting them or inquiring about a stay on their website's booking page.
Choosing a place to stay during a holiday doesn't have to be challenging! In Hervey Bay, there might be a lot of choices but knowing a bit more about the various locations helps make any decision easy!
The esplanade is a hub for lodging options which gives guests great access to local shops, the beach, and other activities!
Resource Links To Products We Use And Recommend
More Recommendations For Accommodation
link to Discovery Parks Fraser Street Hervey Bay
On the Fraser Coast, Hervey Bay is an oasis of the best natural world the area has to offer. Just across the way from Fraser Island, you will also find beautiful botanical gardens, a stunning...
link to Caravan Parks Hervey Bay
One of the most iconic ways to experience Australia is by experiencing its beautiful natural surroundings. Because the country offers an abundance of stunning landscapes from coast to coast, caravan...