Australia is one of the most exotic countries in the world. There are countless beautiful landscapes to see and many things to experience. This is particularly true in the Queensland area.
Queensland is on the eastern side of the country and this area is known for its various attractions, bay areas, and tropical islands. There are quite a few islands that sit off the eastern coast of Australia.
One of the most remarkable islands is Lady Elliot

.
Queensland's Lady Elliot Island
The island of Lady Elliot is one of the more intriguing islands in the Queensland area. It is a coral cay island that specifically sits on the southern tip of the Great Barrier Reef

.
Because of its iconic location on the reef, this portion of the Great Barrier Reef is highly preserved and offers some of the best views of the reef system.
While the spectacular views of the Great Barrier Reef from this island are outstandingly beautiful, the island is also well-known for its marine life and wildlife.
The marine life and wildlife on the island are just as protected as the Great Barrier Reef. Because of these efforts, there is an abundance of thriving marine life like its famous manta ray populations, sea turtles, tropical fish, and birds.
But what exactly are the efforts? Since 2005, the island has been transformed into an eco-friendly resort and sustainable area. The island achieves this through its process to treat all water and sewage wastes, produce electricity, and provide its own water.
Through these practices, the island can flourish in its natural state and maintain its unique ecosystem, both on land and in the surrounding waters.
The eco-efforts of the island have produced an overall pristine, beautiful location for guests to visit. The island itself isn't terribly large and only covers about 0.45 kilometres squared and has a little over 45 hectares of land space.
Its size is another contributor to keeping the area eco-friendly. Moreover, it allows for guests to have a truly exclusive experience while visiting. The atmosphere itself is quite enjoyable but having that feeling of exclusiveness while visiting is a whole other sensation!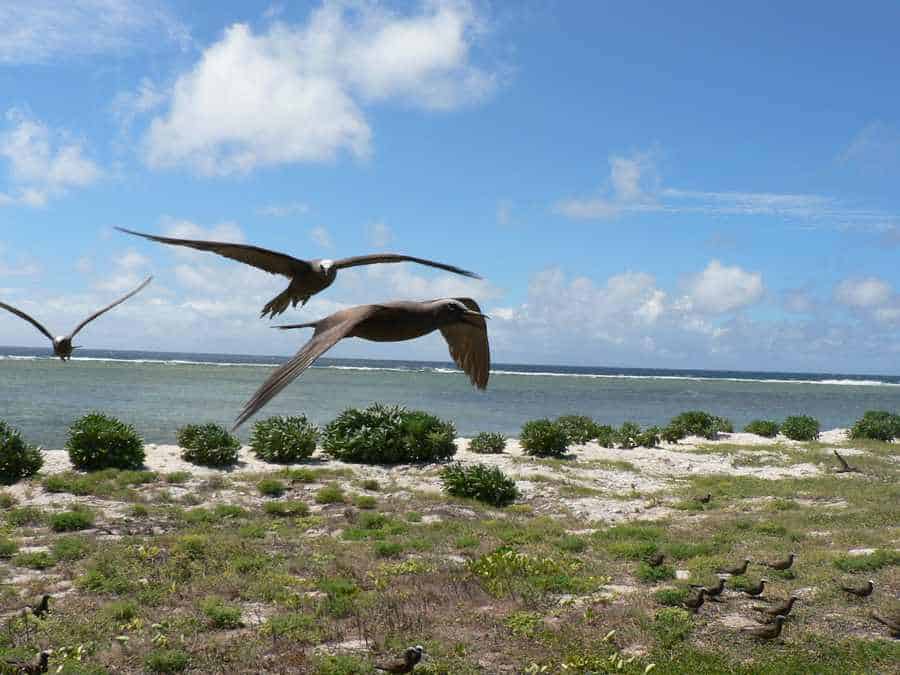 How To Get To Lady Elliot Island
The island has its private vibe through its sustainability, size, and sheer beauty. However, another factor that makes this location a true one-of-a-kind experience is its location and accessibility.
The island is about 80 kilometres northeast of Bundaberg, a mainland town in Queensland. With such an extraordinary location, the island can only be reached via small aircraft. In fact, the island has a small landing strip!
Because of its fragile ecosystems and overall location, no other aircraft are permitted on the island except for a designated airline called "Seair Pacific".
With access to the island only being through small aircraft, the experience of the island starts right in the plane. Guests travelling to the island are treated to a breath-taking view of the island from the plane.
They also get to see an overhead view of the Great Barrier Reef which is also an incredible sight! These views really do make the trip over to the island a large part of the island's experience!
Catching a flight to the island isn't hard, however, only registered guests are permitted to just fly over on Seair Pacific

. The flights specifically depart from key towns on the mainland.
These towns are Hervey Bay, Bundaberg, Brisbane (Redcliffe), and Coolangatta (Gold Coast). For guests who aren't directly staying in any of those towns, they can be reached via vehicle, train rail, or bus.
This is convenient for those who want to get to Lady Elliot without having to stay within any of the towns.
The flights are limited to the island due to the island's size and it is easier for the airline to manage how guests travel thereby only having a few select departure points.
The departure times are staggered for each town to ensure that all guests reach the island safely and in a timely manner. The times are kept the same for each town to maintain a professional and dependable schedule.
Seair Pacific Departure Times To Lady Elliot
Hervey Bay – There are three inbound flights to the island from Hervey Bay: 8:10 a.m., 10:30 a.m., and 1 p.m. There are also three outbound flights from Lady Elliot that return to the mainland: 9:30 a.m., 11:30 a.m., and 4 p.m. These flights take about 40 minutes.
Bundaberg – There are two inbound flights to the island from Bundaberg: 8:40 a.m. and 1:30 p.m. Just like Hervey Bay, there is the same number of outbound flights that return to the mainland: 11:30 a.m. and 4 p.m. These flights take about 30 minutes.
Brisbane (Redcliffe) – There is only one inbound flight to the island from Brisbane which departs at 7:15 a.m. The outbound flight departs at 2:30 p.m. The flight into the island takes about an hour and a half and the flight back arrives back to Brisbane at 4 p.m.
Coolangatta – There is only one inbound flight to the island from Coolangatta which departs at 6:45 a.m. and returning flights depart at 2:30 p.m. These flights take about 2 hours.
It is important to note that flights that depart from Hervey Bay and Bundaberg at 8:10, 8:40 and return at 4 pm are for day-guests only.
Guests looking to visit the island strictly for the day are limited to these time slots. These time slots are also used for guests who are only staying on the island for a day or two.
All other flights for guests staying on the island for a longer period of time. Once again, this system is put in place to keep things well organised!
These flights are subject to change due to weather, the type of aircraft, or for other schedule stops. While they are set in place to create a routine schedule, they are subject to change to due to these conditions.
The time slots should only be used as a base example to account for any unforeseen change.
All guests are required to confirm their flights within 24-hours. Additionally, the airline also requires a 30-minute check-in (except for Brisbane and Coolangatta which only require a 15-minute check-in).
The costs for the flights are $369 if flying out of Bundaberg or Hervey Bay and $770 for flights out of Brisbane or Coolangatta. Guests flying out of Brisbane or Coolangatta and are flying alone will see a price tag of about $870.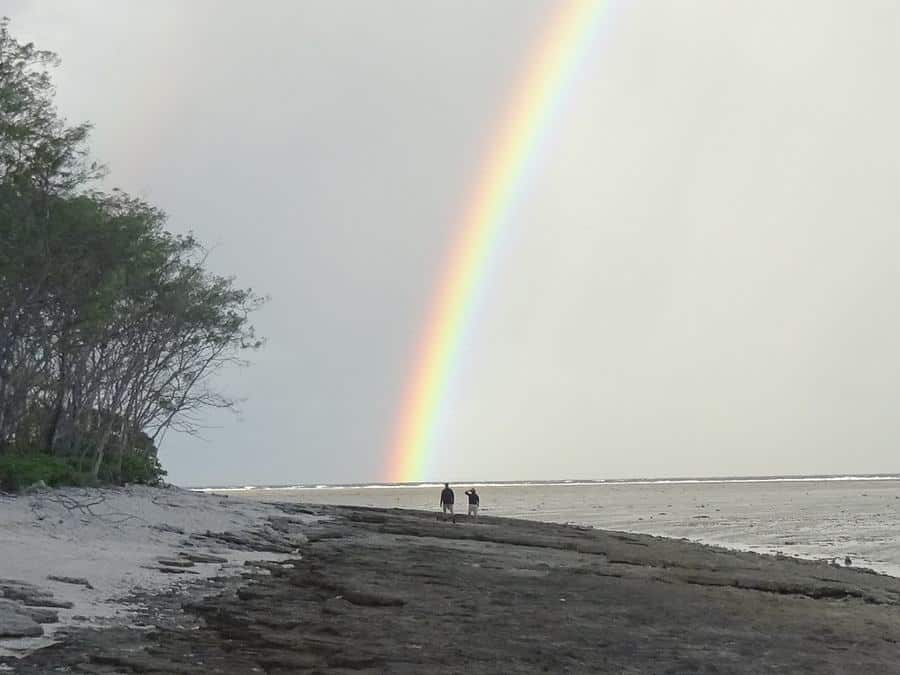 Lady Elliot Island Accommodation
To fully experience everything the island and its surrounding waters have to offer, it is ideal to plan an extended stay. The only accommodation available on the island is through the resort itself.
Because of the island's eco-conscious efforts, all rooms are tailored to suit that sustainability. In addition to unit rooms with various views, there are tent sites and cabins.
Also to align with their eco-friendly practices, there are no WiFi, radio, television, or telephones in their unit or cabin lodging. This type of lodging isn't suitable for everyone, however, for those who enjoy a break from the digital world, it is quite a relief!
Below is some more information about the types of lodging on the island!
Rooms And Units On The Island
The room units have the choice of location including beachfront, reef, and garden. Each one of those choices provides iconic views depending on someone's preference!
The tranquil surroundings along with the secluded feel of the island itself make for quite the holiday trip! The beachfront units come with two bedrooms, an ensuite bathroom, an airconditioned lounge room, balcony, mini-fridge, and tea/coffee making facilities.
These units can sleep up to four people. The cost to stay in the beachfront units is about $354 to $445 for adults (depending on the number of adults and time of year of booking) and up to $145 for children.
The units near the reef are arranged in three-block units making them suitable for families or couples and sleeps up to four. These units are only 10 metres from the coral cay lagoon and have the option of a queen bed or a queen bed with bunk beds.
These units, like the others, are modern looking with beautiful wood floors and simple but bright decor. The price to stay in this unit type is about $300 to $485 for adults (once again depending on the time of booking and the number of adults) and up to $145 for children.
The units by the garden are perfect for up to four guests. These units are also in blocks of three like the reef units and only about 20 more metres up from the coral cay lagoon.
They are situated in lush gardens providing such an idyllic view! Moreover, these units have balconies that sit right within the gardens, giving guests quite the view! This unit, along with the other units, is primarily fan-cooled.
Glamping Tent Sites
The tent sites on the island are ideal for couples looking for a romantic getaway! They are upscale-looking tents with a large deck attached, a queen bed, and are emerged within the island's coral cay vegetation.
Guests can also see the nesting birds and turtles (when in season!) due to the tent site locations. There is also an ensuite bathroom in the tent sites as well making them even more attractive!
A night's stay in the tents is up to $402 for a couple and up to $676 for one adult.
Amazing Eco-Cabins To Relax In
The cabins on the island are available with beds for up to 4 or 5 people. The 5-people cabins are considered to be "family cabins". All cabins are newly upgraded to provide maximum comfort for guests!
These upgrades include the installation of louvres (for better airflow!), sliding glass doors, finished decks, and communal bathroom amenities.
There are also ceiling fans as well as bright, open spacious areas giving guests a little taste of luxury among an eco-friendly resort! A night's stay in these cabins is $185 and $329 for adults (once again depending on the number of adults and time of booking) and up to $145 for children.
Things To Do On Lady Elliot Island
The island's stark beauty is one of the best ways to enjoy the island, however, there are other things to do! From the marine life to the reef and everything in between, this small island is big on adventure!
Below are the top things to do while on Lady Elliot Island!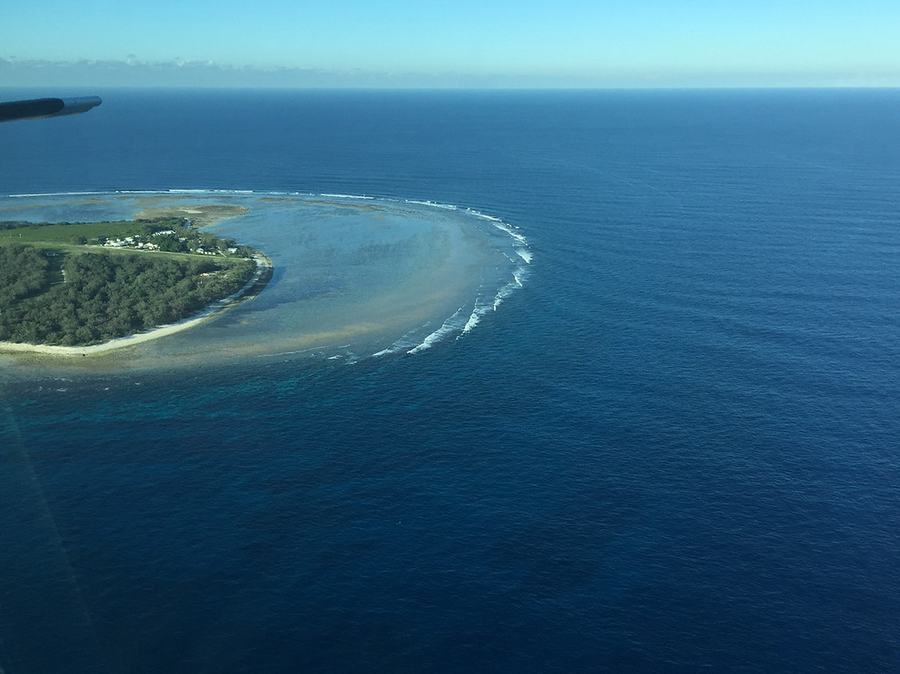 Snorkelling Or Diving At Lady Elliot Island
Snorkelling and diving are among the most popular activities to do on the island. The views of the southern point of the Great Barrier Reef are really fascinating because of how protected this portion of the reef system is.
There are plenty of lush and vibrant colours to see among the reefs as well as the various marine life. From tropical fish to the manta ray's that the island is known for, there is an abundance of gorgeous underwater sights to be seen!
There are plenty of opportunities to partake in snorkelling or diving on the island. One option includes a self-guided snorkelling trail with trails available for beginners or advanced snorkelers.
This ensures that everyone gets a chance to see the amazement of the water's ecosystem around the island! There are also glass-bottomed boats that cruise around the island with spectacular views of the reef from the comfort of a boat!
There are also guided snorkel dives as well as snorkel safaris! With over 20 dive sites around the island, there is so much to see!
Get Married At Lady Elliot Island
Lady Elliot Island is a beauty all its own, however, it really strikes a chord with couples. The island truly does give off a romantic vibe from the picturesque landscapes to the open ocean, any couple will find it enticing!
Weddings are a special time in anyone's life and having a location like Lady Elliot makes them even more special. The staff at the resort is extremely helpful in getting all the details right and they even offer underwater ceremonies!
Take Some Incredible Photographs
Whether someone is a professional photographer or simple a smartphone photo snapper, there are plenty of sights to snag some interesting pictures. From the various marine life to the beautiful flora and fauna, there are photo opportunities around every corner.
But what are some of the flora and fauna that people might see? What about marine life or wildlife? Below are the top flora and fauna and marine and wildlife to see on the island!
Flora And Fauna On The Island
These coral cays and shrubbery clusters are sprawled throughout the island, creating such a lush area to be explored!
Lady Elliot Marine And Wildlife
Nesting birds and birds in general
These creatures are able to thrive and survive on Lady Elliot Island due to the high level of eco-friendly services at the resort. Moreover, the island is famous for its nesting bird populations which flock to the covered areas of shrubbery and other plant life.
Birdwatchers will find this phenomenon a real treat. Strolling through these areas provides guests with gorgeous nature views as well as some exercise!
Go On A Day Trip Around The Great Barrier Reef
Day trips to the island are ideal for guests who want to see the best of the Great Barrier Reef but are short on time. All-day trips are inclusive and include incoming and outgoing flights, buffet lunch, glass-bottom boat tours of the reef, and snorkelling (all equipment is provided).
This is the perfect way to experience the reef without having to stay for an extended period of time!
Try Hand Feeding Tropical Fish
Hand-feeding a tropical fish might seem a little bizarre, but in fact, this is a really popular activity on the island! For a fee, guests can learn how to hand-feed a tropical fish and do so within the pristine waters around the island.
There is nothing quite like seeing a tropical reef fish up close like this experience offers!
These are just some of the best ways to experience Lady Elliot Island. Other activities include table tennis, volleyball, etc.
Best Time To Visit Lady Elliot
Any time of year could be considered a good time to visit Lady Elliot. It truly does have optimal weather with temperatures never really exceeding 30 degrees Celsius from December to February.
Even though the weather is pretty beautiful most any time of year, the ideal time to visit lady Elliot Island is in the months of June to September when there are many clear days and still perfect waters to swim and snorkel in!
Moreover, the temperatures during these months typically sit between a comfortable 20 to 25 degrees Celsius.
While June to September is a great time to visit the island, there are other times to visit depending on what someone wants to experience! This is particularly true for those wanting to witness turtle-hatching season which is from February to April.
During this time, guests can see baby turtles peaking from their shells and entering the world! Aside from the Great Barrier Reef and various nesting birds, this phenomenon draws in lots of visitors!
Another peak time of year includes October to December when holiday events start to unfold for the upcoming Christmas season.
While Christmas is always a beloved time of year, these months also give guests the remarkable sight of turtles coming to lay their eggs to prepare for the February hatching.
This time of year is also blossoming with coral spawning events, which is a unique sight as well!
Lady Elliot Island has historically come a long way to become the paradise it is today. No matter the time of year, guests will find beauty all around including naturalistic surroundings that are simply incredible.
The island proves time and time again to be a hub for nature and tranquillity!
Resource Links To Products We Use And Recommend
More Pages On Other Areas