Queensland is one of the world's most mystic and beautiful states in Australia.
It is a magical place with lots to offer including various wildlife to experience, gorgeous terrain to sight-see, and islands speckling its coastlines I mean who does not want to have a honeymoon on an island in Queensland?
With so much to explore, Queensland is the best place to honeymoon with lots of activities, try Fraser Island in Queensland, This island is packed with once-in-a-lifetime experiences for those on a honeymoon. Queensland has many coastal towns with pristine beaches to explore on your honeymoon.
However, when it comes to setting off on a honeymoon adventure it is important to know what kind of experience you want to have. Are you looking for somewhere to just relax?
Are you looking for somewhere that includes exclusive experiences? Luckily, Queensland has some prime spots to check out for spending time with your new wife or husband!
Some of the most popular spots to honeymoon in Queensland include resorts like Kingfisher Bay Resort on the famous Fraser Island (the world's largest sand island!), the Whitsunday Islands

, and Lizard Island

.
Each of these areas offers some key features exclusive to their location. Moreover, these islands that are part of the state of Queensland make for iconic honeymoon spots!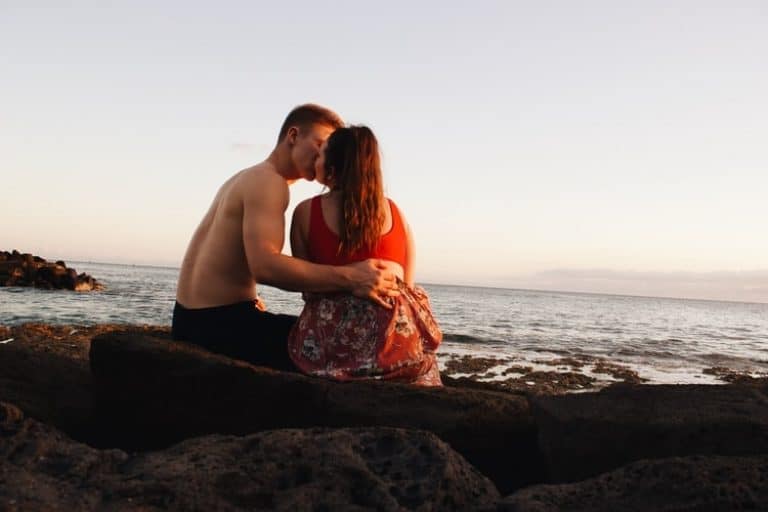 What To Do On A Honeymoon In Queensland
Honeymoons can transpire into any adventure you want them to be! The key to having a truly remarkable time is knowing all the fun that can be had during a honeymoon in Queensland!
Kingfisher Bay Resort is a popular choice for honeymooning couples. It lies on the western coast of Fraser Island, easily one of the famous islands in Queensland.
It is a central resort for all sorts of exclusive adventures. The adventures are on the island itself and also in the beautiful waters for marine boat tours.
These boat tours can include whale watching which is popular near Hervey Bay where humpback whales stop amid their migration. The island is home to lush rainforests areas and the crystal clear waters of Lake McKenzie, a perched lake.
The resort not only offers packaged deals for marine boat tours

and various Fraser Island activities, but the resort itself has its own relaxing aspects to it, Some other popular packages from Kingfisher Bay Resort include spa deals

.
Spa deals are a super relaxing way to enjoy a stay at the resort. These spa packages include massages and facials. These spa packages can be enjoyed by couples for a truly romantic experience.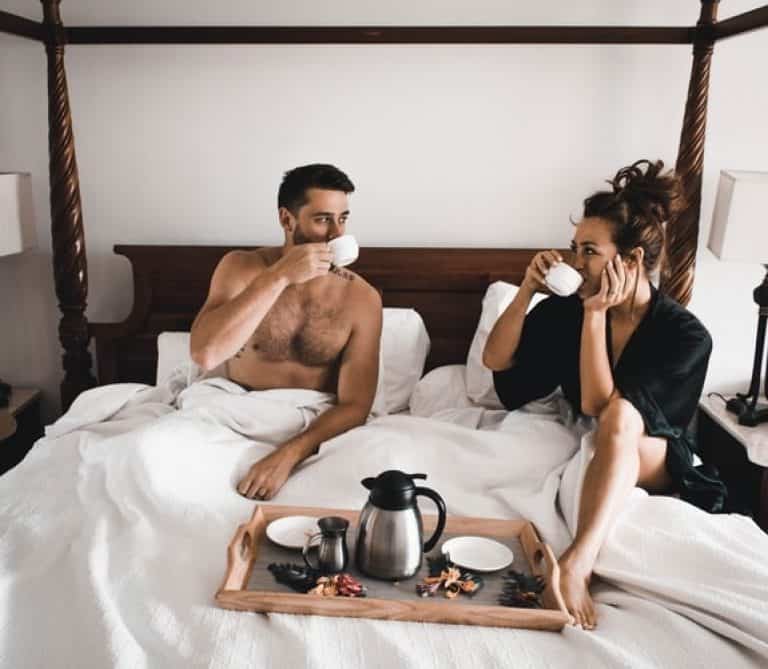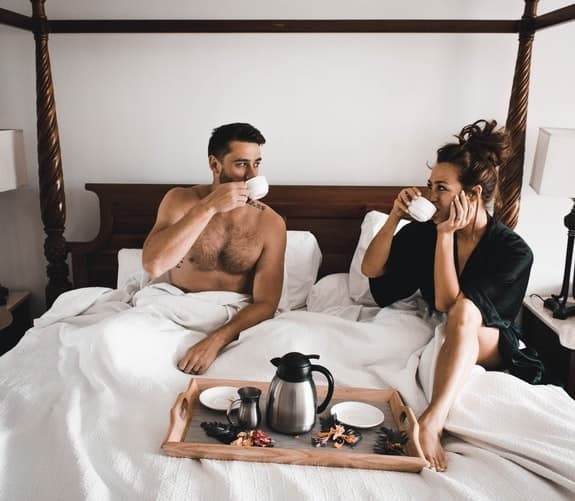 While Kingfisher Bay Resort has lots to offer, so do the other idyllic island areas of Queensland. Whitsundays are extremely popular for romantic getaways and make for a great honeymoon destination.
Whitsundays is a cluster of multiple islands surrounded by white silica sands and teal waterways. Moreover, Whitsunday is an excellent romantic escape from the busy world of cities and life.
Some of the greatest activities to do on Whitsunday are exclusive to couples. A lot of the things to do are best done in a significant way and what better way to start off a marriage than head to Whitsunday for these activities!
The most exciting thing to do on Whitsunday is exploring the coral reef. Snorkelling to see these vibrant reefs and various marine life makes for wonderful memories together!
There are also romantic strolls on the soft sanded beach and sharing an end of day cocktail together amongst the peachy hue of a sunset on the Coral Sea horizon!
Kingfisher Bay Resort and Whitsunday Island both are fantastic honeymooning spots, but Lizard Island

gives way to the best of the best! Lizard Island prides itself on complete seclusion from mainland life.
The comforting waves from the waters and private beach areas make for some of the best feelings of being the only ones on the whole island! With over 20 private beach areas, there is plenty of space for quite the experience!
Waking up to head out to a personalized beach experience is one of the best ways to enjoy a honeymoon. A honeymoon on Lizard Island is truly customizable with pre-selected full course meals with an Executive Chef making dinner something really out of this world for newlyweds.
They also provide sunset cruises for honeymooning couples with cocktails and breath-taking views of seascapes!
These island areas and resorts go above and beyond to create a honeymoon that is not only memorable but super relaxing! There's so much to choose from and any couple will feel inclusive while spending time with their significant other!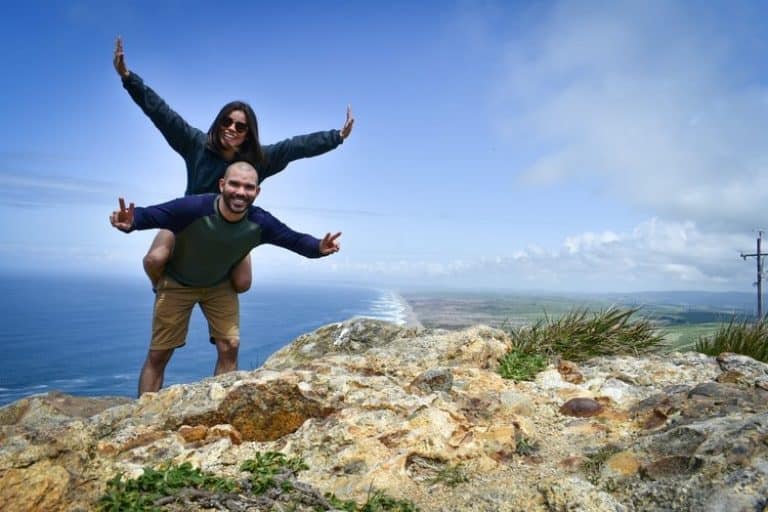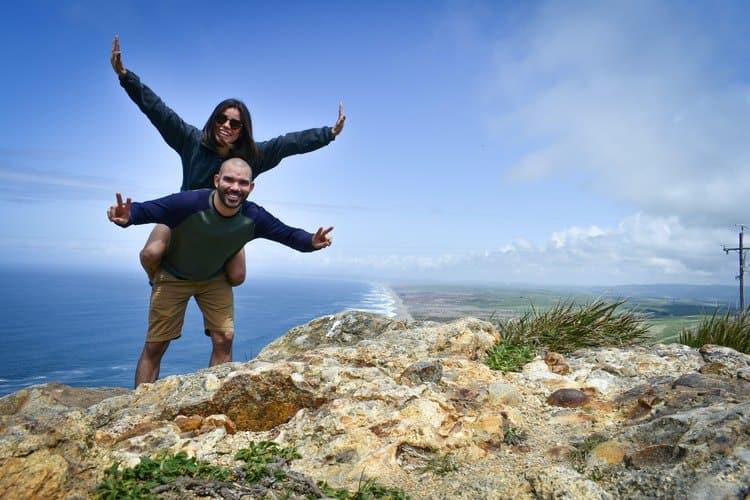 Are Islands The Only Way To Have A Great Honeymoon In Queensland?
Honeymoons are such a bonding moment between a couple. It's an iconic way to kickstart for many years together. The overall experience that is gained from a honeymoon is completely tailored to a couple's likes and desires.
While islands are comfortable and offer great packaged deals, honeymoons can be just about anywhere! Queensland has other ways to provide a romantic adventure for newlyweds!
Food and wine festivals are immersive ways to try new things together. Queensland is full of fun food and wine festivals that feature local fresh produce and seafood giving way to some of the most unique tastes anywhere in the world!
Some of the festivals to explore are Taste Bundaberg Festival, The Curated Plate, Crafted Festival (craft beer festival), and many others. Nothing is more exciting than seeing and tasting some of the eastern coast's most delicious tidbits!
For those who are really into outdoor experiences, camping is another great honeymoon idea for Queensland. One of the best places to camp or set up a caravan in Queensland includes Tin Can Bay. Tin Cay Bay Tourist Park offers modern cabins and campsites for exclusive camping.
Moreover, it is close to lots of birdlife for those wanting to birdwatch! For a relaxing camping trip that offers lots of beautiful wildlife scenery as well as fishing spots, it is perfect for a couple who love naturalistic settings!
From festivals, camping, and exclusive island settings, there is something for every taste in Queensland. Weddings are exceptional but the honeymoon is something that should be a total splurge and lifetime experience!
When considering the best places to honeymoon, you should definitely have Queensland, Australia at the top of the list!
Getting married is such a special way to celebrate the union of two people. While celebrating with your closest friends and family is incredible, the honeymoon is even more exciting!
It is such a romantic time to spend with your significant other and going somewhere really unique is the greatest way to relax and just enjoy each other.
However, choosing a location to honeymoon after the big party is over can be intimidating. There are so many places worldwide to consider as a honeymoon location. One of the top contenders to be highly considered is Queensland, Australia.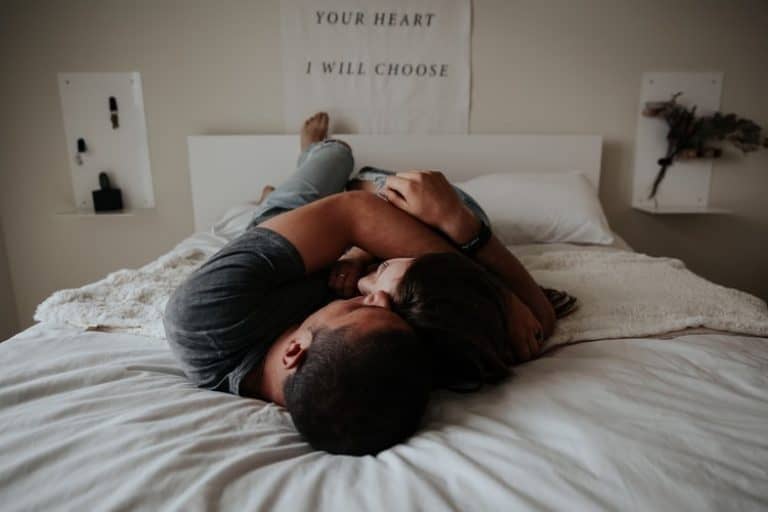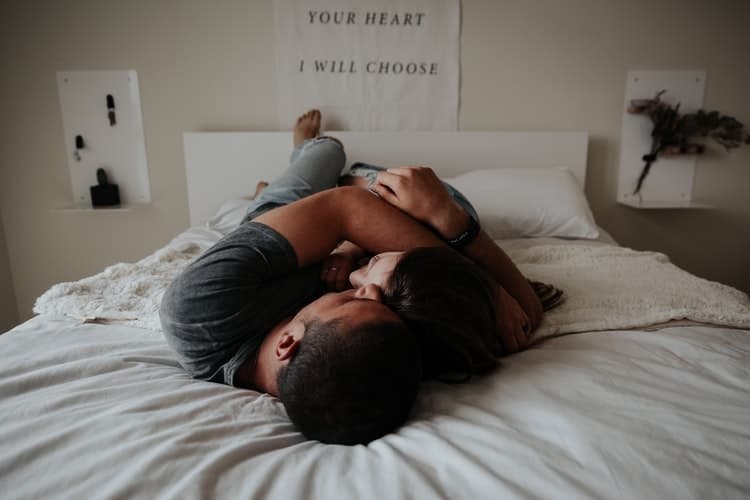 10 Queensland Honeymoon Destinations
1. Daydream Island, Whitsunday Islands
Daydream Island is one of many islands that make up the Whitsunday island group. This island has a super secluded feel and is surrounded by wide-open ocean views and a coral lagoon.
Newlywed couples will find the island's tranquillity not only relaxing but also picturesque! See all the things to do on the island here.
Additionally, the island features three dining options on the resort including a tonic bar, a buffet-style restaurant, and an Asian-inspired restaurant.
Regardless of someone's preferences, Daydream Island has some tasty choices! For bookings and tour info click here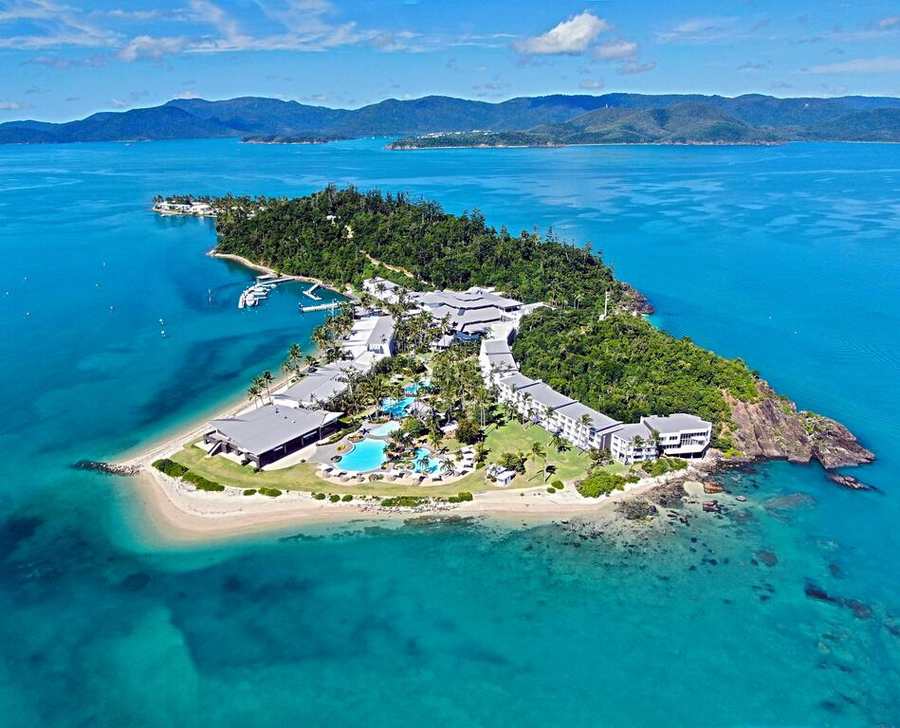 2. Hamilton Island, Whitsunday Islands
The Whitsunday Islands are brimming with some really romantic spots. Perhaps one of the most popular among couples is Hamilton Island.
This is the most inhabited island in the Whitsundays but it still feels like the perfect getaway. Check out all the things to do here

.
Moreover, Hamilton is well-known for its romantic booking package that includes sunset sailing, delicious food with wine, and exclusive access to paddleboards and snorkelling equipment.
Celebrating a new marriage at Hamilton is a wonderful way to enjoy a honeymoon and a nice slice of Queensland!
Hamilton Island is also the best way to travel to Whitehaven Beach, a starkly gorgeous beach that is also part of the Whitsunday island group.
Whitehaven features sand that is pure white and ridiculously soft. Because of the texture of the sand, it retains less heat making it comfortable for guests regardless of the temperature.
The waters here are a lush aqua-blue which are perfect for snapping some amazing photos. Newlyweds who are visiting Hamilton Island absolutely have to visit Whitehaven Beach as well! For bookings and tour info click here

.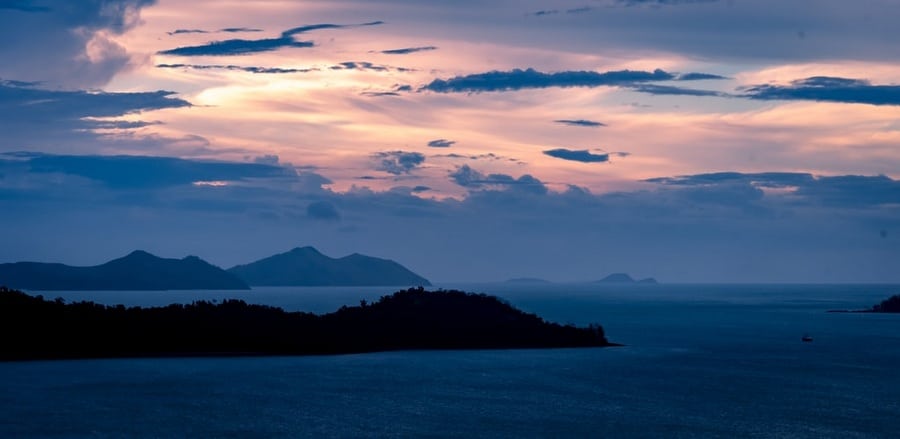 3. Lizard Island, Cairns
Lizard Island is another beautiful island for newlyweds to explore. Located on the northernmost part of the Great Barrier Reef, Lizard Island is only an hour's flight from Cairns.
This island is arguably one of the most romantic islands in all of Queensland.
It features luxurious suites that have various views around the island, daily gourmet meal options, plenty of snorkelling opportunities, and a day spa. For a huge list of things to do click here

.
Much like the other islands on this list, guests really get a vibe of isolation and relaxation from everyday life on the mainland. For bookings and tour info click here

.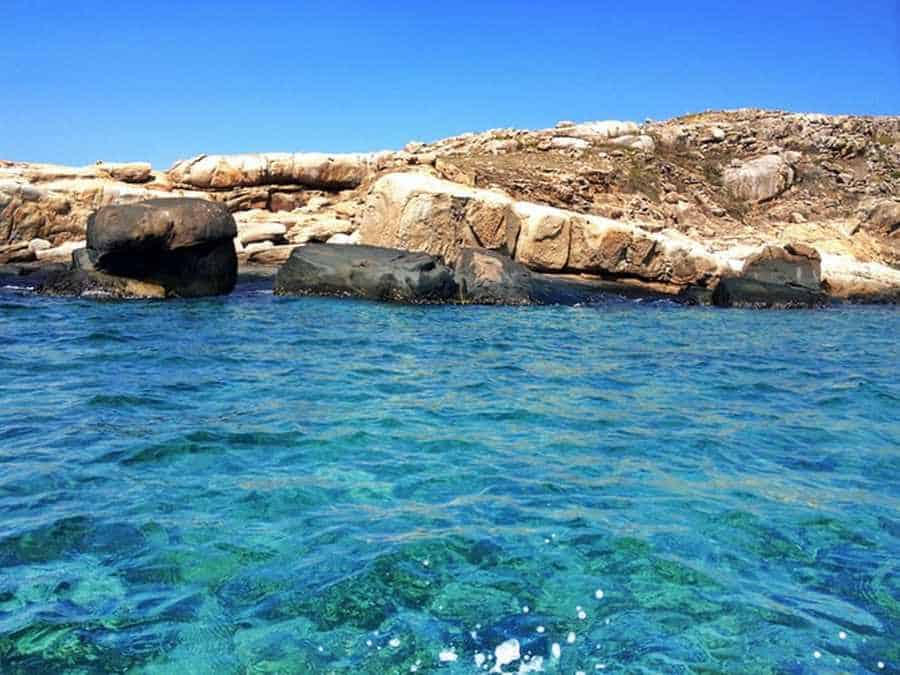 4. Scenic Rim, Brisbane
The Scenic Rim

is located just about an hour from Brisbane (Queensland's capital city) and is one of the most idyllic places to visit.
The Scenic Rim is an area that is associated with Tamborine Moutain and the surrounding national parks. For a list of things to do click here

.
Newlyweds will feel immersed in nature when visiting the Scenic Rim as they will be surrounded by waterfalls, lush rainforests, and stunning views.
There are multiple ways to stay within the Scenic Rim as well including cottages, bed and breakfasts, retreats and lodges, and camping. The possibilities for making memories here are endless! For bookings and tour info click here

.
5. Kingfisher Bay Resort, Fraser Island
Kingfisher Bay Resort is located on Fraser Island, the world's largest sand island. Newlyweds will find this resort a real treat as they not only get a relaxing environment but also access to seeing the very best of Fraser Island.
Couples can choose to explore the island's historical sites, perched lakes, or rainforests or simply stay in and relax. For a list of things to do click here.
Much like other resorts, Kingfisher Bay Resort has romantic packages tailored towards couples.
The best thing about the romantic packages at this resort is that there are spa massages included as well as wine and cheese platters, and private access to stroll along the sandy beach. For bookings click here

.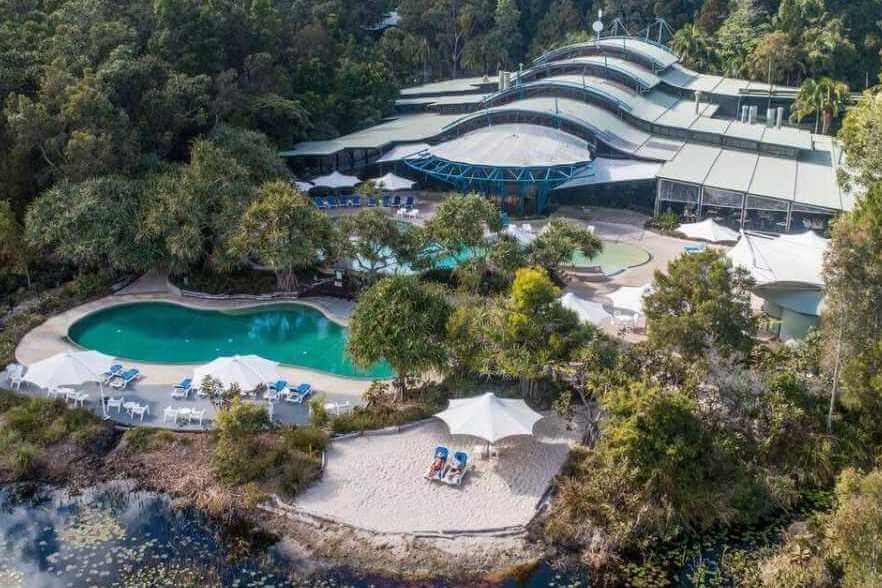 6. Thala Beach Nature Reserve, Port Douglas
The Thala Beach Nature Reserve is tucked between Port Douglas and Cairns and is a sprawling 58 hectares property.
What really sets this location apart from other places in Queensland is that provides ample opportunities to explore the Great Barrier Reef and the Daintree Rainforest

. For a list of things to do click here

.
Spending a honeymoon at the reserve is truly a romantic experience. This is especially true because the reserve features a unique restaurant that has panoramic views of the treetops!
From the rooms to the restaurants to the overall secluded location, this nature reserve is the perfect honeymoon getaway! For bookings and tours info click here

.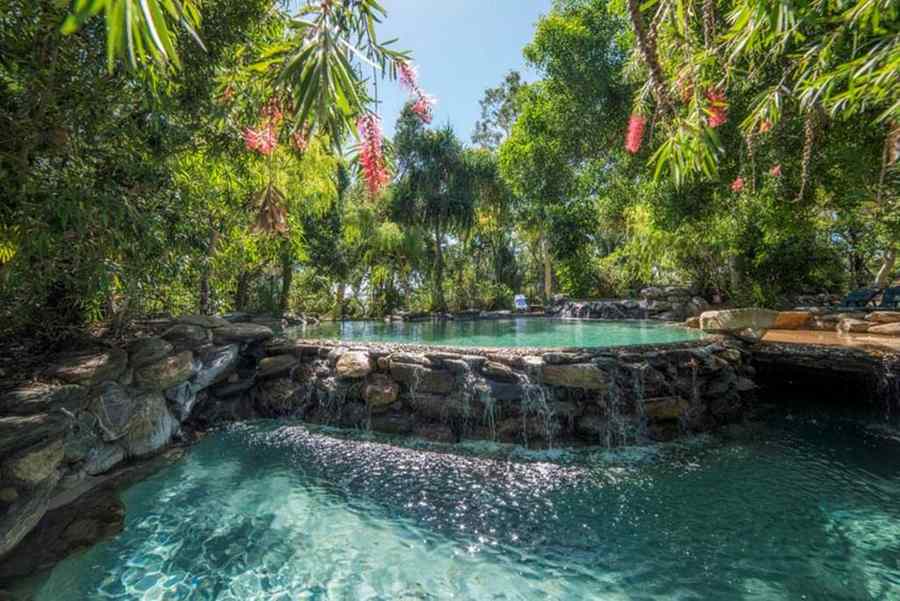 7. Fitzroy Island, Cairns
With over 97% of the island being a national park, newlyweds will find lots to explore on this gorgeous island. For a list of things to do click here

.
The island is only about 45 minutes from Cairns but it is still far enough away from the mainland to feel like a true honeymoon holiday!
Fitzroy Island has beautiful beaches and resort facilities. The Island Suite is considered their best room for honeymooners as it feels super romantic and has idyllic views from its balcony.
Moreover, the island has various tours and has really beautiful weather almost all year round! For bookings and tours info click here

.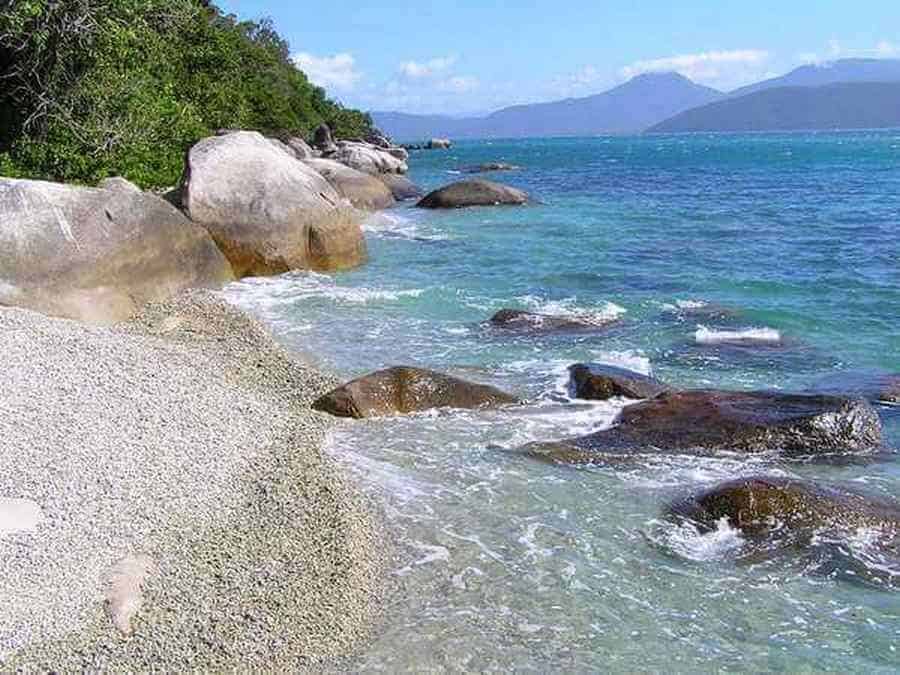 8. Oceans Mooloolaba Resort, Mooloolaba
This Queensland resort is a stunning location for newlyweds to unwind and relax. The resort is situated near various local boutiques and eateries as well as the beach. For a list of many things to do click here

.
The resort features lavish apartment-style accommodation with add-ons like chocolates, flowers, spa services, etc.
These add-ons can really a honeymoon feel extra special! This location gives newlyweds plenty of privacy as well as access to beautiful beach views. For bookings and tours info click here

.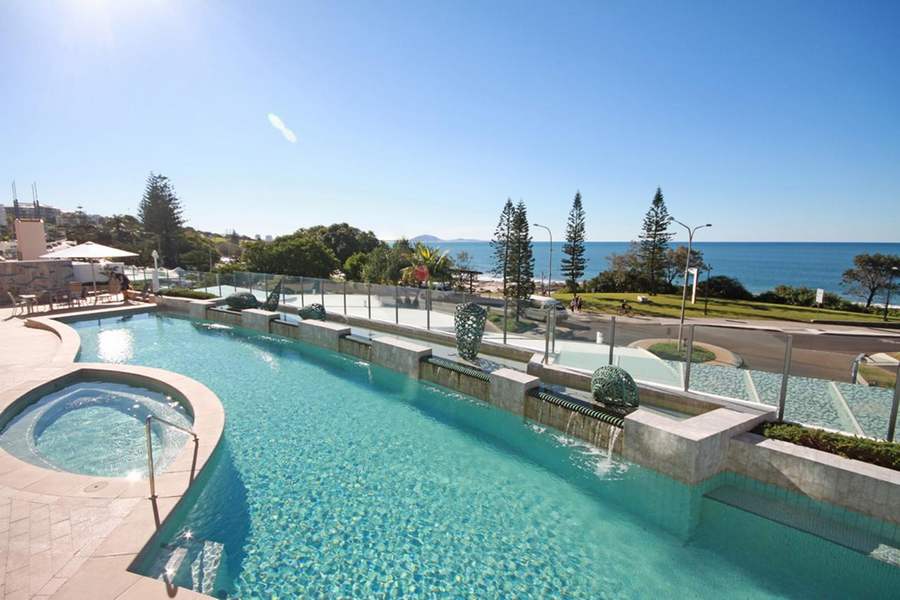 9. Noosa, Southeast Queensland
Noosa is a wonderful destination for honeymooners! In fact, Noosa has popular wedding venues as well for those looking to tie the knot.
But if it is simply a honeymoon that a couple is looking for, Noosa is a prime location. Find lots of things to do click here

.
This beautiful city in Queensland is home to a wide variety of activities including the Noosa National Park, waterskiing, beaches, and so much more.
The national park has many walking tracks to explore. Moreover, the park is home to wildlife like koalas and more.
This city is perfect for newlywed couples looking for a Queensland honeymoon location that isn't an island. For bookings and tour info click here

.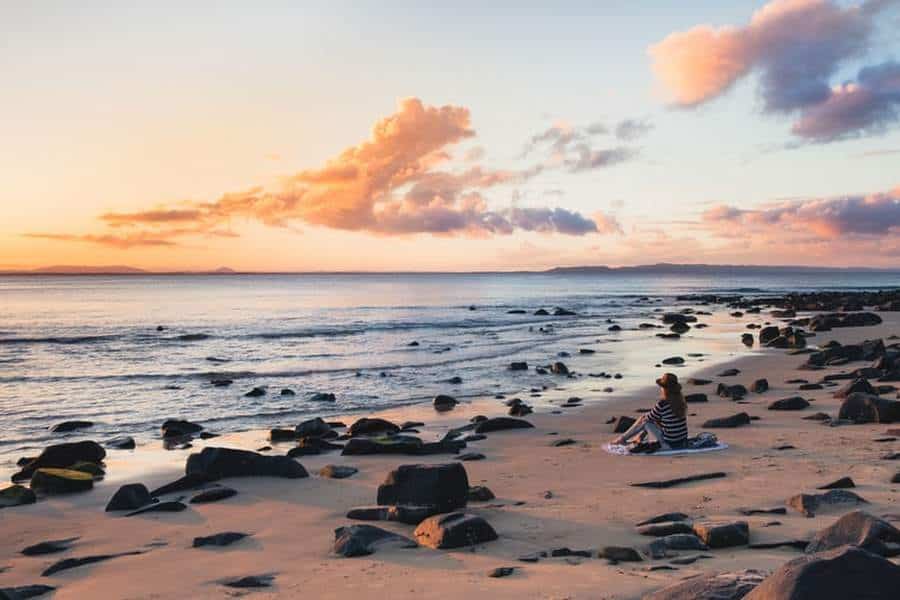 10. Lady Elliot Island, Hervey Bay
Just north of the Hervey Bay area of Queensland, Lady Elliot Island is an eco-friendly escape from the mainland.
The island is only accessible by aeroplane and features an array of lodging including glamping tents, cabins, apartment-style lodging etc.
Honeymooners seeking an adventurous holiday will find Lady Elliot to be quite exquisite.
The island is situated near the most preserved section of the Great Barrier Reef thus providing some of the most iconic and colourful views of the reef.
Aside from the reef itself, guests can see the tropical fish, turtles, and manta rays that frequent the waters around the island.
Newlyweds who want to experience the best of the Great Barrier Reef will enjoy Lady Elliot Island for its naturalistic beauty.
These spots are iconic ways to enjoy a honeymoon in the beautiful state of Queensland, Australia. Newlyweds have plenty to explore at each location and they all offer up some privacy for the ultimate romantic getaway!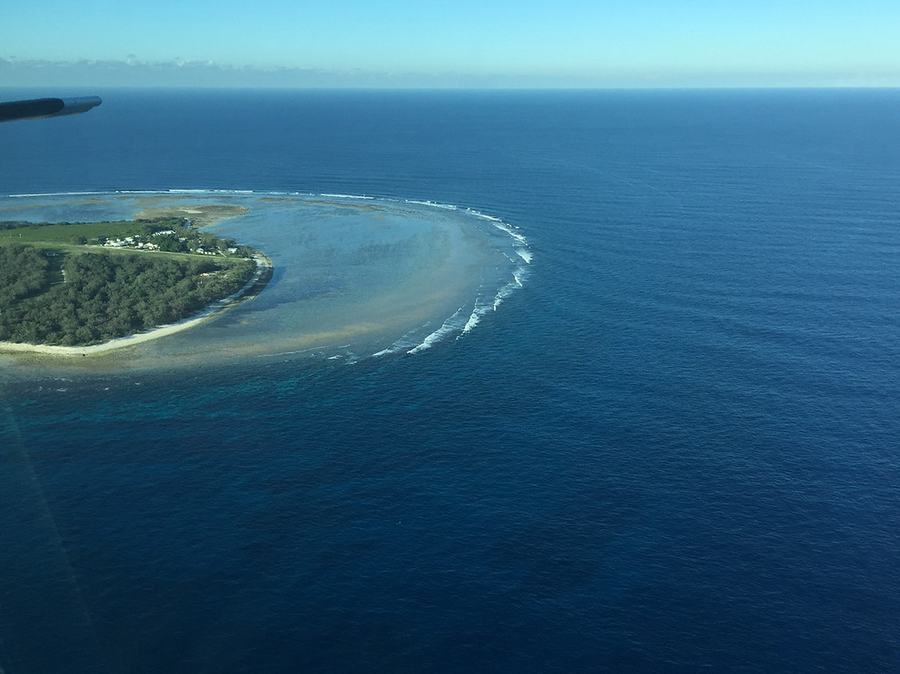 Resource Links To Products We Use And Recommend
More Pages On Queensland
link to Is Gold Coast A Good Place To Live?
From coast to coast, Australia has some of the most beautiful places to live. Some areas are more sought-after than others. This is due to a number of reasons, but particularly because of the...
link to Can You Swim In The Brisbane River?
Brisbane is a bustling city in Queensland, Australia that is full of things to do and explore. In fact, Brisbane is the capital of Queensland and is considered one of the most populated areas of...