Fraser Island is one of the most beautiful places to visit in Australia. It is the world's largest sand island and visiting there is truly a unique experience. When visiting the island, it is important to be prepared. This ensures that the best time is had by all visitors! Knowing what to bring to Fraser is the first step in having a fun adventure!
Below are the key items to consider bringing to Fraser Island. These items aren't necessary for everyone but they are a great suggestion!
20 Top Things To Bring To Fraser Island
1. Proper Footwear To Avoid Injury
Bringing the right type of shoes to Fraser Island is really important. Considering that the island is a sand island, walking around in the wrong shoe can cause some serious foot pain! Boots are generally the preferred footwear for the island, especially for those who are venturing out on one of the many walking tracks that wind through the island.
Boots are an excellent choice for visiting the headland Indian Head as well because boots provide proper footing when climbing the wet rock.
Boots should be the primary footwear, however, other footwear can be packed as well. This includes primarily includes sandals and sneakers. Wearing sneakers or sandals while visiting one of the perched lakes is a great idea.
They are a bit more comfortable than the boots. If travelling along the Great Walk, packing sandals or sneakers to change into once arriving at a perched lake is a good idea.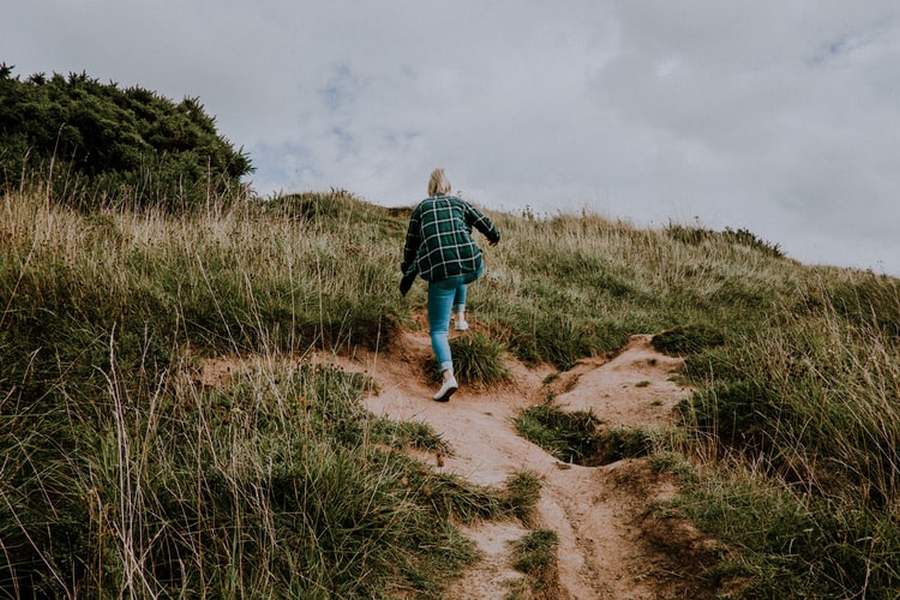 2. Proper Clothing Is Important
Having proper clothing on the island is truly essential. Fraser Island can be visited any time of year and for the most part, it is a warmer climate. Due to this, having breathable clothing is a smart idea. This can include t-shirts, pants, shorts, socks, underwear, etc.
Even though having clothing that is appropriate for warmer weather is important, so is having clothing for colder temperatures. This is particularly true at night. Packing a long-sleeved shirt or a jacket is never a bad idea.
A rain jacket is an essential item on the island as well. Weather isn't always predictable and having a rain jacket handy keeps people prepared! They aren't that heavy so they can be easily packed in a small backpack. If it is slightly cooler out or raining, wearing the jacket is obvious.
While space can be limited in some of the lodging arrangements on the island (especially like tent camping), packing just the right amount of clothing is necessary. This includes a change of clothes for a few days (most trips to the island are 2 or 3-day adventures).
This can be done without weighing down anyone and keeping any lodging arrangements clear and free of excessive clutter.
3. A Camera To Capture Memories
Cameras are an absolute must for any packing list, especially for Fraser Island! The island is brimming with photo opportunities. From various wildlife to flora to interesting landscapes and seascapes, the island isn't short on beauty to capture with a camera lens.
There isn't very good mobile reception on the island (with some areas lacking reception altogether), so mobile cameras aren't a great choice because not everyone will have their mobile phones with them. However, mobiles tend to take decent pictures these days, so using them for snapping photos is a good way to put them to use.
Bringing a regular camera is a wonderful idea, especially for professional photographers. When choosing to bring a regular camera, it is important to also bring extra batteries or have a way to charge any type of rechargeable battery. This ensures that the camera is always ready to go!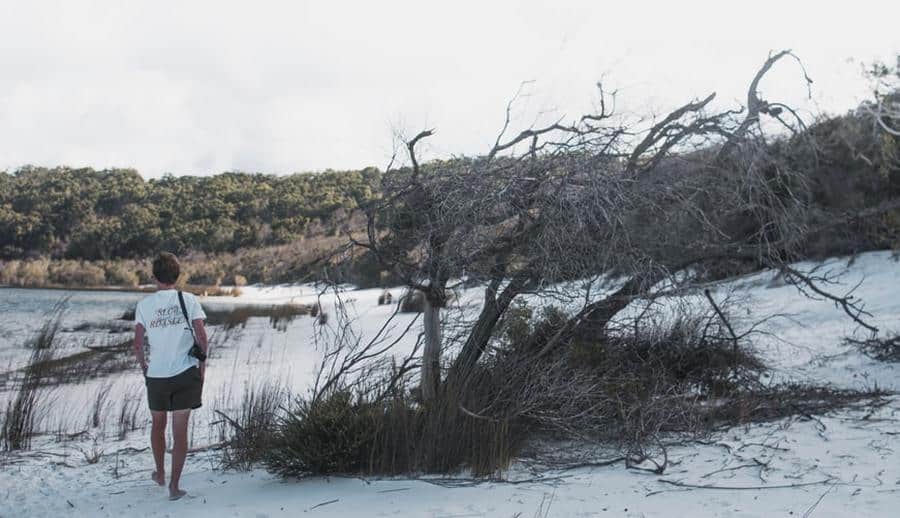 4. Sun Lotion To Avoid Getting Burned
Sun protection should be used anytime someone is in the sun for prolonged periods of time. This is especially true for areas like Fraser Island and other places in Australia where the sun is out a lot and the temperatures are a bit warmer.
While packing sun lotion for Fraser Island is a great item to bring, it is critical to note that sun lotion is not permitted in the perched lakes on the island. This is because perched lakes have very sensitive waters that are extremely pure. Sun lotion can disturb the balance of these waters.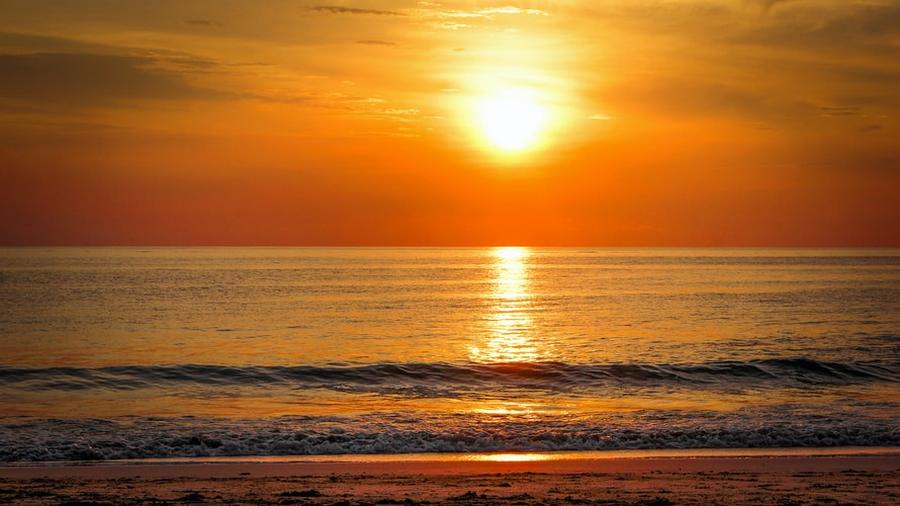 5. Small Overnight Bag, Carry Light
Packing too much can really be cumbersome on the island. It is an enormous island with tons to explore and generally, people spend 2 to 3 days on the island. Even still, packing a small overnight bag is a better choice than overpacking a luggage case or suitcase. While there are essential things to pack, a packing list to Fraser can be kept quite simple and an overnight bag can be sufficient.
This isn't to say that packing in a luggage case might not be suitable. Some accommodations on the island, like the resorts, will have luggage storage and space for these items. However, for those heading out camping, it might be a better choice to pack a little lighter and really only stick to the bare necessities.
6. Small Backpack To Carry Necessities
Bringing along a small backpack can be a great choice for those who are looking to trek the various walking tracks or the Great Walk. Just a small pack will do because it shouldn't be overloaded with too much. A simple change of clothes or shoes, water, and a first-aid kit can be the very basic of things to pack in a small backpack.
This can even include small snacks to nibble while out on a walk too. No matter what, a small backpack is a perfect accessory for heading out to explore the island!
7. Sunglasses And Hat To Shade You From The Sun
Sunglasses and hats are a way to provide additional protection from the sun. These items are particularly helpful near the perched lakes where sun lotion isn't permitted. While they don't provide as extreme protection from the sun's rays as sun lotion, they still shade the face and eyes just enough to make someone more comfortable on a hot day.
The great thing about these items is that they are easy to wear so they won't take up any critical space for packing more essential items like clothing, etc.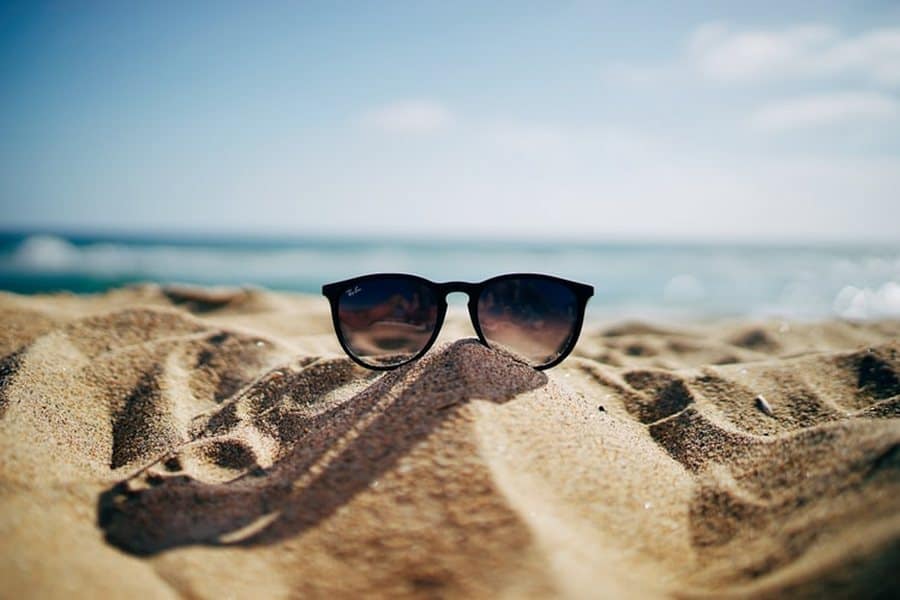 8. Insect Repellent For Pesty Bugs And Sand Flies
Insects exist everywhere and they are especially persistent in areas like Fraser Island where the weather is warm and there's plenty of vegetation. Wearing some sort of insect repellent is advised to reduce the risk of getting bug bites. It might not smell the greatest, but it does the job of keeping bugs at bay.
In lieu of wearing repellent, people can wear long-sleeved shirts to protect exposed areas of skin like the wrists and arms. There are sun shirts that help repel sun rays to keep the wearer cooler. These could be the perfect solution for those who aren't looking to lather up with repellent spray.
Moreover, just like sun lotion, insect repellents shouldn't be used in the perched lakes or waterways.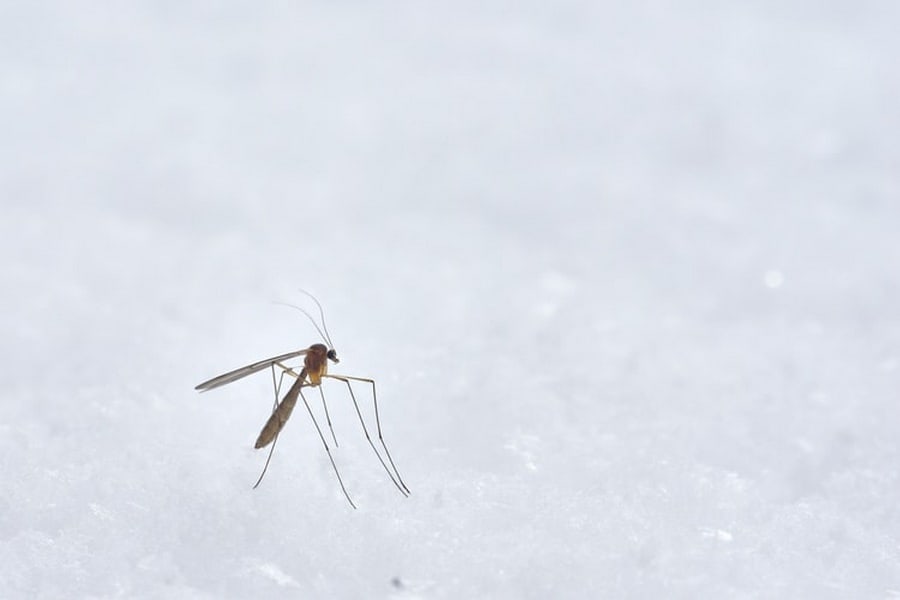 9. Bottled Water For Hydration
Staying hydrated is always a critical part of exploring any naturalistic place. The best way to bring bottled water is in a 3.8-litre container. This is a perfect size that can be refilled. Water that isn't treated shouldn't be collected. A little bit smaller of a choice can be smaller bottles that are more compact and might fit in a backpack better.
Either way, water should be packed!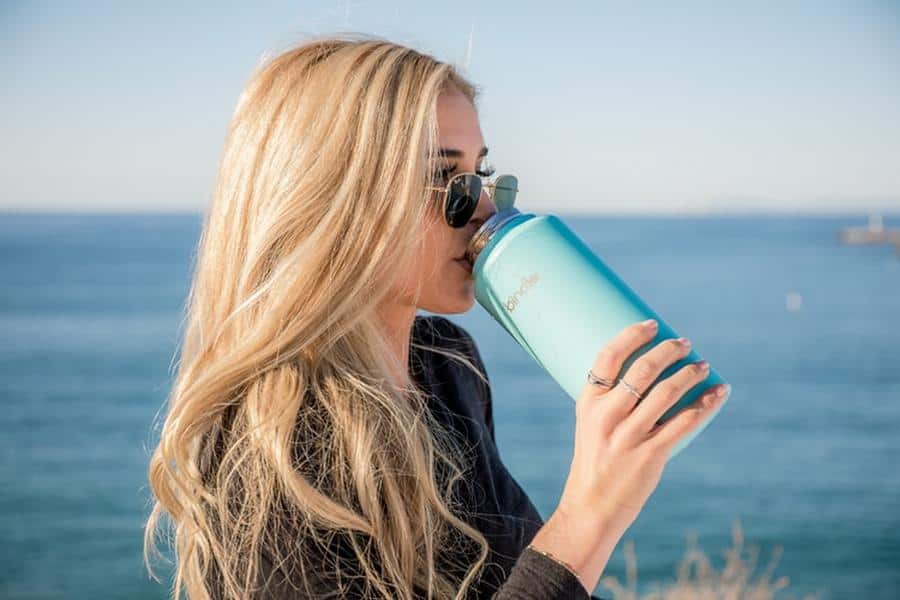 10. Rubbish Bags Are Essential On Fraser Island
Fraser Island's world heritage status should be preserved by everyone who visits the island. A large of this preservation is through ensuring that rubbish isn't collected around the island.
Bringing small rubbish bags on a trip to the island ensures that any trash can be collected and disposed of at a later time. This is especially important on the walking tracks and in some of the rainforest areas.
11. What Toiletries Do I Need On Fraser
Basic toiletries are usually on any trip packing list. This is especially true for Fraser Island because the cost of these items at any shop could be quite costly. Bringing them along can help save money.
The best toiletries include shampoos, conditioners, soaps, hand sanitisers, toothpaste, brushes, etc. If someone is staying at one of the resorts on the island, these items could be made available at no additional charge.
If you are Camping on Fraser Island there are designated areas that have hot showers available for a gold coin($2 coin).
12. Swimmers, Bathers, Trunks For Fraser Island
Swimmers are needed for those who want to take a dip in one of the perched lakes! Lake McKenzie is the most popular perched lake with its pristine blue waters and the soft sands that surround the lake. It is one of the purest lakes in the world due to its being well above sea level which allows for undisturbed water to collect.
This is why using sun lotion when swimming in the waters isn't allowed to help protect its natural state.
Swimming isn't advisable off the shores of Fraser Island due to sharks and turbulent water. However, swimming in the perched lakes or even the Champagne Pools (the only ocean water that can be swum in at Fraser) is a great activity. Packing bathers and a change of clothes after taking a swim is a great idea.
13. Easily Accessible Snacks
Snacks like granola or on-the-go products are the perfect way to satisfy hunger while out and about exploring the island. These products are not only an efficient way to curb hunger but also to keep the island litter-free.
The packaging for these types of products is typically easy to maintain and isn't overly complicated nor do they take up a lot of space. Cleaning up is just as easy as eating them!
14. Permits Are Necessary For Fraser Island
Permits for driving a 4×4 or for camping are required when visiting the island. Considering that they aren't necessarily "packed", they aren't really an item to bring, however, they must be obtained and displayed appropriately. The costs for these permits are heavily dependent upon the needs of the person booking the permit.
All permits must be purchased and obtained prior to visiting the island. This is typically done online

, however, it can be done via phone 13 QGOV or self-serve kiosks as well. No matter what, anyone visiting the island with intentions to drive a 4×4 or go camping must have their physical permit available before going to the island.
15. Bring Your Own Alcohol To Fraser Island
Fraser Island isn't just full of natural beauty but it also has bottle shops! Buying alcohol on the island is certainly an option, however, it could cost a pretty penny. A great way to save money while visiting the island is by bringing alcohol from the mainland. In doing so, guests should remember to clean up after themselves.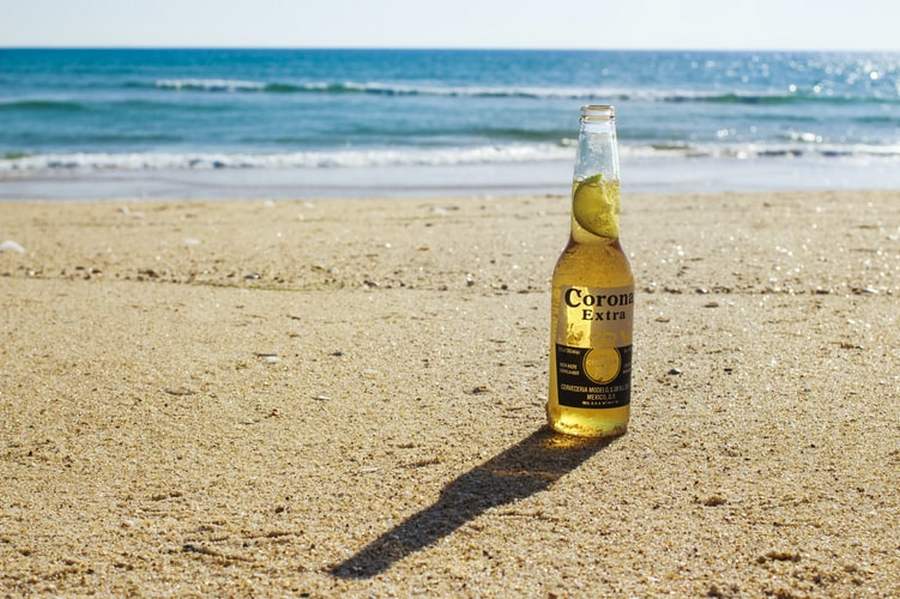 16. Extra Cash To Enjoy The Resorts
While things on the island are more expensive than they are on the mainland, spending money isn't completely unavoidable. Bringing some extra money can ensure that there's room to buy a nice dinner or a souvenir from one of the resort gift shops.
In fact, saving money by bringing snacks or alcohol instead of buying them on the island can clear up some cash for spending on gifts, etc.
17. Water Floatie To Relax In The Waters
Water floaties are blowup plastic floats that are a wonderful way to enjoy calm bodies of water. They typically come in fun shapes and don't take much to blow up if they are meant for single riders. Whether it is on Eli Creek or Lake McKenzie, floaties are a fun activity to do while visiting these locations on the island. The floaties are lightweight so bringing them to the island isn't troublesome at all.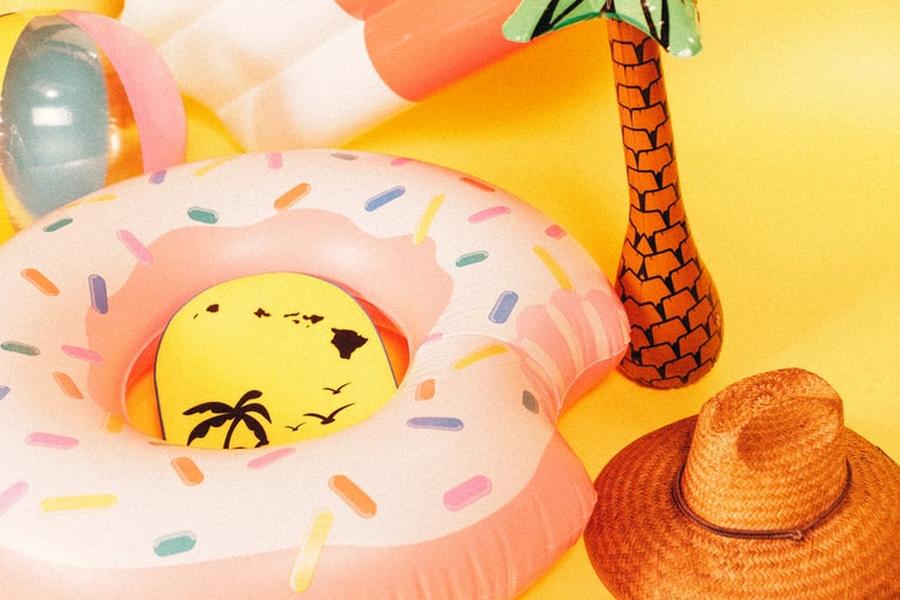 18. Food And Drinks To Keep Well Nourished
Food and drinks on the island can be pricey. For those who don't want to eat out every night, bringing some basic food items to Fraser is a nice idea. Bringing simple foods to prepare is key depending on the cooking situation for a lodging arrangement.
Fires aren't permitted so if someone is camping, they need to check with the government website to ensure they are following any rules pertaining to camp cooking. For those staying in the resorts, there are small kitchens that provide ample space for preparing small meals.
19. Tent or Sleeping Bag (If Camping)
People planning to camp on Fraser should bring their tent or sleeping bag. This is even true for those planning to bring their off-road campers who might want to literally sleep under the stars! Moreover, a tent or sleeping bag can provide some warmth if the temperature gets low in the middle of the night, especially doing colder months.
While Fraser is generally pretty warm in its temperature, it can get chilly. This is why having warmer clothes as well is a good way to be prepared on the island.
20. First-Aid Kit In Case Of Injury
First-Aid kits are something to bring almost everywhere around Australia. They provide quick, emergency help in the event that anything happens. First-Aid kits don't have to be complicated. They should contain the very basic of things to help in an emergency situation.
Keeping the bare essentials also ensures that the kit isn't too heavy and can be easily transported as well. Things to pack in a first-aid kit include pain medicine, bandages, and ointments.
These are 20 of the best things to bring to Fraser Island. They are all items that make any journey to the island a productive, safe, and fun adventure!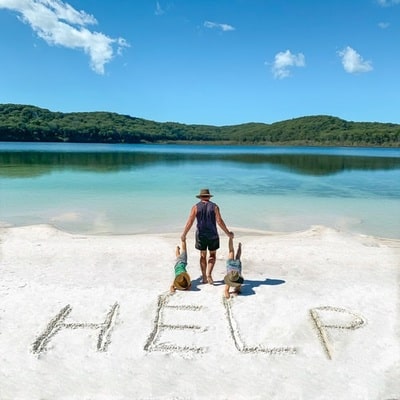 Fraser Island Trip Preparation
Preparing for a trip to Fraser is an exciting way to look forward to exploring all the island has to offer. The first step is bringing any and all essentials that someone might need while visiting. While ensuring that the proper items are brought to Fraser, preparation for a trip to the island doesn't stop there.
Preparation also includes mapping out a route of exploration.
Fraser Island is an extremely large island and not everything can be visited in 1 day, sometimes not even 2. However, it is possible to plan ahead to see all of the key points of interest. This includes Lake McKenzie, The Maheno Shipwreck, Eli Creek, and Indian Head.
These are just some of the many points of interest on the island. Some would argue that planning too much takes the fun out of the adventure. While this is true to an extent, mapping out a little bit of an adventure is the best way to ensure that someone sees exactly what they want to see during their trip!
Fraser Island 4WD Essentials
4WD vehicles are the primary way to get from one point to another on the island. This is because the island doesn't have paved roads. The island is made of sand and 4WD vehicles are able to withstand the flexibility of sand, unlike 2WD vehicles.
Those who enjoy driving or riding 4×4 will find trekking through the island's sand quite a treat. However, it is important to have some basic essentials for 4WD vehicles before heading over to the island. Below are the essential items to have for 4WD on Fraser!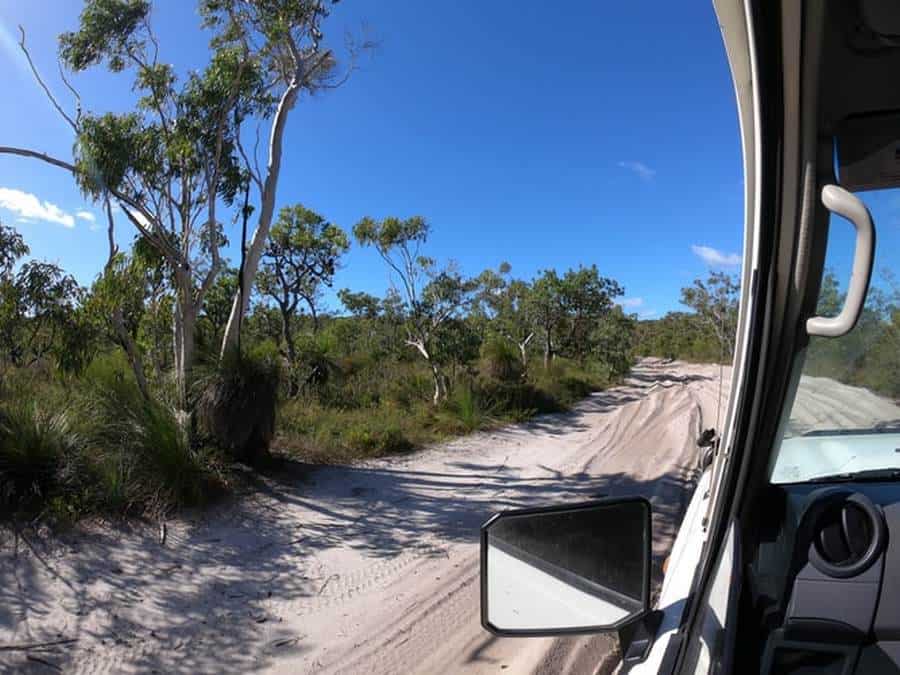 Basic 4WD Essentials For Fraser Island
Permits Are Required
Any 4×4 driving on Fraser requires a permit. The price of the permit is usually around $56 for a month or less or around $160 for a month or more up to a year. Depending on how much someone visits the island will determine what price point might be suitable for them. The permit should always be displayed on the left-hand side of the windscreen of the vehicle at all times.
Call either 13QGOV to book your permits or go online

, you can alternatively use the self-serve kiosk. It is recommended however to book ahead of time. You are able to book at most 6 months in advance.
Tyre Gauge And Inflator
Sand isn't an easy thing to drive on. In fact, due to its flexible state, tyre pressure should be lowered. Tyres with lower pressure maneuver through the shifting sand much better than fully inflated tyres.
Bringing a gauge and inflator can ensure that the tyres are always at the correct level and can be adjusted as needed. For most 4wd cars on Fraser Island, the optimal tyre pressure is around 18 PSI if you're going through the large sandy access roads.
Diesel Fuel On Fraser Island
There are around 5 fuel shops on Fraser Island that sell diesel and unleaded petrol.
Cathedral Beach
Orchid Beach
Kingfisher Bay Resort
Happy Valley
Eurong Beach
Please note that diesel fuel on the island is quite expensive, you are allowed to carry extra diesel in the appropriate fuel-safe containers.
Recovery Kit For Fraser Island
Recovery kits are just as critical as First-Aid kits. In fact, it is best to think of them as first-aid kits for a vehicle. These kits ensure that any tools or equipment that might be needed for the vehicle are handy. Recovery kits generally have jumper cables and towing equipment as well as a radio that can reach out to help in the event of an emergency.
Anything can happen and being even a little preparation is better than being unprepared. This is particularly true on Fraser since the only way to access the island is via ferry or barge and getting back to the mainland can take some time due to ferry or barge schedules.
Going to Fraser Island is a once-in-a-lifetime experience. Between the beauty and the overall adventure, the island is simply remarkable. Packing and deciding what to bring to the island doesn't have to be complicated! It all comes down to choosing the necessities that will make the trip more successful!
Resource Links To Products We Use And Recommend
More Pages On Fraser Island
link to Can You Drive At Night On Fraser Island?
Fraser Island, located off the coast of Queensland, Australia, is a popular tourist destination and a UNESCO World Heritage Site. The island, which spans more than 120 kilometres in length and 24...
link to Are There Toilets On Fraser Island?
Fraser Island, which is a popular tourist destination in Australia. The island has a number of campsites and other facilities where visitors can use toilet facilities. There are on average around 22...