Fraser Island, the world's largest sand island, is a gem of a place to visit off of Queensland, Australia's eastern coast. While the sand dunes and 4WD adventures are plenty on the island, so are the lakes, creeks, fishing spots, rainforest trees, and iconic historical places.
With so much to explore, spending a few days or more is absolutely essential! Therefore, exploring the various lodging options is equally as important as the island itself!
There are a variety of choices, from cabins to resort-style areas, there's something for everyone!
Resort Accommodation
The eastern coastline of Fraser Island is full of places to sight-see and stay. One of the lodging options includes Eurong Beach Resort. This beaut of a resort is great for everyone, couples and families alike!
The rooms are not only spacious and chic looking, but the overall resort gives off a relaxing vibe.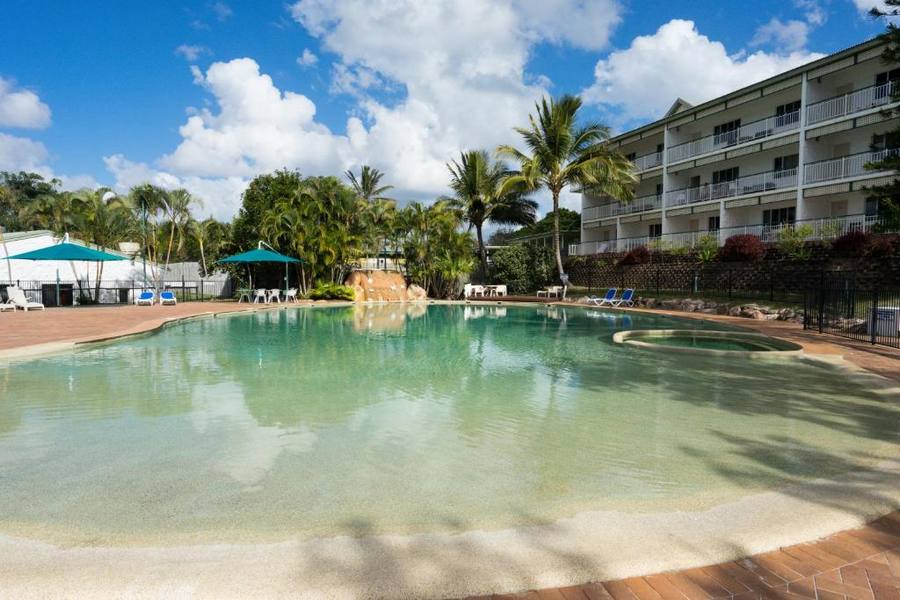 Description
This resort strives to give guests a memorable experience. With over 120 units available for booking, there is plenty of space for everyone. The resort is an all-inclusive area with a petrol station (perfect for those with the 4WD vehicles!), a bottle shop, and more.
Moreover, the resort is safely secured by fencing to protect guests from wild dingoes. The experience here feels safe, relaxing, and indulgent. To access the property, only 4×4 vehicles can access the area.
Much like other resorts in Australia, the grounds are covered in gorgeous foliage and garden areas.
Popular Facilities
Two swimming pools – Rarely do resorts feature two swimming spots! Considering the resort strives to provide exceptional service, having more pool space is truly a big benefit!
Beach bar – This outdoor bar is located near one of the two pools and is perfect for late-night drinks with friends. They often feature trivia to help amp up the fun as well! The beach isn't far away and a night swim in the pool is possible too!
Eurong shops (or general store) – Considering Fraser Island is, well an island, having a general store nearby is absolutely essential. Going to the mainland would be a hassle, so the convenience of the onsite general store is a blessing. From meats to fruits, everything is readily available for guests!
Eurong Bakery – This nifty spot associated with the resort is a delicious way to start or end a day on Fraser Island! With scrumptious baked goods daily, there is something for everyone. There are even regional favourites like meat pies, sausage rolls or bacon and egg burgers. This is a great place for tourists to get a classic taste of Aussie flavour! Other items include pastries and muffins and coffee!
McKenzie's on 75 Bar and Lounge – Another place associated with the resort is a bar and lounge that is great for unwinding and relaxing. From beer and light snacks, this location is iconic for social gatherings with others staying at the resort. It is also combined with a restaurant that features lunch and dinner specials for its guests!
Ratings
Most lodging options are awarded a star rating based on their ability to provide indulgent, quality services to their guests. This is heavily weighed on the quality of the services other than the quantity.
As for Eurong Beach Resort, it is said they have a 3-star rating which indicates they serve up some above-average amenities to its guests.
3-stars aren't as good as 4 or 5-star accommodations, however, that doesn't necessarily make them less of a contender for accommodation.
When truly diving into the rating, guest ratings are equally as important. While the guest ratings should be assessed with common sense in mind, they are still helpful aids in getting some insight into a location's overall vibe.
As for this resort, Google users (about 740 of them!) rate the resort a 4.1 star out of 5 stars. That isn't bad! In fact, the most mentioned thing in the reviews is the resort's delicious food, service, and overall location.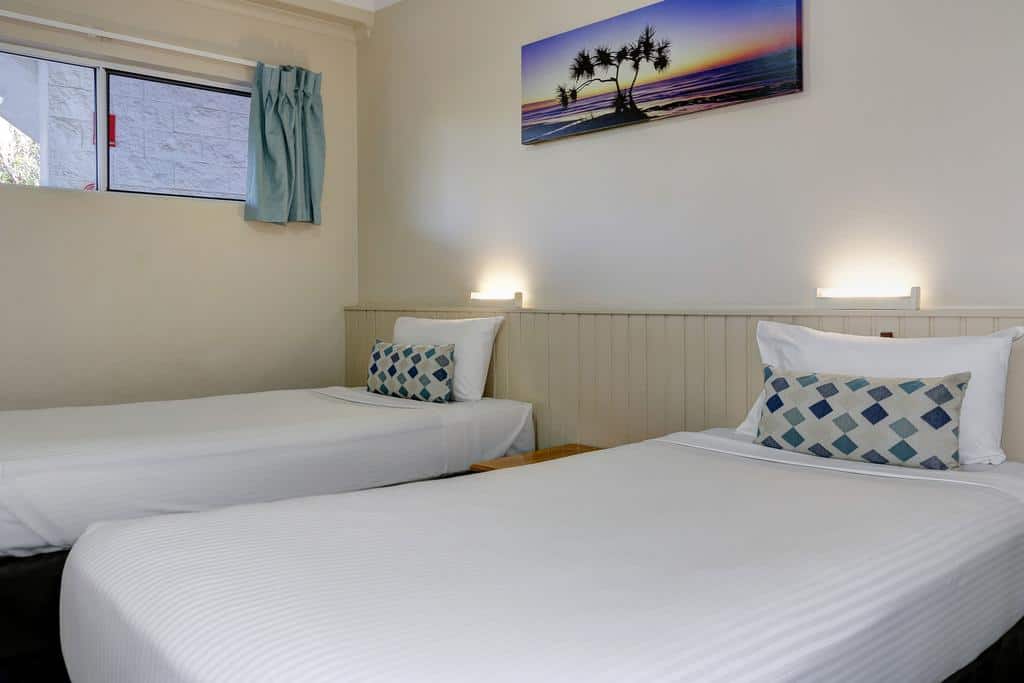 Room Types
The rooms at the resort are nothing short of wonderful. There are hotel-type rooms and apartment-style rooms, making the accommodation choice for people truly diverse.
The specific room types include a King hotel room. A king two-bedroom apartment, a two-bedroom apartment, and a regular resort hotel room.
Due to fire risks, cooking is only permitted in the two-bedroom apartments as it's more spacious and warrants the area for cooking.
While the rooms offer up things like bathrooms, air conditioning, microwaves, etc, their overall decor is bright and vibrant.
The cost to stay in these rooms are as follows: Resort hotel room (fits 3 people with a double bed and single bed) $189/night, King hotel room (fits 2 people with 1 king bed) $249/night, Two-bedroom apartment (fits 4 people with a 1 queen and 2 single beds) $269/night, and the King two-bedroom apartment (fits 4 people with 1 king and 2 single beds) $379/night.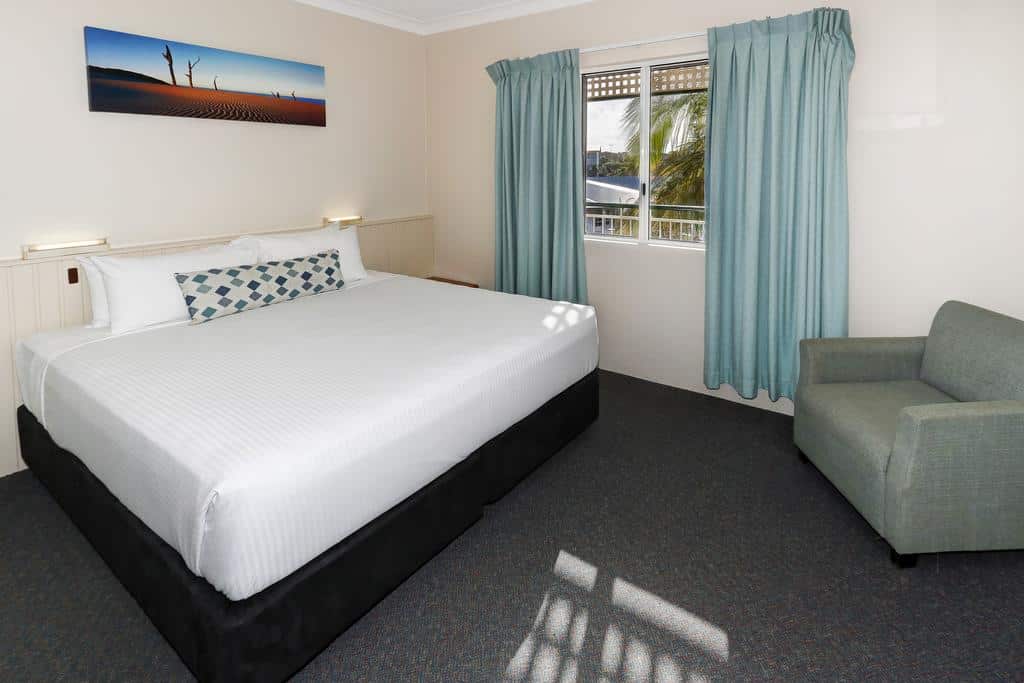 Surroundings and Location
The address and contact information for the Eurong Beach Resort is as follows:
Eurong Beach Resort
Fraser Island, QLD 4581
Phone 07 4120 1600
The surrounding areas are a real treat to explore. Fraser Island is an idyllic paradise that has so much to showcase. Some of the most notable places near this resort include the Maheno Shipwreck (a 4WD drive away!) and Lake Wabby (only 7km away!).
Lake Wabby is one of the lakes on the island and is an emerald green colour. It is perfectly situated near the Hammerstone sand blow, one of the various sand formations on Fraser Island.
Moreover, Lake Wabby actually has fish in its waters since it's a dune lake instead of a perched lake! The area is great for photos!
The resort itself offers 4WD tours and scenic flights of the island. These options can be discussed directly through the resort.
Facilities (Other than the popular ones!)
Food options (including takeaway pizza!)
Decks and patios for rooms
Full kitchens (only for the apartments with two bedrooms!)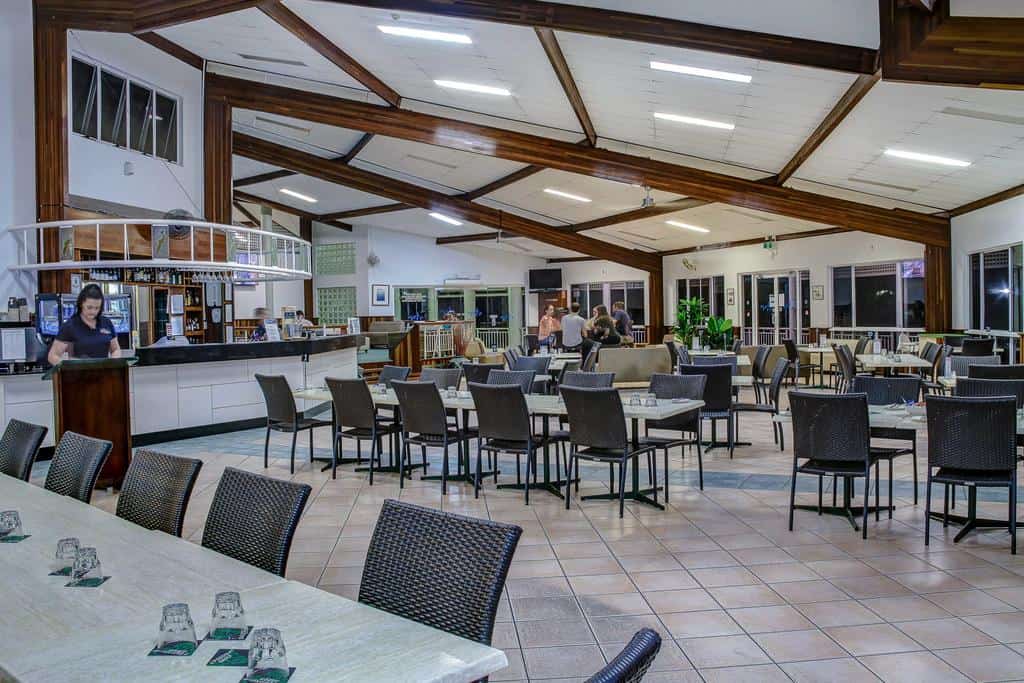 Check-In and Check-Out Times
Check-in is at 2 pm while check-out is at 10 am.
Fraser Island is a must-see attraction in the Hervey Bay, Queensland area of Australia. From the wildlife to the rainforests to the lakes and every in between, it truly is the ultimate adventure for guests.
Staying at the Eurong Beach Resort is a great way to spend time on the island while soaking in all the naturalistic beauty!
Resource Links To Products We Use And Recommend
More Pages On Fraser Island
link to Can You Drive At Night On Fraser Island?
Fraser Island, located off the coast of Queensland, Australia, is a popular tourist destination and a UNESCO World Heritage Site. The island, which spans more than 120 kilometres in length and 24...
link to Are There Toilets On Fraser Island?
Fraser Island, which is a popular tourist destination in Australia. The island has a number of campsites and other facilities where visitors can use toilet facilities. There are on average around 22...