Bundaberg is a beautiful city in Queensland with pleasant, year-round weather. If you've never been to this charming city, you might wonder if there is good fishing. So, is Bundaberg worth a visit for fishing enthusiasts?
There is good fishing in Bundaberg. You can choose between Town Reach, Tallon Bridge, Harriet Island, and Splitters Creek. Kirby's Wall, Rubyana Creek, and the large sandbar at Fairymead are also excellent options.
Read on to discover more about the best fishing spots in and around Bundaberg.
Top Fishing Spots In Bundaberg
I mentioned that Bundaberg is an excellent place for fishing enthusiasts in the previous section. That's because the area boasts the glorious Burnett River

, its tributaries, several creeks, and a few minor rivers.
It doesn't matter what time of year you fish in Bundaberg because each season offers unique fishing opportunities. You can usually always find whiting or bream, while winter is a fantastic time to hook a few salmon.
The city of Bundaberg offers plenty of comfortable accommodation, restaurants, and other amenities, and it's worth staying a few days to make the most out of its lucrative fishing spots.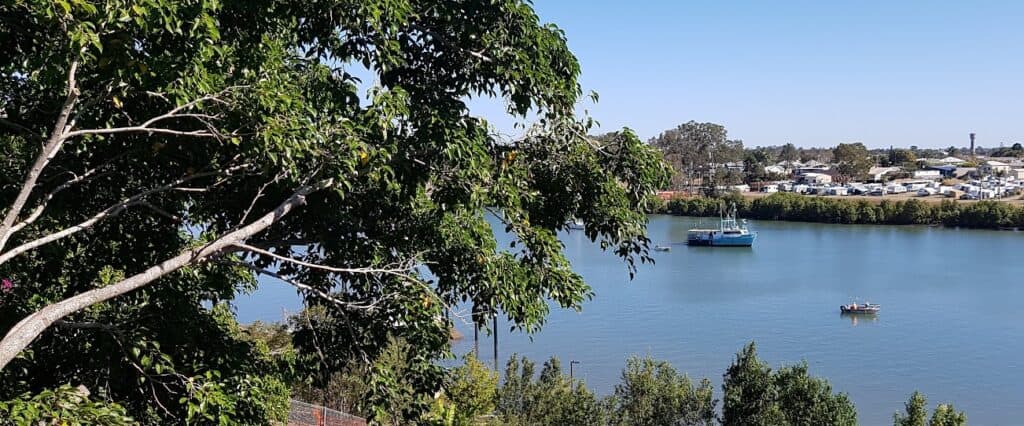 I'll discuss the top fishing spots in Bundaberg below:
Bundaberg Town Reach
Town Reach is a well-known fishing spot along Burnett River

. If you choose to go fishing at this spot, look up the tide times online and pay a visit when it's high tide. This will give you the best chance of success when you try to find fish such as:
Flathead
Bream
Whiting
Trevally
You might also catch a rare mangrove jack, prawns, or a queenfish if you're really lucky. For those keen on bagging some oysters, Millaquin Mill

is your best bet. However, please be aware that you're not allowed to use netting in the Town Reach area.
One more thing: There are several bridges worth trying in Town Reach, but the most popular one is near the hospital.
Tallon Bridge Bundaberg Fishing
Tallon Bridge is a metal road bridge running across the Burnett River. One of the main advantages of fishing from this spot is that the river is very deep at this location.
When fishing under the Tallon bridge, you could find some common fish species below:
Salmon
Trumpeter
Bream
Cod
Flathead
Mangrove Jack
If you're trying to find the elusive bass species, you might be able to do this from Tallon Bridge, as it has tall pylons where bass often lurk.
Harriet Island
If you've already tried fishing from Tallon Bridge, you might also want to try Harriet Island (located underneath the bridge), and the Burnett River. To maximize your chances of success at Harriet Island, consider fishing off the southern bank, where most fishing enthusiasts strike it lucky.
Flathead and catfish are the most common species you'll get from Harriet Island.
Splitters Creek
Do you enjoy fishing in streams? If so, you'll probably love Splitters Creek. It's one of the unique fishing spots in the area because, as a tributary of the Burnett River, it has both salt and freshwater.
Below are the most commonly-reported fish species from Splitters Creek:
Mud crabs
Bass
Surf bream
Mullett
Mangrove red snapper
Prawns
Dusky flathead
Accessing Splitters Creek is easy because it's located along Meadowvale Nature Park's southern boundary, and you can access it from the park.
Kirby's Wall
Kirby's Wall is another fantastic fishing spot along Burnett River. You can visit this excellent fishing place via McGills Road, where you can park your vehicle.
Kirby's Wall also features a rocky area, where you might have success finding species such as flathead or cod.
However, you might also come across the following:
Prawn
Squid
Bream (usually during the winter)
Cod
Moses perch
Large Sandbar At Fairymead
Fairymead is only a ten-minute drive from central Bundaberg in the direction of the coast. It has a wonderful fishing spot along the Burnett River at the large sandbar. The sandbar is near the red beacon and offers some pleasant swimming opportunities if you're keen to get in some fishing with the family.
The most common species at this location are whiting and flathead.
Rubyana Creek
Another excellent fishing spot between Bundaberg and the coast is Rubyana Creek. This is a fantastic option if you're keen to catch any of the following fish species:
Salmon
Prawns
Flathead
Mangrove Jack
Trumpeter
Mud crabs
If you're there on the right day, you might also encounter a school of tuna swimming up the Burnett River.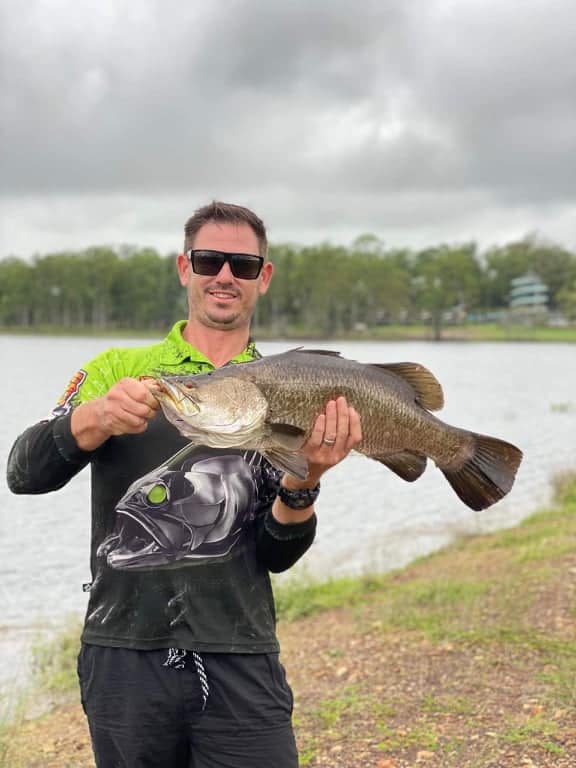 Are There Fishing Regulations In Bundaberg?
If you've never fished in the Bundaberg area, you might wonder if there are fishing regulations of which you need to be aware. So, what's allowed and what isn't in Bundaberg when it comes to fishing?
There are fishing regulations in Bundaberg governing how many fish you can catch and keep and the equipment you can use in certain waters. Some fishing spots have closed seasons, and you do not need a fishing license to fish anywhere in Bundaberg.
According to the Queensland Government's Department of Agriculture and Fisheries, you don't need a fishing license. However, it's advisable to consult their website to learn more about the number and size of fish you can catch.
If you're considering fishing at a specific spot, it's also worth checking whether the season is closed for fishing

in fresh or tidal waters.
There are also regulations governing the type of equipment you can use in tidal or freshwaters, as well as skin and fillet removal for fin and coral reef fin fish.
Like fishing anywhere in the world, it's essential to be aware of the weather conditions, tide times, and water currents, so you can take the necessary precautions.
Conclusion
It's well worth visiting Bundaberg because it offers excellent fishing opportunities. The top fishing spots to consider are:
Town Reach
Tallon Bridge
Harriet Island
Splitters Creek
Kirby's Wall
Large Sandbar at Fairymead
Rubyana Creek
You don't need a fishing permit for Bundaberg. Nonetheless, it's worth consulting the Queensland Government's Department of Agriculture and Fisheries website

to check specific regulations on the maximum amount of fish you can catch and closed seasons.
Resource Links To Products We Use And Recommend
More Pages On Other Areas