Fraser Island
Fraser Island is a unique part of the Fraser Coast region, and its unusual formation of sand and rainforest make it a special source of adventure for visitors to explore.
Although well known among fisherman and 4×4 enthusiasts, it is the history and Aboriginal heritage that gives Fraser Island its individual character, expressed through wonderful coloured sand cliffs, unique fresh water lakes and diverse flora and wildlife.
Fraser Island is located just off the Queensland coast off Hervey Bay, approx 350 km north of Brisbane. It is strictly 4wd vehicle territory, with the surf beach its main north – south highway and inland roads are sand tracks.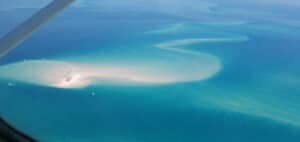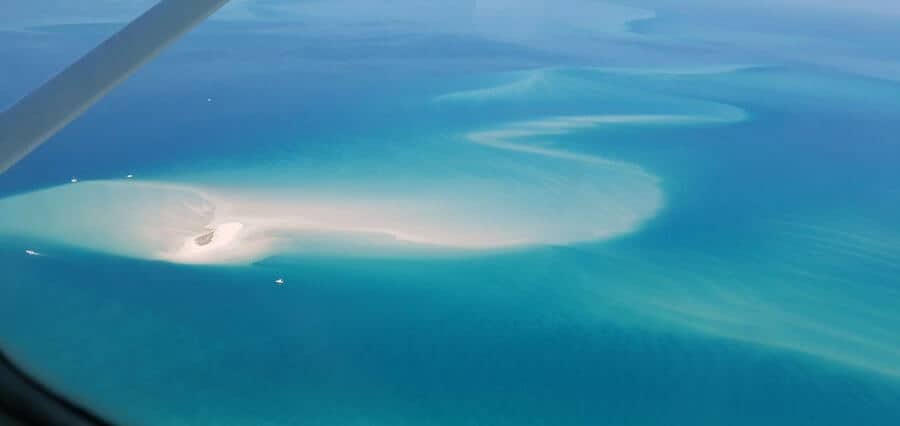 The Main road across the island runs from the Wanggoolba Creek ferry landing on the west coast to Eurong Beach Resort on the eastern shore.
Spanning 124 kilometres and covering an area of 163,000 hectares Fraser Island has developed over a period of 800,000 thousand years, and it's still being perfected. It may be impossible to explore every inch of its beauty, yet just a taste can leave you feeling charmed and captivated.
History of Fraser Island
Charmed because of its unique environment; and captivated by its rich Aboriginal heritage and colourful European history. It is this combination that have made Fraser Island one of the most rare and mysterious features of the Queensland coastline. It is well worth looking for cheap flights and planning your next holiday here, even if you live far away. There is no place quite like Fraser Island. You will marvel at its unspoilt beauty and all the good things there are on offer.
Sand is the key to how the Island was formed but it is the abundance of fresh water in its many lakes and crystal clear creeks and streams that has made it so special. Pristine clear mirror lakes and the peat coloured perched lakes, are some of the largest in the world. Each of the lakes has its own particular character.
Mysterious, moody and beautiful, they are excellent subjects for photography, great places to see birds,
other fauna and flora and a welcome oasis for hot summer days. You can see more Fraser Island Photos over here and please leave your comments on the photo's if you love them.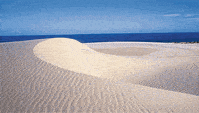 Scenic 4×4 circuits and walking tracks in the southern half of the island take in some of the largest of the lakes including McKenzie, Birrabeen, Benaroon and Boomanjin, there is a walking track to Lake Wabby from the beach. Water has meant the creation of exceptional rain forests thriving in the nutrients from the breakdown of other plants which has enriched the sand of the forest floor.
Towering satinay and brushbox trees are among the forest giants, some over a thousand years old, and so large they form distinct
bands visible from scenic flights over the island.
The variety of vegetation on Fraser is exceptional, ranging from mangroves to 200 year old kauri forests, and wallum heathlands that fill with wildflowers in the early Spring.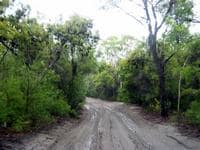 Fraser Island is home to more than 230 species of birds – one of the largest and most varied in Australia. Along the coastal landscape you can see dotterels, pied oyster catchers, pelicans, terns and gulls while overhead the skies are prowled by magnificent birds of prey brahminy kites, white-breasted sea eagles, ospreys and peregrine falcons. Alternatively, wander through the islands heathlands, home to kingfishers, jabirus and brolgas, and one of Australia's rarest birds the ground parrot.
There are 25 species of mammal present on the island. Isolation has ensured that Fraser's dingoes are the purest breed in eastern Australia and consequently no domestic dogs are permitted on the island. Read our dingo behaviour guide.
Other native mammals include wallabies, possums, flying foxes and echidnas. Dugong feed on the seagrass beds, sea turtles breed on some island beaches as well as the mainland, and each year make their annual migration to Fraser's rocky headlands and protected coastline.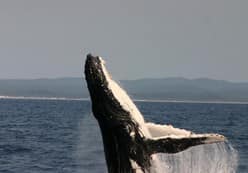 The annual migration of humpback whales from Antarctica to the warm waters off Queensland brings many of the magnificent whales into the sheltered waters of Platypus bay, on the western side of Fraser Island. After calving in the warm waters of the Great Barrier Reef, many pods of whales retreat to Platypus Bay to relax and play before returning to the rich feeding grounds of the Antarctic.
Fraser is more than a unique environment for visitors, it was home to aboriginal tribes who lived on the island for over 5,100 years. They used the island as a paradise with the native flora and fauna providing endless bounty in fish and sea foods, nuts, fruits and a good supply of fresh water.
Their heritage is evident in archaeological sites on the island, and midden heaps, ceremonial bora rings, and stone implements can still be seen on tours throughout the island. By comparison, the European history of the island is recent, Fraser's discovery being credited to Captain Cook who named many of the landmark features.
Fraser's European name is the result of a dramatic shipwreck saga and consequent capture by local Aborigines of the captain and his wife, Eliza Fraser. Her ordeal brought world attention to the island, renamed in her honour.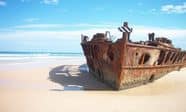 As beautiful as the coast is, the waters which fringe the islands coastline have been the site for more than 50 shipwrecks. The most notable wreck is the Maheno, a former trans-Tasman luxury liner and a World War 1 hospital ship. Today the ships rusted remains lie on the beach north of Happy Valley and are a popular attraction for visitors to the island.
Listed as a World Heritage site in 1992, Fraser joins the ranks of the Great Barrier Reef, Uluru and Kakadu National Parks as a unique and exceptional environment. As part of Queensland's natural and cultural heritage, it is protected for all to appreciate, enjoy and respect.
Fraser Island is one of less than 445 areas worldwide to be judged of such significant value to be protected in this manner. It is therefore the responsibility of all to preserve this wonderful gift of nature in the best possible way.
Fraser Island Accommodation
3 Day Fraser Island & Kingfisher Bay Resort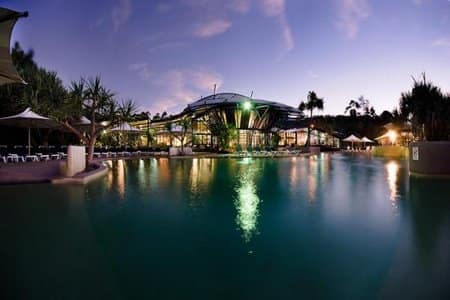 This tour offers a over night stay in Kingfisher Bay Resort at The Fraser Island Lodge, while on your tour you'll visit the following towns Gympie, Rainbow Beach, Maryborough, Hervey Bay, Fraser Island and Kingfisher Bay Resort.
Departs from:
Surfers Paradise Transit Centre (5:45am)
Brisbane Transit Centre (6:45am)
Noosa Info Centre (9am)

For more Fraser Island Accommodation please visit our Accommodation Page here.
Island Information
If you are you looking for things to do please check out our new page.
This will be updated with the many things to do and see on Fraser Island, See our tips on What is the best time of year to go to Fraser Island? As this will answer many of the questions you might have.
Please observe no camping areas and use existing campsites.
Please also drive responsibly and carefully and display patience and courtesy to other island visitors.
Please use rubbish bins provided.
Please do not use soaps, detergents, toothpaste or sunscreens in lakes and streams as this can contaminate these water ways.
Please apply sunscreen after swimming in the lakes and use a hat and t-shirt to protect you whilst in the water. The lakes do not get flushed regularly – they are a closed environment and therefore concentrations of pollutants can build up over a period of time.
Please use the firewood provided at campsites. Gathering timber from the park is prohibited.
Please observe fire bans and extinguish all embers of your campsite upon leaving your site. Remember one campfire could destroy many hectares of this world heritage environment.
You may also try these other maps, The first one is our map of Fraser, the next is the detailed park map, the other shows the walking trails, plus a conditions report map.
"Take only photographs and memories,
leave only foot prints."
Remember the golden rule of protecting your environment and don't destroy what you came to enjoy.
How to Access 
Access to Fraser Island can be by Vehicle
barges, aircraft, passenger launches, commercial tours or private boats.
Air charters operate from Hervey Bay and Maryborough airports
to airstrips on the island or beach landings (all by prior arrangement).
Helicopter services operate to and from Kingfisher Bay Resort
Vehicular barges and ferries operate from:
Mary River Heads to Kingfisher Bay Resort
Mary River Heads to Wangoolba Creek
Urangan to Moon Point
Or You can also get to Fraser Island from Rainbow Beach.
For barge timetables click here.
Permits – Vehicles and Camping: All vehicles travelling to Fraser Island must first have an official
permit. The permit must be attached to the windscreen and don't forget your Island Map. Campers other
than those using commercial camp sites must have a camping permit
which should be attached to tent in clear view for inspection by the
Park Ranger.
Prices for camping and permits can be found

here

Prices for Vehicle permits are $39.35/month and $197.20/year.

Park information can be found

here
THE DEPARTMENT OF ENVIRONMENT
Smart Service Qld

 

www.derm.qld.gov.a

u

13 13 04
Brisbane:

Level 3, 400George Street, Brisbane 4000

1300

 

130 372

Maryborough:
Cnr Alice and Lennox St

1300

 

130 372

Gympie:

1300

 

130 372

Noosa:

1300

 

130 372

Bundaberg:

1300

 

130 372

Rainbow Beach:

1300

 

130 372
Permits are also available from:
The Marina Kiosk
Buccaneer Avenue
Urangan Boat Harbour

1300

 

130 372

National Parks Kiosk
River Heads boat ramp