Discover K'gari
Fraser Island is our earth's largest sand island and world heritage listed in 1992, with 123 kilometres of golden sands to explore. The island is around 22 kilometres wide and there are over 1,200 kilometres of tracks to explore within this ecosystem.
It consists of many sand types, rain forests and multiple types of vegetation, plants, flora and fauna. Including animals and rare creatures, along with the lakes and creeks within.
This marvellous island attracts an incredible 400,000 people from around the world that visit each and every year and is also home to a rather small number of 100 permanent residents and some 50 experienced Fraser Island rangers.
The island has just had a long-awaited name change to its past Butchulla name K'gari meaning "paradise" This change will take some time to roll out over the next few years.
History Of Fraser Island
This magnificent and enormous sand island was first discovered way back in 1770 by none other than Captain Cook

himself.
At the time this wondrous discovery had him assuming it was attached to the mainland and this is where the title the "Great Sandy Strait Peninsula" arose from.
It would not be until 1799 when Matthew Flinders ventured upon the exact same peninsula, in fact, He found it was not attached to any of the mainlands, of what would be Australia and was one large sand island sitting out on the waters alone. Visit our Fraser Island history page for more info.
Butchulla Heritage Of K'gari Fraser Island
What would later tell a remarkable story was to understand that the Butchulla tribe

– Australia's original ancestors to the land, had called what we now know as "Fraser Island" their home.
Around 500 to an astonishing 3000 aboriginals would live on what we now know to be the world's largest sand island and from here they would worship the sands and waters surrounding them calling their unique slice of paradise a fitting title- K'gari – meaning, "paradise".
Living freely off the land and eating fresh seafood every day from the now Great Sandy Straits waters.
This lifestyle they had become used to, was to be undone when the European settlers arrived and over time, the number of Butchulla people diminished from the island whether that was due to weapons or disease brought in by the Europeans.
Fraser is home to many archaeological sites, around 500 to be exact and shares in showcasing its original heritage to the world as we remember the Butchulla tribe and the lifestyle that made Fraser Island an iconic piece of world heritage listed land.
Eliza Anne Fraser Of Fraser Island
Eliza

was the wife to Captain James Fraser who was on board a ship that found itself wrecked upon the island in 1836 and from here she claims to have been captured by the island's Butchulla people.
Her then-husband, Captain James Fraser was believed to have died from some of his injuries and perhaps starvation also.
Eliza, however, went on to live her life and was assumed to have been rescued by a convict who had been on the run for many years and had taken up residency with the Butchulla tribe and as he knew how to speak their language, this is how Eliza was rescued from the island lifestyle and made her way back onto the mainland.
From here she would presumably make her way to a lifestyle down south of Australia and eventually pass away in 1858 after re-marrying and having a few children with her new husband.
Sand Mining On Fraser Island
By the mid-1800s logging would begin to take place and timber was transported from Fraser Island to the mainland by vessels that would dock at the end of a 1.1-kilometre pier and Fraser, via train, the export of the timber logs were transported across the mainland of the small fishing village we now recognize as Hervey Bay.
Logging would cease in 1991 due to the impact it had incurred on the environment. Flora and Fauna were heavily impacted along with many, many native animals to the island.
When they disturbed the ground to such a vast capacity as they had done for so long, civilization at that time became increasingly aware that the nutrient-rich soils that had been tampered with were now deficient and therefore this changed the entire ecosystem on Fraser Island dictating its future growth pace and sustainability.
After the realization of the impacts, logging had on the environment, by 1996 sand mining

, which had been another industry removing vital nutrients from Fraser was ended also.
Sand miners had found that removing sand from the eastern beach dunes was vital in making concrete and other nutrient-based products as they began digging up tones and tones of excess sand from the dune spots.
This is not a viable way that the island and its biodiversity can survive and this was the sole reason for its demise in the mid-1990s.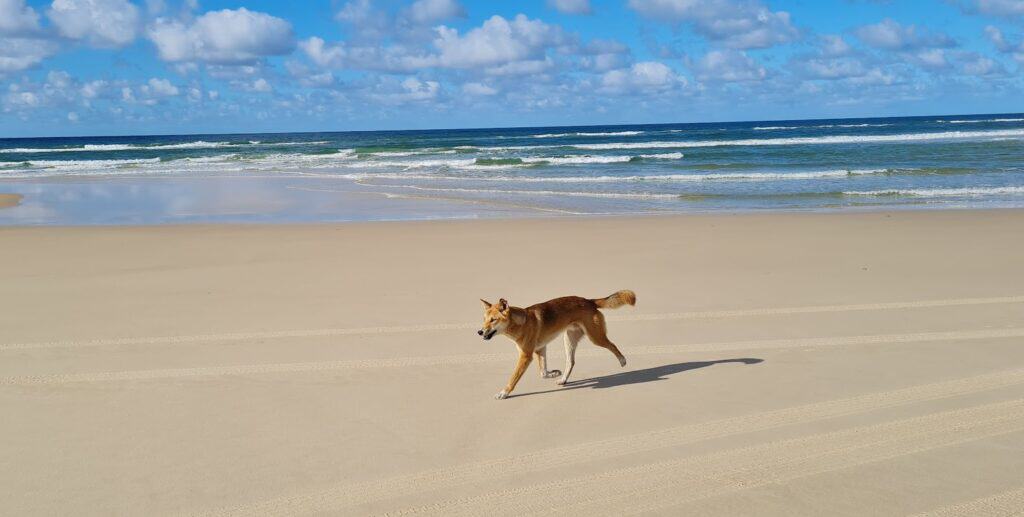 Fraser Island Dingos
Isolation has ensured that Fraser's dingoes are the purest breed in eastern Australia and consequently, no domestic dogs are permitted on the island.
The Dingo: – Easily recognised by its broad head, pricked-up ears, sandy-ginger coat and bushy tail, the dingo belongs to the same species as the domesticated dog.
Their prey includes small mammals and waterbirds, turtle eggs, reptiles and fish washed up on the beach. Read more on how they got to Fraser Island here.
Tourists are warned that feeding the dingoes will encourage them to scavenge, lose their natural timidity and become aggressive towards people. There are around 200 dingoes left on Fraser Island the numbers change over time.
Other Animals Found On Fraser
Fraser Island also plays home to 47 different types of mammals, 354 different species of birds, 79 different reptilians and 19 different kinds of snakes. Learn more about the animals here.
Things To Do And See On K'gari Fraser Island
Lake McKenzie
Lake McKenzie is one of Fraser Island's most sought-after attractions with most visitors making the trek to the popular lake.
You must see the 1.2-kilometre crystal clear lake that is almost similar in width reaching an incredible 930 meters width.
With around 150 hectares surrounding you, you can enjoy the hidden destination that is encompassed by dense rainforest and soft, white sands.
SS Maheno Of Fraser Island
Another well-known iconic site

that hits the "must-see" list is the SS Maheno shipwreck that became stranded on the eastern foreshore in 1935 and has remained on the island ever since.
This now rusted wreckage still draws an enormous crowd annually as people globally enjoy having their photographs taken near the ship.
Lake Wabby
Lake Wabby is another hugely popular site destination when visiting iconic Fraser Island and well worth the stopover as in years to come this pretty spot will no longer exist with the nearby sand blow that pushes tonnes of sand into the lake each and every year.
This lake is located on the eastern side of Fraser Island and is a freshwater lake. However, unlike Lake McKenzie with its crystal clear entrance and sky blue depth, this lake is more of a green colour.
This lake also has significant heritage and a Butchulla meaning with it understood to be a "man's only lake" in the past where they would fish the freshwater lake and catch rainbow fish and the now rare honey blue-eye fish as well.
Champagne Pools
Explore the beautiful Champagne Pools that are literally like taking a swim in a jacuzzi, where foam straight from the sea, encases you in the shallow swimming holes that were naturally formed by the ocean.
You can locate these mind-blowing pools by driving along the eastern beaches, approximately 2 kilometres from Indian Head.
Indian Head
Where is Indian Head exactly? Around 2 kilometres from the Champagne Pools we spoke about, it is a scenic drive up 75-mile beach, which is normally a part of the 123 kilometres of the sandy stretch.
This is also classed as Fraser Island's main road so please take care as driving on Fraser Island is difficult.
It really is worth the drive to get what some say are truly incredible photographs that you won't get anywhere else on the world heritage-listed island.
Lake Boomanjin
Lake Boomanjin. This lake was formed over many, many years of build-up, like the formation of the earth, and organic matter slowly rose to the level of the lake, which would eventually raise it to above sea level.
What is even more impressive about this lake?  Upon viewing it, it is red intone. This has happened due to the surrounding small creeks that have slowly over time trickled down from the popular tea trees that are surrounding the area.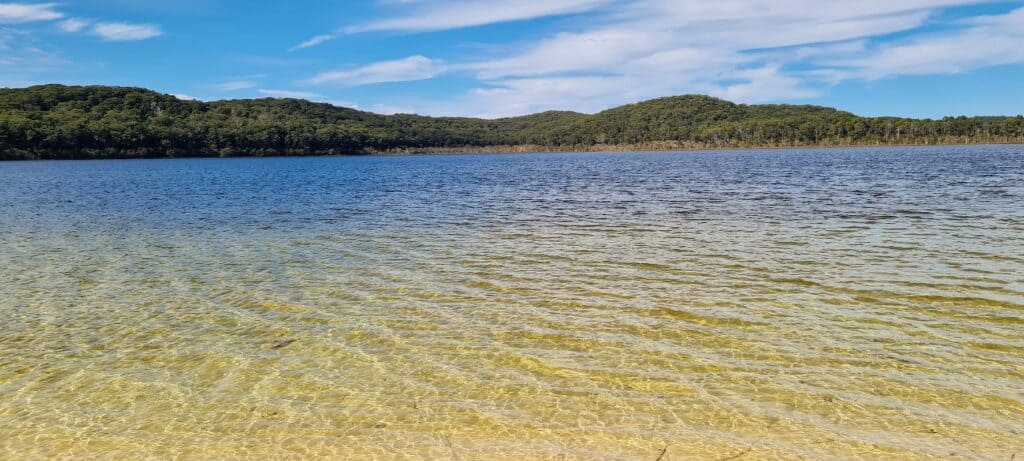 Lake Birrabeen
Lake Birrabeen, is also a perched lake, meaning it is above sea level but has been designed by nature with rock build-up over many years.
This lake is one of the cleanest lakes you will stumble upon as the ecosystem, together with the fine sand has its own system to sufficiently cleanse the waters daily and this is why you are advised to aim not to wear any sun creams or repellents into this location when possible.
Eli Creek
Eli Creek is one of those pristine and peaceful settings that nature has yet again created for your enjoyment.
Man-made boardwalks have been built for those who wish to venture away from the creek to take a look at some of the more spectacular vegetation the island has on offer and to get educated some more on what species reside near and around Eli Creek.
One phenomenal fact about Eli Creek is the vast amount of freshwater that flows directly from the creek's mouth straight onto the eastern beach and into the Great Sandy Straits.
Over 4 million litres per hour of fresh water flowing that's swimming accessible from the creek makes for one remarkable piece of knowledge when visiting the area.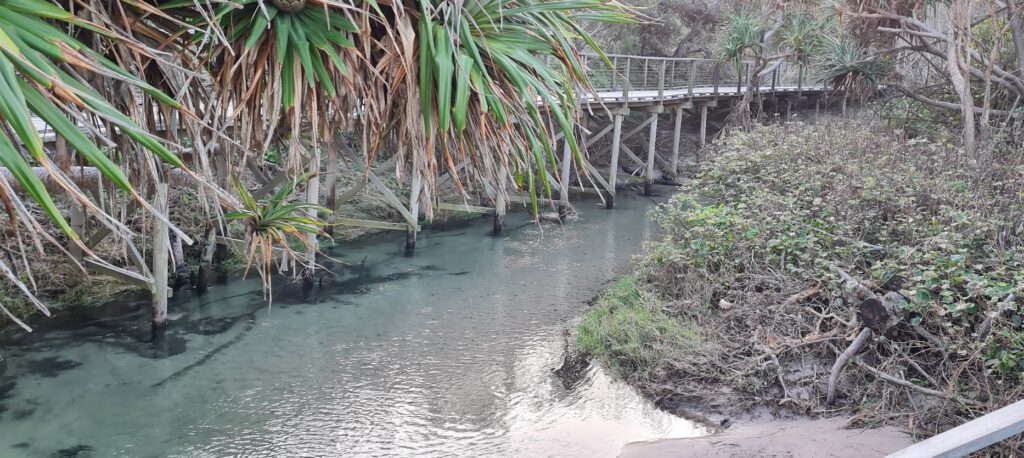 More Fresh Water Lakes On Fraser Island
There are many other freshwater lakes found on Fraser Island, which makes for a great experience of the outdoors. Some of these lakes are found along the walking trails of Fraser Island.
You will see stunning scenery, from mountainous, barren sand dunes and endless beaches on the coast to the lush, tropical rainforests and freshwater lakes at Fraser Island's heart.
Lake Allom See breathtaking views of this secluded oasis.
Basin Lake Smaller perched lake that's 8 metres deep.
Ocean Lake The waters here are majestically coloured red.
Lake Bowarrady This lake is not for swimming but full of natural beauty.
Coloured Sands Also Known As The Pinnacles
Stepping away from all the freshwater and saltwater adventures another well sought after hot spot on Fraser Island is the coloured sands also known as The Pinnacles.
Located near Eli Creek is where you will find these dunes that have formed as nature created them by vegetation oxidisation and the wind blows.
There are an eye-popping 70 odd colours if you study the dunes close enough even if the human eye mainly catches the primary reds and yellow tones.
How Do You Get To Fraser Island?
How do you get to Fraser Island? The most popular way is to drive to Hervey Bay and then travel by boat or the ferry a 45-minute trip over to Fraser Island from River Heads.
Once you're on the island you can travel as you choose to do so, again the most popular way to do this is by four-wheel-drive once you're on the island.
How To Access Fraser Island
Access to Fraser Island can be by Vehicle barges, aircraft, passenger launches, commercial tours or private boats. Air charters operate from Hervey Bay and Maryborough airports to airstrips on the island or beach landings (all by prior arrangement). Campervans are not permitted on Fraser.
Helicopter services operate to and from Kingfisher Bay Resort.
Vehicular barges and ferries operate from:
River Heads to Kingfisher Bay Resort
River Heads to Wanggoolba Creek
Urangan to Moon Point, or you can also get to Fraser Island from Rainbow Beach.
For barge, timetables click here.
Permits – Vehicles and Camping: All vehicles travelling to Fraser Island must first have an official permit.
The permit must be attached to the windscreen and don't forget your Island Map. Campers other than those using commercial campsites must have a camping permit which should be attached to the tent in clear view for inspection by the Park Ranger.
Fishing On Fraser Island
The western side of Fraser, which is where Kingfisher Bay Resort is also situated, is a great spot to do some more peaceful beach fishing or boating around some of the smaller islands nearby that play home to some of the prettiest and rare types of species of fish.
Wahoo, Mackerel, Trevally, Black Kings, Jewfish and the most sought after Whiting and Bream are also located on this side of Fraser Island. You can catch these directly from the western beaches or cast a line out on a higher tide from the long jetty at Kingfisher Bay Resort!
Heading over the eastern beaches where the waters are more open and surf is more prevalent will also provide for some more challenging fishing when casting a line in.
Tailor, Flathead, Whiting, Shark, Bream and Mackerel, Marlin and Tuna to name a few, together with Mangrove Jack and the popular Snapper fish are just some of the many fish you can expect to find at the end of your line during a day fishing.
Fraser Island Camping
Camping is one of the more fun ways to enjoy Fraser and something the whole family can get amongst. Most of the 45 camping destinations are mapped out for your enjoyment and are now fully fenced to protect you from the dingoes.
Please be mindful however of the native wildlife that surrounds you, and also of your rubbish use when you are camping.
Bins are provided in most camping ground outlets and we strongly advise you to use them, to not only keep the beaches and camping areas clean on the beautiful world heritage listed sand island but to also not attract the wildlife that does exist there.
Whether you opt to camp inland or closer to the eastern beaches, there really is a spot for everyone!
Some of the most popular camping spots on Fraser Island are:
Fraser Island Camping Tips
See our tips on What is the best time of year to go to Fraser Island. this will answer many of the questions you might have.
Please observe no camping areas and use existing campsites.
There is a list of items you should typically bring to Fraser here.
Please also drive responsibly and carefully and display patience and courtesy to other island visitors.
Please use the rubbish bins provided.
There are no free camping sites on Fraser Island you must buy a permit
Please do not use soaps, detergents, toothpaste or sunscreens in lakes and streams as this can contaminate these waterways.
Please apply sunscreen after swimming in the lakes and use a hat and t-shirt to protect yourself whilst in the water. The lakes do not get flushed regularly – they are a closed environment and therefore concentrations of pollutants can build up over a period of time.
Please use the firewood provided at the campsites. Gathering timber from the park is prohibited.
Please observe fire bans and extinguish all embers from your campsite upon leaving your site. Remember one campfire could destroy many hectares of this world heritage environment.
Be safe at all times, watch out for marine stingers, and enter the water slowly this gives time for the stingers to move away from you.
Mobile phone service on Fraser Island is very limited and often does not work.
Generators are permitted on Fraser Island only in the informal beach camping areas
Make sure you have enough fuel for your trip, diesel can be found in these locations.
Fraser Island does have many toilets but it helps to plan your stops
If you are looking for the best map try the Fraser Island 4WD Explorer Map from Hema Maps click here to check prices

.
"Take only photographs and memories, leave only footprints" Remember the golden rule of protecting your environment and don't destroy what you came to enjoy.
Fraser Island Accommodation
Fraser Island offers you the experience of camping in the designated camping spots provided around the island or welcomes you to book and stay at 3 of the popular resorts and home-style living outlets situated in 3 widespread spots on Fraser Island.
With an average stay of 3 nights on Fraser Island, that is over 1.5 million beds being made annually to accommodate well over 400,000 guests who make their way to the glorious island we have known to love.
Kingfisher Bay Resort
This 4-star, eco-friendly resort boasts over 150 rooms just to give you an impression of how large this island resort in fact is.
The surprising thing about stepping out onto Kingfisher Bay Resort from the vessel is you can't see the huge range of rooms available.
They have been well hidden within the natural environment that originally was in place and this gives you a very private, quiet, unique and personal experience, while you have a peaceful stay when on Fraser.
Each of these rooms also offers a deck that overlooks the bush or lake settings and it is fair to say you really are settling in with nature when you are here.
With 2 La Carte restaurants offering you a fine dining experience, coupled with the menu offerings of some of the freshest seafood delights straight from the waters surrounding Kingfisher Bay, you are bound to revel in some pretty unique tastes to set your appetite alight!
Not only is it full of Fraser Island memorabilia, but it stocks a huge array of alcoholic and non-alcoholic beverages, along with all the regular staples you would expect to pick up at your local supermarket.
Fuel and gas are also available at the general store, along with 4WD hire if you arrive with no vehicle.
Features At Kingfisher Bay Resort
Award-winning resort
Over 150 rooms available
3 dining destinations
Multiple pools
General Store
Bakery
Salon
4WD Hire
Fuel and Gas
Jetty Hut/ Beach hire
Experienced ranger-guided tours
K'gari Beach Resort
K'gari Beach Resort is a laid-back accommodation-style outlet situated on the prime destination of the eastern beaches (or 75-mile beach).
Close to Eli Creek and Indian Head, you are a stone's throw away from some of the island's most iconic landmarks.
Eastern Beach Resort
2 Pools
McKenzie's Restaurant
Close to the beach
Ideal for fishing and 4WD
The resort boasts 2 pools and the ever-popular talked-about McKenzies Restaurant where you will be treated to some of the best seafood the island has prepared for you by chefs who specialize in bringing you something rare and well worth experiencing.
Orchid House Fraser Island
Orchid House, located on Eliza Road on Fraser Island – is named after Captain James Fraser's wife and situated nearby to another famous shipwreck, the Maheno.
This very private, self-contained get-away destination books out fast as it accommodates 8 people, and boasts multiple bathrooms and plenty of vehicle storage space.
From here, you are in the perfect position to explore any direction of the eastern beaches, fishing is a dream from this vantage point, so bring your rods, reels and bait!
Imagine fishing by day and cooking up your catch by night in your own private kitchen area!
Live the dream on the eastern shores and book with Orchid House – one of Fraser's longest-running accommodation offerings (minimum 5-night stay).
The first original home on Fraser Island
Eastern Beach setting
Private get-away
Sleeps up to 8 people
Minimum stay 5 nights
Google Map Of Fraser Island
More Pages On Fraser Island