Fraser Island is home to many beautiful lakes and one of these is Lake Birrabeen. Beautiful white sands surrounding clear, cool waters-this is the epitome of paradise.
If you are planning to visit Lake Birrabeen, we have gathered together all the information you will need to make your trip the unforgettable memory it should be.
A Little Bit About Lake Birrabeen
Lake Birrabeen is a perched lake, it lies above sea level and the water is purely from rainfall. There are no rivers or streams that run out of the lake making it self-sufficient. The lake remains clear due to the sand filtering through any organic materials, leaving the water to sparkle.
Lake Birrabeen, because it has such pure, clean water, is unable to maintain any sort of life within it, so if you are looking for somewhere to fish, you've come to the wrong place.
The lake is a much-favoured swimming spot on the island, and there are many to choose from.
That being said, this lake is usually a lot quieter than the more popular, Lake McKenzie, also on Fraser Island, but that is certainly not to say that Lake Birrabeen isn't just as beautiful.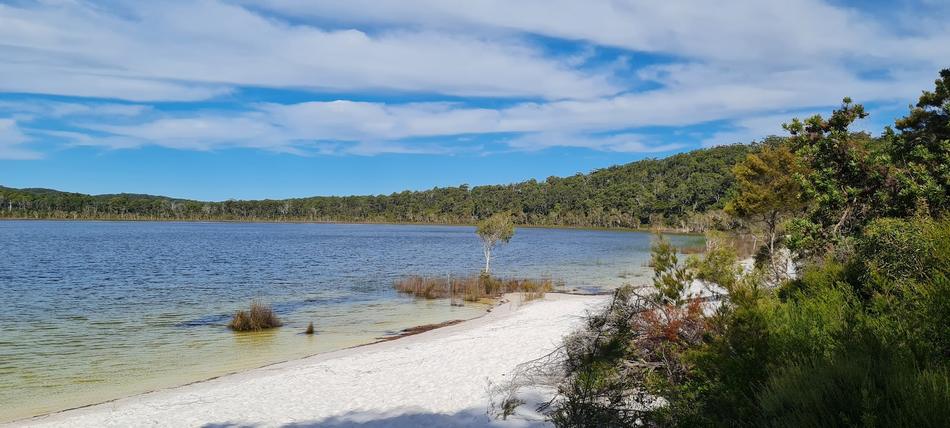 How Do I Get To Lake Birrabeen?
Getting to Fraser Island itself can only be done by way of the ferry, these leave from the mainland at various points throughout the day and are very easy to purchase tickets for.
Accessing the lake is relatively simple, it can be found on the southern part of Fraser Island and can be reached using a 4WD along one of the access routes. The lake lies south of Lake McKenzie and just south of Central Station and lies on Birrabeen road.
There is the option of hiring your own 4WD and heading to the lake at your leisure or you may prefer to opt into one of many Fraser Island tours that include Lake Birrabeen is one of its highlights.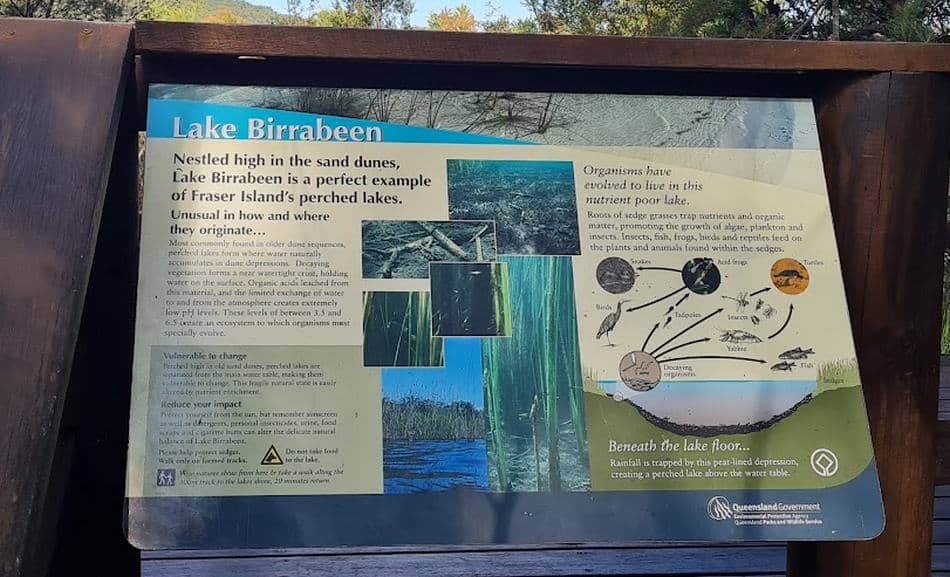 What Can I Do At Lake Birrabeen?
Of course, the main attraction of this stunning lake is the crystal clear waters which are simply perfect for taking a dip. However, there is more to this lake than just swimming and it is quite easy to pass a day here.
Let's take a look at some of the other things you might do here

.
Many people come here to simply relax. The beautiful surroundings and idyllic views are ideal for those looking for a little peace and tranquillity and somewhere to let the hours pass you by.
As we mentioned earlier, Lake Birrabeen is surrounded by a white sandy beach, which makes this an excellent location for the kids (and the bigger kids) to play and build sandcastles.
With the clear water and gorgeous natural scenery, Lake Birrabeen is a favourite spot for the avid photographer.
Whether you are looking for that perfect Instagram holiday snap or whether you want to capture some shots for your photography business, one thing is for sure and that is that Lake Birrabeen will provide you with a wealth of photo opportunities.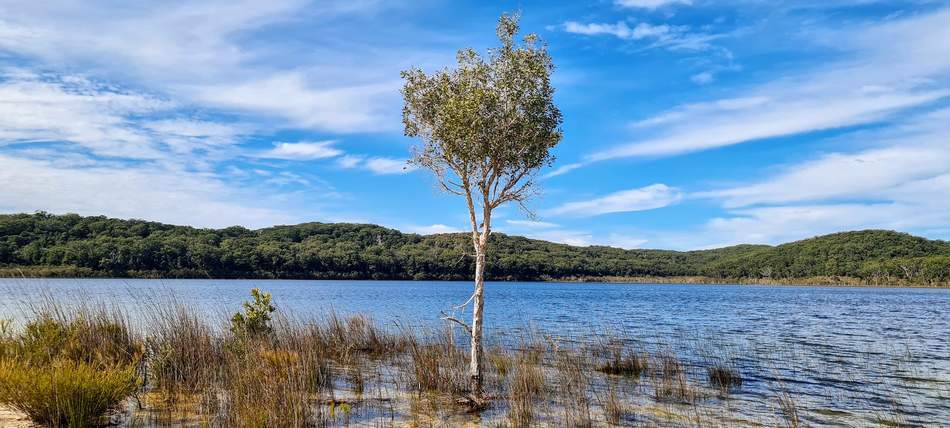 With the beautiful weather on Fraser Island, it is little wonder that Lake Birrabeen is a sunbathers haven (just remember to take care of your skin and limit sun exposure.)
Why not fill your cooler and take a picnic to the lake? What better environment to enjoy your food than something with such jaw-dropping scenery and a tranquil environment.
There is a shaded picnic area next to the lake for those who do not want to throw out a blanket on the sand and from this point, the views over the lake are incredible.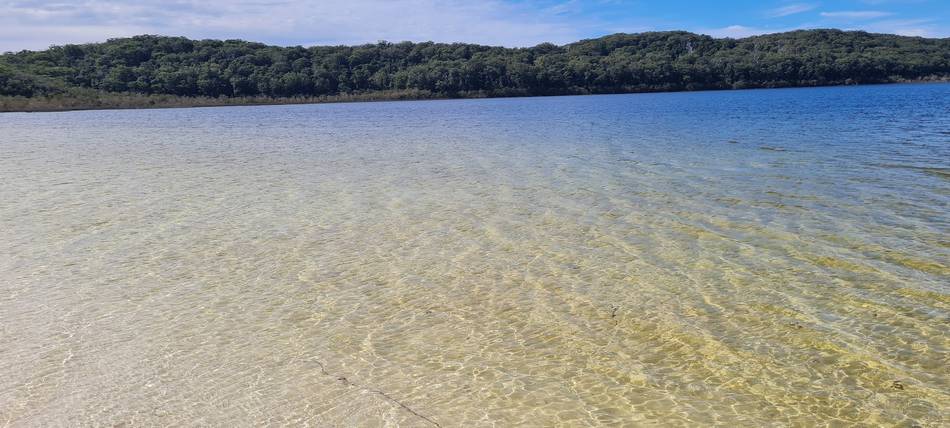 If you have a small vessel such as a kayak or a canoe, then Lake Birrabeen is a well-loved location to take part in an activity like this. Get a chance to fully explore the waters.
For nature lovers, there is a great selection of trees surrounding the lake which are of particular interest. Some species that can be found surrounding the lake are the gum tree, the blackbutt and the bloodwood.
If you find yourself peckish after your swim, there is a restaurant and cafe at the Eurong Beach resort, relatively close to the lake.
There may not be an opportunity to see fish in this lake but other forms of wildlife that you can look out for are sea eagles, turtles and dingoes, all of which are great spots for any animal lover.
Lake Birrabeen Camping
If the above activities sound too good to limit to one day, why not consider spending a night or two at the lake and taking part in a spot of camping. Imagine waking up in the morning and being able to head straight to this beautiful lake for a refreshing morning swim.
This is the stuff of dreams but it can quite easily be turned into a reality. There are a wealth of camping spots on Fraser Island but if you are looking to be close to Lake Birrabeen, the best location to choose is the camping spot at Central Station, which is very near to the lake.
At the spot you will find true relaxation amongst the wildlife and birdsong of the area, making this a brilliant place to reconnect with nature.
If you are looking to be as close to Lake Birrabeen as possible during your camping excursion then the nearest campsite to the lake is the car camping which is available at Lake Boomanjin. There are other options too, some of which include:
Choosing one of the many camping spots along the 75-mile beach.
Lake Benaroon hiking camp.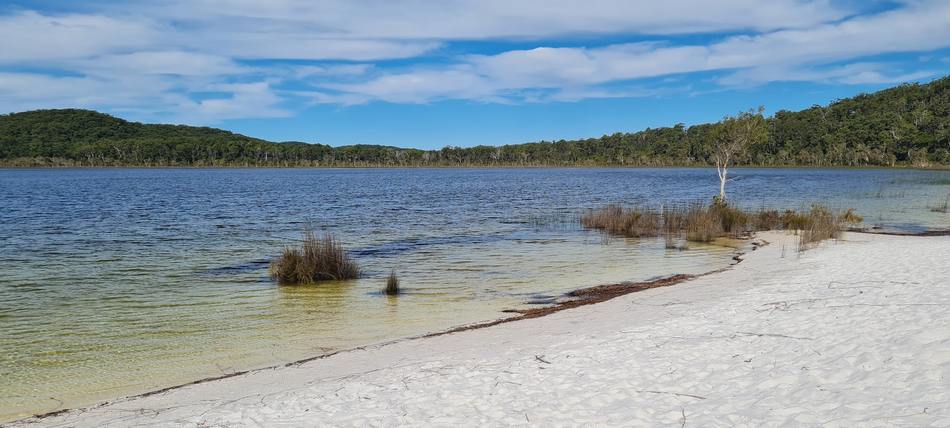 Plan Your Time Here
Lake Birrabeen may not be as popular as the more often frequented Lake McKenzie but it is just as beautiful and makes for a much more relaxing visit.
If you are looking for a quiet and isolated swimming spot on Fraser Island, then you won't find many others as perfect as Lake Birrabeen.
Resource Links To Products We Use And Recommend
More Pages On Fraser Island
link to Can You Drive At Night On Fraser Island?
Fraser Island, located off the coast of Queensland, Australia, is a popular tourist destination and a UNESCO World Heritage Site. The island, which spans more than 120 kilometres in length and 24...
link to Are There Toilets On Fraser Island?
Fraser Island, which is a popular tourist destination in Australia. The island has a number of campsites and other facilities where visitors can use toilet facilities. There are on average around 22...