Fraser Island is known for a lot of natural beauty, however, their perched lakes might be the most beautiful of all. Perched lakes are an incredible natural phenomenon where organic materials build up and eventually raise above sea level.
At this point, these areas collect rainwater creating these mystic perched lakes that are full of pure water. One of the most popular perched lakes on Fraser Island is Lake Boomanjin.
Lake Boomanjin on Fraser Island is really unique with its colouring, which is a reddish-brown hue. While the colouring is a bit strange, it is safe to swim in the waters. The water gets its strange colour from the surrounding small creeks and Tea Trees.
Tea trees are known for having tannin, which is what generates the rich tea-coloured hues found in this lake.
This intriguing natural sight really makes this perched lake one truly unique experience.
While the waters are quite the attraction, the sands are stunning as well. The sands at the lake are made from small quartz which provides soft, white sands to walk on.
Between the beauty surrounding the lake, the lake itself, and its sands the area is one of tranquillity. Relaxing in the tannin-coloured water is really a peaceful experience for visitors!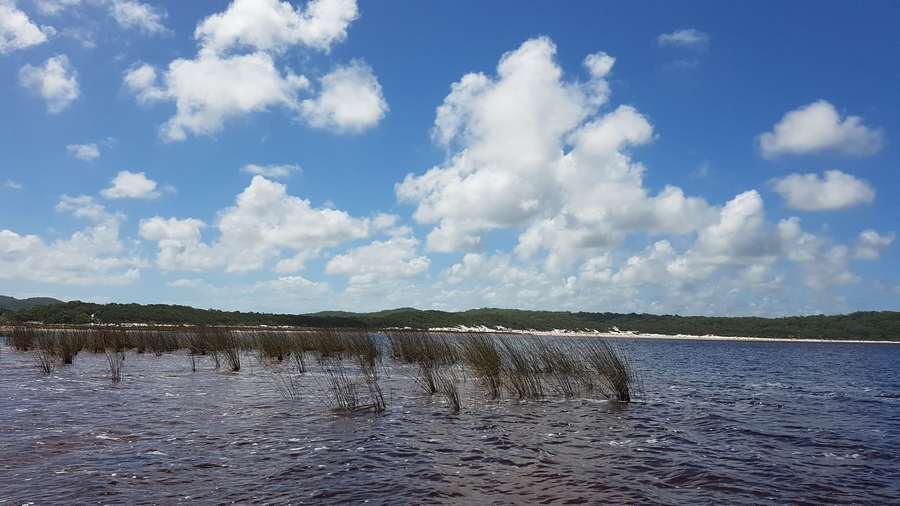 Google Map Of Lake Boomanjin
What Is A Perched Lake? Lake Boomanjin
This perched lake

on Fraser Island clearly draws visitors in for its special hued waters. However, there are some other great facts about the lake as well.
One of the most interesting of those being that this perched lake is considered to be the largest in the world. It is said to be somewhere around 200 hectares large and 5 metres deep at its deepest.
So not only does this beaut location get a fun reputation from its colouring but also its grand size! Even though it is one of the most fascinating natural areas in Australia (or even the world!), it is considered to be secluded and relatively uncrowded.
Considering its size, it is spacious enough to accommodate multiple persons. Relaxing amid the waters can be done with comfort and ease without too much interference from other visitors.
Its size might be incredible, however, the wildlife surrounding the area is just as incredible. Perched lakes aren't able to sustain life within the waters, so therefore the wildlife comes from around its shorelines.
This lake area's shorelines are speckled with plant life that really adds to the mystic nature of the lake. These plants are specifically known as bladderworts.
Bladderworts

grow from the soils around the lake. The plants are carnivorous and eat small insects within the sacs lining their stems. While this might sound scary, they are a wonderful piece to the bigger picture that is Lake Boomanjin.
Other wildlife that would be associated with Lake Boomanjin is those that are known to Fraser Island itself. This primarily includes wild birds. Nothing beats relaxing among the waters of this lake and witnessing some of the birdlife that occupies the island.
With over 300 species known to call Fraser Island home, a visit to Lake Boomanjin will surely make for a sighting some species!

Lake Boomanjin Camping
Camping is one of the most iconic ways to enjoy nature to the fullest. There is something about surrounded by idyllic natural surroundings while camping that simply eases the mind and soul!
When it comes to camping at Lake Boomanjin, the lake does have its own camping area. This exclusive area is only a short walk away from the iconic lake. Camping at the site is restricted to vehicles and is only accessible by foot. All vehicles must stay within the car park area.
The camping area itself is an outdoor lovers paradise. Situated on grounds that are surrounding by towering trees, the camping site really feels a traditional camping experience.
The area itself is in fenced-in to protect visitors from roaming dingoes. Dingoes are a wildlife danger on Fraser Island, so these fenced-in camping sites around the island helps to ensure the safety of everyone.
It is important to remember to always have a watchful eye out for dingoes while on the island. Since it is fenced-in, all tents must be within this contained area.
What amenities are offered within the campsite? Knowing this before visiting can help plan a trip perfectly! Below are the things offered within the campsite for guests!
Amenities At Lake Boomanjin Campsite
This might not seem like a lot, however, flushing toilets is the most attractive thing on the list! Any cooking that takes places at the campsite must be limited to fuel stoves.
No open fires are permitted due to the proximity to trees and the risk of fire. With such a short list of things available, what are some things to consider bringing along while camping at this site?
Below are the things to consider packing for a stay at the campsite!
Things To Consider Bringing To The Campsite
Rubbish bags to clean up any trash
First-aid kit (basics like bandages, pain medicines, ointments)
Insect repellent (it is in the woods after all!)
These are only some suggestions to bring on a camping trip to the lake. The items can be altered to suit the needs for the traveller, however, these are possibly the most important things to consider!
Camping so close to lake really gives way to the ultimate access for visiting the lake! The camping area is open 24 hours a day, 7 days a week and Fraser Island does require a camping permit

.
Lake Boomanjin: Things To Do
While taking a dip in the tea-coloured waters is a wonderful thing to do while at the lake, there are other things to do while visiting!
The surrounding area has so much beauty to soak, so knowing some things to do while at the lake is very helpful! Below are the top things to do while at Lake Boomanjin!
Things To Do While At The Lake
Snap Some Photographs!
Considering this perched lake is one of the largest and more unique lakes in the world, some photographs are the perfect way to make a trip there last forever!
Whether it is with a professional camera or a mobile camera, any angle of the lake will produce stunning photos!
Swimming In The Lake
This is the obvious way to enjoy the lake but still a valid one! With soft sands and the perfect swimming depth of 5 metres, the lake is ideal for swimming.
It is important to note that all perched lakes on Fraser Island are protected waters and absolutely no sun lotion should be worn while in the water.
These lotions (or oils) can disturb the natural occurrences in the water. Visitors should be mindful and only wear their sun lotion during bushwalks.
Birdwatching For Rare Birds
Birdwatchers will find this location ideal for catching a glimpse of some of Australia's beautiful birdlife. Even those who have never gone birdwatching before can enjoy the stark colourings of some of the species.
Bring some binoculars for super up-close views of these birds that can be perched in the surrounding treelines.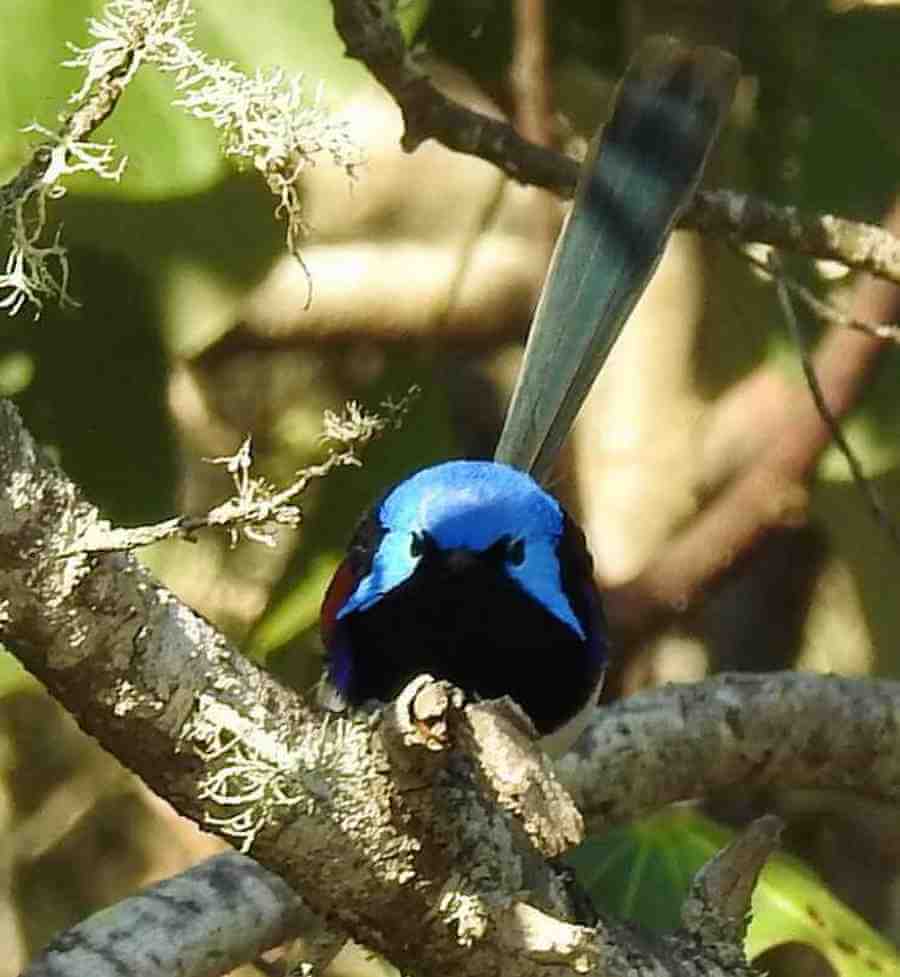 Paddleboarding In The Lake
Considering the lake is close to the car park and camping area, bringing along a paddleboard is a great way to enjoy the calming waters.
Paddleboarding is a wide board that is stood on and propelling through the water is done with a paddle.
Calm and still waters are essential for this watersport as it requires extreme balance. Paddleboarding among the tea-coloured waters is not only great exercise but also a stunning view of the landscapes around the lake!
The main takeaway from this lake is to really soak in all the beauty! It is a work of nature at its best and these activities as well as camping can be enjoyed.
Australia continuously proves to be one of the most idyllic countries in the world and Fraser Island's perched lakes are some of the best sights in the world!
Resource Links To Products We Use And Recommend
More Pages On Fraser Island
link to Can You Catch Squid On Fraser Island?
With its varied fishing spots and abundance of seafood, Fraser Island (K'gari) is a favourite destination for anglers. And while the most popular catches are typically whiting, bream, and flathead,...
link to How Much Fuel Can You Take To Fraser Island?
Fraser Island, cut off from the mainland, depends on regular shipments for general products. Thus, even vital supplies like fuel are more expensive on Fraser Island due to extra shipping costs. To...