Hervey Bay pronounced Harvey Bay, was originally called Hervey's Bay, it was named after Lord Augustus Hervey. He was an Admiral of The Blue Earl of Bristol and was Captain Cooks

boss at the time.
Lord Hervey was an English Casanova who acquired a fierce reputation as a womaniser.
Hervey Bay was discovered by Captain Cook in 1770 who at that time did not realise that Fraser Island in Australia was separate from Hervey Bay. As Hervey Bay had shallow waters Captain Cook did not travel close enough to realise these two pieces of land were not joined so they sailed past.
His logbooks state he was 2 leagues (about 11 kilometres) off the land and from that distance was unable to spot the narrow channel at the southern end of Fraser Island.
Matthew Flinders

passed through the area twice. In 1779 Flinders sailed around Fraser Island entering the Bay and going ashore at Dayman Point.
He was the first European to step ashore in Hervey's Bay. Matthew Flinders returned to this area in 1802 on his historic circumnavigation of Australia and the irony was that again he did not locate the Fraser Island Straits on either of his Voyages.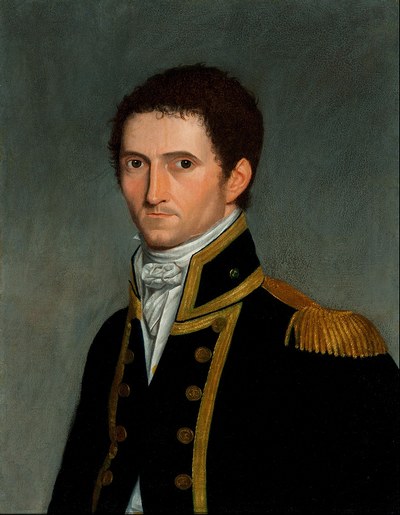 The first settlement of Hervey's Bay was in the 1850s. Toogoom Run runs from Toogoom to Booral, with old maps showing that the area along the Esplanade to Urangan, and back as far as Signboard Road (that is now Boat Harbour Drive) were not included in Toogoom Run.
That area was owned by only a handful of men. Boyle Martin and William Southerden owned land up to Beach Road. George Watson owned the land up to Main Street, and F Kehlet from Main Street to Queens Road.
J Mackean owned the land at Scarness, D Hendersen owned Torquay up to Ann Street and R A Sims to Elizabeth Street.
As shown in the 1912/1914 Maps of Hervey's Bay. They are located and can be purchased from the Qld State Archives.
Martin Boyle and his brother-in-law Hugh Hendersen were timber cutters and ran cattle. Martin Boyle was said to be the first man to bring his wife and young son to live in Hervey's Bay.
Boyle Martin's family was asked about when this happened and they said around 1863. When you look at Queensland's Birth Deaths and Marriage records you find the Boyle Martin didn't marry Sarah Hendersen until 1864 and their son George was born late the following year.
It seems more likely it was in 1866 that he brought his family to live in Hervey's Bay.
Boyle Martin had a logging camp near the corner of the Esplanade and Beach Road (in trove it is spelt Breech Road) where there is a monument to him.
Trove records

that Boyle Martin purchased 100 acres of land under conditional purchase at Pialba in 1868. There is also a record in Trove (old newspapers that are online) that Boyle Martin was granted a timber license in Pialba in 1872.
Another interesting piece of history is of a young assistant bank manager from Maryborough who because of ill health came to live in Hervey's Bay. He would sit and watch Boyle Martin and his men hull timber to the beach.
One day as he sat watching the men at work, he died there and that is where he was buried. There was no cemetery in Hervey's Bay at that time. Another two little girls were also buried in the same spot.
Charles Polson was exhumed and reburied in Polson Cemetery (which was later opened in Point Vernon) which bore his name in Plot number 1. It has been said that the Cemetery land was once owned by Charles Polson.
The two little girls were also exhumed and reburied in the Polson Cemetery.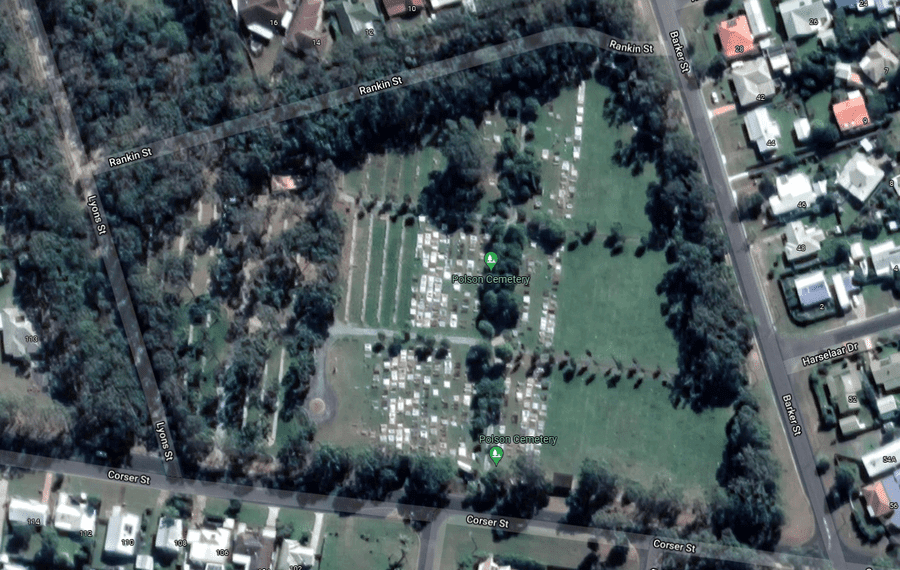 In early 1871, the land was resumed from Toogoom Run and offered for sale to settlers. By now many Danish Settlers had arrived in Maryborough and had been working for farmers in Maryborough.
It is said that they did not speak English but were taught some English by their employers.
In 1872 the land from Toogoom Run was put up for sale and there were some sales, but by 1875 the Danish Settlers were buying up land in Dundowran and Nikenbah areas and this became the first farming settlement in the Hervey's Bay area.
They built a Danish Bark Church at Nikenbah. The sermons were spoken in Danish and later when more people who attended the Church couldn't understand the Danish language, it was interpreted for them.
The Church had a Cemetery attached to it, and this was not only the first Church but the first Cemetery in Hervey's Bay area.
There are many different religions buried there from the Church of England to the Salvation Army. The last burial there was in 1962. In 2025 the Cemetery will be 150 years old.
The Church is no longer there as it was moved a couple of times.
While the beachfront of Hervey's Bay was being cleared for its timber and where cattle were run. In the Nikenbah area, the Danish were growing crops and raising dairy cows.
This was 25 years before the Railway line came through that made it easy for farmers to get their crops to Maryborough for sale.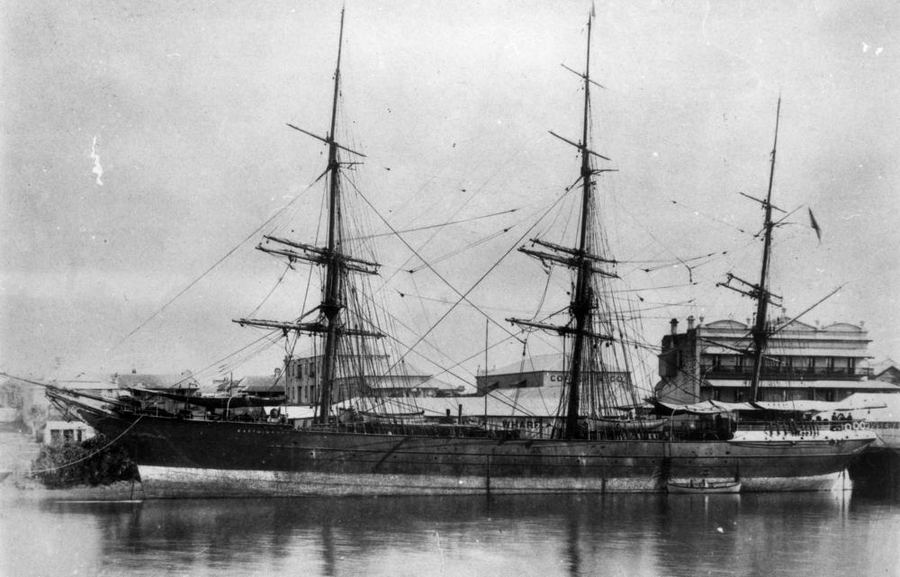 Sugar cane was introduced to the Maryborough area in 1864 and later in Hervey's Bay area.
Boyle Martin was one of the first to cultivate sugar cane and cleared 12 acres of scrubland to plant it on his property on this side of Scrub Hill in 1871. In 1883 he had a sugar cane mill erected on his property.
Hervey's Bay later had 4 unsuccessful sugar mills. They were Boyle Martin's at Hervey's Bay, side of Scrub Hill, Strutz Brothers on their property, Watson and Haupt not far from Boyle Martin's, and Hansen and Jorgensen's on Doolong Road.
All failed and the farmers had to go back to sending the sugar to Maryborough.
In 1896 a Railway line from Colton (Baddow and now West Maryborough) through to Pialba Main Street was built. Which made it easier for the farmers to get their crops to Maryborough.
As the Ships got bigger it was hard to get up the Mary River to the Wharf in Maryborough, so a decision was made to build a deep water Pier at Urangan.
In 1913 the Pier was under construction and the Railway line from Pialba to Urangan was opened.
The Pier opened in 1916 and was called the Port of Maryborough. This caused confusion with the postal service as Hervey's Bay mail was sent to Maryborough.
At the time they also wanted the Urangan Railway Station to be named Port of Maryborough. In the end, the Pier became the Urangan Pier and the Station Urangan.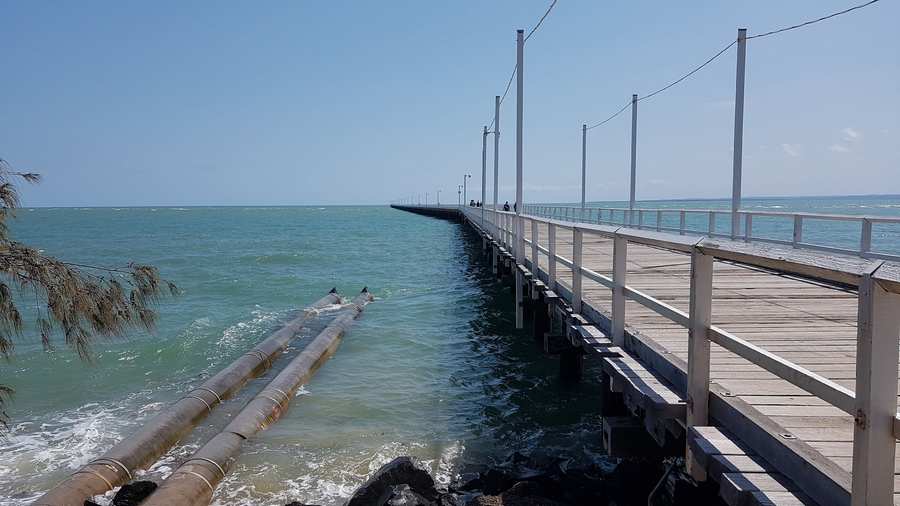 The Urangan Pier started with Coal exports, then Sugar and other exports. When these exports stopped, the Pier was used by Caltex who built and ran a large pipe along the Pier to unload the fuel to their Depot on Elizabeth Street.
The attraction of Hervey's Bay drew more and more Maryborough residents to buy large parcels of land. The Railway line to Hervey's Bay was once the most profitable railway line in Queensland.
The weather was good, and the area around Hervey's Bay was flat and accessible. The beaches, fishing and just relaxing in this quiet place were enough for people not only from Maryborough but all the surrounding small townships also travelled by train to this sleepy seaside settlement.
Little villages began to develop along the Esplanade from Polson which was later changed to Point Vernon. The village had its name changed from Barilba due to it being mispronounced and printed in the newspaper later it became Pialba.
Scarborough had the railway line running through it down to Urangan this had to be changed to Scarness because another town near Redcliffe already had that name.
Torquay was established in 1890, but there was also a Glencoe Estate, It has been heard that Glencoe was the name of Torquay before it became Torquay.
Glencoe was Mr. R.A. Sim's land, and Torquay Terrace was a road that was put through his land.
Urangan is believed to be an Aboriginal word, and it is possible that it has two meanings that both suit the area, Dugong and white shells. There was Mr Ching's Dugong Boiling Camp in Urangan at Major Kings Creek which was later named Pulgul Creek.
So Dugong's were plentiful in Urangan waters. Also, little white shells were also plenty all along the beach.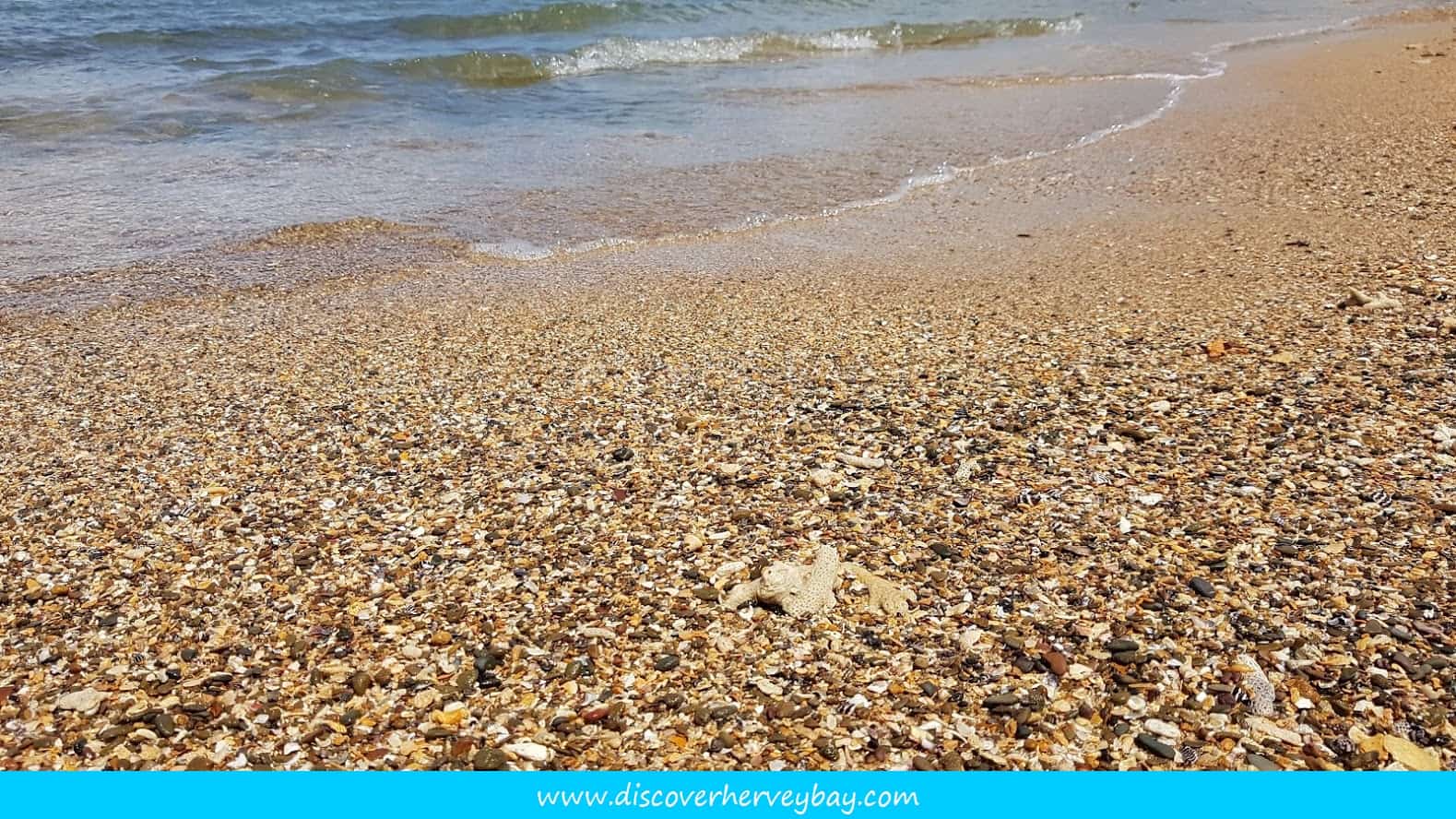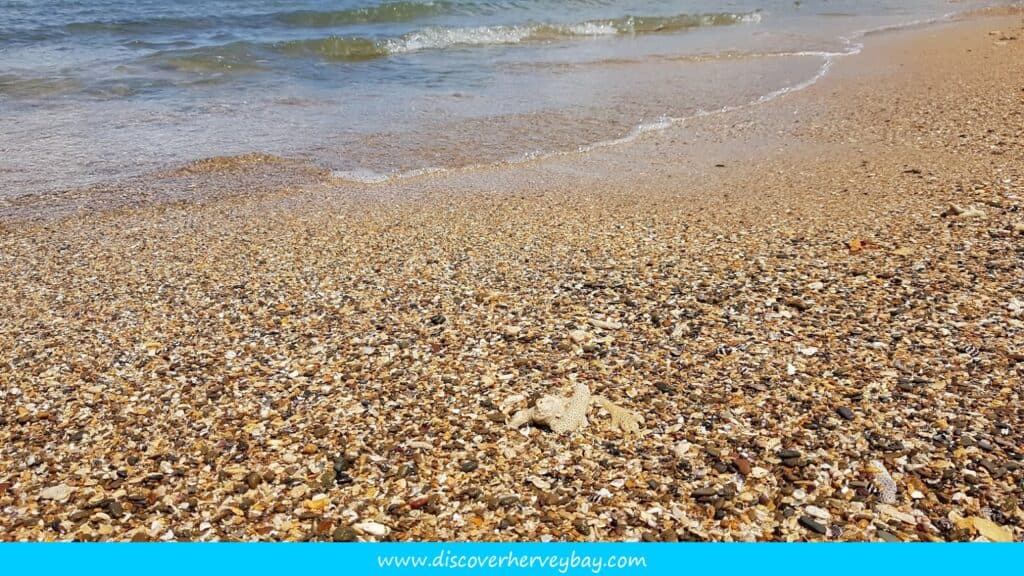 Later In The History Of Hervey Bay
Hervey Bay was even recognized as one of the most attractive places to move to, with statuses showing that the rate people were relocating to Hervey Bay was climbing at an astonishing rate.
With World Heritage Fraser Island and Hervey Bay being the 'capital' for Whale Watching in Australia, it is not hard to see why so many people continue to return to the area for annual holidays, and who eventually decided to move here and enjoy the lifestyle that all the locals rave about.
In 1984, Hervey Bay became known as the 'City of Hervey Bay' after many years of growth in not only population but also in business, tourism and the industry itself.
Ironically, even though this place which was once a small seaside village was now being known as a City, it still remained a fisherman's haven in the eyes of many locals and tourists who would continue to visit this great area.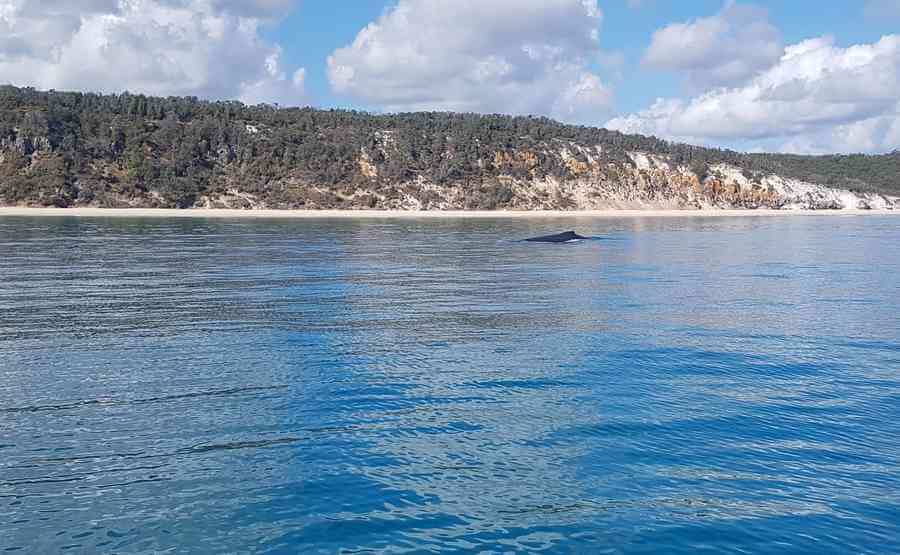 Shopping Centres were created, and more well-known businesses branched out to Hervey Bay due to the popularity of the place. More people from the cooler States were now relocating to Hervey Bay and making it 'home' after many years of visiting the area annually.
Hervey Bay was even recognized as one of the most attractive places to move to, with statuses showing that the rate people were relocating to Hervey Bay was climbing at an astonishing rate.
With World Heritage Fraser Island and Hervey Bay being the 'capital' for Whale Watching in Australia, it is not hard to see why so many people continue to return to the area for annual holidays, and who eventually decided to move here and enjoy the lifestyle that all the locals rave about.
With fishing, and Whale sightings as well as 127 kilometres of unspoilt beaches on Fraser Island nearby you can find more on Fraser Island History here – Hervey Bay was bound to be the 'pot of gold' that Captain Cook discovered all those years ago.
Resource Links To Products We Use And Recommend
More Pages On Hervey Bay
link to Sunset Cruise In The Great Sandy Marine Park
The Sunset Cruise Great Sandy Marine Park has a lot to offer, from stunning scenery to a range of wildlife and marine life. Here are some of the things you can expect to experience on a sunset cruise...
link to Is Hervey Bay Full Of Old People?
Hervey Bay is a popular retirement destination and has a higher proportion of older residents than some other cities in Australia. However, it is important to note that Hervey Bay is a diverse...