Hervey Bay in Queensland, Australia has many gorgeous and attractive coastal cities and suburbs. These areas line the Fraser Coastal region of Hervey Bay and are lined with stunning beaches with beautiful waters perfect for swimming, fishing or partaking in water sports.
While that is the majority of these towns, there are some with some rich historical roots in the bay area as well. One of those includes Pialba. The town itself is a wonderful coastal area and is considered to be a business district, but it's been a part of Hervey Bay's overall history.
Brief History Of Pialba
Pialba was the first settled city in Hervey Bay. More specifically, this area is known for housing timber workers in the 1800s. It is more famously known for being the location of a railway in 1896, which really brought traffic to this charming town.
This railway was the reason that leads to making Pialba the hub for all things commercial business-related. It became the primary area for local foods from farms and fresh seafood and many shopping areas popped up in the area as well.
This thriving growth really gave life to the small suburb that set the footings for the whole Hervey Bay area.
Google Map Of Pialba
Key Pialba Shopping Spots
Since the coastal area is known for being retail and business orientated, it's good to know some of the great places to check out while visiting. Shopping is fun, but it is exceptionally a good time when it is in an area with thriving businesses!
Some of the best areas to check out while in Pialba include the two main shopping mall areas, there is Pialba Palace and Stockland Hervey Bay Shopping Centre.
Pialba Palace offers shoppers an exclusive and modern shopping experience. From shopping boutiques and food and drink options, it is a one-stop-shop area for all sorts of goodies!
There is literally something for everyone and the variety is fantastic! From housewares, clothing, and quirky gifts, to health shops and spa treatments, the choices are limitless.
Some of the great shops they have are The Gift Bag Collective, Shoe Frenzy, BigW, Coles, The Bottle-O, Infinity Pharmacy, Neo Nails, Flight Centre, and The Lucky Charm just to name a few.
Grabbing a bite to eat while shopping is crucial and Pialba Palace has some tasty options! These include hit places like Cake Bake and Brew, Donut World, Giovanni's Pizza Bar, Sujus and Mum's Charcoal and Grill.
Cake Bake and Brew prides itself on delicious freshly baked goods and in-house-brewed coffees and teas. Another great location for sweet treats includes Donut World where any flavour of doughnut can be found next to milkshakes and other various beverages.
For a savoury taste, Giovanni's Pizza Bar is a popular choice for pizza and pasta all made with local ingredients. Just a few minutes away also in Pialba you can also access the local Bunnings store and find all the great DIY offers they have in store.
No matter where someone chooses to do some shopping, the experience will be well-rounded and exceptionally pleasant!
Other Things To Do In Pialba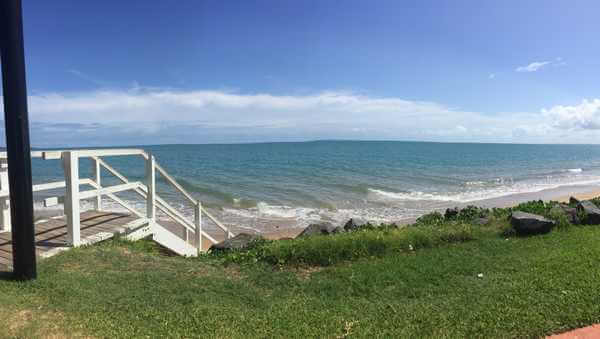 While shopping is at the top of any visitor's list on a trip to Pialba, there are other great options for a day of fun. From visiting the beach and Esplanade to driving short distances just outside of Pialba, there is plenty to experience!
The Esplanade is a great start to visiting any of Hervey Bay's coastal cities as it stretches along the coast for about 17km and is a waterfront paradise. It's the perfect blend of nature and city experience.
It's perfect for walking, exercising or even cycling. The views of the Coral Sea and ocean from this walkway make for landscape scenes that can't be beaten!
For those looking for family fun or a date night experience, The Bay Golf Studio provides a truly unique experience to guests. The centre is an indoor golfing experience with a vibrantly coloured display screen that is interactive and engaging.
Guests virtually golf here with beautiful backdrops and various manners of golfing. No chasing after lost balls or keeping score on paper. This virtual experience does it all and is great entertainment for little ones or someone going on a date.
Unique Fraser is a guided tour option based out of Pialba. This experience takes guests on a day tour of the nearby Fraser Island. Fraser Island is full of exotic wildlife and beaches to explore.
This touring company gives guests visiting Pialba the opportunity to ride across the waters and visit this essential landmark in the Hervey Bay area.
In Torquay, just a 9-minute drive from Pialba (approximately 4.7km away) is the Fraserjet experience through Aquavue Cafe Watersports. This area allows for rentals of jet skis, paddleboards, and kayaks to really take advantage of the perfect water conditions along this coastline.
Taking a yoga class while visiting this coastal area is also a great option. This is great for those who love yoga or even people who have never done yoga before. Ocean Tree Yoga Studio is a popular spot for partaking in this soothing exercise practice.
Another great spot to check out is the Fraser Coast Discovery Sphere. This area features a large metal sculpture of a humpback whale, commemorating the whale watching that the Hervey Bay Area is so well known for!
It is a spectacular monument that makes for a good photo opportunity. It is located in Pialba along Old Maryborough Rd.
Along Boat Harbour Drive in Pialba is a 4×4 rental for trips to Fraser Island. 4×4 riding is extremely popular in Australia and all its sanded beach strips are ideal for thrilling rides. Aussie Trax is the prime location in this coastal area to get the best 4×4 for a day of riding fun!
Accommodation In Pialba
Sometimes a trip requires a nice stay in a hotel or caravan park. Luckily, there are some excellent choices around Pialba for getting a good night's snooze. Just a short 6-minute drive (approximately 3.5km) from Pialba is the city of Scarness where the Scarness Beach Front Caravan Park is where guests can come with their campers or RV's and enjoy some outdoor accommodation.
There's also the Fraser Coast Tourist Park not far from there that also features cabin rentals and RV ensuite sites as well.
For direct accommodation in Pialba, a popular spot is near the Wetside Water Park, called the Hervey Bay Hotel & Resort. This chic hotel stay really gives guests an exceptional experience as they have a beer garden on the premises, a game room, and a bistro.
This takes the relaxation level up a few notches making for a truly special time while lodging at this location. Whether its to enjoy being on holiday or just an overnight stay, this location brings service that can't be matched!
Exploring Hervey Bay is quite the adventure and all its unique coastal cities offer up something a little special for everyone!
Resource Links To Products We Use And Recommend
More Pages On Hervey Bay
link to Sunset Cruise In The Great Sandy Marine Park
The Sunset Cruise Great Sandy Marine Park has a lot to offer, from stunning scenery to a range of wildlife and marine life. Here are some of the things you can expect to experience on a sunset cruise...
link to Is Hervey Bay Full Of Old People?
Hervey Bay is a popular retirement destination and has a higher proportion of older residents than some other cities in Australia. However, it is important to note that Hervey Bay is a diverse...