Hervey Bay Resort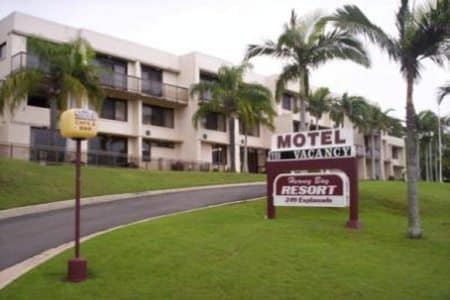 Hervey Bay Resort
249-251 Esplanade,
Pialba, Hervey Bay 4655.
Features
Queen size luxury beds
Direct dial phones
Conference facilities
Poker machines
Balcony on some rooms
Cocktail bar
Liquor barn
Public bar
Baths and showers
Tour booking service
Pool and spa
Balcony on some rooms
Facilities for disabled
All rooms air-conditioned
Undercover parking
Tour booking service
Elevator to all levels
Pool and spa
A la carte restaurant
Hotel bistro
Disco
Conference facilities
Poker machines
Elevator to all levels
A la carte restaurant
Baths and showers
Hervey Bay Resorts offers a range of accommodation to choose from with many daytime and evening activities including Fraser island guided walks, day tours, two or three day safaris, and whale watching tours (Aug- Nov). You can choose to do these activities when you stay in Hervey Bay as visitor, or on a stop over to Fraser Island.
Hervey Bay is very popular with independent travelers and can be reached by road within four hours by some 80% of Queensland's population. Modern resorts, motels and shopping centers are within a few scenic minutes drive from one's home, schools, college and university. Restaurants, cinemas, beaches, clubs and community cultural and sporting activities cater for every taste.
Take a break away in style at one of the many resorts Hervey Bay has to offer. The perfect place to sit back, relax and enjoy the many views Hervey Bay has to offer, book now for your next getaway.
For more information on the Hervey Bay Resorts
Or you can view our other range of Hotels and check availability below
If you decide to contact us
Please let us know you found us on Discover Hervey Bay