Fraser Island is a unique sand island off the eastern coast of Australia. In fact, it is the world's largest sand island stretching an impressive 123 kilometres (76 miles) long and 22 kilometres (or 14 miles) wide.
With so much land, the island truly has plenty to explore. The island has a beautiful and ancient rainforest to see as well as various perched lakes, wildlife, and beachy areas.
Because of its great size, many people wonder just how much of the island is accessible for exploring.
Exploring The Fraser Island Great Walk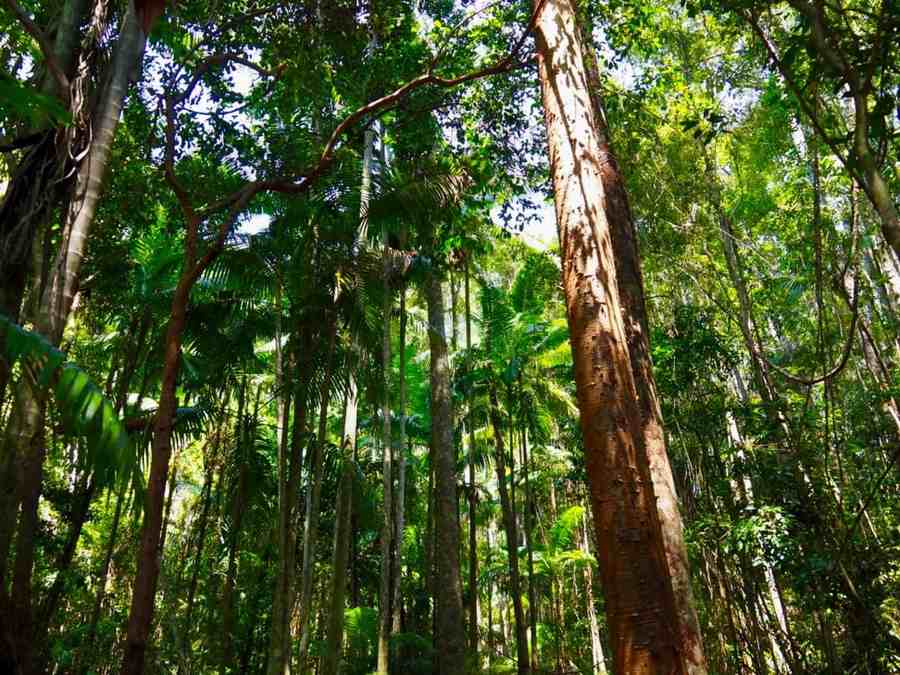 Exploring Fraser Island is easily one of the greatest adventures to embark upon in Queensland, Australia. One of the most known ways to explore the island is through the Great Walk

.
The Great Walk is a 90 kilometre (or 56 miles) track that winds from Happy Valley to Dilli Village.
This walking track was designed in a way to take guests throughout the core of the island's landscape while passing some of the greatest landmarks on the island at the same time.
Guests can enjoy the lavish rainforest areas where trees have grown out of the sand dunes for thousands of years. Moreover, they can enjoy stops at the famous perched lakes, particularly Lake McKenzie.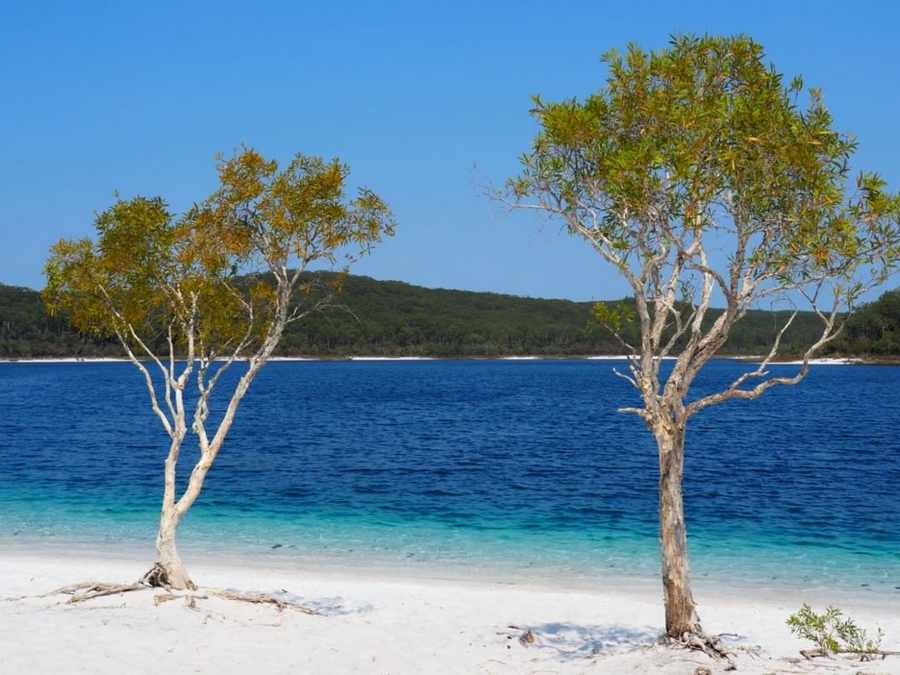 Other key spots that the Great Walk passes by are Valley of the Giants

ancient rainforest, Lake Wabby, Basin Lake

, Central Station camping area

, Lake Birrabeen, Lake Benaroon, Lake Garawongera, and Lake Boomanjin.
All these areas offer guests a fantastic view of the naturalistic parts of the island that make it so incredible. The beautiful lakes which are different from each other are a real treat.
The forest areas are filled with massive trees towering in sand dunes reaching elevations of around 200 metres high (or 656ft).
The Great Walk is considered to be a moderate walking track. It is not overly difficult, however, it does present some challenging spots to hike through due to the various landscape and sand dune areas within the depths of the rainforest and inner island areas.
This isn't to say that the Great Walk cannot be enjoyed by everyone. Rather, people should be aware of the various changes in the landscape and have proper outerwear to accompany their walk.
Walking the entire distance of the Great Walk is recorded to take up to 8 days or possibly 6, depending on the traveller. This really gives visitors the opportunity to explore the island in a one-of-a-kind way!
Moreover, the entire track can be broken up into sections to better showcase the lengths between key spots and landmarks on the island. Below is an example of how to break the walk up throughout an extended period.
Google Map of Fraser Island
Fraser Island Great Walk: Specific Sections
Day 1 – From Happy Valley to Lake Garawongera, approximately a 6.7km walk.
Day 2 – From Lake Garawongera to Valley of the Giants Rainforest section, approximately a 13km walk.
Day 3 – From Valley of the Giants Rainforest section to Lake Wabby, approximately a 16km walk.
Day 4 – From Lake Wabby to Lake McKenzie, approximately a 12km walk.
Day 5 – From Lake McKenzie to Lake Benaroon (and passing Basin Lake and Central Station camping area), approximately a 14.4km walk.
Day 6 – From Lake Benaroon to Dilli Village (and passing Lake Boomanjin), approximately a 13.5km walk.
Depending on the hiker, these areas can be hiked around 6 days or up to 8 days. The Great Walk is truly "great" due to its distance, sights, and overall accessibility to visitors.
Can You Walk Around Fraser Island?
As expressed, Fraser Island is not only immersive but also massive in its size. This leaves people to wonder if they can just walk around Fraser Island at their leisure.
The answer isn't that cut and dry. While it is possible to walk certain areas of the island, including 75 Mile beach as well as some of the forest areas, the best way to experience the island is through the Great Walk.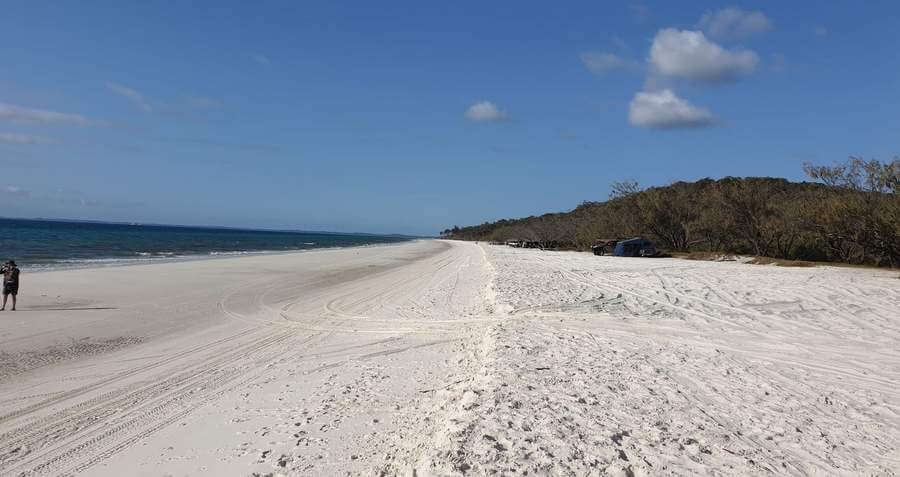 Portions of the Great Walk are split up with smaller trails spurring off of it for guests to access the main trail. These areas are generally access points for 4WD vehicles which is the only way to drive on the island due to all the sand blows and sand dunes throughout the island.
For those that are looking to take shorter walks along the island, there are some trail chunks established. These areas are a little shorter in length and are accessible from certain areas of the island.
These areas also provide a way to walk around other parts of the island without being directly on the Great Walk's trail. Below are the other access points and trail areas to consider.
Other Areas To Walk On Fraser Island
Walk The Beerillbee Trail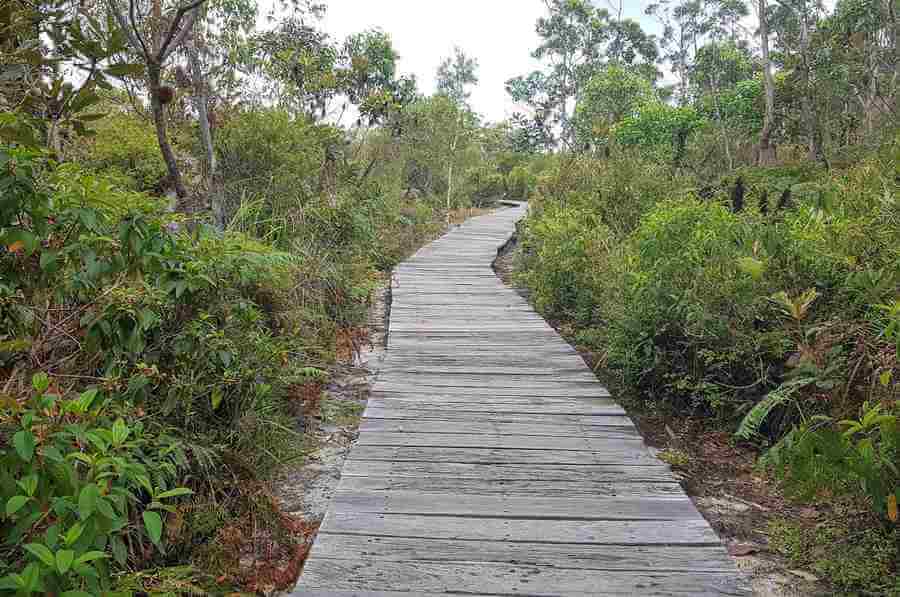 This trail is only 8km (or about 5 miles) and is near the Kingfisher Bay Resort. The track follows a large sand dune and walkers can experience spectacular sights of the Great Sandy Strait from the peak.
It is a popular area for those staying at the resort, but anyone can access this trail.
Walk The Boardwalk Around Wangoolba Creek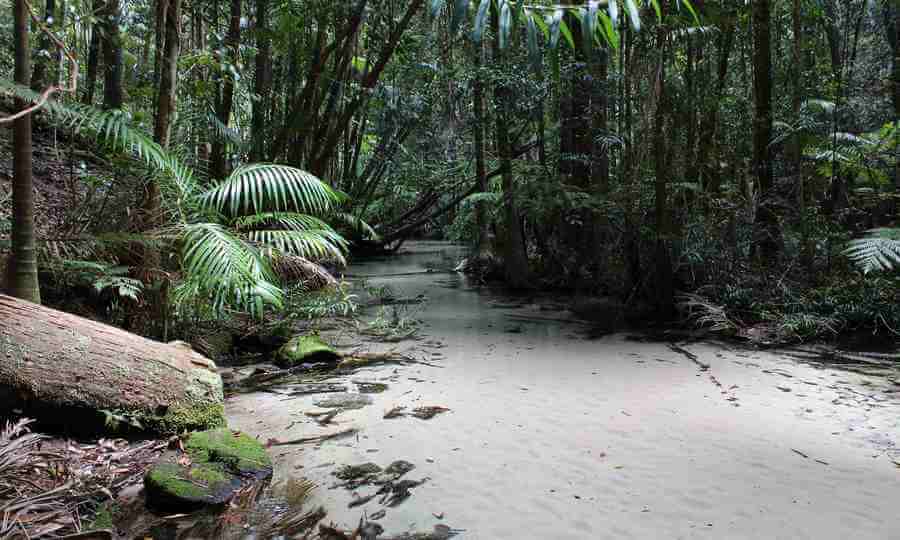 Wangoolba Creek is a calm water area and the boardwalk around the creek is popular among visitors. It is a level trek making it perfect for any level of hiker or walker.
Moreover, the distance is only about 0.9km (or about half a mile) and it runs near Central Station

as well.
Walk Around Lake Wabby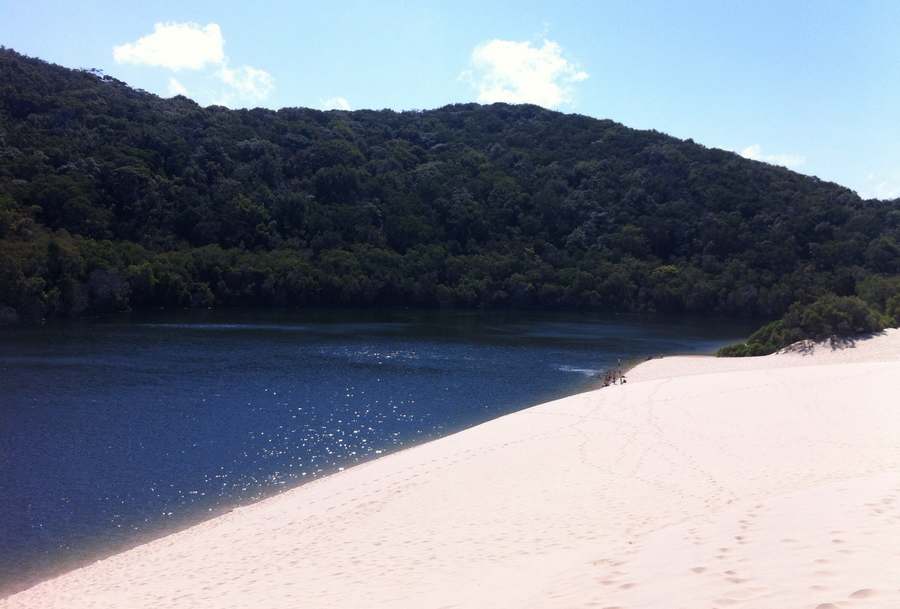 Lake Wabby is considered a perched lake, however, it is unique because it is backed by a large sand dune and flanked by a rainforest on the other side.
The area for walking around the lake is about 3km (or 1 to 2 miles) and passes through sand dune areas around the lake itself. This beautiful walk gives guests the opportunity to stop for a swim, provided they have brought their bathers.
These are the three most popular areas for walking around the island that aren't directly part of the Great Walk. Among these areas, any level of hiker or walker can travel them.
During these walks, guests can expect to see various wildlife, particularly birds which is something Fraser Island is known for.
Challenges Of The Great Walk
Once again, the Great Walk is considered to be a moderate walking track. All visitors should be prepared for uneven terrain. Moreover, being upfront about the challenges of the walk helps to ensure that someone who cannot handle the walk doesn't head out onto it.
Visitors should be aware of certain challenges and take caution with walking or hiking throughout the Great Walk's trail areas. So what are the challenges that the Great Walk present? Below are the common challenges of this notorious hiking and walking trail.
The Length Between Some Of The Key Points Of Interest
Less experienced hikers might find the length between key points of interest to be challenging. This can be due to the length itself or even the difficulty with the terrain in some of the areas.
This is why the routes to the key points of interest also include easier trails where 4WD vehicles can gain better, closer access. Moreover, these areas are often guided by tours to help guests even further on their adventure.
Certain Parts Of The Walk Are Pretty Remote And Isolated
While the Great Walk is indeed "great", it also has some pretty remote and isolated areas of its track.
These areas include the inland circuit walk by Lake McKenzie, the walk around Lake Birrabeen, and the areas between Lake Wabby and the Valley of the Giants rainforest area.
Because of its remoteness, these areas should be trekked with caution in mind as well as being prepared. This includes having a camping permit

ready for overnight stays and staying focused on keeping a steady walking rate to reach destinations by nightfall.
Dingoes are an issue on the island, so being at a camping spot before dark is essential for all visitors wishing to do overnight stays.
The Walk Does Require A Little Physical Fitness
While some parts of the island are accessible by tours or smaller track areas, the overall areas of the walk do require a certain level of moderate fitness.
This is due to the elevations, terrain, etc. To spend an entire on foot in some of these areas are not well suited to those who might not be in good physical health or overall health.
This is where being realistic about what type of journey is appropriate comes into play.
Just because there are some challenges to the Great Walk doesn't mean it shouldn't be explored. A better approach is to always ensure that someone is fully prepared.
This includes proper outwear, permits (if camping), having access to food and water, etc. Having some essentials handy will make any trip along the Great Walk a more enjoyable one.
Getting There And Getting Around

Getting to Fraser Island, in general, must be done by ferry or barge. There are two points on the mainland of Australia where guests can travel to the island.
These are at River Heads and Inskip Point. Both points run ferries or barges to the island daily. These ferries or barges can carry 4WD vehicles as well, which is the most popular way to travel on the island.
Because of the sand dunes all throughout the island, driving on the island can only be done by 4WD vehicles.
Guests can rent these vehicles if they wish, however, some touring companies have their own vehicles that bus people around to the trail areas and key points of interest.
Planning ahead is absolutely necessary. This includes obtaining any permits to drive 4WD vehicles on the island

. These permits must be obtained on the mainland and cannot be obtained on the island itself.
The Great Walk provides exceptional insight into the natural beauty of Fraser Island. Getting there and getting around on the island and the track itself requires planning just like any other type of trip.
It isn't as simple as just hopping on the ferry and hitting the trail. Preparedness comes from not only having proper permits to suit the needs of the trip but also various equipment like tents etc if planning an overnight stay.
Some of the tours that are available to the island may include some camping gear or supplies. If someone is planning to book through a touring company, checking to see what is provided as is absolutely critical.
Essentials To Bring On The Great Walk
Any walk or hike requires some essential basics. Considering the size of the Great Walk, this fact is particularly important. Below are the basic essentials to consider bringing either for a longer trip or a shorter trip.
What To Bring On The Great Walk Trails
Proper footwear (For short or long walks)
Proper footwear includes good treading and snug-fitting boots. Wearing runners or trainers simply will not do.)
Water (For short or long walks)
Water helps keep hydration levels up which is important on walks of any size.
Snacks (For longer walks, but could be for shorter walks)
Snacks like granola or trail mixes are good to pack to keep hunger at bay. Limiting the packaging is important so that rubbish is not left behind.
Insect repellent (For short or long walks)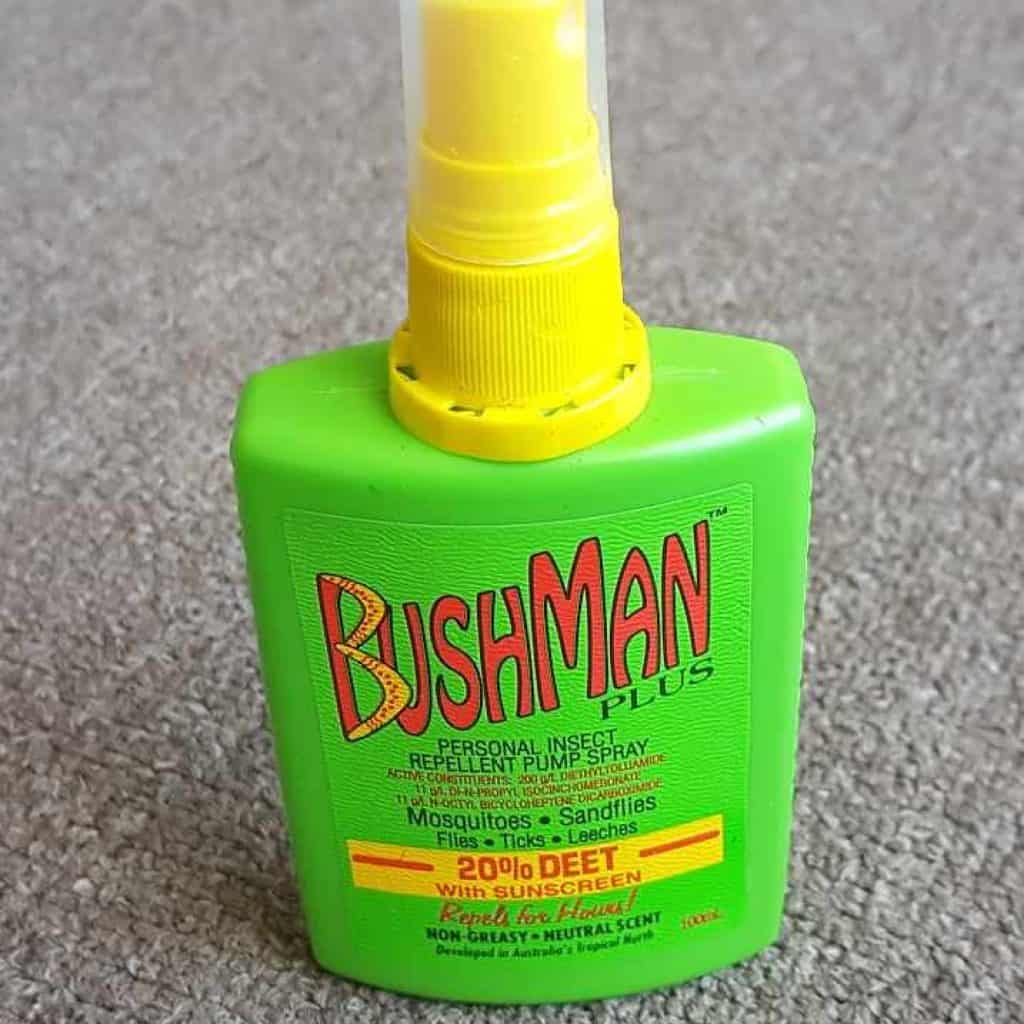 Having some basic insect repellent to spray onto the skin is important to keep bugs at bay. However, never climb into the lakes with any type of repellent on or sun lotion due to the fragile ecosystems of the waters.
Proper clothing (For short or long walks)
Having the correct clothing is also important. This includes a hat or sunglasses for extra shade in areas outside of the rainforest, shorts, bathers, spare shirt or sun shirt.
Backpack (For longer walks)
Backpacks aren't really necessary on shorter trail walks because those hikes aren't meant to extend for longer periods.
Backpacks can hold a little more and those heading out for the longer trail areas should consider bringing one. Moreover, the pack shouldn't be too filled and should only contain the absolute essentials.
Tent (For longer walks)
For those with camping permits for the island, bringing along a tent is important. There are access points along the Great Walk where pitching a tent for the night is permitted.
These areas are also protected from dingoes with safety fences. Tents should never be set up in unauthorized areas.
Trail map (For short or long walks)
Having a trail map is important because it helps keep someone on track (literally!). It can also provide important information like specific areas where tents can be pitched

etc.
For those taking longer walks that might need to pitch a tent, knowing where the closest tent area is located is important because then they can plan to be there by a certain time. View the interactive map

here.
Compass (For longer walks, but could be used for shorter walks)
A good compass is essential because it also tells someone the direction they are moving in. When using a compass in combination with a trail map, guests can always know exactly where they are throughout the trail.
While they could be used for shorter walks, these are more suitable for long walks.
First-Aid Kit (For longer walkers, but could be used for shorter walks)
First-aid kits are a hiking standard. They usually include pain medicines, bandages, or ointments needed in case of an emergent situation.
While shorter walks might warrant the need for one, having one handy on longer walks is more practical.
Rubbish bag (For short or long walks)
Rubbish bags help keep trash and litter picked up from the forest floor. The island is full of exotic plants and various natural areas that need to be preserved.
Anyone visiting the Great Walk and the island in general, should also keep rubbish to a limit and have a small bag ready to collect any trash that might be generated.
A walking buddy (For short or long walks)
While a walking buddy can't be packed up into a backpack, they can walk alongside people! Walking on the Great Walk does require a walking partner and it should never, ever be trekked alone.
This can be applied to any walking track around the world. It is simply safer and provides an extra pair of eyes to help keep everyone safe.
The Great Walk does require some planning, but it is well worth it to see all the beauty of the island throughout its path.
Once again, if someone is travelling the Great Walk with a touring group, it is always a good idea to check with them what items they might provide.
This list can be added to or subtracted from depending on the length of a trip being taken. The important thing is to have some sort of plan and pack only what is needed.
Permits And Fees Of Fraser Island
Any trip to Fraser Island requires its guests to obtain certain permits, which obviously have fees tacked to them. There are only two permits required: a camping permit and a driving permit.
Driving permits directly relate to driving a 4WD vehicle on the island while the camping permit allows visitors to pitch a tent in the designated areas. But what are the fees for these permits? Below are the fees associated with the permits for Fraser Island.
Camping Fees Year 2021
The fees for camping are $6.85 per night or $27.40 per night for a family (defined by groups of people up to 8). Camping fees are reduced to $3.75 per night for educational groups or students.
Vehicle Fees Year 2021
For a month or less, the fee is $54.55 for 4WD vehicle permits. For those who travel to the island more frequently, there is an option for a permit that lasts up to a year and costs $274.50.
All permits must be obtained prior to visiting the island. No permits are given on the island. The best way to purchase a permit is online, however, some places on the mainland do offer ways to purchase whatever permits are needed.
It is important to note that there are only 8 locations along the Great Walk where tent camping can occur. While most of them are fenced, not all of them are.
These areas should also be camped at with caution due to dingoes. These areas include Lake Benaroon, Lake Boomanjin, Lake Wabby, Lake McKenzie, Lake Garawongera, Vally of the Giants, Central Station, and Jabiru Swamp.
Only some areas include facilities such as toilets and knowing which area is most appropriate is always key.
For those who don't want to emerge themselves in the great outdoors, there are various lodging options on the island as well. These options can provide travel to the Great Walk for those still looking to tour the most notable places on the island.
These options include Kingfisher Bay Resort, Dilli Village (with cabin accommodation), Eurong, and Happy Valley.
It is also important to realise that all bookings must stay within a 2-night max and include no more than 8 persons.
Please view the videos below on how to find a campsite on Fraser Island
Climate And Weather
Australia in general is known for its warmer climate. This is due to its proximity to the Tropic of Capricorn

, which is where tropical weather derives from.
As for Fraser Island and the Great Walk, the climate is considered to be subtropical. This means that it borders the Tropic of Capricorn and experiences some tropical temperatures.
The average temperature of Fraser Island is said to be 28 to 29 degrees Celcius from December to March, 20 to 26 degrees Celcius from April to July, and 22 to 27 degrees Celcius from August to November.
These temperatures are pretty comfortable and don't really drop to any significant chill factors. Although, in the months that could be classified as "winter", which are June to August, the temperatures can get as low as 14 degrees Celcius.
The rainfall on Fraser Island is the highest during the month of February and it can see upwards of 170mm of rainfall during that month alone.
The lowest periods of rainfall are in the months of September and October where rainfall averages only reach up to 58mm this can be the best time to go to Fraser Island.
Some areas of the rainforest that experience more rainfall are considered to be wetland areas and they aren't always able to be travelled during large rainfall periods.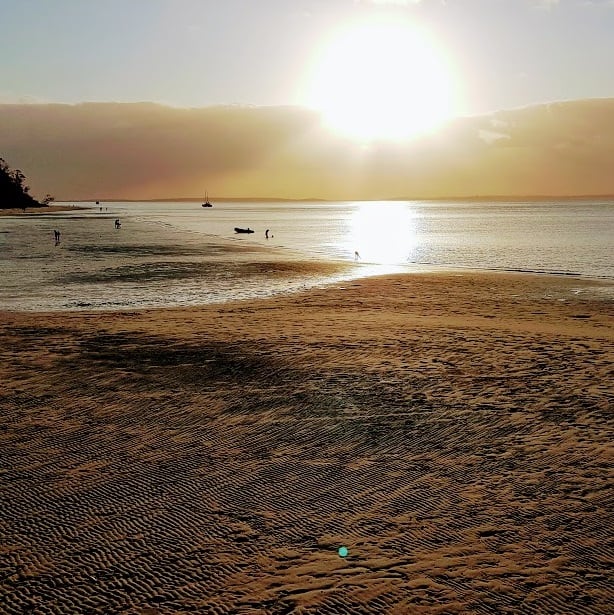 What Walks Are On Fraser Island?
While the Great Walk is the most popular walk on the island, as expressed before, there are other walks to consider. Once again these include walking areas by Wangoolba Creek, Beerillbee Trail, and Lake Wabby specifically.
Other walks on Fraser Island include areas along the shorelines of 75 Mile Beach and smaller trails that spur off of the Great Walk itself. Once again, these walks aren't always necessarily trails, rather they are access points for 4WD vehicles.
Short Walks And Long Walks: Fraser Island Great Walk
As expressed throughout this article, there are varying levels of walks that guests can experience. From short walks on the small trails to the longer distances stretching between all the key points, there is a walk for everyone.
Moreover, guided trail tours will provide the best access for the shorter walk areas for those who aren't quite ready to tackle the large and longer walks.
For those looking to take on a few days of adventure, following the Great Walk map is the best way to accomplish this. Once again, someone should always be prepared for a trip of that nature!
The important thing is that Fraser Island offers up a variety of walking trails that meet any level of walker or hiker that visits the island.
Walk Safely At Fraser Island
Australia is known for its dangerous and exotic wildlife. However, just because there are certain things to be cautious about doesn't mean that guests can't have a good time.
It is important to stay alert while walking on Fraser Island and the first step in doing this is to have a walking buddy or partner. This helps everyone stay accountable for each other.
The biggest threat on Fraser Island is its dingo population

. They are found throughout the island and anyone walking around the island should take extreme caution towards these creatures.
When encountering a dingo, it is important not to panic. This can be difficult, however, it is absolutely critical. This means that one should not run, act rashly, or wave their arms in any way. This can cause the dingo to act more swiftly.
Instead, guests should stand tall and upright with their arms crossed. They should never turn away from the dingo where it is not within their sightline.
At this point, they should slowly back away from the dingo. If there is another person in their company, they should stand with their backs to each other, so a full range of sight is provided.
Most dingoes will not attack unless they feel a reason to. Calling for help is the last step if the dingo is not leaving the area.
It is important to consider camping within the fenced in areas to prevent any exposure to dingoes. Otherwise, staying alert is the real key to safely walking on Fraser Island and its various trails, especially the Great Walk.
Fraser Island Great Walk is an iconic way to experience everything that makes the island truly fascinating. Through a touring group or by travelling with a partner, exploring the walk is absolutely stunning and exciting!
To explore the Great Walk on Fraser Island Check here for great deals and guided tours.

Resource Links To Products We Use And Recommend
More Pages On Fraser Island
link to Can You Drive At Night On Fraser Island?
Fraser Island, located off the coast of Queensland, Australia, is a popular tourist destination and a UNESCO World Heritage Site. The island, which spans more than 120 kilometres in length and 24...
link to Are There Toilets On Fraser Island?
Fraser Island, which is a popular tourist destination in Australia. The island has a number of campsites and other facilities where visitors can use toilet facilities. There are on average around 22...