This tranquil, beachside location can be found approximately 2 hours south of Hervey Bay in picture-perfect Queensland. Boasting absolutely perfect weather conditions most of the year, you can expect to swim and enjoy the beaches every day.
Rainbow Beach produces an average low of 12 degrees (celsius) and an average high of a beautiful 28 degrees (celsius). Making it the perfect spot to holiday with so much on offer. But there's more to Rainbow Beach than can be seen.
Rainbow Beach was first established back in July of 1973 due to a shipwreck that struck the banks of Rainbow Beach. But it wasn't always called Rainbow Beach, it was once known as Black Rock which was later changed. You can find out more about the history of Rainbow Beach here.
Why Is It Called Rainbow Beach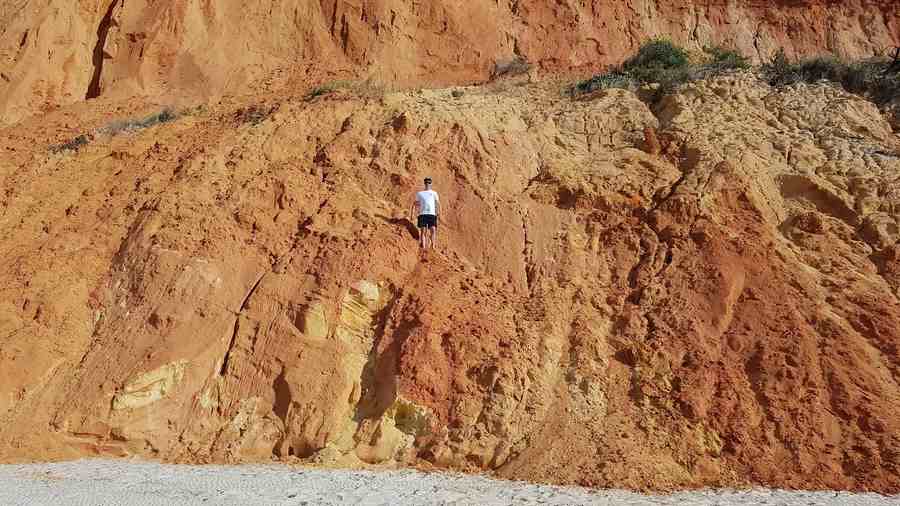 When Rainbow Beach was first discovered, it was a discovery like no other.
Over the years many have said Rainbow Beach received its name

from the many-coloured found sands along the shoreline of the town. While this does sound true other locals have said that they believe the name came from the ship the HMS Rainbow.
Here are 23 kilometres of crystal clear beach that brought with it the sun, the surf and the sand – all snuggled in surrounded by the dense landscape of the flora and fauna that would be growing within this amazing area.
Not only was it a picture-perfect discovery, but it was also a very short 10 minutes from the world heritage listed Fraser Island.
Does Rainbow Beach Have Rainbow Sand?
This particularly stunning place would become popular for sand mining and later on, turn into one of the best-kept secrets as people from all over the world fell in love with this majestic area.
Rainbow Beach portrays some of the most magnificent coloured sand dunes in stunning colours with many colours of the rainbow are found all along the beach shorelines that you can drive on. There are many coloured sands found at Rainbow Beach that are often referred to as rainbow sands.
In fact, this is where the name "Rainbow Beach" was thought to originate from its rainbow coloured sand.
Very few people resided in the area during the sand mining phases and still today, there are very few who are privileged to call this place "home".
With a population of around 1,249 residents, it is still a quiet and peaceful day to day location to be amongst.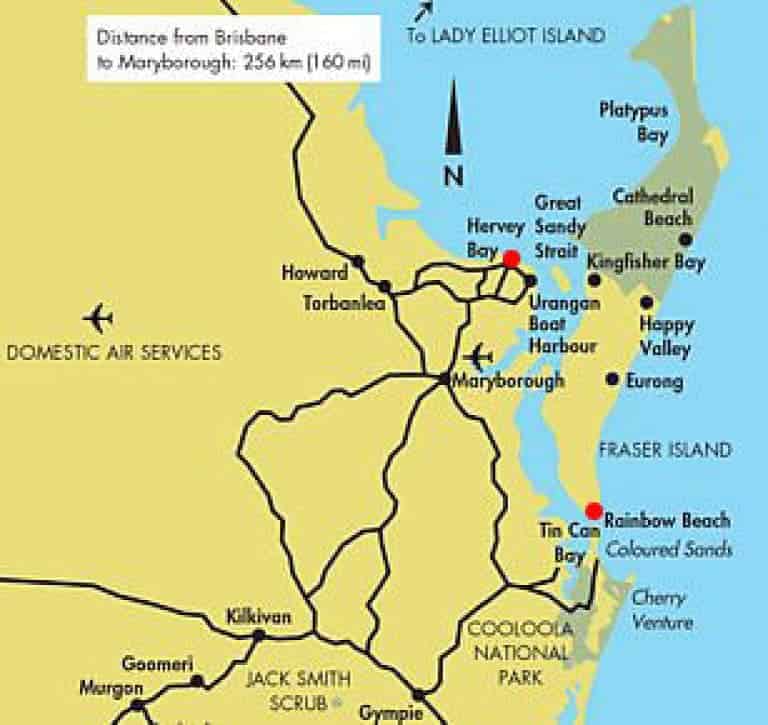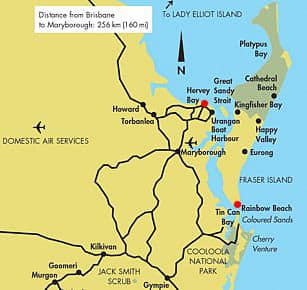 However, it was the attention it gained from the rest of the world that has given Rainbow Beach its very own stamp on tourism in the Wide Bay as it plays host to 212,000 visitors each and every year.
So by now, you're probably asking, where is Rainbow Beach? It is located in Queensland Australia close to Fraser Island, Tin Can Bay and Noosa.

Bringing Rainbow Beach into the 21st Century, you will find the area alive and happening. Heading into the area you will immediately notice how pristine-looking the place is with easy to follow roads and plenty of parking spaces available.
Where To Eat In Rainbow Beach
Shops line the main street, Here you will find places to sit and enjoy a meal or drink, and fashion outlets that offer people of all ages the latest in hats, clothes, beachwear, thongs, along with other items.
You can purchase many items from the local newsagents, such as things from local papers, and magazines to gift cards.
If your looking for food for lunch and dinner you will find many of the best places to eat on Rainbow Beach Rd.
Here Is A Sample Of Places To Eat In Rainbow
| | |
| --- | --- |
| Arcobaleno on the Beach Address: 1/19 Rainbow Beach Rd Ph: (07) 5486 8000 | Brent's Burgers Address: 8 Rainbow Beach Rd Ph: (07) 5486 8877 |
| Rainbow Beach Pizza Address: 1/48 shop, Rainbow Beach Rd Ph: (07) 5486 3043 | Rainbow Beach Hotel Address: 1 Rainbow Beach Rd Ph: (07) 5486 3008 |
| The Deck @ Sea Salt Address: 2 Rainbow Beach Rd Ph:0499 008 624 | Rainbow Beach Surf Club Address: Wide Bay Esplanade Ph: (07) 5486 3249 |
Shopping for food and supplies is all covered with outlets stocked with all the items you need to ensure your stay, no matter the duration, Rainbow Beach provides everything you are wanting it to.
In need of alcohol supplies? You can purchase your takeaway drinks or pull up a seat in the local pub and enjoy a cold beverage whilst chatting to some of the locals who reside in this magical place.
Kids of all ages will enjoy the park area where they can stop for a climb and play whilst the adults sit back in the sheltered undercover area nearby.
The whole family will enjoy some of the scenic walks there are to go on, as well as following the pathway up to the enormous sand dune that you can sit upon and take some of the best pictures in the world from this absolutely beautiful vantage point.
Rainbow Beach Accommodation
Now that you have viewed the different outlets Rainbow Beach has to offer, it is time to talk about the different styles of accommodation that are available to you, for however long you chose to stay.
From five star resorts to hotels and motels, lodges, bed and breakfast ideas, caravan parks and holiday houses that are available for rental to backpacker hostels.
If you're looking for the local Rainbow Beach Caravan Park the most popular park is Rainbow Beach Holiday Village, located right across from the beach next to the Carlo Sand Blow, and only a short walking distance to the centre of the town.
You can find them at 13 Rainbow Beach Rd, Rainbow Beach phone (07) 5486 3222.
There is five-star accommodation in this beautiful area. Rainbow Beach Palms Resort offers everything you would expect in the perfect getaway, from the room to the breathtaking views and the glorious infinity pool.
Many visitors decide Rainbow Beach as their perfect location for their upcoming nuptials and enjoy being able to book top accommodation for themselves and their guests when in the area.
Apartments are very popular as well as you can pick one that is suitable to your budget if you are deciding to stay on for some time.
These are also extremely popular with families who enjoy visiting the area throughout the annual school vacation times – which are the busiest times in the area.
You can decide on a self-contained apartment or book one where you can bring most of your own belongings and save money on the booking fees.
Touring around the great Wide Bay backpacker style? Rainbow Beach offers a tone of fabulous backpacker accommodation at the fabulous prices you would expect when in the area.
Most places will have one set fee with everything inclusive, such as some meals, hiring of beach equipment, WIFI and DVD hire as well as secured parking for your rented vehicle to ensure its safety.
Here's a Short List of Accommodation Options In Rainbow Beach:
Rainbow Getaway Holiday Apartments
2/4 Double Island Dr, Rainbow Beach QLD 4581
Phone: (07)5486 3500
Freedom Rainbow Beach
20 Spectrum St, Rainbow Beach QLD 4581
Phone: (07)5401 5500
BIG4 Breeze Holiday Parks – Rainbow Beach
308 Carlo Rd, Rainbow Beach QLD 4581
Phone: (07)5486 3200
Plantation Resort at Rainbow
1 Rainbow Beach Rd, Rainbow Beach QLD 4581
Phone: (07)5486 9600
Debbie's Place
28 to 32 Kurana Street, Rainbow Beach QLD 4581
Phone: (07)5486 3506
Rainbow Ocean Palms Resort
103 Cooloola Dr, Rainbow Beach QLD 4581
Phone: 0427 722 996
Want to bask in the spoils of staying at a bed and breakfast outlet?
Couples that host bed and breakfast outlets have piled all their time into delivering you the very best in your "home away from home" accommodation choice.
Delicious homemade breakfast greeted with that warmth and friendliness you deserve.
Ask your hosts any questions on the History of the area and what there is to do as this is them at their best – delivering you the answers to ensure your stay is 10/10.
At the end of the day, relax and unwind back in your room that has that homely feel to it just like you love.
Do you wish to bring your entire family to this glorious area for the next upcoming school vacation period?
There are various holiday houses available for rental that can accommodate an entire family, pets and several vehicles. Dogs are allowed on some parts of Rainbow beach always be safe and use a lead at all times.
These houses come fully equipped with everything you already are used to and might have in your own home.
Arrive and hit the beach! Just remember it is vital that you get in early and book your rental house as these can become a very popular idea with families for these annual events.
Rainbow Beach Camping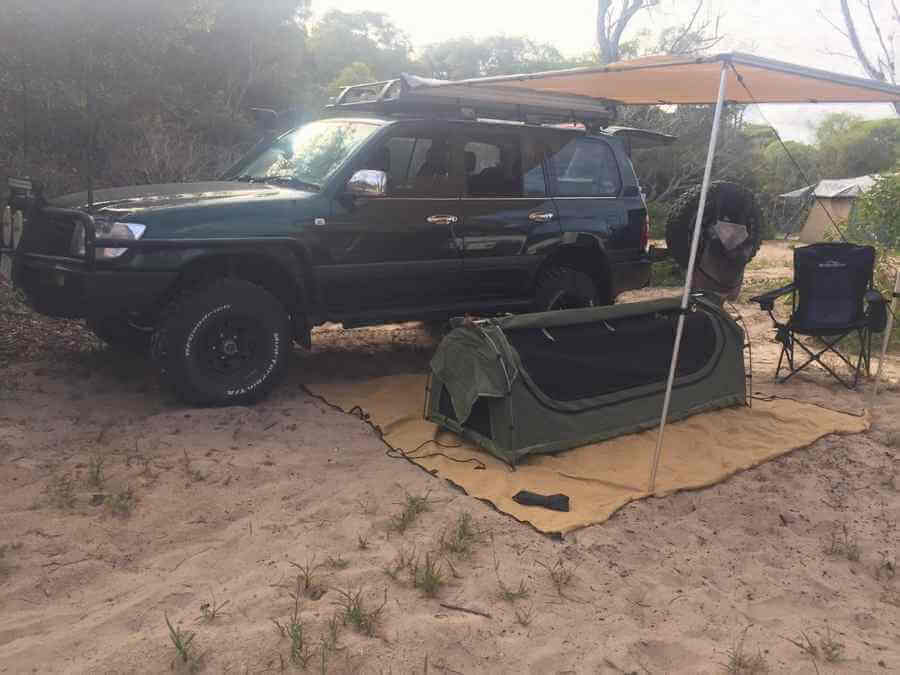 Another great way to enjoy all the area's surrounding has on offer is to decide on taking a caravan or going camping.
This very versatile way of moving around allows you to bring your accommodation with you – everywhere you go.
Also, it can be a lot less costly to accommodate in your own caravan or tent.
Within the grounds are shower and toilet facilities, rubbish outlets, BBQ facilities and the main office where you can obtain any information about the area.
The most popular area for camping is located at Inskip Point you will find many camping areas set out along the beach.
The beach along the foreshore makes the perfect area for night camping, you will find so many camping areas set out along the beach, Do you need a permit for camping?

Yes, they are required for all campsites and you can camp for up to 30 days. Please book your camping area before arriving at the site to avoid disappointment. Dogs are allowed at Rainbow Beach around the Inskip peninsula area they must stay on a leash and be watched at all times pet owners are responsible for their animals.
What Is There To Do At Rainbow Beach?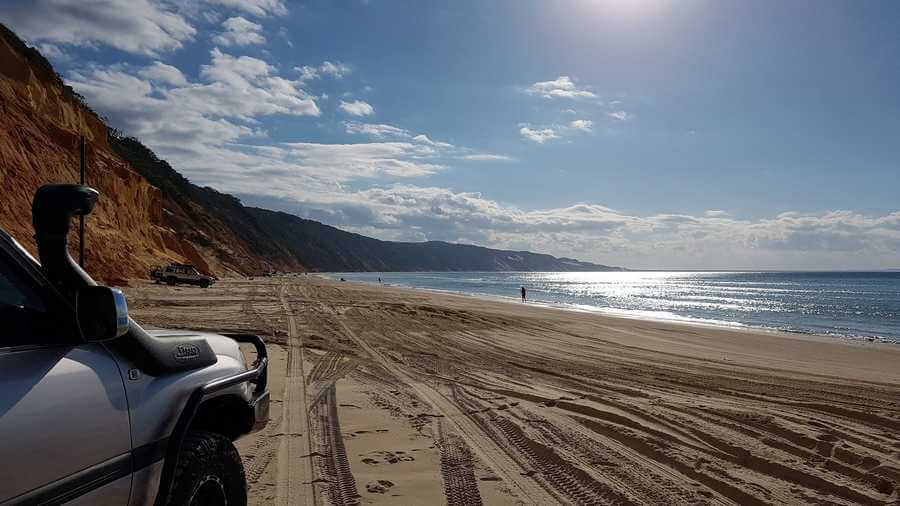 Rainbow Beach has some well-located caravan parks that welcome you to come and stay on their grounds where you are close to the beauty of the beach and within walking distance to all the shops and eateries around plus many things to do.
Some things you can come try or do while at Rainbow Beach:
Come visit the beach with the best view in the world of a perfect shoreline. Why not try out the learn-to-surf tours

at Rainbow Beach while you're here. To learn more about the many things to do that are listed above click here for detailed information.
Is Rainbow Beach Worth Visiting?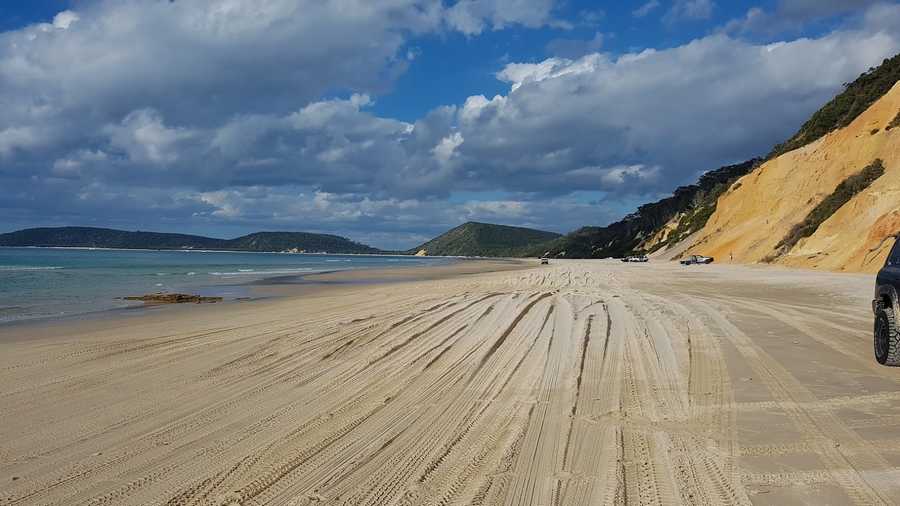 Visiting Rainbow Beach is well worth it, You will find a small country town with a beach vibe! With plenty of beaches that are worth visiting every day! If you love outdoor activities and nature you will enjoy spending time here, The locals love to chill out with some takeaway food on the beach.
Rainbow Beach has become a very iconic place to travel to and vacation. Many people flock here during the warm summer months between December and February, even leading into the months of April.
If you are planning to go to Rainbow Beach, be sure to plan out your day as there is only two-way traffic the whole way and some people use this road to get to the ferry that takes them to Fraser Island it can become congested.
So it is advisable to pack a picnic have plenty of water and if the lines become backed up, turn off your car so it doesn't become overheated.
Other than that Rainbow Beach is well worth the wait with so much to do in this small yet big attraction town. With plenty for the kiddies and adults to do with great pubs a fantastic park and a beach that stretches for miles.
You may even spot a whale or two between the end of June to late August if you are lucky right from the shoreline or up the top of Carlo Sand Blow. In the past crocodiles have been spotted in the area read here for more info about them.
When To Visit Rainbow Beach?
Now that we've given you an overview of all the info about Rainbow Beach, you are now left to wonder when is the optimal time of year to visit Rainbow Beach. There is no right or wrong answer to this as throughout the year rainbow beach is beautiful.
Rainbow Beach's location makes it a perfect place to visit between April and September during the winter for the perfect weather. Like most of Queensland, Rainbow Beach can have many different weather changes, summer months are around 27° and winter lows of 21° this is when many choose to visit.
Yes, you will get cooler nights, but the daytime weather is optimal when most are driving along the beach. It's also during the start of Spring and during the whale season where you can spot whales right from the shores.
This time of year is also classed as the low season so there are fewer visitors and cheaper accommodation options.
It doesn't matter whether you're driving on the beach or looking from the lookout or from Carlo Sand Blow.
Resource Links To Products We Use And Recommend
More Pages On Other Areas