This tranquil, beachside location can be found approximately 2 hours south of Hervey Bay in picture-perfect Queensland. Boasting absolutely perfect weather conditions most of the year, you can expect to swim and enjoy the beaches every day.
Rainbow Beach produces an average low of 12 degrees (celsius) and an average high of a beautiful 28 degrees (celsius).
Tours to Rainbow Beach can be found here click for pricing.

Why Is It Called Rainbow Beach?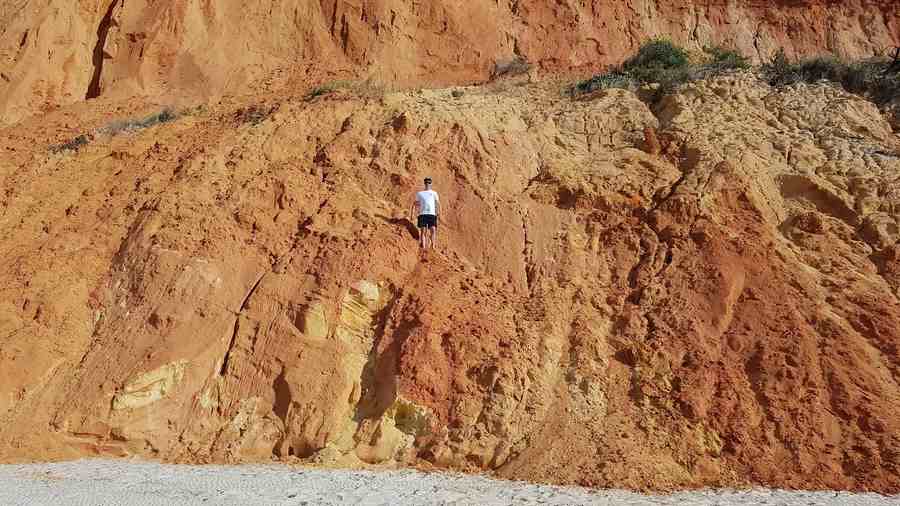 When Rainbow Beach was first discovered, it was a discovery like no other.
Over the years many have said Rainbow Beach received its name from the many-coloured found sands along the shoreline of the town. While this does sound true other locals have said that they believe the name came from the ship the HMS Rainbow.
Here are 23 kilometres of crystal clear beach that brought with it the sun, the surf and the sand – all snuggled in surrounded by the dense landscape of the flora and fauna that would be growing within this amazing area.
Not only was it a picture-perfect discovery, but it was also a very short 10 minutes from the world heritage listed Fraser Island.
Does Rainbow Beach Have Rainbow Sand?
This particularly stunning place would become popular for sand mining and later on, turn into one of the best-kept secrets as people from all over the world fell in love with this majestic area.
Rainbow Beach portrays some of the most magnificent coloured sand dunes in stunning colours with many colours of the rainbow are found all along the beach shorelines that you can drive on.
In fact, this is where the name "Rainbow Beach" was thought to originate from.
Very few people resided in the area during the sand mining phases and still today, there are very few who are privileged to call this place "home".
With a population of around 1,249 residents, it is still a quiet and peaceful day to day location to be amongst.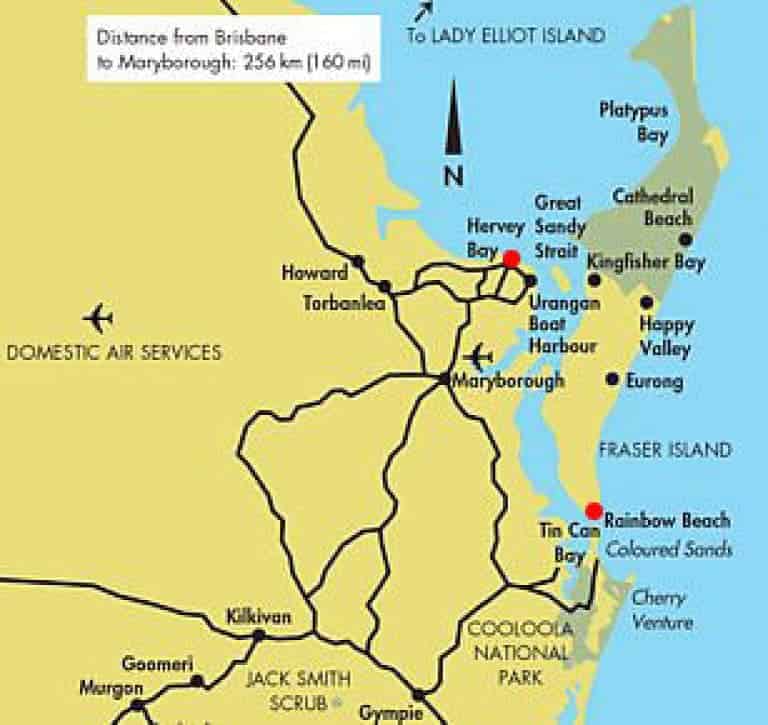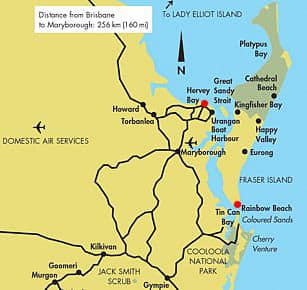 However, it was the attention it gained from the rest of the world that has given Rainbow Beach it's very own stamp on tourism in the Wide Bay as it plays host to 212,000 visitors each and every year.
So by now, you're probably asking, where is Rainbow Beach? It is located in Queensland Australia close to Fraser Island, Tin Can Bay and Noosa.

Bringing Rainbow Beach into the 21st Century, you will find the area alive and happening. Heading into the area you will immediately notice how pristine-looking the place is with easy to follow roads and plenty of parking spaces available.
Where To Eat In Rainbow Beach
Shops line the main street, Here you will find places to sit and enjoy a meal or drink, fashion outlets that offer people of all ages the latest in hats, clothes, beachwear, thongs, along with other items.
You can purchase many items from the local newsagents, such as things from local papers, magazines to gift cards.
If your looking for food for lunch and dinner you will find many of the best places to eat on Rainbow Beach Rd.
Here Is A Sample Of Places To Eat In Rainbow
| | |
| --- | --- |
| Arcobaleno on the Beach Address: 1/19 Rainbow Beach Rd Ph: (07) 5486 8000 | Brent's Burgers Address: 8 Rainbow Beach Rd Ph: (07) 5486 8877 |
| Rainbow Beach Pizza Address: 1/48 shop, Rainbow Beach Rd Ph: (07) 5486 3043 | Rainbow Beach Hotel Address: 1 Rainbow Beach Rd Ph: (07) 5486 3008 |
| The Deck @ Sea Salt Address: 2 Rainbow Beach Rd Ph:0499 008 624 | Rainbow Beach Surf Club Address: Wide Bay Esplanade Ph: (07) 5486 3249 |
Shopping for food and supplies is all covered with outlets stocked with all the items you need to ensure your stay, no matter the duration, Rainbow Beach provides everything you are wanting it to.
In need of alcohol supplies? You can purchase your take away drinks or pull up a seat in the local pub and enjoy a cold beverage whilst chatting to some of the locals who reside in this magical place.
Kids of all ages will enjoy the park area where they can stop for a climb and a play whilst the adults sit back in the sheltered undercover area nearby.
The whole family will enjoy some of the scenic walks there are to go on, as well as following the pathway up to the enormous sand dune that you can sit upon and take some of the best pictures in the world from this absolutely beautiful vantage point.
Tours to Rainbow Beach can be found here click for pricing.

Rainbow Beach Accommodation
Now that you have viewed the different outlets Rainbow Beach has to offer, it is time to talk about the different styles of accommodation that are available to you, for however long you chose to stay.
From five star resorts to hotels and motels, lodges, bed and breakfast idea's, caravan parks and holiday houses that are available for rental to backpacker hostels.
If you're looking for the local Rainbow Beach Caravan Park the most popular park is Rainbow Beach Holiday Village, located right across from the beach next to the Carlo Sand Blow, and only a short walking distance to the centre of the town.
You can find them at 13 Rainbow Beach Rd, Rainbow Beach phone (07) 5486 3222.
There is five-star accommodation in this beautiful area. Rainbow Beach Palms Resort offers everything you would expect in the perfect get-away, from the room to the breathtaking views and the glorious infinity pool.
Many visitors decide Rainbow Beach as their perfect location for their upcoming nuptials and enjoy being able to book top accommodation for themselves and their guests when in the area.
Apartments are very popular as well as you can pick one that is suitable to your budget if you are deciding to stay on for some time.
These are also extremely popular with families who enjoy visiting the area throughout the annual school vacation times – which are the busiest times in the area.
You can decide on a self-contained apartment or book one where you can bring most of your own belongings and save money on the booking fees.
Touring around the great Wide Bay backpacker style? Rainbow Beach offers a tone of fabulous backpacker accommodation at the fabulous prices you would expect when in the area.
Most places will have one set fee with everything inclusive, such as some meals, hiring of beach equipment, WIFI and DVD hire as well as secured parking for your rented vehicle to ensure it's safety.
Rainbow Beach Camping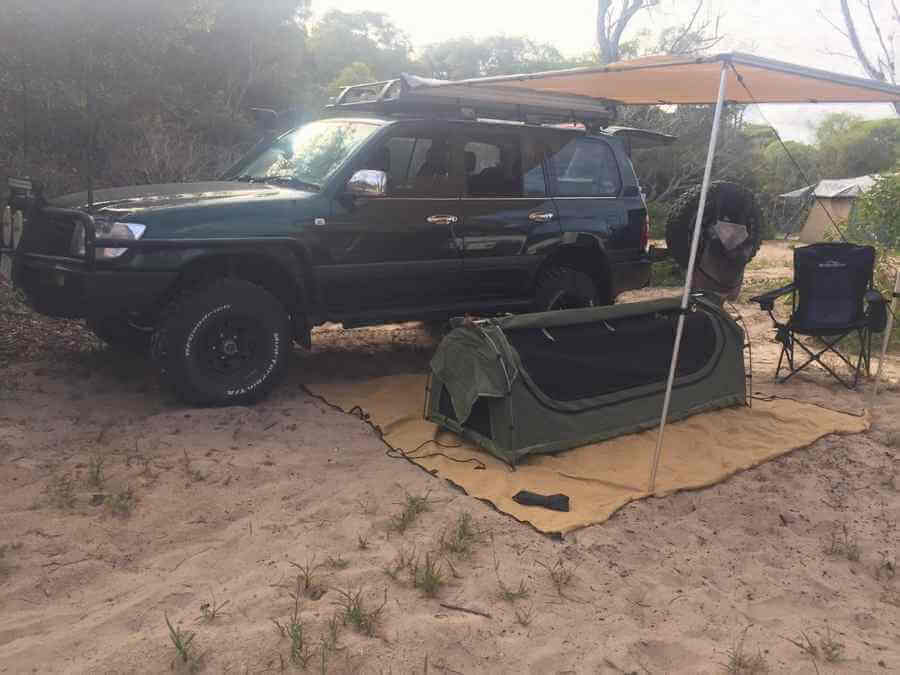 Another great way to enjoy all the area's surrounding has on offer is to decide on taking a caravan or go camping.
This very versatile way of moving around allows you to bring your accommodation with you – everywhere you go.
Also, it can be a lot less costly to accommodate in your own caravan or tent.
Within the grounds are shower and toilet facilities, rubbish outlets, BBQ facilities and the main office where you can obtain any information about the area.
The most popular area for camping is located at Inskip Point you will find many camping areas set out along the beach.
The beach along the foreshore makes the perfect area for a night camping, you will find so many camping areas set out along the beach, Do you need a permit for camping?

.
Yes, they are required for all campsites and you can camp for up to 30 days. Please book your camping area before arriving at the site to avoid disappointment.
What Is There To Do At Rainbow Beach?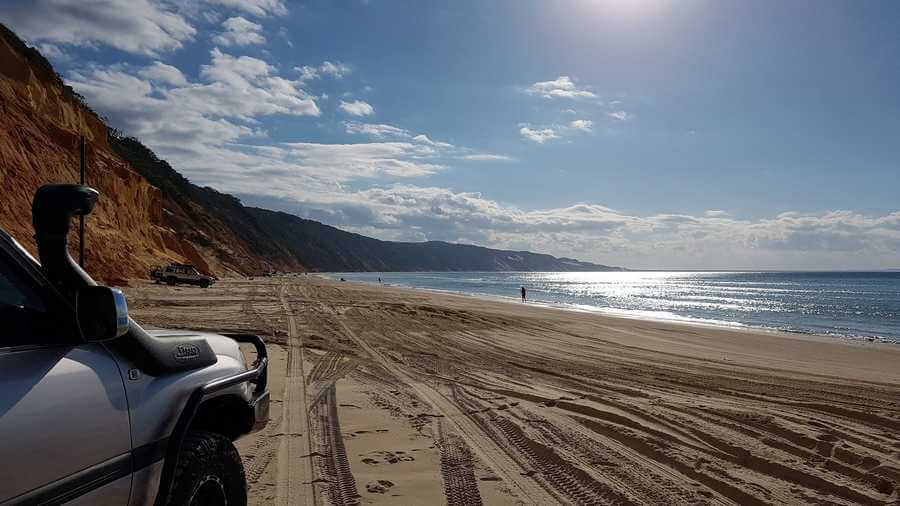 Rainbow Beach has some well-located caravan parks that welcome you to come and stay in their grounds where you are close to the beauty of the beach and within walking distance to all the shops and eateries around plus many things to do.
You can swim, surf, fish and go on a 4×4 drive tour, of the amazing beach with the best view in the world of a perfect shoreline

. Why not try out the learn to surf tours at Rainbow Beach here

.
Tours to Rainbow Beach can be found here click for pricing.

Horse Riding At Rainbow Beach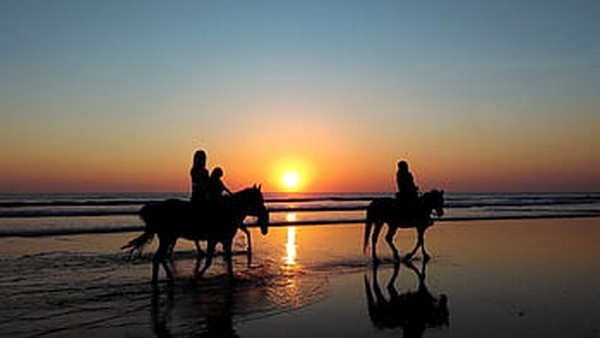 Rainbow Beach which is situated on the glorious Queensland coastline is a popular destination for tourists and locals to indulge in a wide range of activities.
One such activity that is extremely popular here is horse riding. Whether you have plenty of experience or are completely new to horse riding, there will be something for you here.
In this article, we want to share with you some of the very best horse riding experiences that are available to you as well as giving some general information on the topic

.
Tips For Horse Riding At Rainbow Beach
Before we start looking at the horse riding experiences that are available here, we want to talk about some tips and advice surrounding horse riding at Rainbow Beach in order to give you the most enjoyable and safest time possible. Click here for up to date pricing and booking times

.
There are a variety of different horse riding experiences available and so depending on your preference and level of experience will highly depend on which you take. Some of the opportunities that await are moonlight horse riding, swimming horse riding, beach rides and country rides.
Most horse riding companies will have horses that are used to working with beginners but it is always worth checking beforehand to ensure that both you and the animal are going to be safe and happy.
Your horse riding tour guide will be extremely experienced in the field and so will have a vast knowledge, do not be afraid to ask questions as this will ensure the safest experience possible.
Most companies will have a weight and age limit and so you should check before booking in order to make sure that you and your family can ride.
It is also worth noting that different horse riding tours will be offered to different experience levels and so you should always make sure that you are booking one that is suitable for your level.
If you are a beginner, there is no need to think that you won't be able to take part as there are a whole host of beginner options available.
The Best Horse Riding Tours At Rainbow Beach
We have put together a list of some of the very best horse riding experiences in the area, along with how much you can expect to pay and how long you get on the horse.
The Beach Swimming Horse Ride
This is a slightly more pricey option

than many at $500 per person but what an experience to be able to ride through the waves on horseback. This one is only offered to more experienced riders and is a bareback ride.
This is a completely unique way to enjoy the clear waters of Rainbow Beach and is something that can be enjoyed by riders over the age of 10. This experience lasts for 90 minutes and you are asked to arrive half an hour before your allotted time.
The Full Moon Beach Horse Ride
If you are more of a night owl then this stunning moonlight ride, held every month on the evening of the full moon will certainly appeal. Riders are looking at paying $250

for this two and a half hour, stunning horse ride.
There are plenty of opportunities to take photos and capture the memory of this incredible experience.
As the moonlight reflects off the crystal blue waters, you can relax and enjoy the ride.
Since this ride is only held once a month, the operator suggests booking well in advance to secure your place.
The Rainbow Beach Horse Ride
For one and a half hours, you can enjoy the beautiful scenery at Rainbow Beach on horseback. With prices starting at around $180

, you will have the chance to explore the area no matter what your riding experience level.
All the equipment that you will need is provided so all you need to do is to turn up on the day. These rides take place in both the morning and the afternoon, giving you flexibility of when you want to take part.
Try Out The Personalised Horse Rides
If you have a special occasion that you think a horse ride would be perfect for then there is an option for this too.
Whether it is a birthday, engagement or any other type of celebration, you can arrange a beautiful horse riding experience along this amazing beach.
The price and duration

of this one will depend and you should get a quote in order to find out this information.
The Country Day Ride In The Bush Land
Moving away from the beach, but still based in the Rainbow Beach area, riders can experience the neighbouring bushland whilst still enjoying a ride on horseback.
This horse riding experience includes lunch at a local tea room and gives you the chance to get up close and personal with the local wildlife including koalas and kangaroos.
The reviews of this ride have been excellent and it is said that some of the views and scenery you will take in are breathtaking.
Should you wish to take part in this day-long excursion, which in actual fact lasts around six to seven hours, you can expect to pay $300 per person

.
Rainbow Beach is a truly stunning location and there are many ways in which you can enjoy the amazing scenery that this place has to offer.
But none are quite as much of an experience as on horseback.
Horse riding is an incredibly popular activity at Rainbow beach, and there are a huge amount of horse riding opportunities available.
It does not matter whether you have been riding for years or if you are a complete beginner, at Rainbow beach there are a huge wealth of options for every level of rider.
Take in the ocean views with a moonlight ride or perhaps opt for a dip in the sea whilst on your horse.
However you decide to take part in a Rainbow Beach horse ride, one thing is for sure and that is that it will be an experience that stays with you for life.
Why not take a look at the other things to do at Rainbow Beach.
Fishing At Rainbow Beach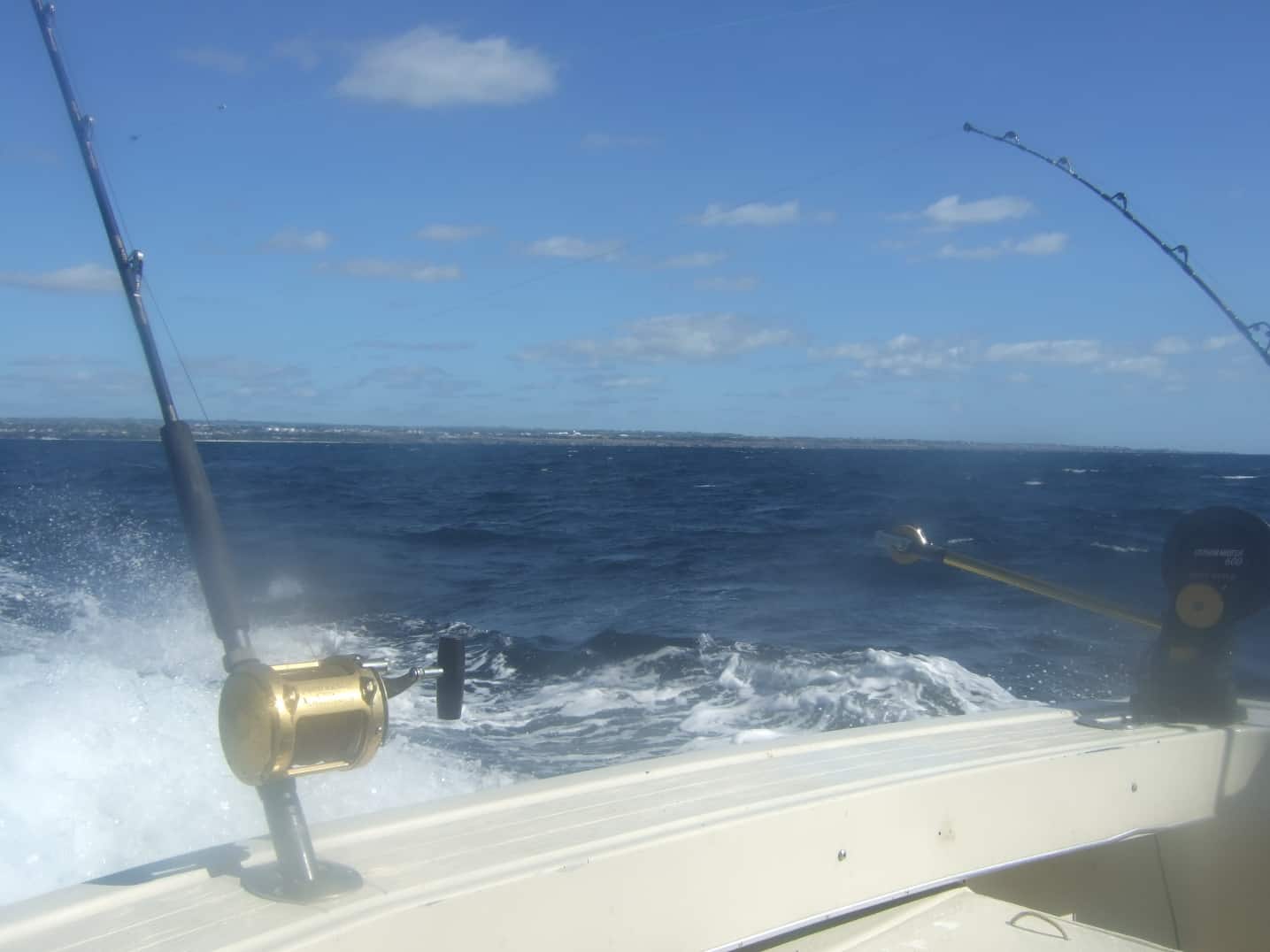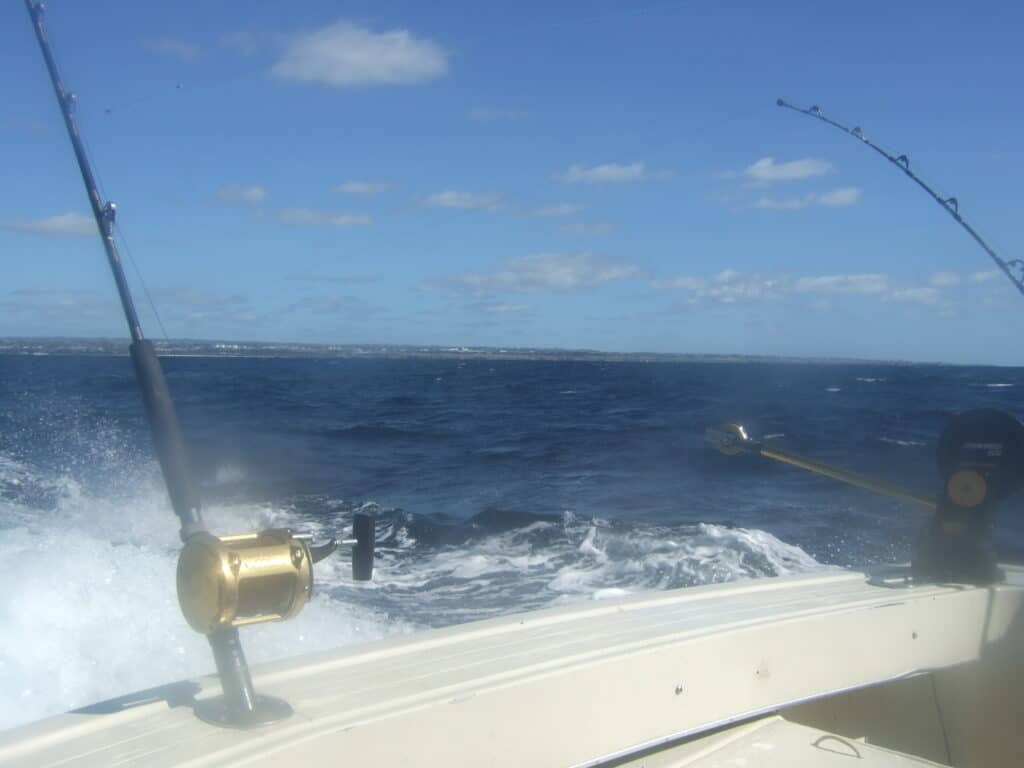 Fishing is a favoured pass time for many people all over the world and finding a great location to do it in is essential. One such location is Rainbow beach on the Queensland coast, an area known for its excellent fishing opportunities.
In this article, we are going to dive into everything fishing related at Rainbow beach including some of the very best fishing charters leaving from here.
Why Is Rainbow Beach So Good For Fishing?
For starters, Rainbow beach is well known for its excellent variety of fish which swim in the waters here making it a prime location for those who are looking to add different types of fish to the "caught collection".
Whilst it would be impossible to list every species of fish that can be found here, some of the ones which attract the most attention are;
Snapper
Whiting
Parrot Fish
Red emperor
Pearl Perch
Sweet Lips
Mackerel
Amberjack
The fishing community here is one which is friendly and knowledgeable and so this proves to be attractive to those looking to hone their skills or indeed start from scratch.
It is also evident that the beautiful scenery here offers one of the most relaxing fishing experiences on the planet, drawing many people in with the pristine blue waters and golden shores.
Fishing Tips For Rainbow Beach
Many people decide to take a chartered fishing tour whilst at Rainbow beach, but this isn't the only way to experience the quality fishing here.
For those who are experienced and perhaps are chartering a boat of their own or are fishing directly off the beach, here are some quick tips to make the most of the location.
A lightly tapered fishing rod is recommended for this location as these are best for the whiting and dart.
Experts advice using a long shank hook for the best results.
If you are fishing in the shallower areas of water, it is advised to go for the white wash as this is where most fish will take cover from predatory birds, and so means your chances of catching one are greatly increased.
Working in gutters and pockets but regularly changing your spot will assist in catching the most fish.
Fishing Charters At Rainbow Beach
Of course, many people visiting rainbow beach will prefer to take a chartered fishing tour, and there are plenty of them here. So many, that choosing the right one can be like finding a needle in a haystack.
It is for this reason that we have sourced some of the very best in the area.
But before we take a look at these, let's delve into the advantages of taking a fishing tour.
The friendly crew are extremely knowledgeable and will be able to provide you with answers to any questions as well as giving you general information included in the tour.
Safety is paramount and you can be sure that your trip will be secure, especially if you are taking younger ones along with you.
Equipment is provided, so you can simply turn up on the day and enjoy the experience.
Fishing Charters Available From Rainbow Beach
Let's now take a look at some of the very best fishing tours that you can take from Rainbow beach.
The Sunrise Fishing Tour
This is ideal for those who want to immerse themselves in fishing as the tour begins early in the morning and lasts for 6 hours.
All the equipment is provided and you will be taken out by a team of highly trained and skilled fishermen who will work with you at every point of the tour.
Not only this but you will be collected from your chosen location and taken by 4WD to the boat, where you will be returned at the end of the experience.
You will have the opportunity to learn all the skills you will need to take up fishing by yourself as well as gaining useful knowledge on the types of fish you can expect to catch at various times of the year. This one costs $240 per person.
Rainbow Beach Fishing Tours by Salty's
For around $130 you can take this two-hour fishing tour which will provide you with all the gear and bait that you will need for the tour.
This one takes place from the shore and so is great for those who do not fancy going out on to the water and with its shorter length, makes an ideal fishing experience for kids, although the minimum age to join in is 12

.
Keely Rose Deep Sea Fishing Charter
This excellent fishing charter

takes place around the reefs near Fraser Island, one of the most beautiful spots on the Queensland coastline and offer guests the chance to experience deep sea fishing at its very best.
This one is ideal for those who want to spend a longer period of time on the water as the charter lasts for ten hours.
All your equipment is supplied and you will be accompanied by a fully experienced crew who will impart their wisdom on you throughout the tour.
Prices start at $260 per person and if there are ten of you, you can rent the entire boat for $2600. This charter has a brilliant reputation and the skipper, Ed lives up to this excellent expectation.
Many people have stated that this makes a great day out for the family and is excellent for bonding time with the kids.
Best Beach Fishing
Rainbow Beach is well loved for a huge range of activities and fishing is one of the most popular. Whilst here you can choose whether to take a chartered fishing tour or go it alone and follow our useful fishing tips.
Should you decide to take a chartered fishing your, you will certainly not be disappointed by the sheer choice, with the area being famed for its fantastic fishing, it is little surprise that this type of business is booming here.
Whether you are an experienced fisherman looking to get back out onto the water or are completely new to fishing, there will be something meet your needs.
Swimming At Rainbow Beach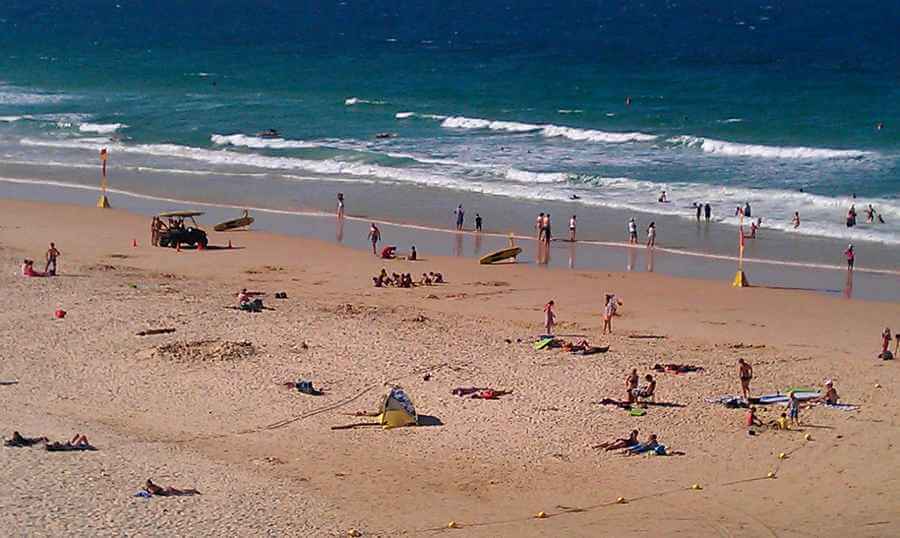 Rainbow beach is without doubt, a beautiful location and it is little wonder that people want to swim here.
However, as with most Australian beaches, there are safety points to keep in mind. In this article, we are going to look at whether it is safe to swim at Rainbow beach and some points to consider whilst here.
Tours to Rainbow Beach can be found here click for pricing.

Is It Safe To Swim At Rainbow Beach?
The simple answer to this question is that it depends on your location as to whether it is safe to swim.
The northern and central beaches are known for their intense rips which, if you become caught up, can be potentially very dangerous. These rips are at their worse when waves are breaking and so it is important to take this into consideration.
The south beach is generally considered to be the safest part of Rainbow beach for those who wish to take a dip in the ocean, however, there are still safety issues that you should be well aware of if you wish to swim here.
When taking a look at the information provided by Beachsafe Australia

, you will notice that there are a variety of warnings surrounding marine stingers such as the bluebottle, at Rainbow Beach.
For this reason, it is highly advised that you do not swim here when these warnings are in place.
With all of that in mind, there are patrolled areas of Rainbow Beach, where swimmers are encouraged to enter the water at certain times and when beach advice deems it to be safe.
One of the most important things to keep in mind, on any Australian beach is to take care and listen to local advice.
Where To Swim At Rainbow Beach
We have already seen that the south beach is the safest place to swim at Rainbow beach and this is something that should always be kept in mind.
It is important, as with any beach in the country, to only swim between the red and yellow flags as this is the area which has not only been deemed safest but which is also patrolled by lifeguards who can help you should you run into trouble.
When Is It Safe To Swim At Rainbow Beach?
As we mentioned earlier, it is best to swim when the waves are calmer, this means that there will not be as many rips and strong undercurrents which can pose a very serious risk, especially for those who are not particularly strong swimmers.
Rainbow Beach is regularly patrolled and it is very important to only swim here at times when there are patrols taking place.
You can find out when the beach will be patrolled by checking online but it is usually on a weekday between 9 am and 5 pm when lifeguards will be present at the beach.
Swimming here will be much safer by doing so during these times.
If you are concerned about the potential of meeting a marine stinger then it would be advisable to avoid swimming between October and May when they are known to be more active and more frequently seen in this area.
That being said, local advice will give you a good idea as to the current marine stinger situation.
Tips For Safe Swimming At Rainbow Beach
Once you have decided that the conditions at Rainbow beach are safe to swim, there are a few things that you should bear in mind in order to ensure your swim is as safe and enjoyable as possible.
Let's take a look at this information now.
As detailed earlier, always swim between the red and yellow flags.
Ensure that you do not enter the water if local information advises against it.
Only swim during patrolled times.
Avoid swimming when large waves are breaking as the risk of rips is much higher during these times.
If you are caught in a rip, make sure that you have educated yourself on how to handle this situation.
Watch For Rips At The Beach When Swimming
Whilst it is safe to swim at Rainbow beach in certain areas and at certain times, it is vital to make sure that you only do so when it has been cleared safe and when a patrol is in operation.
There are better swimming conditions on the south beach, with the central and northern beaches being prone to hazardous rips

which can be a danger for even the strongest swimmers.
Use your common sense and local information to ensure that you have a safe swim every time.
Is Rainbow Beach Worth Visiting?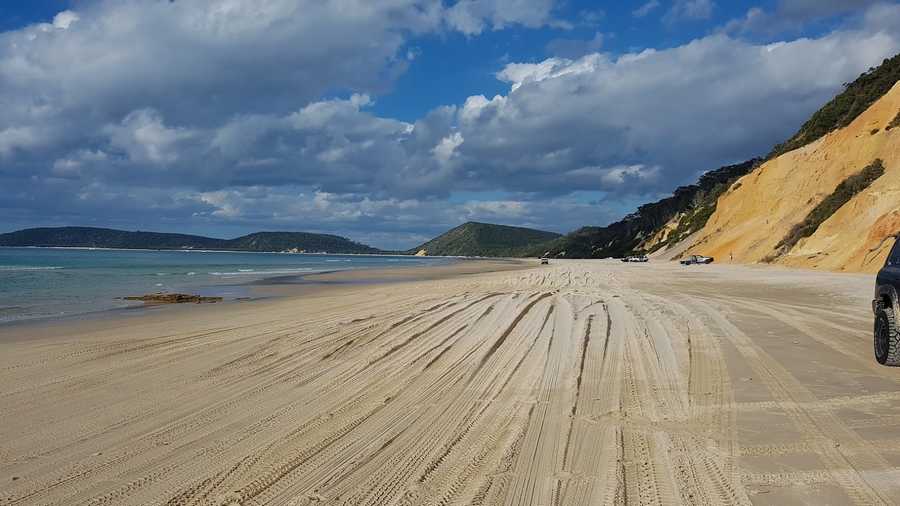 That is a big YES!, It's well worth visiting Rainbow Beach, You will find a small town with a beach vibe! Some small shops and lots of take away food to sit on the beach with, There are plenty of outdoor activities and nature to see.
Want to bask in the spoils of staying at a bed and breakfast outlet?
Couples that host bed and breakfast outlets have piled all their time into delivering you the very best in your "home away from home" accommodation choice.
Delicious homemade breakfast greeted with that warm and friendliness you deserve.
Ask your hosts any questions on the History of the area and what there is to do as this is them at their best – delivering you the answers to ensure your stay is 10/10.
At the end of the day, relax and unwind back in your room that has that homely feel to it just like you love.
Do you wish to bring your entire family to this glorious area for the next upcoming school vacation period?
There are various holiday houses available for rental that can accommodate an entire family, pets and several vehicles.
These houses come fully equipped with everything you already are use to and mite have in your own home.
Arrive and hit the beach! Just remember it is vital that you get in early and book your rental house as these can become a very popular idea with families for these annual events.
Tours to Rainbow Beach can be found here click for pricing.

Resource Links To Products We Use And Recommend
More Pages On Other Areas
link to How Long Is The Mary River?
The Mary River is located in the Fraser Coast Region about 30 kilometres south of Hervey Bay, in the town of Maryborough. The Mary River flows around the circumference of the town and leads the way...
link to Are There Crocodiles In Maryborough?
Australia is full of many different iconic species of wildlife. From the ocean to the mainland, Australia is well-known for its diverse animals. While there is no shortage of interesting wildlife...