Rainbow Beach is a small coastal town in the state of Queensland's southeast corner, part of the Gympie and Wide-Bay Burnett Region. The Gympie region is a large stretch along the coast covering Noosa, Fraser Island, Tin Can Bay, and Rainbow Beach, as well as the city of Gympie.
Rainbow Beach is situated between Fraser Island, Noosa, and the Pacific Ocean, along the Great Beach Drive of the Sunshine Coast and the Gympie region. This small Queensland town is nestled in the Northern part of the Cooloola Recreation Area of the Great Sandy National Park.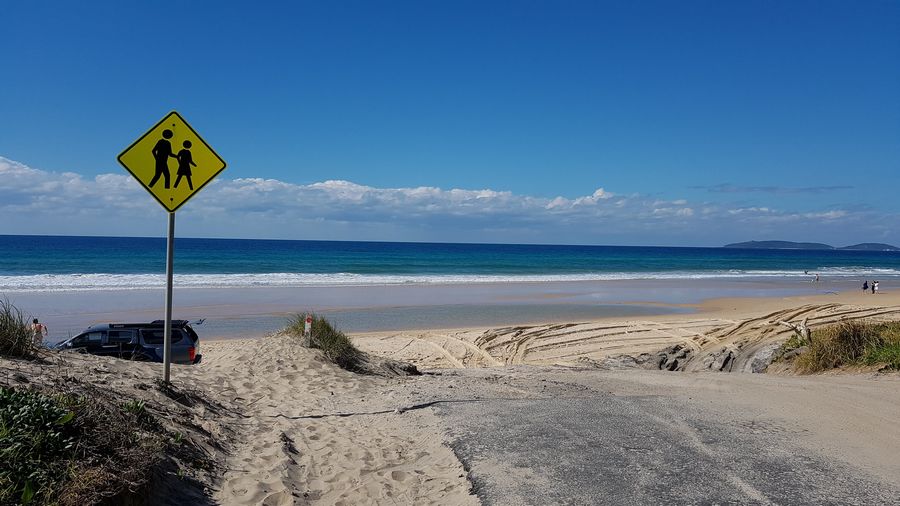 Where Is Rainbow Beach Located
The distance to the main town or cities in the region depends upon the route that is taken to get there. Bruce Highway is considered a shortcut to these locations, however, Great Beach Drive is a more frequented route for travellers.
It's a much-desired location for holidays all year round. Some of the main cities are quite a distance, however, they are frequently travelled from to visit Rainbow Beach.
People travel from all corners of the state of Queensland's 1,727,000 square kilometres to visit.
Tin Can Bay is located approximately 32 km from Rainbow beach with a travel time of fewer than 30 mins.
Noosa is located about 113 km south of Rainbow Beach along the Great Beach Drive route via ferry, with a travel time close to 2 hrs. If you decide to take Bruce Hwy, the route is 130 km and will take right around 2 hours.
Gympie City is part of the Gympie Region along with Rainbow Beach and is located 73.1 km via Tin Can Bay Rd, which is close to an hour's drive. The air distance is 52.67 km.
Brisbane is located 240 km from Rainbow Beach. By car, this is a 2 – 3 hr journey, across the east coast of Queensland. Bus or flying, you can expect this to be over a 5 hr trip.
Sydney is a 12 hr drive covering a distance of 816.85 km via Bruce Hwy.
Cairns is 17 hrs driving for a distance of 1540.91 km on Bruce Hwy.
Google Map Of Rainbow Beach
Regions Along Rainbow Beach Bruce Hiway
Mary River is located 75.4 km from Rainbow Beach which is close to an hour's drive via Tin Can Bay Rd and Rainbow Beach Rd. This is the river that empties into the Great Sandy Strait and is located in the regions of South-East and Wide-Bay Burnett.
Great Sandy Strait is located approximately 71 km with close to an hour's drive on Maryborough Cooloola Road and Rainbow Beach Rd.
Double Island Point distance is 28.3 km with a travel time of 1 hr 2 mins across Freshwater Rd. Accessing Rainbow Beach Rd the distance is 33.6 km and the travelling time is 1 hr 5 mins.
Where Rainbow Beach Located In the World
Rainbow Beach is located in the state of Queensland in the Country of Australia, located in the Southern Hemisphere of the world. This east coast Australian town is near one of the biggest sand islands in the world.
Is Rainbow Beach Close To Any Airports?
These are 5 airports surrounding Rainbow Beach:
Hervey Bay Airport (HVB) This is the closest airport as far as distance. It is 68.1 km with a travelling duration of 2 hrs 3mins.
Brisbane (BNE) is 166.4 km from Rainbow Beach with a travel time of 4 hrs 45 mins.
Maroochydore (MCY) located 78.1 km away with a travel time of 4 hrs 33 mins
Bundaberg (BDB) distance of 135.8 km having a duration of 5 hrs 40 mins travelling time.
Goldcoast (OOL) distance of 255 km travelling time of 7 hrs 43 mins.
Distance's of Other Beaches Near Rainbow Beach
Along your trek to Rainbow Beach, the beaches along the way and the distance the beaches are from Rainbow beach rely on the route taken. Along the Great Beach Drive, the first beach that you will run across after leaving Noosa North Shore is Teewah Beach.
Teewah Beach is 113 km south of Rainbow Beach via Rainbow Beach Rd with a travelling time of just under 2 hrs.
Noosa Heads Beach has a distance of 135 km via Tin Can Beach Rd.
Sunrise Beach is another beach in the Noosa area with a driving distance of 136 km travelling on Tin Can Bay Rd for about 1 hr 42 mins.
Castaways Beach is located within the Noosa area and is 138.42 km from Rainbow Beach. Travelling time is approximately 1 hr 45 mins via Tin Can Bay Rd.
Travelling Beyond Rainbow Beach
Rainbow Beach is known as the gateway to Fraser Island. Fraser Island is 187 km north of Rainbow Beach using the Maryborough Cooloola Road route. Taking the Bruce Hwy route this journey is 235 km, which is about 4 hrs and 48 mins.
The Northern Rd route, the distance is 109 km yet it takes 4 hrs 17 mins.
Inskip Point is less than 10 minutes north of Rainbow Beach travelling a distance of 8.2 km. Here you can access the barge that will bring you to Fraser Island. You can transport your 4WD using the barge as well.
75 Mile Beach (Fraser Island Beach Track) has a distance of 126 km from Rainbow Beach for the duration of 1 hr 31 mins on Maryborough Cooloola Road.
Are you interested in the History of the area? You will find plenty of information here.
Rainbow Beach Trip Routes
The common routes to arrive at Rainbow Beach are Bruce Highway and Great Beach Drive. The latter requires precautions that should be addressed before following that route.
Things that you may want to take note of before you begin your travel to ensure safety include:
Ensure that you are equipped with plenty of snacks and water.
Make it a point to have your vehicle serviced prior to departure. This would include oil, water, and tyre pressure.
Prepare an emergency kit, with information such as car insurance, roadside information, water, medicine, and a first-aid kit.
You want to also remember to have compostable rubbish bags on hand as well as bug spray and sunscreen (especially if you are going to go camping or explore)
Familiarize yourself with the rules and make sure that you abide by them.
This includes taking out what you brought in, such as rubbish.
It is important to remember that you need to protect yourself, from the weather and sun. It cannot be stressed enough to make sure you have an adequate supply of water, to avoid dehydration.
Coordinate your itinerary in advance so that you pack additional items accordingly, For example, snorkel gear, swimsuit, camping items, and proper clothing and footwear.
And visit our things to do page for a list of ideas on what to do in the area.
Great Beach Drive At Rainbow Beach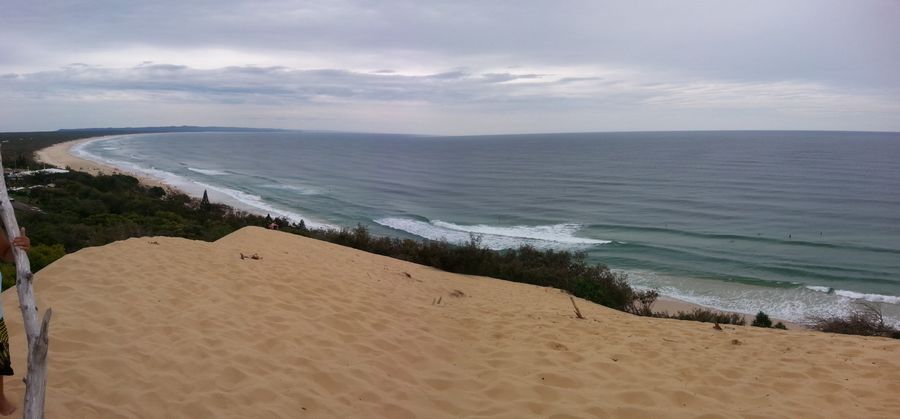 Before beginning the journey on the Great Beach Drive, it is recommended to stop at the Great Sandy Information Centre for:
If you don't have access to a 4×4 vehicle you can book a beach tour here.
In order to cross the Noosa River to Rainbow Beach, you need to ensure that tyres are let down and that you depart during low tide. This area can only be accessed by 4WD.
In addition to the above, you need to be advised that the trek from Noosa North Shore to the beach lacks cafes for at least 100 km. You should eat a hearty meal before attempting the journey, or bring water and food with you.
Plan your trip accordingly, very few cafes on Rainbow Beach are open for dinner. Once you arrive in town you will find the National Parks Office, where you can obtain a walking or driving map of the area.
When deciding to take the journey to Rainbow Beach, it is important to check tide conditions to determine the route to take. Using the beach road route, the tide needs to be a low tide, and you need to check the weather conditions and prepare accordingly.
During the rainy season, be sure to bring along a waterproof jacket with a hood. Many people constantly travel these roads and without proper preparation, anything can happen.
Transportation To Rainbow Beach
If the drive is a little too much for you there are alternative modes of transportation to Rainbow Beach. There are a couple of buses that will call in the morning for southbound and the evening for northbound.
Some will travel to Rainbow Beach in a hired Camper van, others use a combination of methods including flying.
Food For Thought When Traveling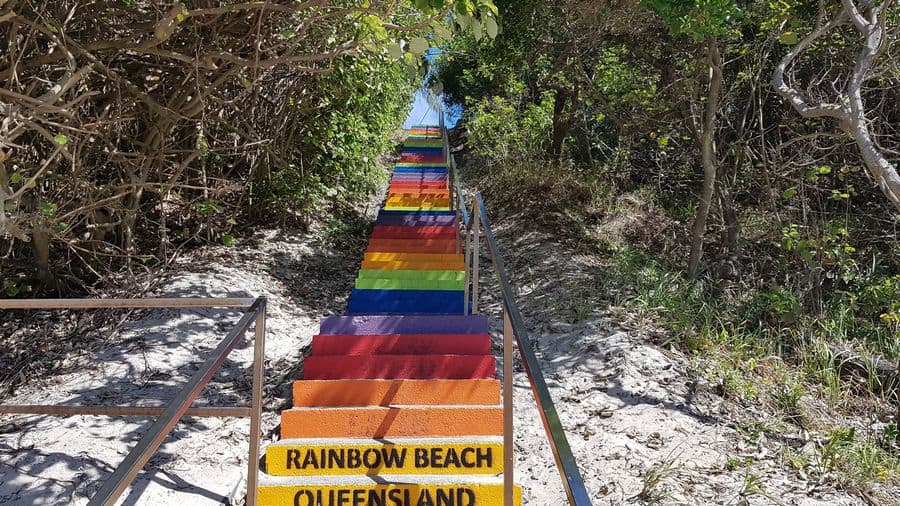 Understanding your surroundings and the distance is important because it allows you to plan stops along the way for food and rest. Using the guidelines of the different areas will give you an idea of when to break or what needs to be double-checked before continuing.
If you are travelling a greater distance across the state of Queensland, look at your travel times and what type of facilities are in the path of your travels.
There are many ways to travel here but, finding the best route is important. Always have a backup plan when travelling in the event of an emergency or unforeseen road and weather conditions. This will help make your travels a joyous adventure.
Resource Links To Products We Use And Recommend
More Pages On Other Areas