Queensland, Australia is the ideal destination for fishing, sunbathing, and enjoying all the stunning natural beauty of the country. 4X4 driving is an excellent way to experience Australia. Because of Australia's natural terrain, 4×4 driving along beach coastlines is really popular.
There is nothing more thrilling than feeling the sand under your wheels and having the crisp ocean air move around you. But is 4×4 driving practical everywhere in Australia?
More specifically, is Queensland a place where 4×4 driving can be enjoyed?
Read more below on our list of 6 beaches for driving on in Qld.
75 Mile Beach, K'gari Fraser Island
Cooloola Recreation Area Track
Moreton Island Queensland
North Stradbroke Island
Bribie Island Queensland
Woodgate Beach Queensland
Head out for an adventure today and see the beach from a new angle.
1. 75 Mile Beach, K'gari Fraser Island
75 Mile Beach on K'gari Fraser Island is easily the most famous 4×4 driving spot in Queensland. The beach is along the eastern coast of K'gari Fraser Island and the island itself is tucked just off of the mainland's coastline in the Hervey Bay region. This island is so iconic for 4WD driving because of its terrain. It is known for being the world's largest sand island.
Because the majority of the driving ground is sand, K'gari makes for idyllic beach driving.
Even though the sand is a primary reason 75 Mile Beach is the most well-known beach to drive on in Queensland, it is also popular due to its stunning location. The long stretch of beach is truly thrilling to navigate and gives way to wide-open ocean views as well as backdrops of lush foilage from the island itself.
Additionally, 75 Mile Beach also has some key points of interest to check out too like the Maheno Shipwreck and Indian Head (a coastal headland).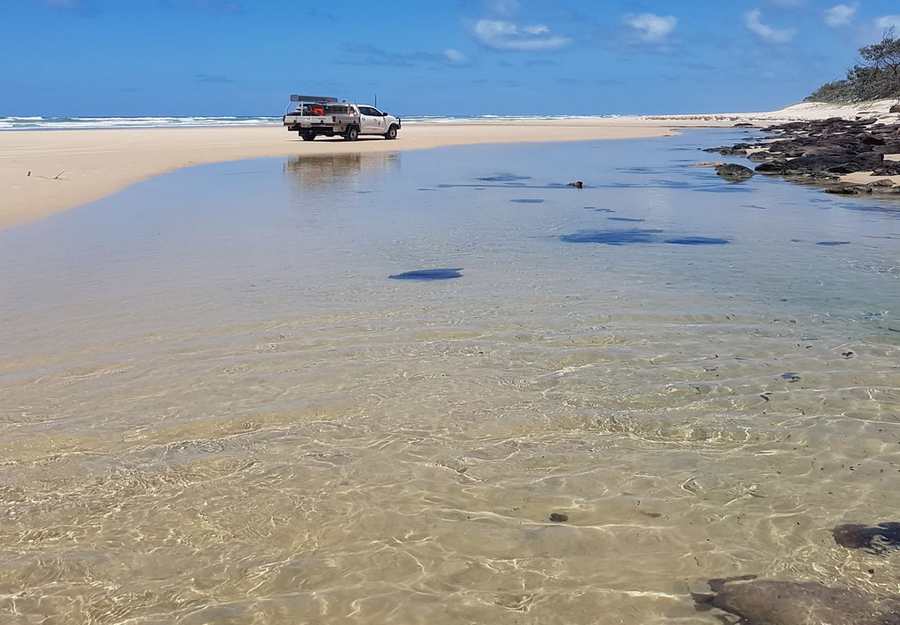 While driving on this beach, guests should keep an eye out for people along the beach. While 75 Mile Beach is considered a beach "highway", people can still be walking along the beach. Moreover, the tide can get high along the coastline so checking tide times is critical.
The tides can sweep 4WD vehicles away if the vehicles are too close to the shoreline.
Access to 75 Mile Beach is by ferry from the mainland. Inskip Point is one of the most popular access points to K'gari Island. These ferries are capable of carrying passengers and their 4WD vehicles. It is important that visitors obtain necessary permits prior to heading to K'gari Island. 4WD permits are required to drive on 75 Mile Beach.
For access for 1 month or less the cost is about $54.55. Day permits are offered but it is always best to check with the booking kiosks or the website for the Queensland National Park booking service for up-to-date information and pricing, as they can be subject to change. Overall, the price point isn't bad!
2. Cooloola Recreation Area Track
The Cooloola Recreation Area Track is best accessed from Beach Rd where it turns into the Esplanade in the Noosa North Shore. More specifically, the track stretches from Tewantin to Rainbow Beach for just over 50km. The track has a variety of sights to see and features not only beach driving but also some rainforest patches as well.
The whole track takes about 3 to 4 hours to trek through, which for avid 4×4 drivers, this time frame is just a regular outing! Because the track winds through the beach, rainforest, and even some woodland areas, it has become a beloved beach track for 4×4 driving in Queensland.
Even though it isn't primarily a beach drive, it still has its appeal for those wanting to drive along the beach and experience the great outdoors.
Just like 75 Mile Beach, the Cooloola Recreation Area Track can have some higher tides, especially around Mudlo Rocks. Guests should always check tide times to ensure the safest possible experience. The track also requires a 4WD permit which can be obtained via a kiosk or online.
The cost for the Cooloola area is around $13.60 for the day (if booked online, otherwise it is $20.55), $34.65 for a week or less, or 54.55 for a month or less. Once again, it is quite affordable for the permits.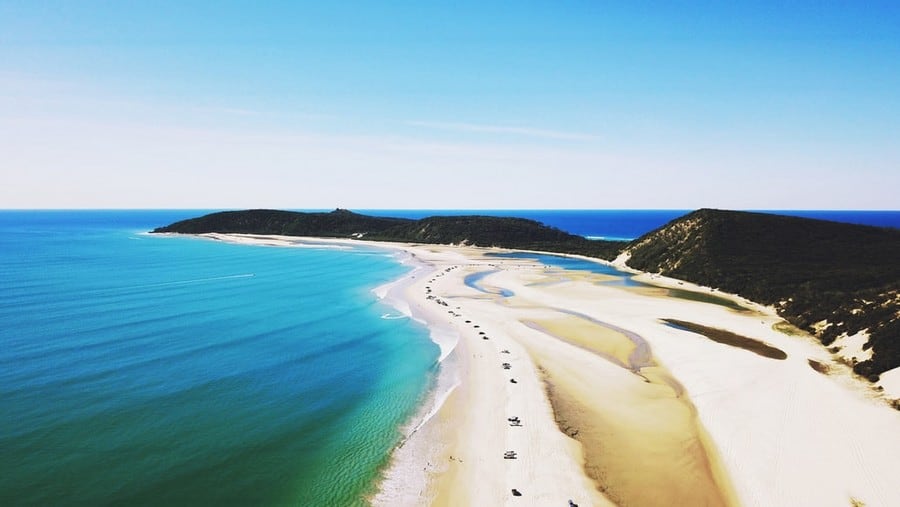 3. Moreton Island Queensland
Beach driving on Moreton Island

is definitely for 4×4 drivers with a bit more experience. It isn't a quick day-trip adventure as it can take a few days. Moreton Island is just off of the southeast side of Queensland mainland and is just under 60km northeast of Queensland's capital, Brisbane.
Those with 4×4 vehicles can best access Moreton Island via the Micat Ferry which departs from the Port of Brisbane. This ferry is capable of transporting vehicles to the island.
What makes beach driving along Moreton Island so remarkable is that the main driving area links the beaches on the eastern and western coasts of the island. This area, much like the Cooloola track, gives drivers views of the sprawling beaches as well as other notable spots on the island.
These include a sand volcano called "Yellow Patch", a beautiful lookout named "Five Hills Lookout", and Cape Moreton Light which is the island's historic lighthouse. These key points of interest are what really make beach driving on Moreton Island even more exciting.
As with other locations on this list, a permit is required for 4WD driving on the beach here. As previously expressed, always check the national park booking website for Queensland or local kiosks for the most recent price points. Either way, the prices aren't terrible for the fun that will be had!
It is also important to note that this area is quite popular and it may be necessary to book in advance up to a month prior to heading over so that you know you are getting the most out of your experience.
Two more key points when heading over to Moreton Island are campfires and sharks you can find more in-depth information on these pages.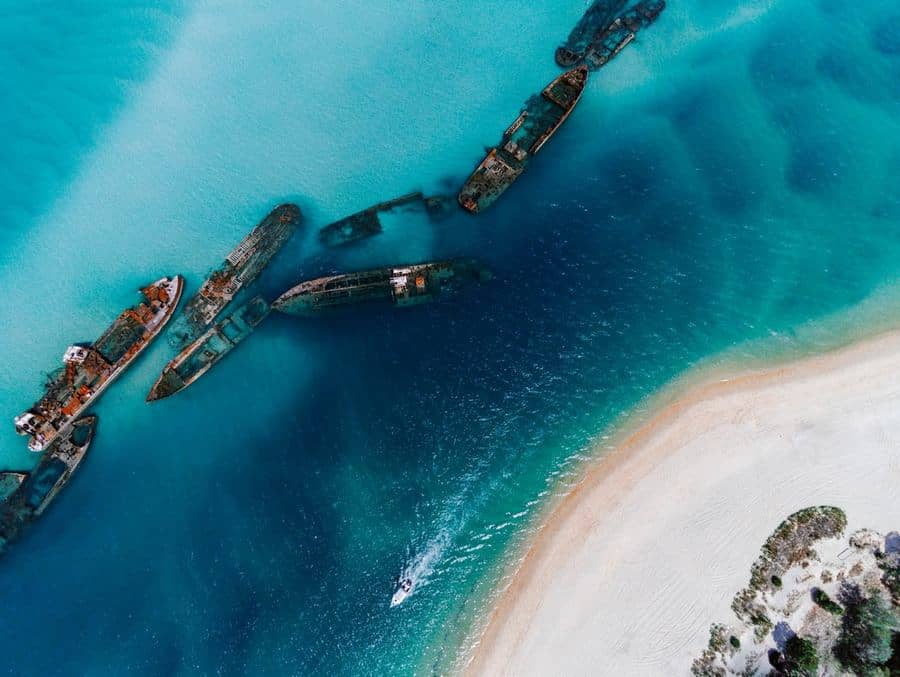 4. North Stradbroke Island (also known as "Straddie")
Straddie, which is the island's nickname from locals, is a hotspot for 4WD enthusiasts. The island offers just over 50km of sandy tracks to drive along the beach. Access is best via the Cleveland-North Stradbroke Ferry which boards at Toondah Harbour.
The primary beach on Straddie for 4X4 driving is the eastern beach which spans along what is known as Fisherman's Road. This iconic spot is brimming with lush vegetation and views of the ocean that is simply breathtaking.
Another notable spot to beach drive on Straddie is via Alfred Martin Way which cuts through the island from east to west. This particular 12km drive even passes by the island's well-known golf course. Straddie can offer you some thrilling beach terrain as well as spots to stop and restock or rest along the way.
Overall, the trek can be accomplished in just around 3 hours.
Always remember to get a vehicle permit first prior to arriving. Moreover, always be as safe as possible by following basic road laws. While there's no harm in adventuring, it should be done safely for everyone involved!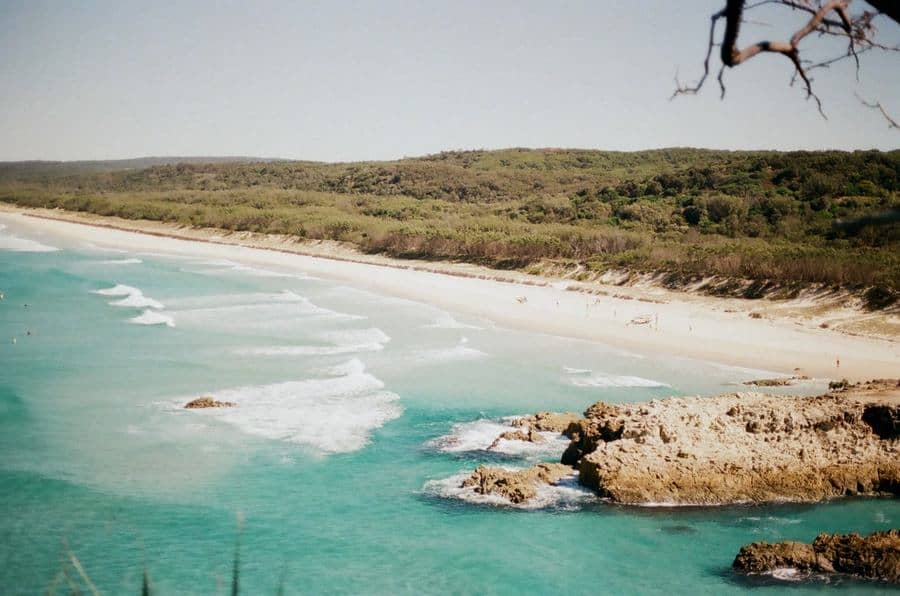 5. Bribie Island Queensland
Bribie Island

is one of the easier beach areas to 4×4 drive. This excludes the more moderate area around Westaway Lagoon. With over 70km of driving access, Bribie Island has plenty to checkout. Access to Bribie Island is best when going from Brisbane to the M1 to head north.
From there, you should exit at Bribie Island Road which directly leads into the Bellara area when the adventure is said to start.
This beach drive in Queensland is considered easier because it is less rough and much more urban. It is perfect for less experienced drivers but drivers should still be comfortable. The beach drive in this area spans about 32km to the Northern Searchlight.
At this point, travellers will need to turn around and drive back up the beach as vehicles are not permitted past the Northern Searchlight area.
When travelling back down the beach, you can access the Fort Bribie Day Use Area which begins to meld from sand to bush for a pleasing change of scenery. This portion is known as the Northern Access Track and the Westaway Lagoon is tucked along the track which can be more challenging.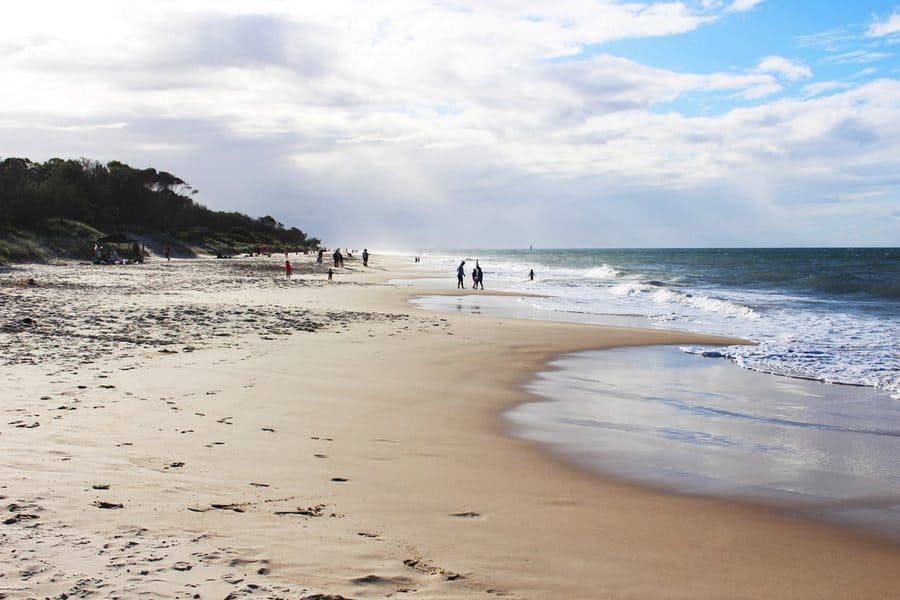 If you are a less experienced driver it is a smart idea to have someone with you that might be more experienced with 4×4 driving. Additionally, just be sure you have a mobile handy if you were to need it.
This island area is rich with historical war forts as well as beautiful landscapes and seascape views. These old forts can be quite a sight to see while going out on a 4×4 adventure.
These beaches in Queensland are considered some of the very best spots to take your 4×4. The thrilling experience of driving in the sand and seeing all the gorgeous sights is absolutely remarkable. Always remember to slightly lower your tyre pressure so that your vehicle can navigate the flexible sands much easier.
This simply makes for a better driving experience. Additionally, always have a tyre pressure gauge handy as well as a shovel to help dig yourself out if need be.
6. Woodgate Beach Queensland
Located around 4hr 20min from Brisbane this small beach town offers a quiet beach vibe with safe swimming, and good fishing there are around 16km of beaches to drive on. There is no permit needed to drive on this beach (road rules still apply) pack a lunch and make a day of it on the beach here in Woodgate.
Can You Drive On All Beaches In QLD?
While Queensland is known for its pristine, calm beaches dotted along its eastern coast, not all of the beaches are suitable for driving. There are risks of people being present which can be dangerous. Moreover, not all beaches in Queensland have access by 4WD vehicles.
The above beaches are the best beaches for 4wd adventures but there are others that can be driven on. It is always critical to inquire about a beach and its driving accessibility before simply showing up and expecting to drive on the coastline.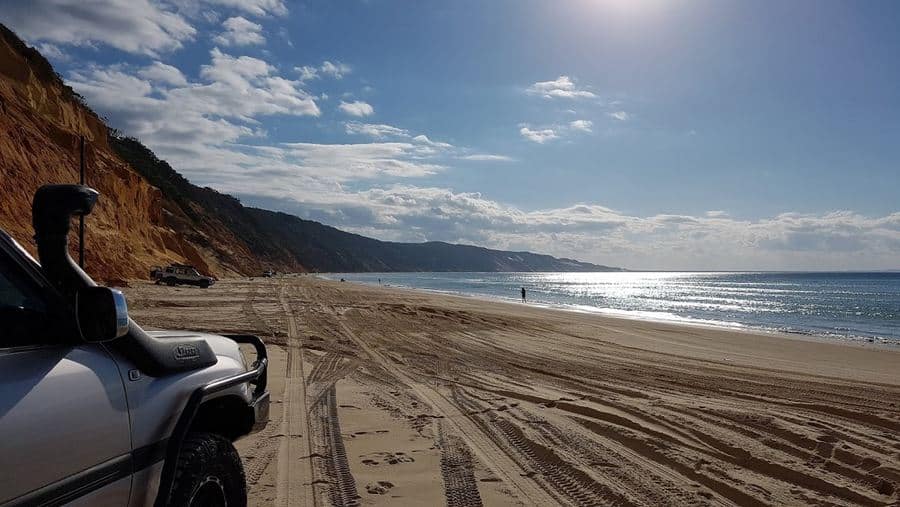 Beach Driving Rules QLD
While it is true that 4×4 driving is an exciting adventure, there are still road rules that apply to beach driving. Abiding by the beach driving rules ensures that all drivers, wildlife, and pedestrians stay as safe as possible. Below are some basic beach driving rules for Queensland.
Beach Driving Rules For Queensland
Do not speed. Driving a bit slowly ensures that you are being safe
Be alert for wildlife or pedestrians
Stick to driving along the coastline and beach itself. The sand here is firmer and provides better traction
Never drive at high tide. Even though 4×4 vehicles are large, they can still get swept away by currents
Recognise and abide by all right of way rules as you would on the regular roadways
Never drive under the influence of alcohol
Keep off of sand dune areas as these areas pose a risk for flipping your vehicle
While there are other rules to consider, these are the most critical ones to abide by to have the safest experience while 4×4 driving on the beach.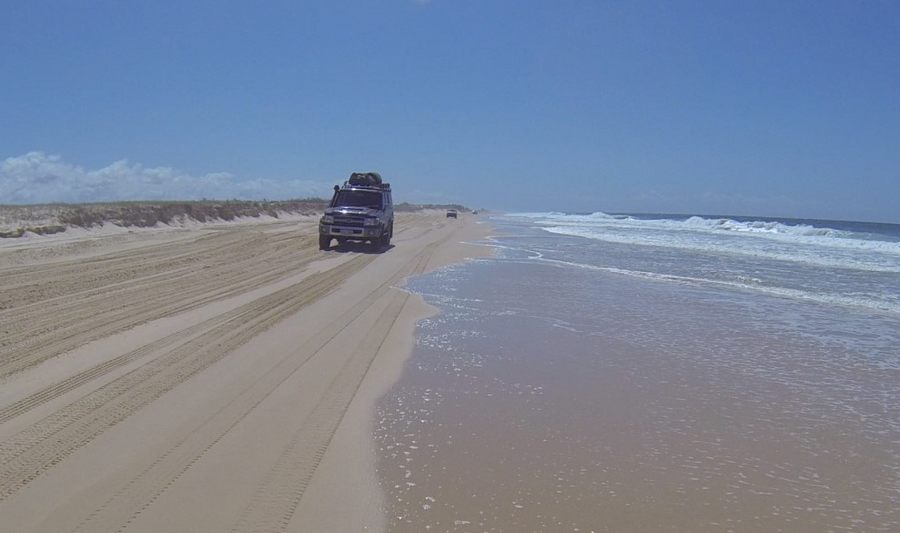 Best 4×4 For Beach Driving Australia
Not all 4×4 vehicles are built alike. While there are general similarities between most manufacturers, some have better reviews than others. This is because even with similarities in function, all vehicles drive a bit different for people.
It is all in the feel of the vehicle and how comfortable a person feels while driving it. Below are the best 4×4 vehicles for beach driving in Australia.
Best 4×4 Vehicles For Beach Driving Australia
Toyota's – This brand is one of the most iconic choices for 4×4 driving. The brand is known for having stellar traction in its wheelbase. It is also known for having a strong engine which is just as important for 4×4 driving as having 4wd.
Models such as Hilux, Patrol, Prado or Land cruiser are the choices you will most likely see for beach driving.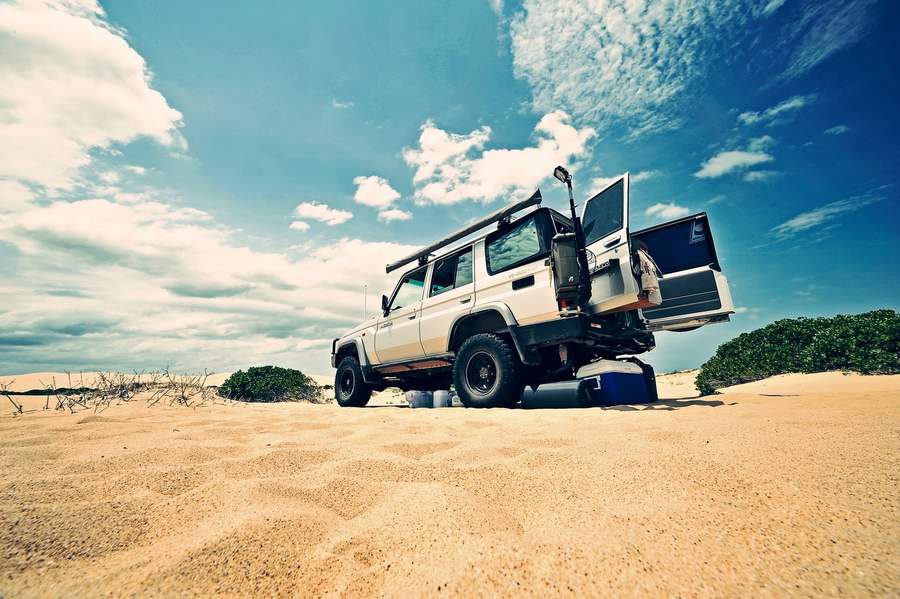 Ford's– This brand is becoming more popular as of late in choice for 4×4 on the beach due to versatility. The Ford Ranger and Explorer are the two most popular models for 4WD.
Mitsubishi's– An always popular brand with a range of pajeros, but generally the older versions or models before 2008 are a popular choice.
Suzuki's – This model is another popular choice for 4×4 driving. Newer models even feature strictly manual driving which can be a truly ideal way for 4×4 drivers, especially experienced drivers, to drive their 4×4. The Vitara and Jimny are the vehicles of choice in this make for choice 4×4 vehicle.
Jeeps – This brand of 4×4 offers a solid base for navigating flexible sands. Newer models even feature tyre pressure alert systems that aid in releasing air from the tyre for proper sand driving. If you choose to go Jeep then the Grand Cherokee or Wrangler is the way to go.
These models are the most popular 4×4 manufacturers on the market today. Each brand offers specific series meant to please every level of an off-roader. Queensland continuously proves to be one of the most sought-after places in Australia.
It is an overall paradise, especially for those wanting an authentic Australian 4×4 adventure!
Resource Links To Products We Use And Recommend
More Pages On Other Areas
link to What Is The Best Time Of Day To Go Snorkeling?
Are you ready to plan your next snorkeling trip? In that case, you must be wondering when is the right time to go - read this article to find out! Snorkeling can be a fun and rewarding experience,...
link to What Is The Best Day To Rent A Car?
Renting a car can be expensive. Between service fees and general charges, the price can really rack up. Even what day a rental car is picked up can save a few bucks. However, knowing some general...