Australia is one of the most idyllic places in the whole world. The country is filled from coast to coast with many sights to see and things to do. One of the most respected and fun things to do in the country is to go fishing.
There are plenty of coastlines to fish as well as rivers, estuaries, lakes, and other waterways. There is simply no shortage of places to cast a line in Australia.
Queensland is one of Australia's states with the most fishing opportunities. The state is dotted with many localities that have ample places to go fishing. But what about Burrum Heads? Burrum Heads is a smaller locality located just north of the Hervey Bay area in Queensland.
Burrum Heads has some interesting places to cast a line and it is good to know where the places are located for the best fishing experience!
Burrum Heads is a tranquil place to go fishing that offers a variety of places to consider casting a line. One of the best spots to fish at Burrum Heads is right from the Esplanade near the boat ramp, If you're looking to catch Flathead, Bream or Whiting you can try this fishing spot all year round.
The area is certainly one of Queensland's top places to enjoy a day of fishing. This is true if you are an avid fisherman or simply love fishing as a means of relaxation.
Places To Fish In Burrum Heads
Burrum River And The River Channels
The Burrum River is 31km in length (or 19 miles) and winds through a large portion of the area. In fact, it even connects to other river systems in the area including the Isis River, Gregory River, and Cherwell River. With all of these river systems being interconnected, they provide quite the fishing experience.
There are even boat ramps dotted around Burrum Heads that give fishermen access to the coast along with the river system. The two main boat ramp areas that give the best access to the river system are the Burrum Ramps 1 and 2 which are located off of the Esplanade in Burrum Heads and the Walker Points Ramp which is located off of the Esplanade that is north of the Isis River area.
One of the best locations near the river systems to fish is Gregory Islands. This specific location is tucked amongst the Isis River and just north of the heart of Burrum Heads. This is one of many areas that can be accessed by boat along the river system.
Other spots include The Swirls, the Walker Area, Teds Creek (a small creek still within the Isis River area), and more. All of these are dotted along with the river system and provide plenty of unique spots to fish on the rivers.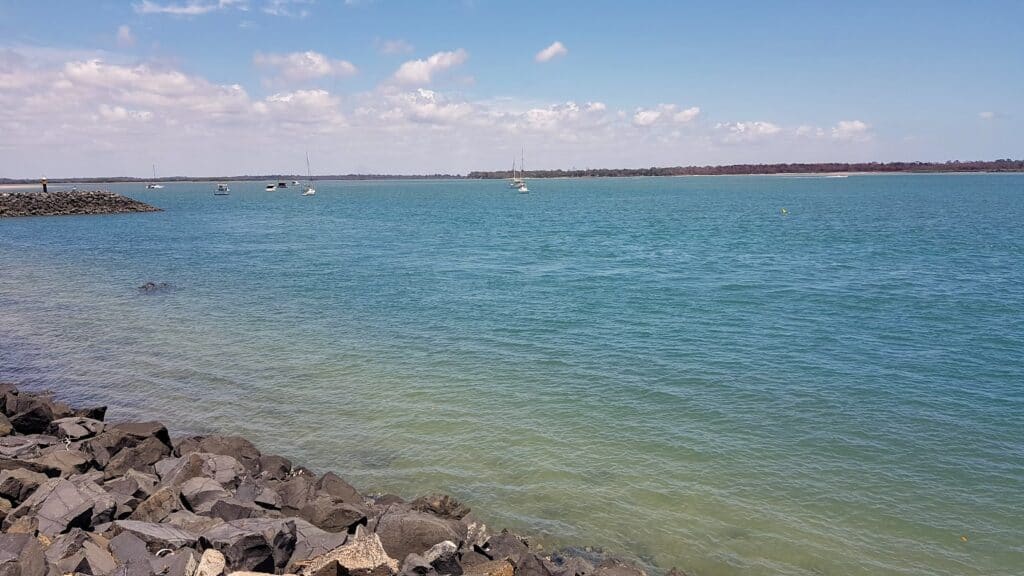 The Black Bank Burrum Heads
The Black Bank is a popular fishing spot in Burrum Heads. It is an exclusively known place to locals and it is directly north of the heart of Burrum Heads. The bank area is described as being a prime location for catching grunter fish.
Burrum Heads Creek And River Mouths
Theodolite Creek offers some excellent fishing in the Burrum Heads area as well. Specifically, you should aim to fish near the creek mouths and river mouths which are generally directed out towards the ocean on the main beach areas. There are deep channels here that can be packed with various species of fish.
Fishing the Theodolite Creek itself is a great way to enjoy fishing near Burrum Heads too. While it isn't directly in Burrum Heads as it is closer to Woodgate which is north of Burrum Heads, it is still an exciting place to check out for fishing.
The creek mouth for this creek empties from Woodgate Beach which is slightly closer to Burrum Heads than the creek itself. If you are looking for some creek channel fishing, head to Woodgate Beach where the Theodolite Creek mouth is located.
Burrum Heads Beach
The Burrum Heads beach area runs from the Burrum River mouth to Point Vernon which is an impressive 30km of sandy shoreline. Fishing access points along this stretch in the Burrum Heads region are best around the Burrum River mouth where deeper channels exist. Moreover, the tidal shoals also provide ample fishing.
These are the best places to explore around Burrum Heads for fishing. They all provide ample space for boat fishing or simply fishing off of the shoreline. Fishermen of any level can enjoy the diverse locations for fishing in the Burrum Heads.
In addition to the well-known spots to catch fish around Burrum Heads, it is a good idea to check out the beachy tidal reaches. Barramundi is known to appear near tidal reaches for those fishing off of the beach area. If you are lucky to catch one there, it truly is a prize catch!
With all of the idyllic places to fish, Burrum Heads definitely has a fishing village vibe to it. In fact, fishing is such a beloved event in Burrum Heads, that there is often a fishing competition. The competition usually runs yearly, however, due to recent events the competition has been cancelled until further notice.
Even though it isn't currently operational, the competition itself still showcases how important fishing is to the local community of Burrum Heads.
What Fish Can You Catch At Burrum Heads?
There are a few different species of fish that can be found in the Burrum Heads area and its surroundings. Below are the fish that can be spotted or caught in Burrum Heads!
These are the most popular species that are found around the Burrum Heads area. Moreover, most of them are found within the river and estuary fishing spots which are perfect for those who head out on a boat for river fishing.
When attempting to catch these different species of fish, it is critical to know what bait to consider using. Having excellent bait will ensure the likelihood of you catching something! Below are some examples of good bait to lure in the above fish species!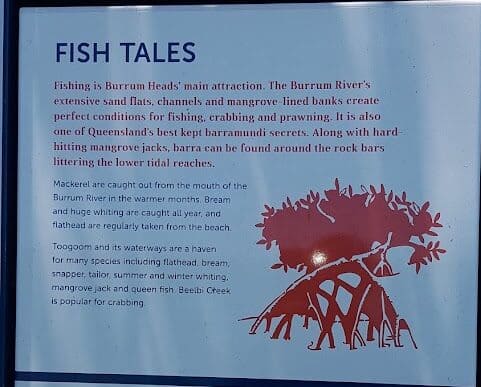 Best Bait To Use While Fishing In Burrum Heads
Fresh pieces of smaller fish, like pilchard – Best bait to catch flathead, mangrove jacks, and mud crabs
Fresh squid – Best bait to catch jewfish and cod
Live worms – Best bait to catch cod
Human food, like sweetcorn – Best bait to catch bream
Small crustaceans and worms – Best bait to catch whiting
These aren't the only baits to consider but they are the most successful ones for each listed species. Fresh bait is always the best choice as it lures fish in with the fresh scent of fish or flesh (if using something like worms). Cod are best caught with live worms on the line because they are attracted to the squirming of the worm as well as the freshness of the worm.
Always ensure that you are attempting to use fresh bait whenever possible. It is simply better. If using fresh bait isn't possible, using dead bait or dried bait is another option. These options can be successful, although the wait for a catch could be a bit longer.
Ultimately, it comes down to whatever you would have access to. Whatever you choose for bait, the bottom line is that there are a variety of fish species within the Burrum Heads area.
In addition to using bait, there are other fishing accessories to consider putting on your line. Rigs can be helpful for fish like bream as they can be attracted to the rigs. Rigs are basically a combination of lures, bobbers, sinkers etc that are used to weigh down bait and add more flair to the bait itself.
Essentially, it is making the bait more attractive. While there isn't an exact science to this being super successful, it could be something to think about using on your line while fishing in Burrum Heads.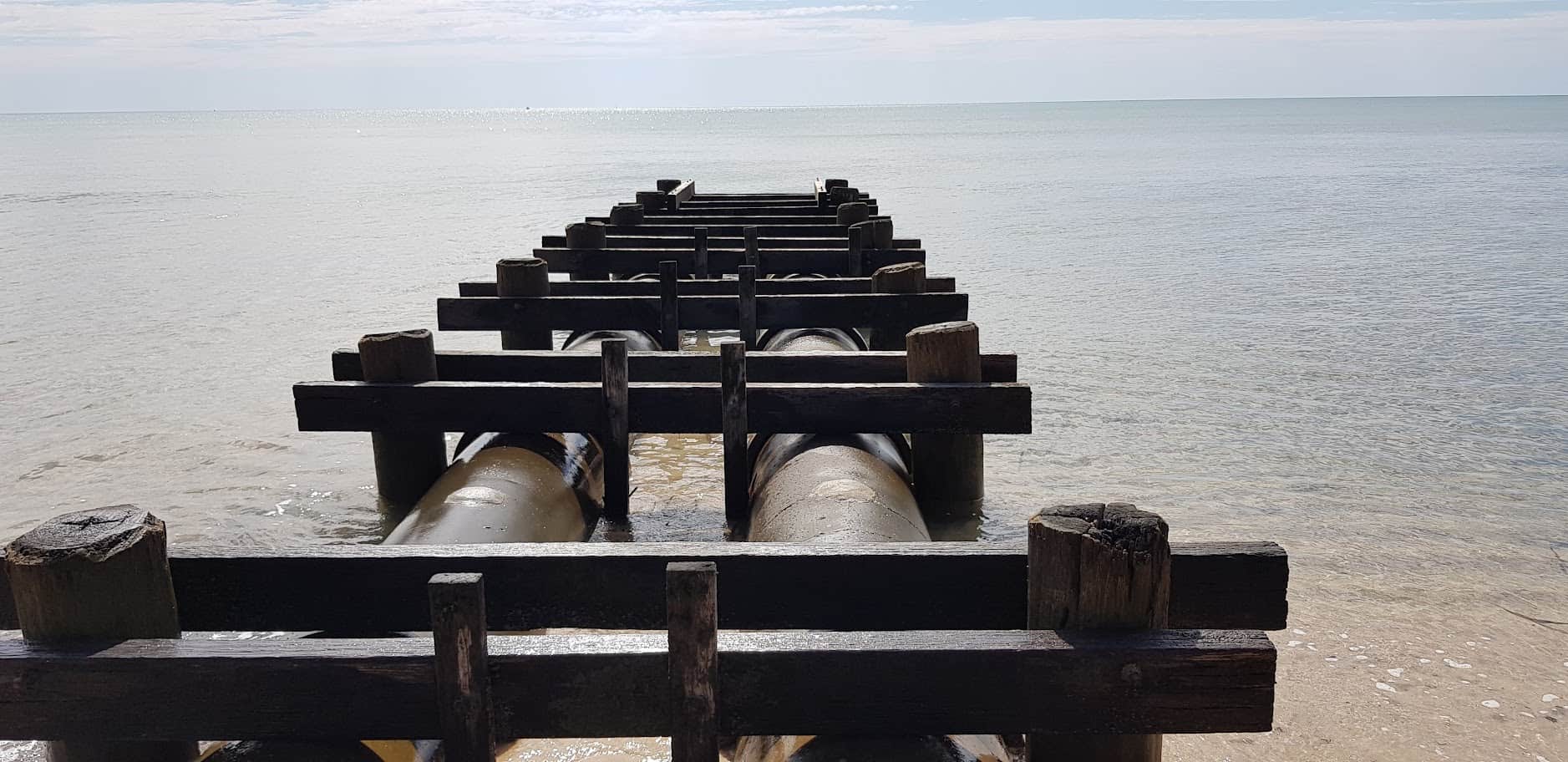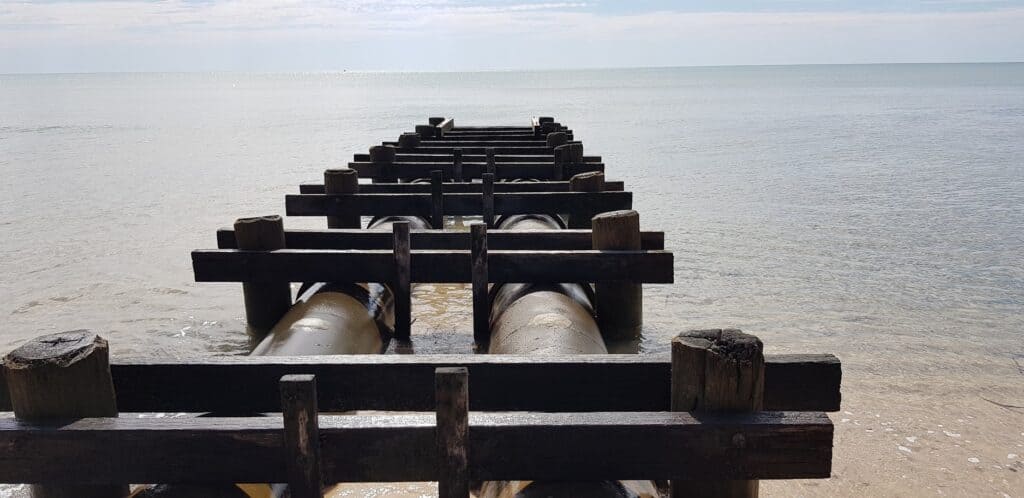 Is Burrum Heads Good Fishing?
Burrum Heads offers many opportunities to catch a wide range of fish. From the creek areas to the river and estuary systems to beach fishing, there is no shortage of fishing locations in this Queensland coastal locality.
Not only is fishing here exciting it is tranquil and peaceful so the whole experience feels like a getaway, even if you are a resident of the area or just a tourist looking to fish.
Burrum Heads proves to be an excellent location for fishing in Queensland because even though the locality isn't entirely too large, it still has plenty of fishing spots to consider. The wide variety of locations for fishermen to cast a line truly sets Burrum Heads apart from other Queensland fishing spots.
Moreover, Burrum Heads is a point of access for the river systems that wind together near the locality. Boat fishing on the river is cherished by pro fishermen and leisure fishermen alike.
Even though the river, creek mouth, and estuary fishing are the most popular types in the Burrum Heads area, fishing in the area, in general, is still really enjoyable. The scenery is absolutely stunning and the fishing is a relaxing experience for everyone!
Resource Links To Products We Use And Recommend
More Pages On Other Areas