Framed by mangroves, sand dunes, and flats, the Burrum River is one of Queensland's most beautiful rivers. It starts at Lake Lenthall, where it is impounded by the Lenthalls Dam and it discharges into Burrum Fish Habitat Area in Hervey Bay, specifically at Burrum Heads.
And it is part of the Burrum Coast National Park. The river is a haven for fishing and there are lots of places to stay nearby.
Burrum River is a part freshwater, part seawater river that flows north from Lake Lanthall to Burrum Heads. It is a popular fishing spot along the whole length of the river and where it enters the sea. Camping and caravanning are available and there are plenty of real estate options nearby.
Burrum River In Queensland
Burrum River, in the heart of Queensland, starts at Lake Lenthall and runs north until it discharges at the popular tourist spot, Burrum Heads. It is impounded by Lenthall Damn and Burrum Weir No 1 and No 2. There are a variety of waterways that feed into the river, including Harwood, Woolmer, and Duckinwilla Creeks.
The Wongi Waterholes are a popular spot for picnicking and camping.
At Burrum Heads, you will find a charming fishing village packed full of local charm. The waters surrounding the village are teaming with water life, including dugongs and turtles, and there is a little beach from which you can wander along the coast and take in the beach shacks that line the water.
Historically, the Burrum River is significant because of the discovery of coal in the 1860s. Coal was mined from both the east and the west side but coal mining on the river was eventually abandoned due to flooding.
After which, coal mining was moved to the surrounding land areas, continuing well into the 1990s. Along the way, Burrum River and its surrounding townships became as well known for their tourism as their coal mining.
Fishing, boating, and canoeing are popular pastimes at Burrum River and Burrum Heads.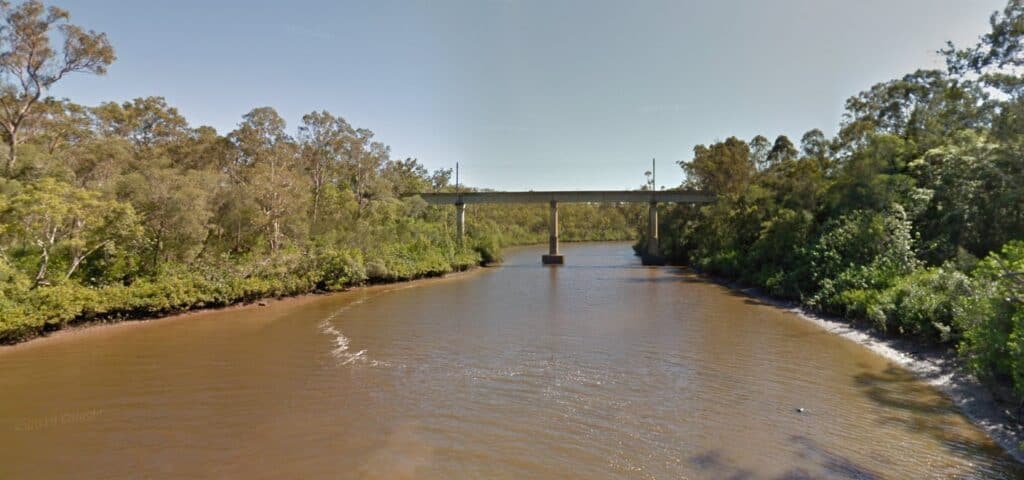 Burrum River Fishing
Burrum River is best known for its fishing. There are fantastic fishing spots everywhere you look, running the entire length of the river and out into Burrum Heads. People visiting the area for fishing often congregate at Burrum Heads but it is well worth venturing further along the river for quieter spots and different kinds of fish.
Upstream, you will find barra, flathead, and cod and you are also likely to encounter whiting and jacks in the flats and bream in the rock patches. The river often houses prawns as well as marine fish and crabs when the weather is dry.
Closer to Burrum Heads, you will find flathead, bream, snapper, and crab. The river is tidal, so this will affect the fishing throughout the day.
As well as the river itself, popular spots for fishing include Wongi Waterholes and Lake Lenthall. If you are coming to the area for a fishing holiday, Burrum River really does give you the opportunity for variety.
Burrum River Caravanning And Camping
There are lots of opportunities for camping and caravanning at Burrum River and Burrum Heads. Burrum River Caravan Park is a popular choice that has a wide range of amenities and a mix of mud slabs and grassed sites.
If you prefer to be closer to the sea and the village, Burrum Heads Beachfront Tourist Park is a great choice that has over 100 sites and plenty of amenities.
For a different kind of feel, Trinity Islands Holiday Park lets you camp in nature and feel as though you really are staying on the river. It spans three private islands and waterfront sites, from which you can take part in nature activities or sit back and enjoy the river.
Gum Tree Lodge and Bush Camp caters to the over 50s caravanning crowd and is calm and quiet whereas Burrum Coast National Park camping here requires the use of 4WD to access and allows for a more adventurous stay.
If camping or caravanning isn't your thing, you can opt for a more comfortable stay at one of the many local Air BnBs The type of stay you have at Burrum River really can be anything you want it to be. If you want outdoor adventure, you can have that.
But if you want a quieter stay or the opportunity to stay indoors rather than camping, you can go for them instead.
Burrum River Real Estate
If you have visited Burrum River and truly fallen in the love with the place (who wouldn't?!), there is a wealth of real estate on the market for you to make the area your home. The properties range from beachfront gems to rural retreats, many of which include a generous amount of land.
Is Burrum River Freshwater?
Burrum River is a mix of freshwater and seawater. You will find the freshwater sections closer to Lake Lenthall and the seawater sections closer to Burrum Heads.
This means that the fishing is going to be different depending on which part of the river you are fishing from.
Burrum River Tide Times
The exact tide times on Burrum River will, of course, vary from day… to…day. There are two tides: one in the morning and one in the afternoon.
You can check the tide

forecast before heading to the river so you can be certain of the exact time that the tide will come in and out on the day you visit.
The Bottom Line
Burrum River isn't glitzy or glamorous, and it doesn't have the fame of many of the other landmarks in and around Hervey Bay. But what it does have is a whole lot of charm. Whether you are stopping by on a day trip or specifically planning to stay in the area, there are lots on offer at Burrum River and its surrounding towns and villages.
Keen fishing enthusiasts can easily while away their time setting up shop at a different fishing spot every day. But even for people who don't fish, there are plenty of things to enjoy.
With picturesque fishing villages and the beautiful natural beauty of the river itself, you just can't help but fall in love with the place.
Resource Links To Products We Use And Recommend
More Pages On Other Areas