Driving on Fraser Island is an exercise in patience and skill. Since the island is covered in soft sand, having the correct off-road, 4 Wheel Drive (4WD) vehicle is essential. It's also important to ensure that your vehicle has a high clearance so it doesn't get stuck in the sand.
You will need a lift kit if your vehicle has a clearance of fewer than 7.87 inches (200mm). Higher clearance is necessary for driving on the soft sand of Fraser Island. A lift kit will ensure that the body of your car does not drag across the sand and slow you down.
In the rest of this article, I'll explain what you need to know about driving on Fraser Island. If you want to see if you should use a lift kit and learn about the kind of vehicle you need, keep reading!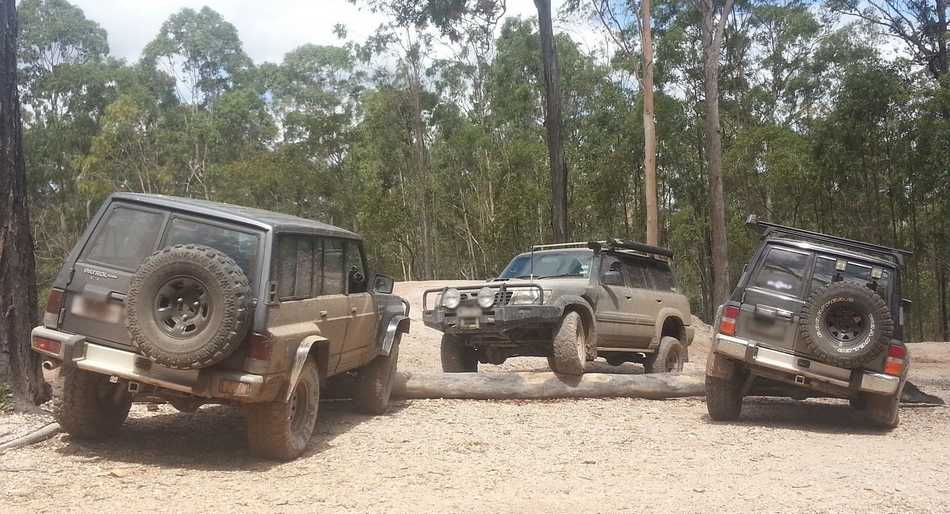 Is A Lift Kit Mandatory On Fraser Island?
While a lift kit is not mandatory on Fraser Island, those using vehicles with lower ground clearance should consider one. Since you'll be driving on the sand the entire time, using a lift kit prevents your car from getting bogged down in the sand.
Since sand driving requires a high ground clearance so you don't get bogged down, it's best to get a lift kit to increase your vehicle's height. However, a lift kit is only necessary for vehicles lower to the ground. If your car already has a clearance of more than 7.87 inches (200mm), you can probably skip the lift kit.
What Vehicle Should You Use On Fraser Island?
The Fraser Island National Park is a unique destination. This island is the only place where a natural rainforest grows from the sand. As a result, Fraser Island is a popular destination for those who want to witness this natural phenomenon.
However, the sandy island poses a challenge for tourists. Since the island has a lot of soft sand, it's challenging to drive on without getting stuck.
You should use a high-clearance 4WD vehicle on Fraser Island. These vehicles are necessary for the sandy inland roads and beach highways across Fraser Island. AWD vehicles are only allowed in the Eurong and Kingfisher resorts, which have paved roads.
Apart from the Eurong (K'gari) and Kingfisher Bay resorts, no other part of the island has a paved road. So if you bring an AWD car to the island, you can use it only within these resorts. Naturally, you'll want to use your car to drive around the island instead of leaving it at the resort, so you'll need to bring an appropriate vehicle for that.
4WD cars

are the only type allowed on Fraser Island because of the sandy roads. These cars are ideal for sand off-roading.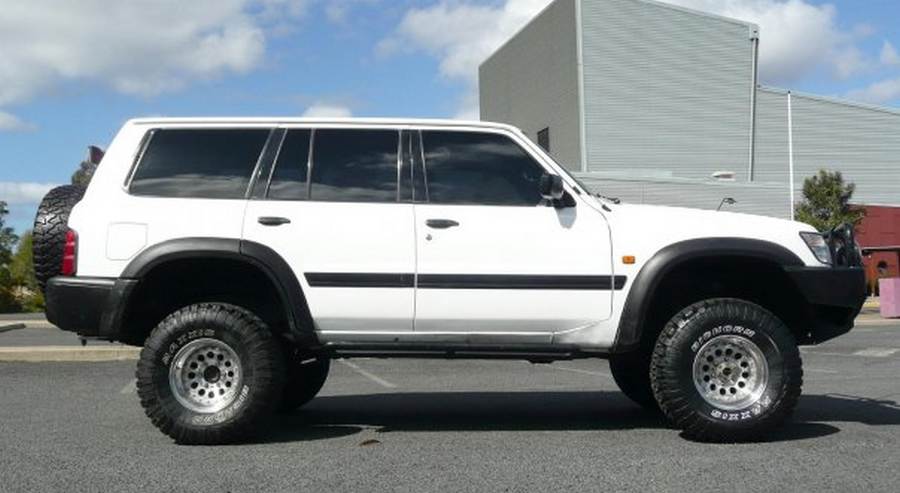 Do You Need A Permit To Drive On Fraser Island?
You need a Vehicle Access Permit to drive on Fraser Island. You can apply for this permit online, at an over-the-counter booking office, or at a self-service kiosk. If none of these options works for you, you can call 13 QGOV (13 74 68) to book your permit.
You can book a Vehicle Access Permit

for up to one month or up to one year. The fees for each are listed below.
Vehicle Access Permit for up to one month – $55.90
Vehicle Access Permit for one month to one year – $281.40
Once you get your permit, you need to print it out (or take your hard copy) and display it on the lower left side of your car's windscreen.
Note: You must obtain a Vehicle Access Permit even if hiring a vehicle. Permits are not transferable, so you still need a permit in your name if you're hiring a car on Fraser Island.
Driving On Fraser Island – What You Need To Know
Since Fraser Island only has sand roads, driving there differs from travelling on a paved road. Fraser Island is also cut off from the mainland and has lower phone reception in many parts of the island. Hence, it's essential to be prepared for emergencies when you go there.
Here are a few things to remember about driving on Fraser Island.
Always lower your tire pressure to 18-20 psi or less. The lower tire pressure allows a larger tire surface area to meet the ground, allowing your car to move over sand more easily. Higher tire pressure will make your tires sink into the sand.
Carry a tire pressure gauge. Even if you're an experienced driver, you should always use a tire pressure gauge to assess the pressure in your tires. Never guess the pressure since assuming incorrectly could get you stuck.
Use a car in which 4WD can be engaged at all times. If your car only uses 4WD in flat stretches of sand, you might struggle on sandy dunes or softer patches.
Carry a radio. Since the island has bad phone reception in some areas, you will need a radio to communicate with Queensland Parks and Wildlife Service and Partnership (QPWS&P) Rangers in an emergency.
Travel in a buddy system. If you're driving in a group, try to use two vehicles. If you get stuck, the other vehicle can help you get loose. Since you're on an island, towing services can take hours to reach, so you'll need a quicker solution.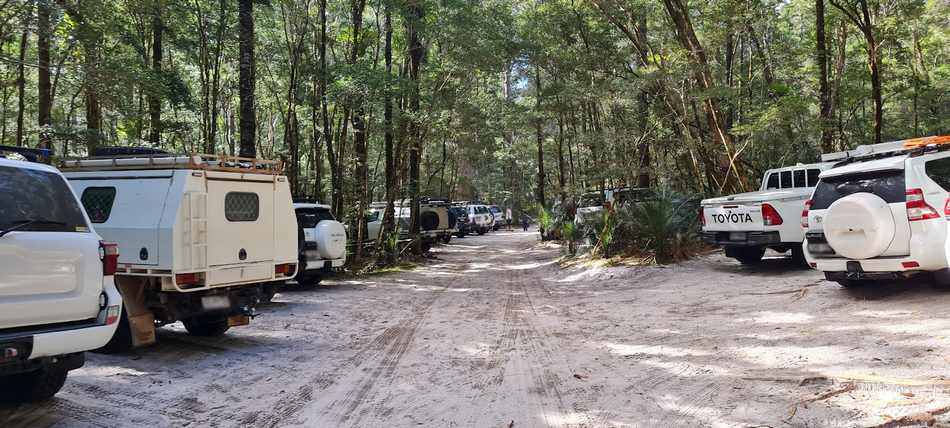 Should You Hire A Car On Fraser Island?
Taking your own car to Fraser Island can be expensive and complicated. Apart from the barge fees, permits, fuel and adjustments, you'll also need to pay for rust-proofing and insurance. Insurance, in particular, can cost a lot more because of the potential damage to your vehicle from sand and saltwater moisture.
You should opt for hiring a vehicle on Fraser Island because it is cheaper and easier than taking your own. Most vehicle hiring services on the island have special insurance coverage, and the cars are already adjusted to suit Fraser Island's sandy roads.
So if you hire a vehicle, you're only responsible for the permit and your supplies.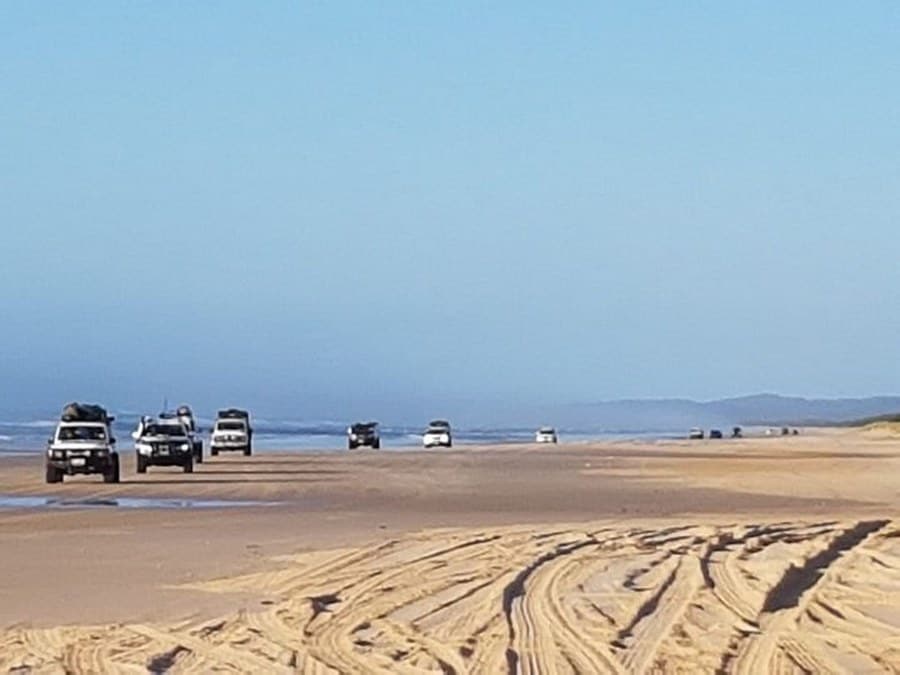 Final Thoughts
If your vehicle has a ground clearance lower than 7.87 (200mm), you should use a lift kit to increase its height. Fraser Island only allows high-clearance 4WD vehicles because of its sandy roads.
You should also ensure that you prepare your car by lowering the tire pressure, travelling in a buddy system, and preparing for emergencies.
Resource Links To Products We Use And Recommend
More Pages On Fraser Island
link to Can You Drive At Night On Fraser Island?
Fraser Island, located off the coast of Queensland, Australia, is a popular tourist destination and a UNESCO World Heritage Site. The island, which spans more than 120 kilometres in length and 24...
link to Are There Toilets On Fraser Island?
Fraser Island, which is a popular tourist destination in Australia. The island has a number of campsites and other facilities where visitors can use toilet facilities. There are on average around 22...