Ferry To Fraser Island
Leaving from River Heads Daily
The Fraser Venture leaves Hervey Bay's, River Heads every day, landing at Wanggoolba Creek the crossing time takes around 30 minutes to complete.
This is one of the main entry points to the Island and its right across from Eurong Beach Resort which is directly opposite, the resort is on the west coast of the Island.
Your vehicle must be checked in before boarding, head to the ticket hut and get your ticket then line up in the marked area, be ready to board at least 20 minutes beforehand.
Departing daily is the Kingfisher Bay Ferry it also departs at River Heads just out of Hervey Bay, Landing at The Kingfisher Bay Resort this crossing takes around 50 minutes.
You do not need a 4WD to access Kingfisher Bay Resort, but please note that you can not access any other parts of Fraser Island without a 4WD vehicle.
Collect your ticket from the ticket hut and head over to the marked waiting area to board the Kingfisher Bay Ferry, please arrive at least 20 min early.
Do you need more information on a Ferry To Fraser Island?, Please view below. For all tours to Fraser Island please read our page for more info.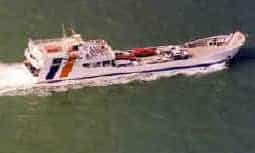 How To Book a Ferry To Fraser Island
Please Note:
ONLY FOUR WHEEL DRIVE VEHICLES ARE ALLOWED ON FRASER ISLAND
Peak Dates: 21 September to 07 October 2020, 14 December 2020 to 27 January 2020 *) All vehicle rates include the driver and up to 3 travellers, children 4 years and under travel for free. Fraser Island resident rates 50%.Booking is essential. For availability and bookings call 1800 227 437.
FRASER ISLAND BARGES
Telephone (07) 4194 9300 or Freecall 1800 227 437 Fax (07) 4125 4000
FRASER VENTURE
Departs River Heads
8.30 am
10.15 am
4.00 pm
Departs from Wanggoolba Creek
9.00 am
3.00 pm
5.00 pm
Departs From
River Heads (20 min south of Hervey Bay City)
Lands At
Wanggoolba Creek (directly across the island from Eurong)
30 min crossing time

RETURN COSTS 
$180.00 per standard 4wd vehicle (including driver and 3 passengers) $205.00 Peak Season
$5.00 per extra vehicle passenger
$255.00 per large 4wd vehicle (including driver and 3 passengers) $275.00 Peak Season
$5.00 per extra vehicle passenger
$60.00 per walk-on passenger  $30.00 Children (4 – 14 years)
$340.00 truck return $380.00 Peak Season
$100.00 under 4m (boats, campers, caravans & trailers) $120.00 Peak Season
$140.00 over 4m up to 7m (boats, campers, caravans & trailers)$155.00 Peak Season
$90.00 per motorbike $105.00 Peak Season,$5.00 per extra vehicle passenger

ONE WAY COSTS 
$110.00 per standard 4wd vehicle (including driver and 3 passengers) $130.00 Peak Season $5.00 per extra vehicle passenger
$155.00 per large 4wd vehicle (including driver and 3 passengers) $165.00 Peak Season $5.00 per extra vehicle passenger
$60.00 under 4m (boats, campers, caravans & trailers)$72.00 Peak Season
$84.00 over 4m up to 7m (boats, campers, caravans & trailers $93.00 Peak Season
$54.00 per motorbike $63.00 Peak Season,$5.00 per extra vehicle passenger

KINGFISHER BAY BARGE
Telephone: (07) 4120 3333 or Freecall 1800 072 555
Departs River Heads
6.45 am – 9.00 am
12.30 pm – 3.30 pm
6.45 pm
Departs Kingfisher
7.50 am – 10.30 am
2.00 pm – 5.00pm
9.00 pm
Departs From
River Heads (20 min south of Hervey Bay)
Lands At
Kingfisher Bay Resort
45 min crossing time
RETURN COST:
(standard 4WD)$180.00
Off-Peak per vehicle  $255.00 per vehicle (large 4WD)
(standard 4WD)$205.00
Peak per vehicle  $275.00 per vehicle (large 4WD)
$60.00 adults $30.00 children (4 – 14)
Per walk-on passenger
$100.00
under 4m or $140.00 over 4m up to 7m (boats, campers, caravans & trailers)
$90.00
Off-Peak per motorbike, Peak: $105.00 per motorbike
ONE WAY:
(standard 4WD) Off-Peak: $110.00 per vehicle Peak: $130.00

(large 4WD) Off-Peak: $155.00 per vehicle Peak: $165.00

Off-Peak: $54.00 per motorbike
Peak: $63.00 per motorbike

Walk-on passengers
$35.00 adults,
$18.00 children (4 – 14 years)

(inc.driver & 3 passengers) plus $5.00 per extra passenger

$5.00 per extra passenger.

*All Hervey Bay return Barge Tickets are interchangeable
The Manta Ray &
Fraser Island Barge
Telephone: (07)  5486 3935
First Barge Departs Inskip Point 6:00 am Daily
Last Barge Departs Fraser Island 5:00 pm Daily
Departs From
Inskip Point (near Rainbow Beach via Gympie)
Lands At
Hook Point (the southern point of Fraser Island)
10 – 20 min crossing time
(Times may change during busy times)