Queensland, Australia is well known for its seaside coastal towns that speckle the eastern coast. One of the most notorious towns in the area includes Rainbow Beach.
This quaint town is in the southeastern part of the state just south of the southern tip of Fraser Island. The town got its quirky name from the incredible coloured sand cliffs that surround the town and line the beach area.
While the sands aren't rainbow in colour, they do display an array of stunning reds, oranges, and yellows, making them quite unique.
Rainbow Beach is much more than just its beautiful sand cliffs though. In fact, its general location also makes it a desirable town to visit.
However, is there enough in Rainbow Beach to live in the town rather than just stopping by for a visit? The answer to this question is truly dependent upon what someone is looking to call home.
Rainbow Beach is the perfect place to live for those who enjoy a bit of rural living. While the town is increasingly becoming a tourist attraction due to its prime access to Fraser Island and because of its beautiful sand beaches, With its rural title and beach vibe its a good place to live.
It is considered a generally quiet coastal town with natural beauty all around. It not only has its famous coloured sand cliffs at the beach that surrounds the town, but it also is near various bushwalks, camping areas etc.
This is primarily because it is in the Gympie region that is associated with the Great Sandy National Park

.
The town is estimated to only have a population of around 1,249 people and is only about 14.3 kilometres squared in size. This definitely showcases the small town living of the area.
Due to the smaller population compared to other Queensland coastal towns, Rainbow Beach has a bit of a reputation for having not so friendly residents.
Everyone's experience is a little different but perhaps the bigger picture is that the people living in the town are simply a close-knit community.
For those looking to escape the hustle and bustle of city life, Rainbow Beach could be a great option. Anyone seeking residency in Rainbow Beach should be comfortable with small-town living that does include tourists popping in to see all the sights.
This is particularly true for those looking to see the famous sands on the beach. Moreover, some of the camping areas that are near the town can get quite crowded during peak seasons like Christmas and summertime.
What Does Rainbow Beach Offer?
The biggest perk of Rainbow Beach is its access to various bushwalks and the gorgeous beach that stretches along its coastline.
The beach area is about 23km in length with the coloured sand dunes at the southernmost part of the beach. This offers residents prime opportunities for swimming, surfing, fishing, and other beach activities.
Residents of the town can take advantage of this beach access to exercise or really soak in all the beautiful surroundings. It truly is a picturesque area to explore on a day trip but can be relaxing to see every single day.
The overall vibe of the town offers residents a sense of peacefulness and tranquillity. Capture these breathtaking photos of Rainbow Beach and Double Island Point from Carlo Sand Blow the views are spectacular.
Rainbow Beach has much more to offer than just its beauty. Although some would argue that the idyllic landscapes are more than enough! Below are some other basic things that Rainbow Beach offers its residents (and visitors!)!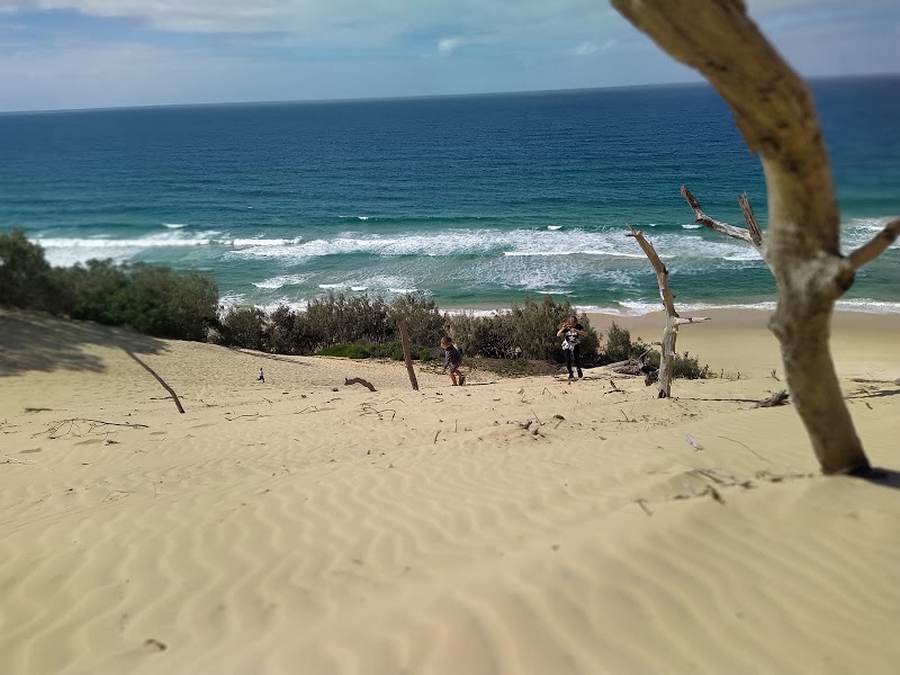 Rainbow Beach: What It Has To Offer
Dining Out In Rainbow Beach
There are multiple spots in Rainbow Beach to grab a bite to eat. There's a little something for everyone so residents don't feel short-changed on finding something delicious.
There are also great dining options in the nearby area of Tin Can Bay which is only about a 27-minute drive via Rainbow Beach Rd to Queen Elizabeth Dr.
Marina At Rainbow Beach
Carlo Point Marina is on the western coast of the town's limits and is a great way to enjoy the calming waters of the Wide-Bay area.
The marina also features a boat ramp, so residents who are looking to spend a relaxing day on the water will find this a huge perk!
It is always best to check with the marina to inquire about any fees that might be associated with its services.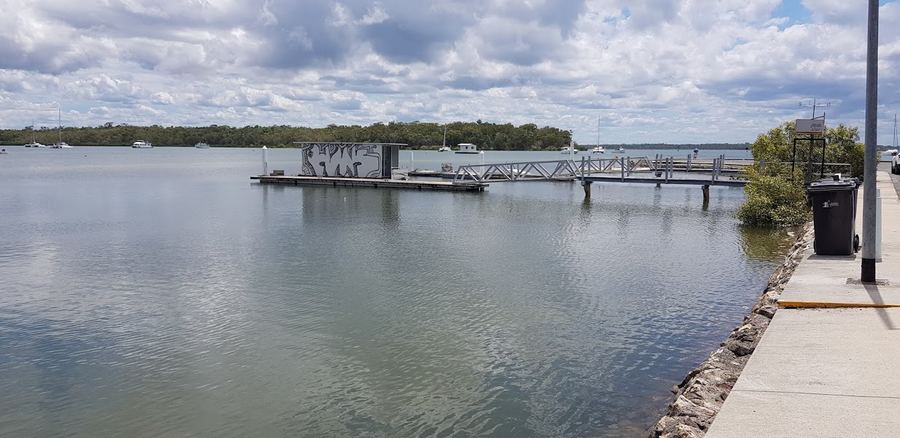 Shopping Around Rainbow Beach
Rainbow Beach isn't a very big town but there are some local shops and boutiques for residents to check out. These include a health and beauty store as well as some garden stores.
Most of the shopping can be done in Tin Can Bay at the Dolphin Shopping Centre where there's a bakery, butcher, and other small general shopping spots.
The Best Nature Experiences
The biggest perk to living in Rainbow Beach is its access to various naturalistic locations.
Aside from its obvious coloured sands, Rainbow Beach is close to Seary's Creek, a tannin-coloured clear creek that is only about 7-minutes south of the town.
This creek is tucked away off of Rainbow Beach Rd and is such a stark place to visit. Visitors can see birdlife, goannas, fish, and eels as well making it a great wildlife experience as well.
Other nature experiences nearby include visiting the Barnacles Dolphin Centre in Tin Can Bay. Guests can feed Australian Humpback dolphins

at the facility.
This really unique experience takes place in a wide-open water area where the dolphins swim freely. The dolphins swim up to visitors to be hand-fed special fish treats.
The centre also features a small cafe where guests can grab a little something to eat after feeding the dolphins!
Rainbow Beach might be a smaller town but it surrounded by plenty to do. It offers residents the opportunity to not only enjoy Rainbow Beach itself but also the towns around it.
Cooloola isn't far away either, just about a half-hour away. Rainbow Beach proves to be a central gateway for residents to explore other towns and even head to Fraser Island via the ferry that leaves from Inskip Point, just north of the town.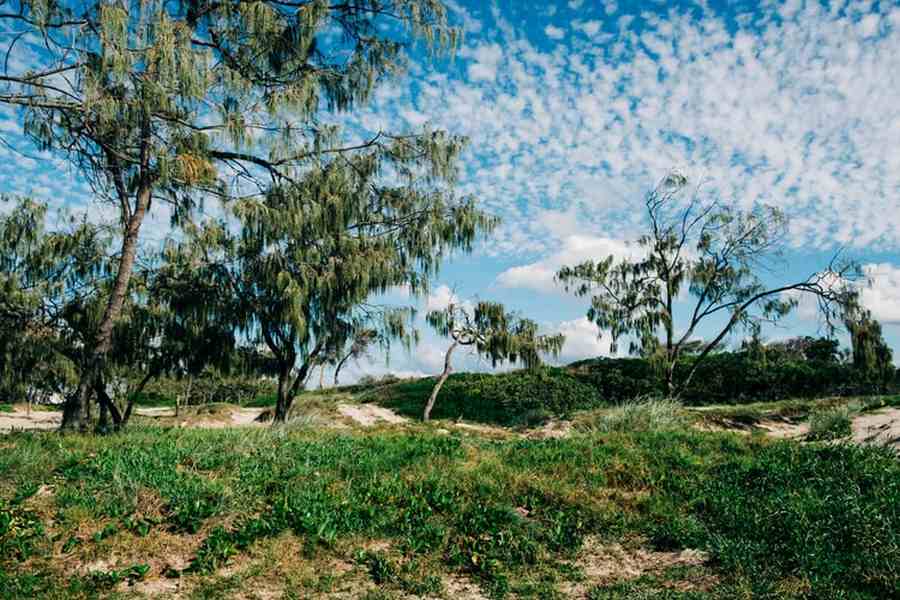 What Is The Dining Experience Like At Rainbow Beach?
The dining options that are available in Rainbow Beach vary from Italian fare to burgers to fish and chips.
There is literally a little something for everyone. Most of the dining in Rainbow Beach greatly reflects the town's laid- back vibe.
The restaurants have delicious food but are more casual which makes for a comfortable dining experience for some. Below are the top restaurants to check out in Rainbow Beach!
Top Restaurants In Rainbow Beach, Queensland
Arcobaleno On The Beach
This Italian fare restaurant is a popular spot for guests looking to grab breakfast, lunch, or dinner.
The restaurant offers a variety of all foods including chicken parmigiana, ravioli, steak dishes, brekkie platters, risotto, and seafood dishes.
It is the perfect blend of Australian inspired Italian foods that are hearty, filling, and perfect for any meal of the day. Phone them at (07) 5486 8000 to book a table.
Brent's Burgers
This restaurant keeps things simple by giving diners different choices of burgers. Some of their burger choices include chicken burgers, beef burgers, vegetarian cauliflower burgers, just to name a few.
For those who love a good juicy burger, Brent's is the place to check out. Residents find the location quite a relief from run-of-the-mill restaurants. The reviews are pretty decent and it really adds a bit of flair to the town! Phone them at (07) 5486 8877 to find out more information.
Rainbow Beach Pizza
This diverse pizzeria is so much more than just pizza! Their menu boasts delicious choices like prawns and steaks, ribs, seafood pastas, and of course, pizza.
Their pizzas have a wide range of topping choices including prawns and chorizo, tasty meats and eggs with bbq sauce, seafood, and even vegetarian options.
Their vegetarian pizza features pumpkin and capsicum peppers along with other classic veggies. They offer takeaway and delivery which makes it ideal for locals! Phone them at (07)5486 3043 to order.
The Deck At Sea Salt
This bar and restaurant is a chic, modern location with ocean views for its guests. Their menu features breakfast, lunch, and dinner options making them perfect for any meal of the day.
Some of their most notable dishes include classic brekkie choices like eggs benedict, waffles, salmon bagels and more.
The lunch menu has choices like grilled fish, burgers and vegetarian options such as their halloumi burger which has halloumi cheese, beets, pesto, and lettuce.
The dinner menu has tasty options such as octopus, oysters, salads, fritters, confit duck, risottos and more! This restaurant provides residents with a vibe that is a little bit upscale as well as casual!
These restaurants are iconic ways to get a great taste of local dishes in Rainbow Beach. Each location is known for something truly special that showcases the food scene's creativity.
Locals certainly get a great variety of food choices without feeling too bored with their options! Phone them on 0499 008 624 to make a booking or to enquire.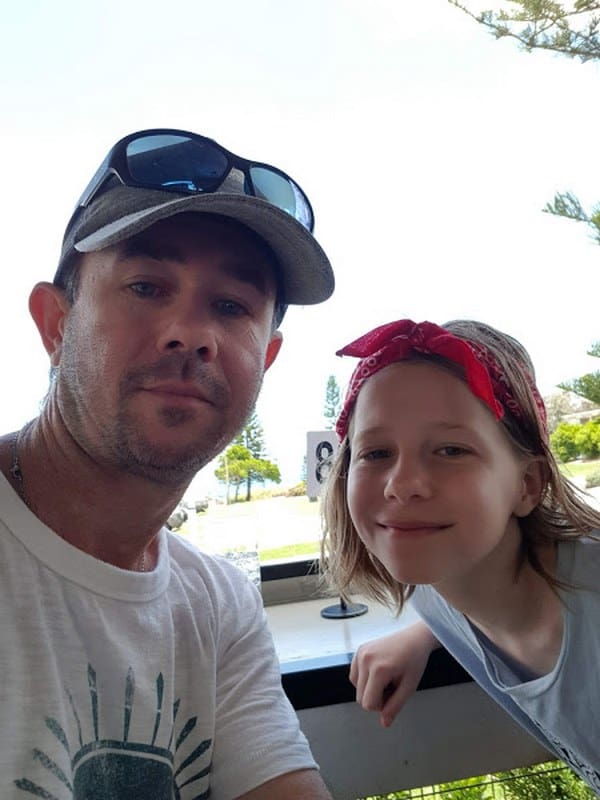 What Is A Good Location To Live At Rainbow Beach?
Considering that Rainbow Beach is surrounding by coastlines on both the east and west sides of the town, most real estate in the area will be within close proximity to a beach.
This makes just about anywhere in the town a perfect place to live. Most houses aren't directly on the water but within walking or driving distance to the shorelines.
For those looking for a town to relax and enjoy the ocean views, natural surroundings and tranquillity of the area, finding a house within the town is a great place to look.
The housing market in the area is a bit on the pricier end, however, residents are paying for investments and having peacefulness around them.
In the last year, houses have sold for anywhere between $400,000 and $700,000 with the mean unit price being around $230,000.
Depending on someone's budget, there could be a house in Rainbow Beach just waiting for new tenants.
There are more homes for sale than there are for rent in the area. The rent tends to be around $380/week for units that are available. Most houses and rental properties are modern looking and seem well maintained.
This is great news for someone looking to invest in a property at Rainbow Beach. Ideally, someone looking to purchase a home would be better off looking for residency in Rainbow Beach.
Rainbow Beach is a small yet intriguing town in the Gympie Region of Queensland.
Between its idyllic landscapes and seascapes, quaintness, and overall comfortable vibe, the answer to "Is Rainbow Beach a good place to live?" is generally going to be yes!
Resource Links To Products We Use And Recommend
More Pages On Other Areas