Rainbow Beach is a small coastal town that is located in Queensland, Australia. It is widely known by people as being the main access point to Fraser Island, which is just north of the town.
While Rainbow Beach is known for its access to the world's most iconic natural sand island, it has many of its own natural beauty to behold. This is particularly true for Seary's Creek, which is just south of Rainbow Beach.
Seary's Creek is a popular creek area on mainland Australia in Rainbow Beach. It is considered a part of the Great National Sandy Park

which stretches an impressive 56,000 hectares and includes Fraser Island.
This beautiful and unique creek is known for its slightly golden orange colour, clear waters, and sandy shorelines.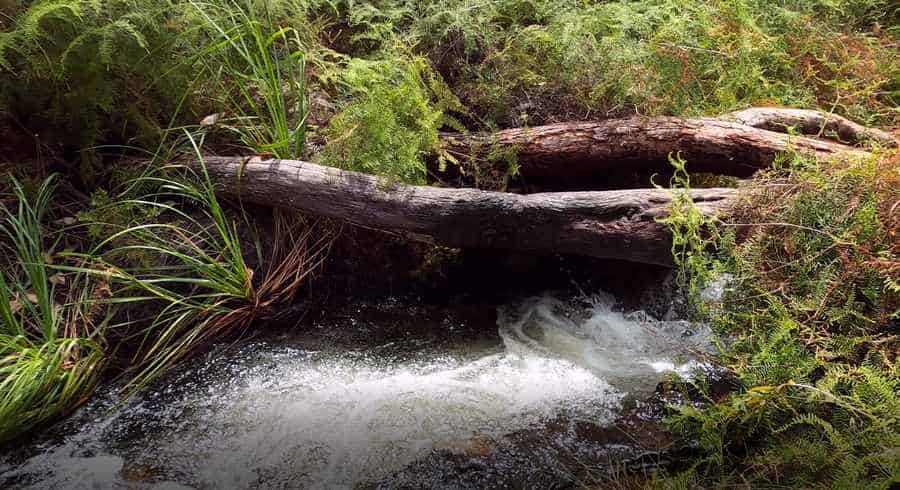 Even though the waters are a stunning colour, they are still clear enough to see the bottom of the creek bed. The strange colour of the water comes from tannin which stains the water of creeks or lakes that are surrounded by various trees and plant life.
The tannin

from the plant life is soaked into these water sources creating the tea-coloured hues. This truly is a gorgeous natural phenomenon that makes locations like this so interesting!
Seary's Creek is completely surrounded by vegetation which aids in the stark colour. The creek is a freshwater creek with fish darting in the water. Eels can sometimes be spotted as well. Aside from the unique water and various marine life, Seary's Creek is a cove of relaxation for its guests.
With the shade from the vegetation and the calm waters of the creek, it is the perfect oasis of peacefulness. Because of the shade that is provided by the various vegetation around the creek, the waters are quite cold compared to other water spots around the area.
The creek itself isn't very deep, however, there are two swimming spots where visitors can submerge themselves just enough to cool down. Both of these spots are accessible by a wooden boardwalk.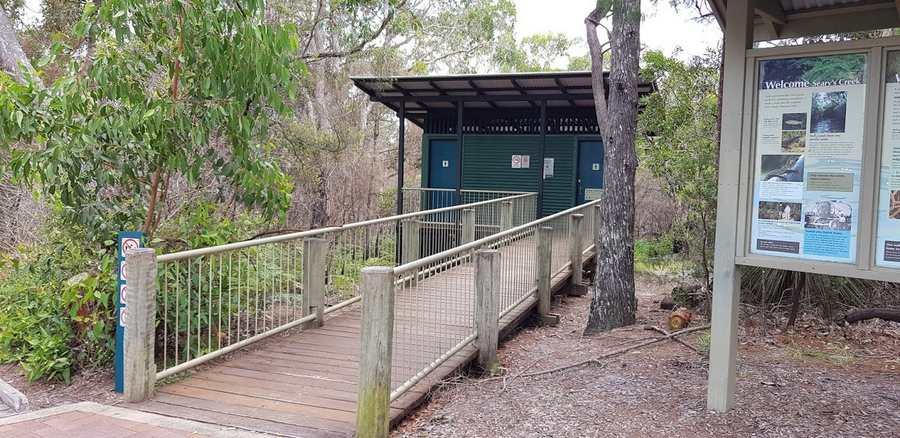 Most of the creek is ideal for wading or simply floating in the cool water. Even though there are only a couple little spots for swimming, visitors still find the creek a remarkable place to visit.
The sheer beauty of the surroundings as well as the creek itself is the perfect way to unwind and enjoy some of Australia's best naturalistic spots.
Seary's Creek is perfect for cooling down but it is truly best for strolling through the waters while soaking in all the natural surroundings.
Because the waters aren't very deep, it is easy for visitors to shuffle through the creek sands enjoying the surroundings.
Getting There And Getting Around
Because the creek is encompassed by vegetation, some people think it's a hidden gem. However, getting to the creek is super easy! The creek sits off of Rainbow Road and is specifically between Cooloola and Rainbow Beach.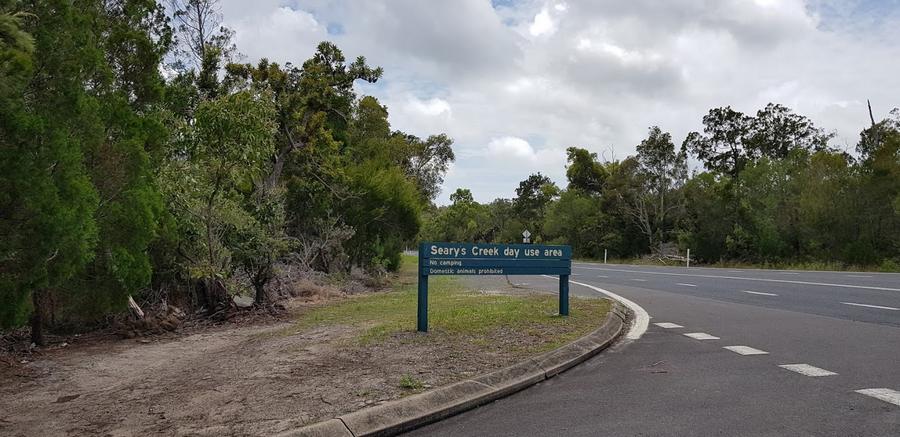 There is a car park for the creek which makes access even easier for guests. Below are the directions to the creek from the main road travelling from Rainbow Beach
Directions To Seary's Creek From Rainbow Beach
Travel south on Rainbow Road for approximately 4.1km
Turn right onto Cameron Point Firebreak and travel approximately 1.2km to the access point for the creek.
All-in-all, the access to the creek is only about a 7-minute drive from Rainbow Beach. Additionally, once at the car park, guests need to only walk about 100m to the creek area itself.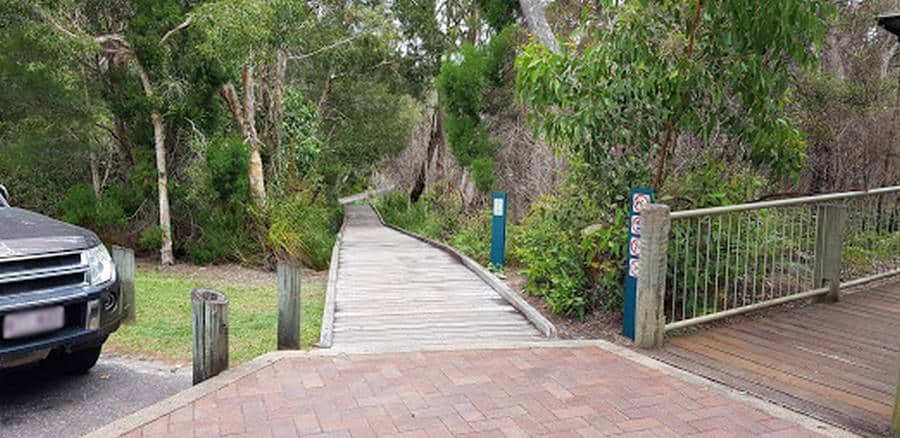 This short walk is all on a flat ground making it suitable for anyone to navigate. This walk also features a wooden boardwalk that comes to a T Crossway. Going in either direction will lead to the creek shoreline.
Going to the left at the T Crossway will lead to a set of steps down to the creek. Going right at the T Crossway will lead to a seating area and another set of wooden steps that leads down into the water.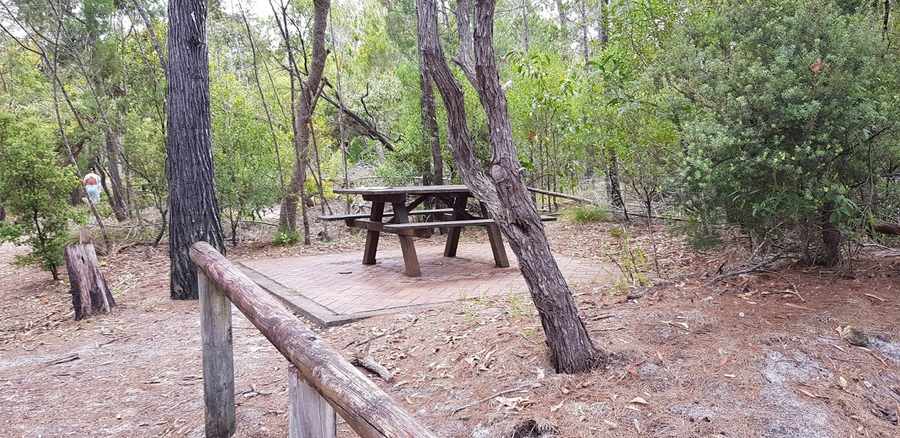 This spot is bigger than the area to the left of the crossway making it more suitable for larger groups. Either way, left or right, they both lead to gorgeous areas of the creek.
Seary's Creek Rainbowfish
The Rainbow Beach area has its namesake for plenty of reasons, however, the most notorious reason is the splash of colour throughout the town.
Seary's Creek definitely contributes to the vivid colours of the area with its population of rainbowfish.
Rainbowfish

are a smaller species of fish, typically only reaching about 12cm (or 4.7in) in length. Some species are half that size making them even more miniature versions of their larger selves.
The rainbowfish found in Seary's Creek are like other species of its kind in that they display pops of bright orange and blue colours that are mixed with silver. Even in the slightly tannin-tea coloured water, these unique fish can be seen.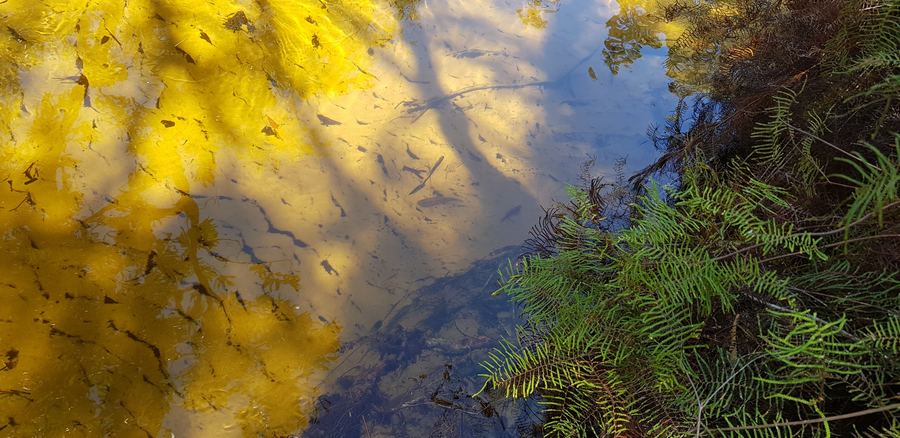 What is even more fascinating about rainbow fish is that they are generally exclusive to Australia, although some species can be found in other regions.
This includes Indonesia, Madagascar, and New Guinea. These creek fish in the Gympie region of Australia bring visitors to Seary's Creek all year round.
Other marine life that can be found in the creek is said to be long-finned eels and catfish. Catfish are identified by their long whiskers that protrude from their faces.
Between the rainbow fish, catfish, and long-finned eels, there is plenty of life to see in the fresh, clear waters of Seary's Creek.
While the rainbowfish and other marine life are a fascinating part of the creek, they aren't the only wildlife known to frequent the creek.
Kookaburra birds can be found among the various trees around the creek. These brown birds are a type of kingfisher and reach upwards of around 42cm in full body length (about 16in)!
There are goannas that lurk near the creek as well. Goannas are a type of reptile with dark skin that often features speckles and stripes of white. They can reach around 2.5m (or 8ft) in full body length and are carnivores, like other most other lizards.
They might be interesting to look at, but like most wildlife, humans should steer clear and respect their space. While they aren't known to attack humans, approaching a goanna isn't a good idea.
Seary's Creek is a beautiful relaxing creek tucked away off of Rainbow Road. From the unique waters to the pretty rainbowfish and everything in between, there is plenty to see in this small oasis!
You can find more things to do in Rainbow Beach here.
Other places nearby are Inskip Point, Double Island Point, and Carlo Sand Blow. There's also Tin Can Bay nearby, by vehicle its a short 20 minute drive approximately.
Resource Links To Products We Use And Recommend
More Pages On Other Areas