The awesome WetSide Hervey Bay was officially opened on 6 December 2009 as part of Queensland's 150th Celebrations.
Located on a hectare of foreshore land between Pialba Caravan Park and Seafront Oval on the Esplanade, the park is built on 384 piers sunk deep into the sand to raise the traffic areas on boardwalks, preserving the dune structure beneath and allowing native plants to flourish.
The opening also co-insides with Queensland's 150th celebrations, and situated on a hectare of land right near the beachfront, it was to be one of the biggest, and best designs bringing local business trade and locals a true delight.
Taken from Hervey Bay's stormwater network, the water is then harvested through to the WetSide park.
Literally, hundreds of fountains and jets propel water high into the air in different patterns to amuse and delight those who love being in the water.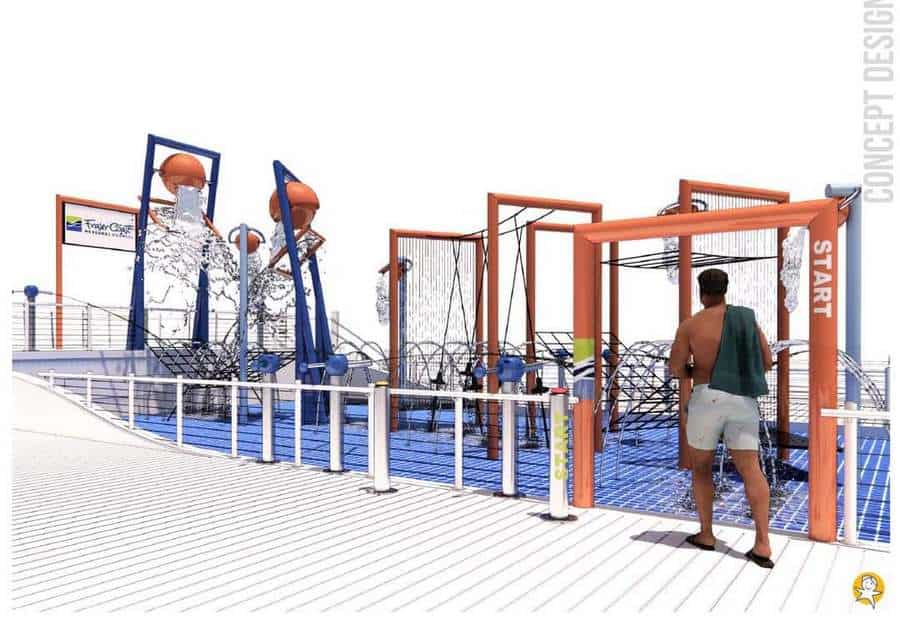 The groundwork that was put in play was to be of soft rubber-like materials that were also non-slipping.
A few rises in the groundwork make for a fun and different approach when playing around the park.
There is also a small under 5's tot's area for the littlies. Parents can enjoy playing in the smaller jets and sea life design with their small children in the undercover area.
There is a tipping bucket that fills automatically and dumps large sums of water on the giggly crowd waiting below that has proved to be hugely popular.
Music plays in the background for your enjoyment and there is also a kiosk on-site for those wishing to purchase drinks and snacks while at the park.
Google Map Of WetSide Hervey Bay
Address 267 Esplanade, Pialba QLD 4655 Ph +61406451472
WetSide Hervey Bay Water Slides
The water park features hundreds of spouts and jets, fountains interactive play equipment, water slides, surfing, tipping buckets, music and a giant water screen.
The site also includes a coffee shop, viewing decks and boardwalks, educational displays, amenities blocks and the pay-per-use Board Rider wave machine.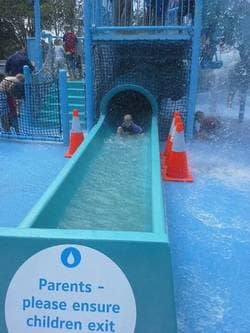 Teenagers have been known to line up waiting to have their turn and this also runs all day long. This static wave machine is of excellent design and the cost of this is $5.00, even though the actual park is free of charge to enter.
Amenity blocks are on site, and there is a baby change room for those wishing to use this room for their smaller children.
Plenty of seating and tables are well situated all around the WetSide park area, and many people have been noted to have planned birthday parties and other occasions at the park since its opening.
This place is the greatest place to take your children for a fun day out with little expense. Hervey Bay's greatest, new attraction or if you're looking for more free things to do check our page here.
OPENING HOURS
Opening hours vary, for up to date timetables please refer to their website.
WetSide may close for reasons including private functions, maintenance, extreme weather or maximum safe capacity crowds.
Address 267 Esplanade, Pialba QLD 4655
Contact Fraser Coast Regional Council www.frasercoast.qld.gov.au/wetside


Phone: 0406 451 472 or email contact
Resource Links To Products We Use And Recommend
More Pages On Things To Do
link to What Is The Best Time Of Day To Go Snorkeling?
Are you ready to plan your next snorkeling trip? In that case, you must be wondering when is the right time to go - read this article to find out! Snorkeling can be a fun and rewarding experience,...
link to What Is The Best Day To Rent A Car?
Renting a car can be expensive. Between service fees and general charges, the price can really rack up. Even what day a rental car is picked up can save a few bucks. However, knowing some general...