Camping on Fraser Island can be a truly rewarding experience. There are a variety of formal campgrounds with excellent facilities, but if you're more of a free spirit, you might want to wander off the beaten track a little bit and sleep closer to the wilderness.
There are definitely opportunities to camp in informal areas on Fraser Island, but the question of whether you can free camp there is a little more complicated. This is mainly due to the strict safety rules to protect visitors from dangers such as dingoes and forest fires.
Technically, free camping is not allowed on Fraser Island. Anyone wishing to camp on the island needs to apply and pay for a camping permit beforehand. There are many informal campgrounds, however, these are not free camps, with little-to-no facilities, they can be found on the east and west sides.
While there are restrictions to camping on Fraser Island, and for important safety and conservation reasons, that doesn't mean that the only option is to camp at a formal campsite. There is a middle ground on Fraser Island, with lots of opportunities for feeling like you're truly camping in the wilderness.
So can you free camp on Fraser Island? In short, no. You can't free camp on Fraser Island. If you plan on camping there, you will need to apply for a camping permit for the campgrounds you want to use before you go.
This can be done 6 months in advance between 1st March and 30th September. Bookings are restricted to 14 days in advance for the rest of the year due to the high chance of forest fires which can require campgrounds to be closed for a period of time.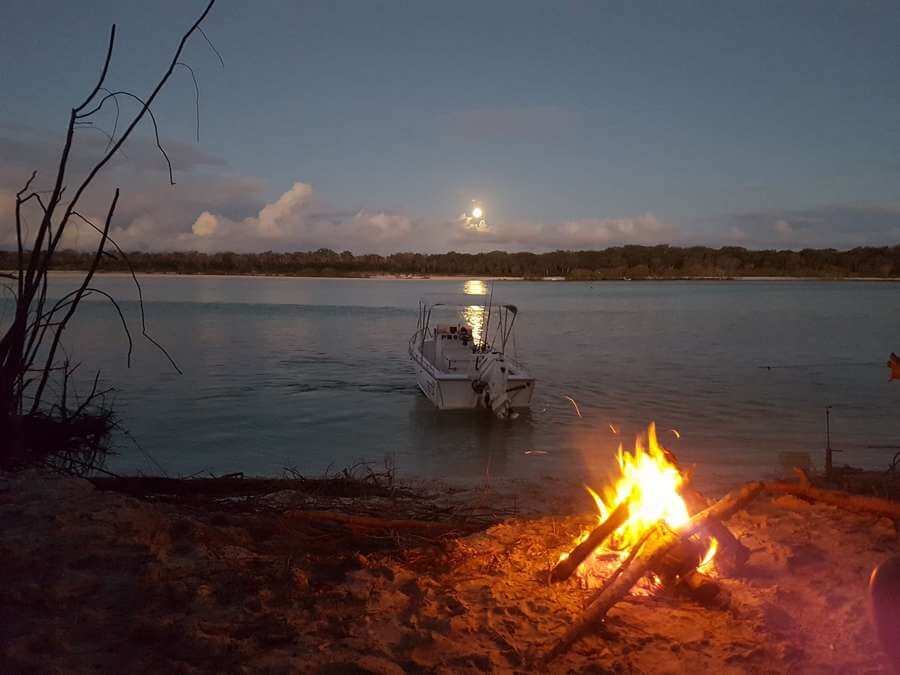 If you're looking to avoid the formal campsite facilities for more of a free camping feel, there are lots of options to choose from. The most common informal camping grounds are those found on the beaches on the east and west side of the island.
There are nine informal campsites on the eastern beaches, located behind the sand dunes, and there are four on the western beaches. The latter is a little more off the beaten track so is ideal if you really want to feel like you are alone in the wilderness.
There are also walkers' camps located along the Fraser Island Great Walk, which are perfect for pitching up for the night as you make the journey.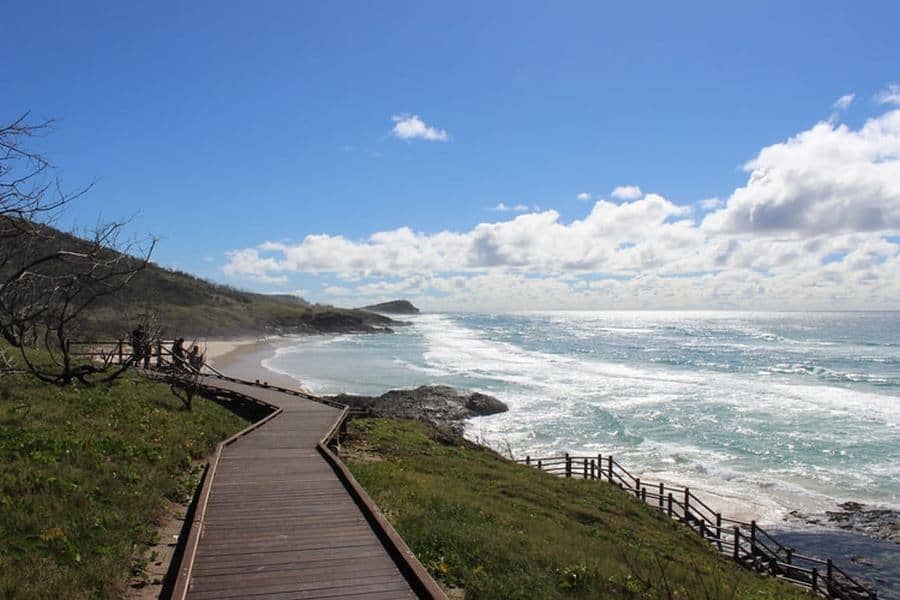 While These Camping Grounds Aren't Formal, There Are Still Rules In Place:
1. Bring Your Own Firewood
Collecting any sort of firewood on Fraser Island is strictly off-limits. If you want to build a fire, you are going to have to bring along your own. This has to be milled tinder, to lower the risk of introducing disease into the plant life on the island.
2. You Can't Make A Fire Everywhere
With that being said, building a fire isn't allowed anyway in most of the campsites on the island. With the exception of communal fire rings at Dundubara and Waddy Point campsites. You can't build a fire anywhere outside of these fire rings.
3. Generators Aren't Allowed Everywhere
Generators are not permitted at the Garulim, Dulara, or Midyim camping areas. At the campsites where generators are allowed, you can only use them between 9 am and 9 pm.
4. Take Your Rubbish Home
The informal camping grounds on Fraser Island don't have any rubbish bins, so you should plan ahead for how to carry your rubbish away with you. You should aim to leave the camping area exactly as you found it, so you should never modify the environment (cutting trees, digging trenches, etc) to allow yourself to camp there.
5. Traveling With Children On Fraser Island
If you have children with your group who are under the age of 14, you should camp in areas that are fenced in as protection from the dingoes. These areas are mainly found at the formal campsites, so it might be best to wait for any children to be older before trying out the informal camping opportunities on Fraser Island.
6. Portable Toilets A Must
You will need to bring your own portable toilet to some of the camping areas, including Garulim, Dulara, Midyim, and Cornwell's Group.
7. Heating And Cooking Appliances
You can use heating and cooking appliances in most of the camping areas, as long as a fire ban isn't in place. There are some rules about how they can be used, including that they have to be at least 20cm off the ground and that you must take any waste or debris away with you.
8. Camping On The Beach
You should always camp at least 50m from the water. If you're camping by a lake you can extend this to 100m, but you should stay 50m from any creeks.
Most of the camping grounds on Fraser Island are accessible by 4WD vehicles but the camping grounds on the western side of the island are accessible by boat.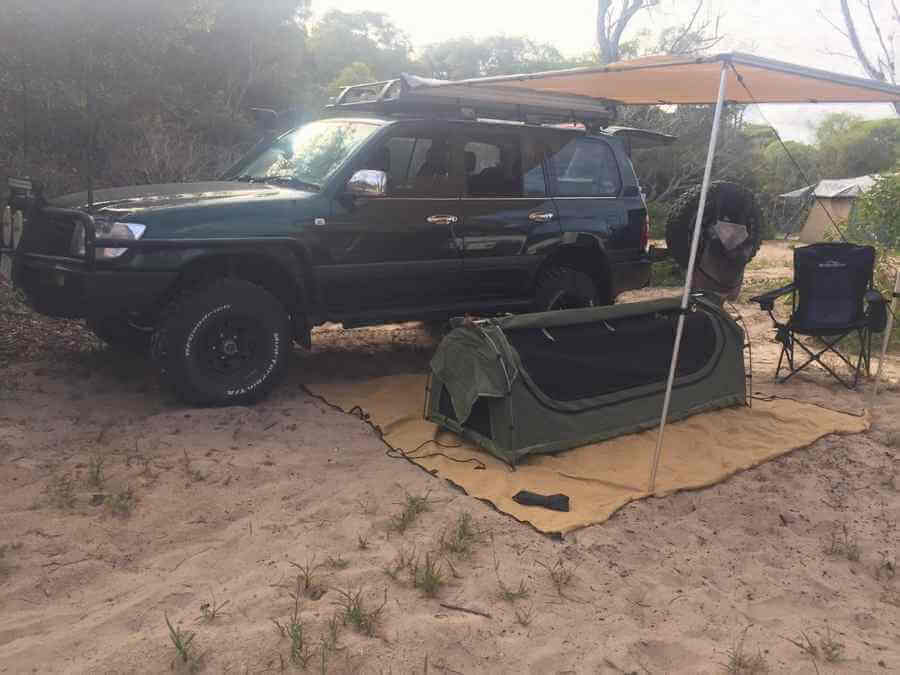 Can You Camp Anywhere On Fraser Island?
You can't just camp wherever you want on Fraser Island. You can only camp in the designated camping areas with the appropriate permit and camping is completely prohibited at Eli Creek. While this might go against your free camping spirit, many of the camping areas on Fraser Island are remote and completely basic.
So while you might not have the freedom to choose the exact spot that you will camp, you can choose a spot that allows you to just camp without being part of a formal campsite.
Do You Have To Pay To Camp At Fraser Island?
Camping permits aren't free for any of the Australian National Parks, including Fraser Island, but the cost is minimal. You can pay for however many nights you want when you book your permit

.
Cost Per Night
1 adult – $6.75
1 family – $27.00
students and accompanying adults (educational visits) – $3.70
under 5s – free
The Bottom Line
True free camping is not permitted on Fraser Island but that doesn't mean you have to miss out on the chance to the wilderness camping experience. There is a mix of formal and informal camping grounds on the island and some of the informal ones are in beautiful beach areas.
Always remember to book your camping and vehicle permits

before arriving at the island.
Resource Links To Products We Use And Recommend
More Pages On Fraser Island
link to Can You Drive At Night On Fraser Island?
Fraser Island, located off the coast of Queensland, Australia, is a popular tourist destination and a UNESCO World Heritage Site. The island, which spans more than 120 kilometres in length and 24...
link to Are There Toilets On Fraser Island?
Fraser Island, which is a popular tourist destination in Australia. The island has a number of campsites and other facilities where visitors can use toilet facilities. There are on average around 22...