For those who are eager to experience Fraser as part of a larger group without the responsibility of hiring a 4×4, a day trip could well be the go.
Fraser Island Attractions start with 123km of white sand, amazing landscapes, ancient rain forests, endless beaches, freshwater lakes, coloured sand cliffs, coloured gorges, swamps, giant trees and huge sand blows all combine to show the breathtaking beauty and diversity waiting to be explored.
There are many wondrous and unique landmarks on Fraser Island and you will want to visit again and again.
Tours of Fraser Island leave from various locations up and down the Queensland coast. Rainbow Beach, Noosa, Maryborough, Tin Can Bay and Hervey Bay all offer various types of tours that allow you to explore different amounts of the island depending on how long your tour takes.
Day tours offer only the highlights of what's available on the island, while a 3 or 5-day tour would provide the opportunity for you to get to know different parts of the island quite well.
Why not read up on our What is the best time of year to go to Fraser Island? page here.
For more tours to Fraser Island click here for the most current pricing available.

Champagne Pools on Fraser Island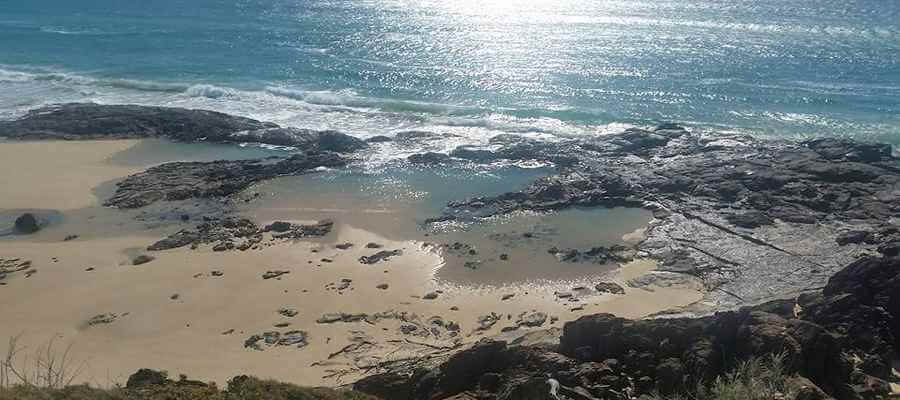 Take a dip or grab a tan at the well-visited Champagne Pools (pictured top). These naturally formed volcanic rock recreational pools make this a popular saltwater swimming destination.
The Champagne pools are situated near Indian Head.
There are timber walking tracks and steps to enable easier access. The Champagne Pools are a natural rock formation that causes the tides to form rock pools. Their beautiful crystal clear look has earned them their name.
The Maheno Wreck
After thirty years of service in Australian waters the Maheno, a huge cruise vessel, was being towed to Japan as scrap when it hit cyclonic conditions off the coast and was washed ashore on the 9th July 1935.
The past 60 years of waves and weathering have reduced this once huge vessel to a rusting skeleton but it is still an imposing landmark.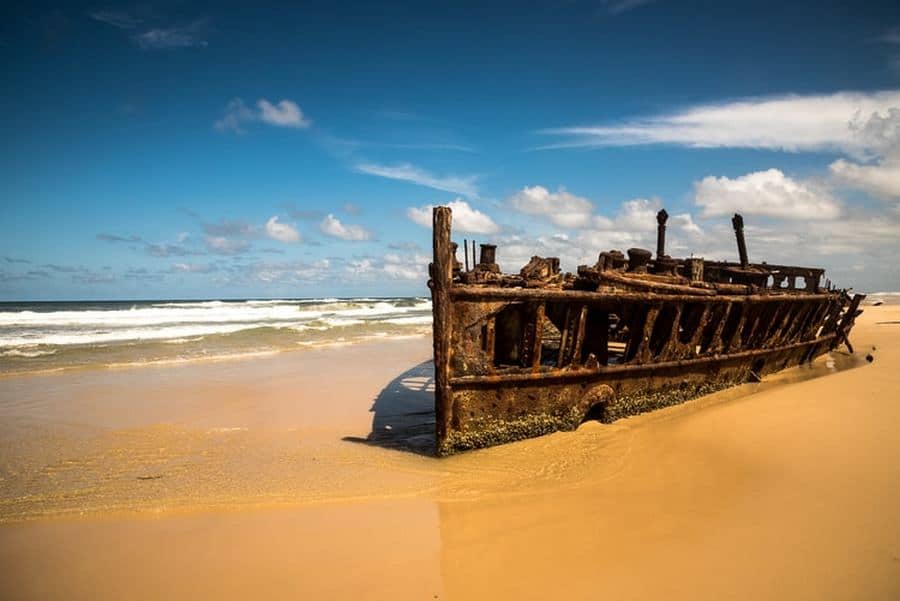 Lake Wabby On Fraser Island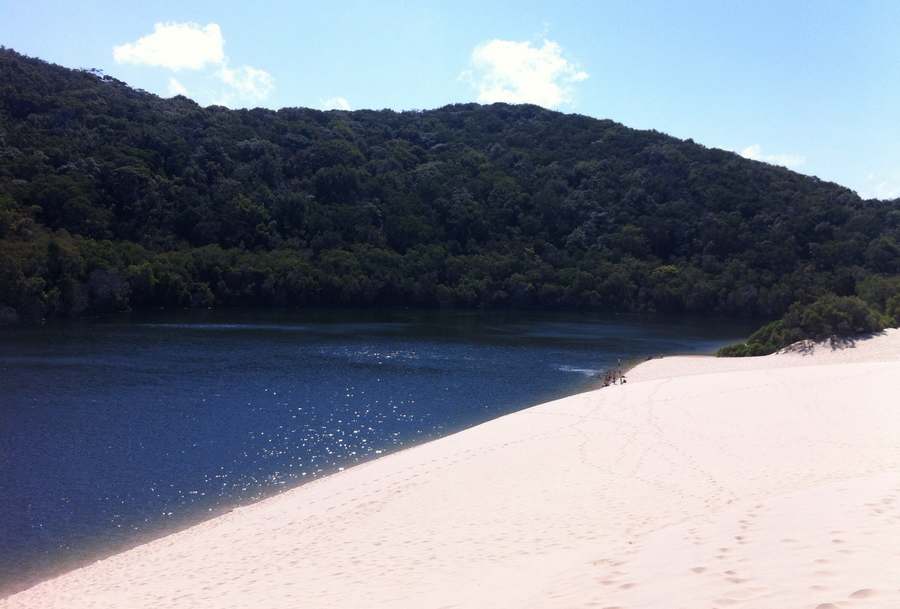 The island's deepest lake which is rich in fish and surrounded by ancient melaleucas. Lake Wabby is slowly being filled by a giant sand blow.
The Cathedrals of Fraser Island
The Cathedrals are coloured sands named because they resemble European cathedrals. These cliffs have been eroded away due to the wind and the rain blowing in off the Pacific Ocean into colourful spires and peaks.
The colouration is a result of iron oxide staining and the colours – red, brown, yellow and orange – are spectacular.
Fraser Island Great Walk
A 100km Great Walk is now established on Fraser Island allowing visitors to hike from Dilli Village to Lake Garawongera. This is part of the Great Walks of Queensland nature-based tourism initiative.
The Fraser Island Great Walk starts at the historic sand miners camp at Dilli Village and provides a continuous walking track with facilities from Dilli Village north to Happy Valley.
Walker-only campsites are provided at a maximum spacing of about four to five hours walking.
The walk is divided into four sections. Opportunities exist for short walks, full-day walks, overnight walks and 2-3 day walks.
Follow the link to download a brochure "Fraser Island Great Walk" from the Qld Government's EPA / Qld Parks & Wildlife Service or visit the Fraser Island Great Walk Website.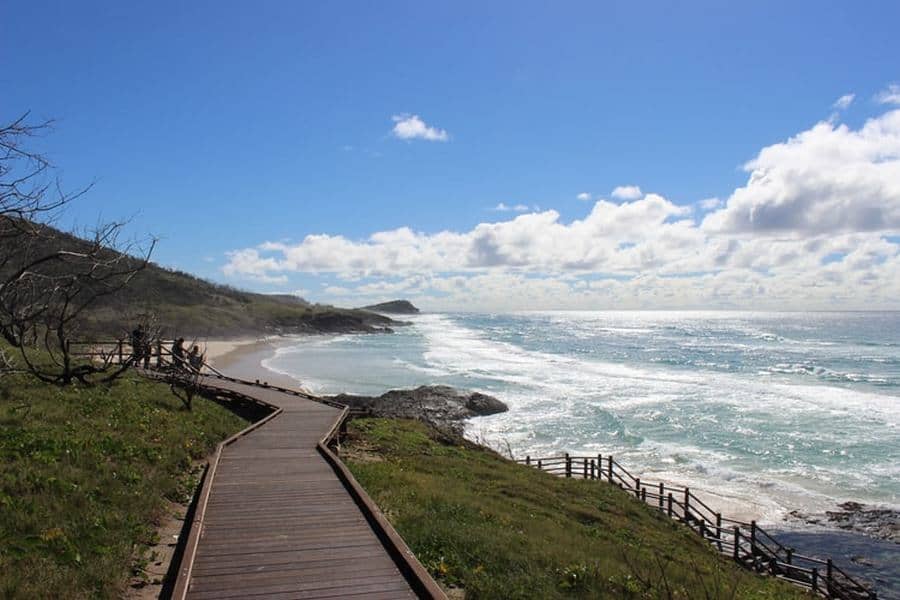 Sandy Cape
Sandy Cape is more remote than other areas, located at the northern tip of Fraser Island. Sandy Cape boasts a lighthouse, located about 7 km south-west of the cape on a 100m elevated ridge.
The buildings have been maintained and preserved for their historical and cultural value.
Indian Heads and Waddy Point
Driving north from the Maheno, Indian Heads signals the approach of Orchid Beach and Waddy Point area. Indian Head is the most easterly point on Fraser Island and rises about 60 metres from the water.
The stretch of beach between Indian Head and Waddy Point is renowned for the tailor fishing.
Indian Head is one of the few outcrops of rock in the Fraser Island National park, and also one of its most recognized landmarks. Being on the best fishing spots on the Island, looking down from the top one may see the multitudes fish feeding beneath.
The Pinnacles
These are arguably the best sculptured coloured sands on Fraser Island, although the colours are more subdued than the Cathedrals. The size of the cliff faces is a reminder of how large the sand dunes on the island are.
Lakes Of Fraser Island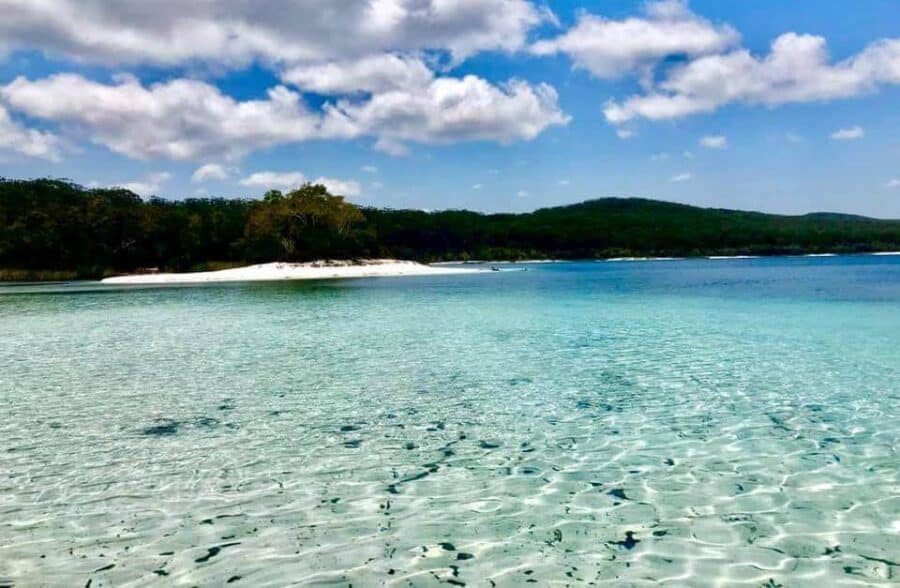 One of the favourite attractions of the island is its natural abundance of water with around 40 lakes, as well as numerous creeks, lagoons and swamp areas.
Popular Eli Creek, just a few Km north of Happy Valley, pumps millions of litres of fresh water into the ocean every hour.

Stroll along the boardwalks which rim the creek's edge, or take a dip in the crystal-clear water.
The beauty of Lake McKenzie (pictured above) will etch the memories of many travellers. Surrounded by rain forest, the glistening white sand is set off by the lakes intense blue freshwater.
This is an extremely popular destination for visitors and one of the most beautiful beaches you'll ever experience.
The spectacular views of the stunning lakes on Fraser Island are must-see destinations.
The crystal clear freshwater lakes are sometimes stained with vegetation floating down and gathering at the bottom of the lake; Tea Tree lake as its name suggests is stained brown of the Tea Tree leaves in its water.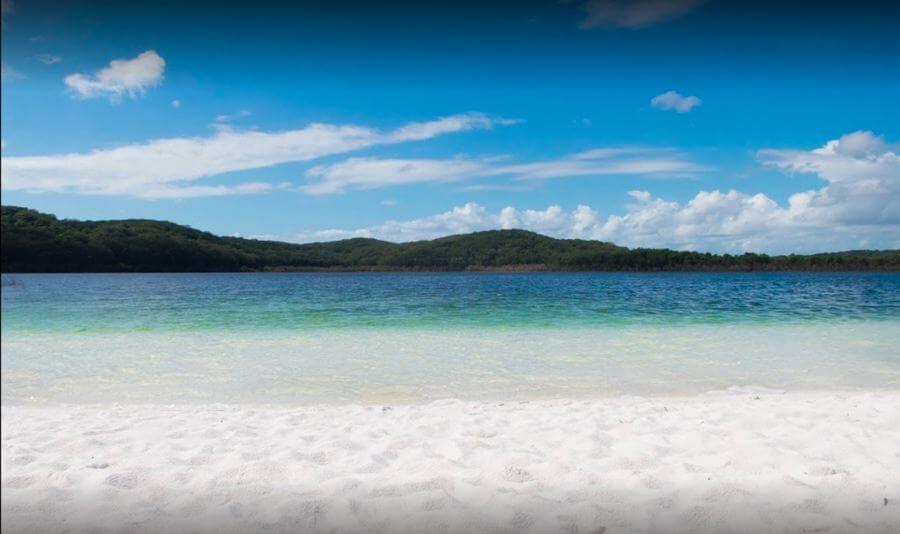 Many lakes are situated at different locations around the island, some being McKenzie, Boomanjin, Wabby, Birrabeen, Allom and Bowarrady.
All are wonderful sights to see, however, some are only accessible by foot i.e. Lake Bowarrady. All lakes on the island are completely natural, and most are perched lakes (formed by water catchments in the sand dunes).
For more tours to Fraser Island click here for the most current pricing available.

Central Station
Central Station, formerly a logging camp back in the early 1920s. Logging was outlawed, and the site is now one of Fraser Island's popular tourist information centre and camping ground.
Complete with showers, picnic areas and toilets, you can pitch your tent among the beautiful tall hoop pines and amazing wildlife in the national park.
Pile Valley
A site at which some of the tallest and largest trees on Fraser Island and grow up to 70 metres high, the huge Satinay trees are home to many birds and other wildlife on the island.
The beautiful coloured sands are also a great destination to visit. Running for 35 kilometres north from Happy Valley, the sands range in colour from pristine white through a deep red to night black. Another site of coloured sands is that at Rainbow Gorge.
Fraser Island Rainforest
Over thousands of years, nutrients have gradually been stockpiled with plants harnessing tiny amounts of windblown elements and capturing and recycling nutrients from decaying trees and shrubs. This tedious process has resulted in a stunning array of plant life.
The rain forests are so so dense in some places that light does not penetrate their canopy. Many of the tall rain forest trees are festooned with huge crows nest ferns and staghorn which the early foresters saved from felled trees and brought to the area.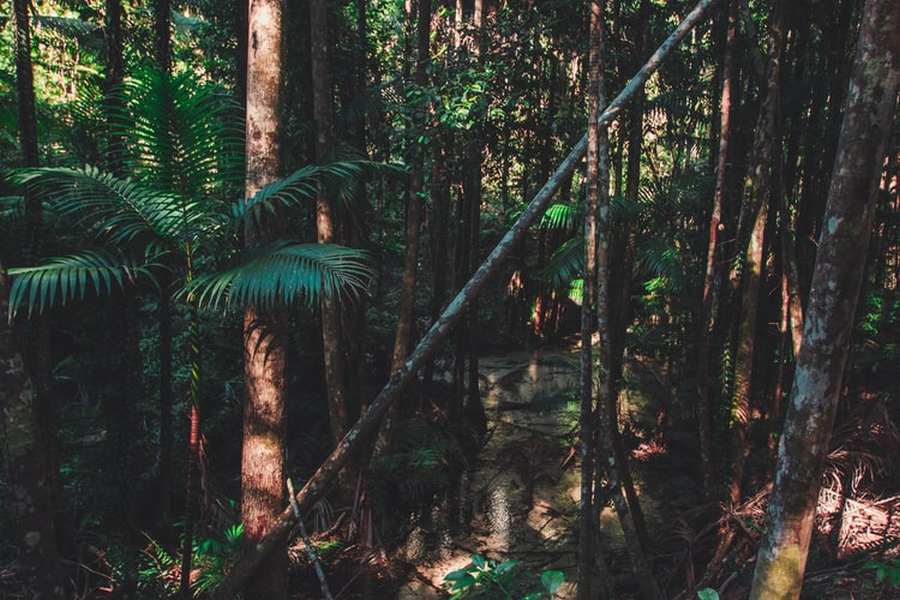 Fraser Island Fauna
These lizards find campsites inviting and will rummage through tents and have been known to climb onto picnic tables for a feed. Other native mammals wandering the wilderness include wallabies, possums, flying foxes and echidnas.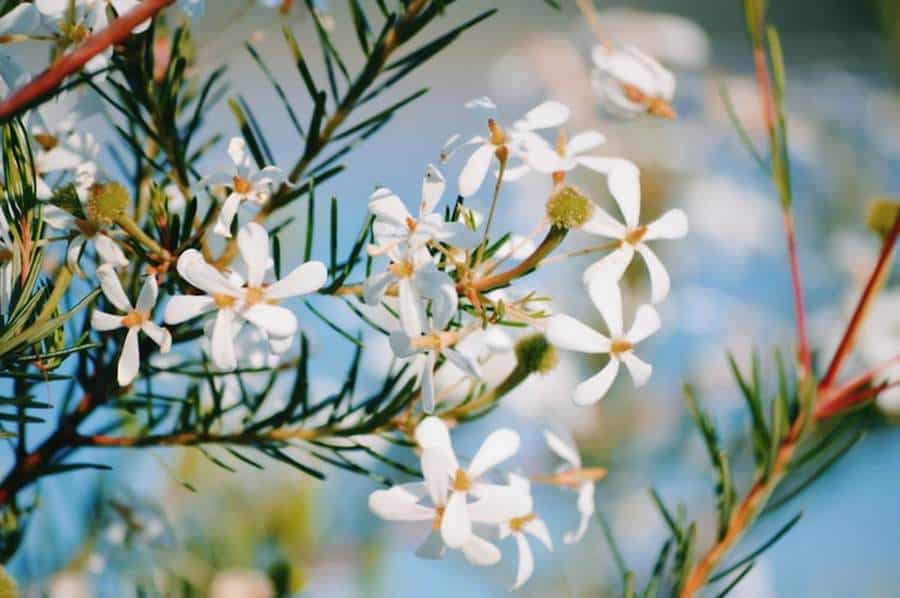 BirdLife On Fraser Island
Fraser Island is home to around 350 species of birds – one of the largest and most varied bird communities in Australia.
Along the beaches, you can see dotterels, pied oystercatchers, pelicans, tern and gulls while overhead skies are prowled by magnificent birds of prey – brahminy kites, white-breasted sea eagles, ospreys and peregrine falcons.
The island's heathlands are home to one of Australia's rarest birds – the ground parrot, as well as honey-eaters, kingfishers and cockatoos. The lakes and wetlands are the habitats of curlews, jabirus and brolgas.
For more tours to Fraser Island click here for the most current pricing available.

Resource Links To Products We Use And Recommend
More Pages On Fraser Island
link to Is Driving On Fraser Island Difficult?
Fraser Island is Queensland, Australia's most exclusive island. It is a popular word heritage site that boasts lush flora, ancient rainforests, and a wide variety of wildlife. Even though the island...
link to How Long Can I Stay On Fraser Island?
Fraser Island is not only the largest sand island in the world, but it is also home to the last purebred dingo population, amazing rainforests, gorgeous beaches, and is a breeding ground for humpback...