Lady Elliot Island is one of the most astounding islands to visit in Australia. The island first appeared above sea level somewhere around 1500 B.C. Over the years, (approximately 3,000!) it slowly became a coral cay.
It is specifically located off the northeast coast of Australia in the Coral Sea. This stunning island is the most exclusive experience any tourist or Australian will have.
Because of its overall beauty and access to the Great Barrier Reef

, Lady Elliot Island tours are highly desired by guests. Another reason for this is primarily because the only access to Lady Elliot Island

is by air.
Lady Elliot Island lays on the southernmost point of the Great Barrier Reef, making access to it impossible by other means of transportation. It has its own airstrip and private resort for guests.
These flights are conducted from east coast cities like Bundaberg, Brisbane, and Hervey Bay. This flight experience is an adventure in itself as guests can see the reef from the aircraft!
The tours among the island showcase the immense natural beauty of Lady Elliot. Due to its remote location, this portion of the Great Barrier Reef is highly maintained, making the reef vibrant to see.
It also makes the surrounding marine life quite enjoyable to see as well. In fact, Lady Elliot is well known for its manta ray population. Moreover, this maintenance and natural beauty of the reef and its marine life has earned Lady Elliot a Green Zone status, meaning the reef is one of the most preserved spots of the reef.
Guests to Lady Elliot will not only enjoy the various tours that highlight the surrounding nature, but also the sheer relaxation of the resort. Lady Elliot has its own resort for guests to stay called Lady Elliot Eco Resort.
It is a privately-owned resort and its owners take true pride and care of this sweet piece of nature at their fingertips.
Google Map Of Lady Elliot Island
Lady Elliot Island Snorkelling Tours
Snorkelling tours on Lady Elliot Island are possibly the most popular of the island tours. Snorkelling is easy for most anyone to do and it is a remarkable way to emerge into the beauty of the Great Barrier Reef.
Because of its Green Zone status, this portion of the Great Barrier Reef is sure to impress guests. It is one of the most gorgeous views of the reef making for a once-in-a-lifetime experience.
While snorkelling is a great activity to partake in right off the beaches of Lady Elliot, their tours are a more in-depth way to experience the Great Barrier Reef and the marine life.
Because of the remoteness of Lady Elliot, any tours that are available are through the resort itself. This truly gives guests a one-of-a-kind exclusive experience while visiting the island. Below are the main snorkelling tours that are included in Lady Elliot Island tours!
Glass Bottomed Boat Tours (Day)
Glass-bottomed boats are specifically designed to having glass bottoms that serve as windows into the underwater world! Moreover, these boats on Lady Elliot are also designed to reduce any impact on the reef or its marine life.
This incredible experience has day and night tours. The day tours include a snorkelling session and while travelling to the snorkelling spot, guests get an introduction on what to expect.
Once reaching the desired location, guests have a 30-minute time frame to snorkel about the reef and various marine life. There are around 1,200 species of marine life in this section of the reef including turtles, manta rays, tropical fish and more!
Glass Bottomed Boat Tours (Night)
The night tours on the glass-bottomed boats are perhaps the most unique of any glass-bottom boat tour offered in Australia. This amazing tour shows the reef during the night hours where the coral polyps

are most active. Moreover, the use of UV lighting enhances the colouring of the reef and marine life.
This particular tour requires the use of reef walking shoes, which cover the toes and feet for safety while among the reef. Both night and day tours will cost around $36 for adults and $22 for children.
That is an extremely affordable way to have the greatest view of the world's most iconic reef system! Moreover, the glass-bottom boat tours depart daily, always taking into consideration weather and tide conditions.
Snorkel Safari For Experienced Snorkelers
While snorkelling is an activity mostly anyone can participate in, the snorkel safari is specifically geared towards more experienced snorkelers. The snorkel safari is an exclusive one-hour adventure that often gives close-up views of reef sharks, mantas, and turtles among the reef.
Due to the extent of this adventure, good physical fitness is also required. The cost will run about $42 per adult and $25 per child. Once again, the conditions of water and tides are always considered before setting out onto the waters.
These exclusive snorkelling tours are great for various levels of snorkellers. The glass-bottom boat tours are excellent for those a little less experienced, while the safari is perfect for advanced snorkellers.
No matter what level someone might consider themselves, there is an exciting adventure awaiting them with these snorkelling tours!
Lady Elliot Island Diving Tours
Diving is a bit more involved activity than snorkelling. However, diving enthusiasts will be in total paradise when it comes to the Lady Elliot Island tours concerning diving!
Diving is a remarkable way to experience the crystal clear waters surrounding the island and housing the beautiful reef. Below are the key things to expect while diving down for an adventure!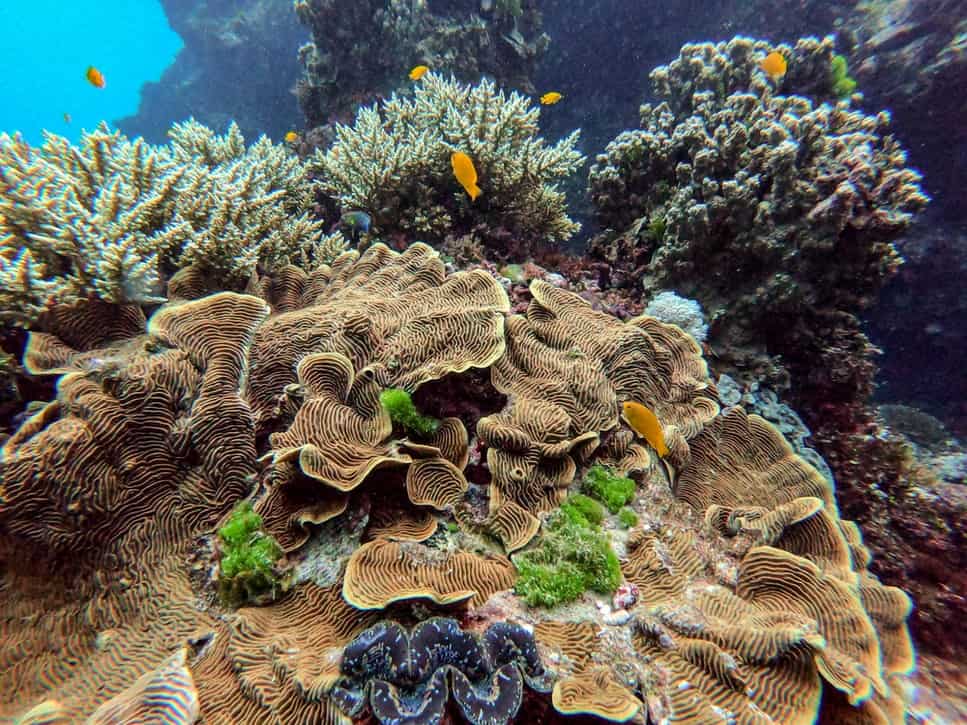 Key Points Of Diving Tours On Lady Elliot Island
20 super exclusive dive sites all around the island. This is an incredible amount of dive spots for anyone wanting an immersive view of the reef and various marine life living among it!
Guided dive tours from specially trained dive experts! These experts usually run two dive sessions daily.
Depending on weather and water conditions, night dives are also possible!
Access to a dive map, showcasing the 20 diving spots. This map goes into detail of the dive spots that are perfect seeing creatures that aren't closer to the surface. Moreover, the visibility in these diving spots is said to reach up to 40m, which is truly incredible. This is possible due to the clarity of the waters surrounding the island.
Experienced divers can really bask in the beauty of the reef and unique marine life that lingers at deeper levels in the water.
While snorkelling might be the most popular of the tours, diving is certainly pulling in the crowd of diving enthusiasts to this special diving treat!
Best Time To Tour Lady Elliot Island
Lady Elliot Island tours are available year-round, however, there are some idyllic times to visit the island. When it comes to the time of day, early morning and afternoon are best as there is nothing quite like sunshine glistening off the waters with a pristine clear view.
When it comes to the actual time of year to visit Lady Elliot Island, July to September is considered best. However, various times of year offer a slightly different experience.
Knowing these differences helps guests determine what time of year is best to visit! Below are the things each section of the year offers for visitors to the island!
Times Of Year To Visit Lady Elliot Island
Visit From January To March Baby Sea Turtles
The months between January to March are arguably the most desired times to head to Lady Elliot Island. While the reef can be viewed year-round, the reason behind coming during certain months holds a bigger significance.
That important lies with the sea turtles! Baby sea turtles flock to the beaches of Lady Elliot. This natural occurrence happens every year and draws in people wanting to catch a glimpse of these adorable baby turtles!
April To June For Swimming And Snorkelling Opportunities
These months are considered best for visibility and sightings of lots of manta rays. This is primarily due to the cooler temperatures but still really sunny days! This is specifically known as "autumn" on the island and gives way to great swimming and snorkelling opportunities.
While Lady Elliot is well known for its view of the reef and vast marine life species, it is also known for its flora and fauna that have grown on the island.
One of the most iconic things about the island is its efforts to preserve and protect its naturalistic features. Guests can explore all these beautiful flora and fauna sections of the island during these months and get the best experience out of it!
July To September Is Best For Diving Visibility
This is considered "winter" among the island and visiting during this time will give guests some of the best visibility of the depths of the reef. In fact, this might be the best time to head to Lady Elliot.
But why? Well, the visibility can reach up that 40m for those wishing to dive, but also, the island is still warm enough to swim or snorkel. Guests may get the most out of their boat tours or snorkel experiences during this time!
October To December For The Turtle Nesting
While Christmas is right around the corner, it is not the most main reason to visit during these months. This is the prime time for sea turtles to lay their eggs in the sands along Lady Elliot Island.
This also draws people in that wish to see this infamous nesting activity. This activity helps prep these eggs to hatch during the January to March months.
As expressed before, July to September is the best time to visit Lady Elliot Island due to its idyllic water conditions and sensibilities. However, each part of the year serves as a great time for some people who want a specific experience!
How Long to Stay on a Tour of Lady Elliot Island
Lady Elliot Island tours are the most iconic way to experience the Great Barrier Reef and a large amount of marine life. However, anyone visiting the island should want to get the most out of their visit.
While day visits are offered on the island, the best way to explore everything might be during a 2 to 3-day stay. This length of stay ensures that anyone wanting to do a night tour can do so and that flora can be seen as well as the reef!
Considering the island is only accessible through air travel, staying for 2 to 3 days only makes sense. It is simply more enjoyable than a day visit.
While the cost might be a concern for some, the prices are fitting for the experience that the island offers its guests. Moreover, the accommodation on the island at the resort is comfortable and wonderful for guests.
The array of options for accommodation is also impressive for this gorgeous island and include eco-cabins, garden cabins, two-bedroom units, and even glamping tents.
These variations of accommodation ensure that guests get a unique experience while on the island. Lady Elliot Island, sitting at only 0.45 kilometres squared in size, is jammed packed with beauty, experience, and natural views that simply cannot be beaten anywhere else in the world!
Resource Links To Products We Use And Recommend
More Pages On Other Areas
link to Teewah Beach Queensland
Are you looking for a real back-to-nature camping experience? Do you dream of spending your days fishing and relaxing on a beach and then spending the night listening to the sounds of the waves? Then...
link to Are There Sharks At Rainbow Beach?
Australia is an idyllic paradise that is not only known for its sheer beauty but also its dangerous wildlife. This particularly includes sharks. Sharks can be found just about anywhere around...